Announcement Individually designed & handcrafted sterling silver jewelry, inspired by the ancient art of transforming metal with fire and the natural qualities of the metals & stone.

Each piece is a small reminder of the beauty of life. Enjoy!
***********************************************************************************************

If you have any questions please feel welcome to contact me.
Announcement
Last updated on
Apr 6, 2016
Individually designed & handcrafted sterling silver jewelry, inspired by the ancient art of transforming metal with fire and the natural qualities of the metals & stone.

Each piece is a small reminder of the beauty of life. Enjoy!
***********************************************************************************************

If you have any questions please feel welcome to contact me. No items listed at this time
Reviews

These are lovely handcrafted sterling silver earrings. Lightweight, comfortable, large enough to be noticed, and very beautiful. My new favorites! I love them!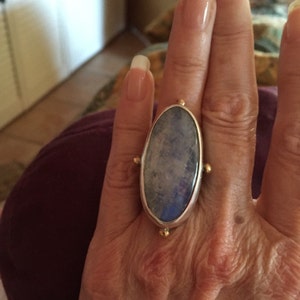 If I could I would have one for each of my fingers. Another beautiful ring. It's gorgeous.

Gorgeous ring, lovely design, excellent workmanship!!
About
Elfin Works Jewelry and How it is Made
I have always enjoyed making beautiful things and I have earned my living as an artist and crafts person,since the mid 70s.

The first craft items I made to sell were wood carvings. I was living in some of the remote squatter communities that used to exist up the West Coast of Vancouver Island. There wasn't much to do in the winter, and almost everyone in the community carved the wood that washed up in the storms for entertainment.

I also used to make made wild and wonderful clothing and decorative items like tea cozys, from scraps of cloth, embroidery thread and seed beads.

In the mid 1980's this evolved into making jewelry.

I am self taught, and I think this has helped me develop my own unique style. Working in the same small community for the past 27 years, and getting feedback from local customers, has helped me perfect the structural design of my pieces for durability and comfort.

I make most of my pieces in the winter, when it is gray and dark and rains almost constantly. It is the perfect time to hole up and dream and be creative. In the summer I sell through our large local outdoor weekly Market, which runs from April and October. I have been selling various crafts there since 1981. In the summer I spend most of my time marketing the things I created in the winter, filling up gaps in my stock, or attending to my large vegetable garden which helps to feed me.

When I make a piece of jewelry I start with sheets of metal, wire that is in various sizes, pure silver for creating a bezel cup, a jewelers saw, a number of files, solder, and a torch.

Having gemstones I like is a major inspiration for me. I love colour, and how colour makes me feel. I often design pieces around the stones and metals and the feeling I get from them.

There is something magical about turning something solid like silver into something that is so hot it is fluid, and then having it become solid again. Shaping metal is an ancient art, and I enjoy feeling I am continuing an ancient art form through my work.

I generally build parts of the piece I am working on and then fuse them in layers.

The slide show above shows me building a pair of simple copper feather earrings with sterling silver midribs or quills and brass wire ties. This is one of my unique product lines and this is one of the few things I produce in batches of 3 or 4 almost identical items.

These copper feathers have been photographed sitting on the fire brick I use to solder on.

My workshop is usually messy. For me, all the bits and pieces are like an artists easel, and having a lot of small odds and ends laying about are often the source of ideas and inspiration.

I have only been showing my work in an online shop since November of 2011, and having an opportunity to show off my work through out the dark days of winter has made my creative process a lot more enjoyable.

Thanks for your interest.

Enjoy!
Shop members
Dreia Nickerson

Owner, Maker, Designer, Curator

Setting up for our weekly outdoor Salt Spring Market in the park.
Shop policies
Last updated on
March 17, 2016
Welcome!

Customer satisfaction is important to me.

Please read my policies to insure that I will be able to meet your expectations and that your experience is entirely positive.
Accepted payment methods
Payment
Your purchase can be completed using Paypal, or Direct Checkout which you can use with your credit card. ( see below for instructions )
If you want your item to be shipped to an address that is different than the one linked to your Paypal account, please contact me before you make your purchase.
IMPORTANT NOTE FOR CUSTOMERS OUTSIDE OF CANADA
I am in Canada, and depending on the country where you live, you may have to pay your countries customs fees or taxes before you will be allowed to pick up your purchase. This is the responsibility of the person making the purchase. PLEASE MAKE SURE YOU KNOW WHAT THESE ADDITIONAL COSTS MAY BE, AND THAT YOU ARE WILLING TO PAY THEM, BEFORE YOU DECIDE TO MAKE YOUR PURCHASE.
The web address below may help you to calculate this.
http://www.dutycalculator.com/
If this is your first purchase through Etsy, you may find the articles below helpful in explaining how to complete your purchase.
https://www.etsy.com/ca/help/article/339
https://www.etsy.com/ca/help/article/1939
Shipping
I live in a remote location and it may take up to one week or 5 business days after I receive payment for me to get into the Post Office. If faster shipping is required please contact me before you make your purchase, to make sure faster delivery is possible. I will reply within 12 hours, unless a storm has taken our power out, and I am temporarily without internet access.

CANADIAN CUSTOMERS All items being sent to locations in Canada will be sent with a Canada Post parcel service which provides a tracking number. Shipments within Canada normally will arrive in 3 to 10 days.

US CUSTOMERS When making a purchase customers in the US can usually choose either economy or slightly more expensive Tracked Packet shipping. Economy shipping will normally be sent using Canada Post's Small Packet Airmail or Light Packet Airmail services. These economy services do not provide a tracking number, However all items are dispatched with proof they were shipped and are insured, so both myself and my customers are protected in the case of loss or damage en-route. This economy shipping to the US normally takes between 7 to 21 days, but on rare occasions can take a bit longer and still arrive safely. Tracked Packet shipping normally takes 6 to 10 days but also can sometimes take a bit longer.

Items purchased for more than $200, destined for places within Canada or the USA will automatically be sent by Canada Post's Tracked Packet service.

INTERNATIONAL CUSTOMERS OUTSIDE US AND CANADA
Tracking to locations outside the US and Canada is very expensive, starting at over $40, so normally parcels sent to international locations outside the US and Canada will be sent using the much less expensive Small Packet or Light Packet Airmail, which has no tracking but is insured in case of loss or damage enroute.

Please let me know if you would like to arrange tracked shipping before you make your purchase and I will look into what is possible. Shipping to international locations using Small Packet or Light Packet Airmail normally takes about 10 to 14 days but 21 days is not unusual, and I have read where this can take as long as 6 weeks and still arrive safely.

IF YOU HAVE ANY CONCERNS ABOUT HOW LONG YOUR PACKAGE IS TAKING TO ARRIVE, PLEASE DO NOT HESITATE TO CONTACT ME !

I can often set up a listing to offer a faster but more expensive shipping option, if this is requested and discussed before making a purchase.

I am willing to ship items to countries not listed in my shipping, but the costs and shipping options need to be researched and calculated on a case by case basis.
I have not set up automatic shipping options to locations outside Canada and the USA for pieces worth more than $200, as secure shipping to various locations needs to be considered on a case by case basis. In some situations it may be possible to send these more valuable international packages using the much less expensive service Small Packet, with additional insurance through a private insurer.

PLEASE CONTACT ME IF YOU HAVE ANY QUESTIONS OR WOULD LIKE TO DISCUSS A SHIPPING ALTERNATIVE OR DESTINATION THAT IS NOT LISTED IN THE ITEM DESCRIPTION.

In the unusual situation of an item that arrives damaged in transit, it is very important to save the packaging as this may be required for insurance purposes.
Refunds and Exchanges
I individually photograph each piece I offer for sale, and all the pieces offered for sale are finished pieces that are ready to ship. You will receive the exact same item as is shown in the photographs.

I take my photographs in natural light, from all angles and I do everything I can to accurately describe my pieces, including pointing out any and all features that might possibly cause disappointment, even if these small details are things most people would not even notice.

Please be aware that colors can look slightly different depending on the computer monitor used to view the item.

SUBJECT TO SOME CONDITIONS AND LIMITATIONS EXPLAINED BELOW, ALL MY PIECES ARE GUARANTEED TO BE AS DESCRIBED. **
ANY ITEM THAT IS NOT AS DESCRIBED MAYBE RETURNED FOR A FULL REFUND INCLUDING SHIPPING, IF THIS IS BROUGHT TO MY ATTENTION WITHIN 3 DAYS OF BEING RECEIVED, AND IS POSTMARKED AS BEING SENT BACK WITHIN 14 DAYS.

SUBJECT TO SOME CONDITIONS AND LIMITATIONS, AS EXPLAINED BELOW, MY PIECES ARE ALSO GUARANTEED TO BE SOLIDLY BUILT, UNLESS STATED OTHERWISE IN THE ITEM DESCRIPTION. ANY ITEM THAT HAS DEFECTIVE WORKMANSHIP MAY BE RETURNED FOR A FULL REFUND INCLUDING SHIPPING, IF THIS IS BROUGHT TO MY ATTENTION WITHIN 30 DAYS OF THE ITEM BEING RECEIVED.

As metal and stone is by it's nature solid, anything that is solid after 30 days will almost certainly remain that way for many years or decades.

In some situations, I may require a digital photo of the problem before authorizing a return.

All returns must be arranged with me before the item is sent back. A returned item must shipped back according to my instructions, with tracking or proof the item was sent back, and insurance. If I do not receive the item back I cannot provide a refund.

**My definition of defective means that the item has parts that should be solidly connected to each other, which are not.
** My definition of not as described is similar to that of Paypal's buyer protection, and means the description or photographs are incorrect or did not show an important feature or flaw. Such as if I made a mistake and said a ring was size 8 and it was really size 7.

Except for the situations described above, I cannot normally provide cash refunds, or refund shipping costs, though in some situations, if asked, and if it seems reasonable and fair, I may make exceptions.

I want you to be happy with the item you receive.

IF AN ITEM YOU BOUGHT DOES NOT WORK OUT OR FEEL RIGHT, WITH SOME LIMITATIONS, ** EXPLAINED BELOW, YOU CAN CONTACT ME AND ARRANGE TO EXCHANGE AN ITEM THAT HAS NOT BEEN WORN AND IS IN GOOD CONDITION.

Once the returned item is received in good condition, a shop credit will be set up for the same amount as was paid for the item that was returned, and this shop credit can then be used towards the purchase of another item.

**All exchanges must be arranged with me and authorized by me, before shipping, and must be shipped with full insurance, and tracking if possible, according to my instructions.

**If an exchange is requested, the buyer will be responsible for all the shipping costs associated with the original purchase, plus the cost of providing insured return shipping, and the cost of the shipping of the exchange item.

**A request for an exchange more than 7 days after an item is received may be refused.

**I cannot usually put a hold on something in my shop which will be exchanged for the original purchase, until the original item is received back.

I will often try to accommodate my customers beyond these policies, but this is at my own discretion and will be on a case by case basis.
If you have any questions or concerns please feel free to contact me.
Additional policies and FAQs
I do sometimes try to make something based on a request,, but I have my own approach to this!

If you would like me to make something along similar lines to something you see in my Etsy shop, you are welcome to make an inquiry to see if I could try to make you something along similar lines. If you can include links to the piece or pieces you like, and information about any modifications you might want, in your initial request, it will help me to quickly assess your request and know if it is possible. Attaching a photograph of a drawing of what you have in mind might also help. Based on this, I will decide whether or not I can try to make this.. If I accept, I will describe what I can do and how long it will be likely to take, what it will cost and ask for any additional information I may need. If there is a choice of stones involved I will send a convo with pictures of what I have so you can choose. Once these details are agreed upon, I will proceed as best I can given the information you have provided

However...I specialize in one of a kind pieces and I can have difficulty getting a custom request to come out exactly as I am aiming for. Some pieces seem to have a mind of their own and I often make mistakes. Because of this, I never request or accept any payment until a piece is finished. If I agree to try to make something that has been requested, the person who made the suggestion is under no obligation to purchase the piece once it is finished, I simply notify them when the piece is completed and they will have the first chance to purchase it, if and when I make it. I do not usually make personalized items which cannot be easily sold to someone else. Because of my no obligations approach to custom requests, I cannot normally invest a lot of time in discussing personalized design options.

I cannot sell my work wholesale.
More information
Frequently asked questions