Announcement WE ARE BACK!!!! Thank you all so much for being so patient while we were off dealing with all of the hurdles the past few months have brought. We are now back and better than ever! Take a look at the new designs and check in often for new listings!!!!
Announcement
Last updated on
Jun 23, 2016
WE ARE BACK!!!! Thank you all so much for being so patient while we were off dealing with all of the hurdles the past few months have brought. We are now back and better than ever! Take a look at the new designs and check in often for new listings!!!! No items listed at this time
Reviews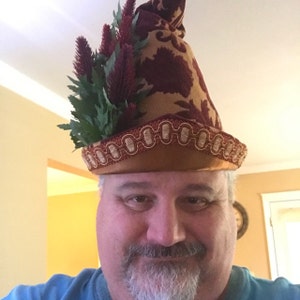 The most magnificent hat!

This hat is beautiful. The quality if high caliber. If you are looking for a "grand" statement, this is it! Allow yourself lead time for replies and shipping. I ordered during the holiday rush and it was dicey. The Post Office lost the tracking info so I thought I lost the hat, but it showed up the next day.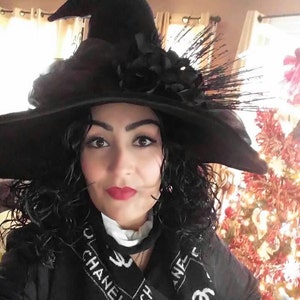 It was a great purchase I absolutely love it.
About
Ever evolving creativity...
Well, it all started when I was about 16 or so. I was obsessed with Renaissance Faires and loved making myself new costumes to go in. Of course, at that age there is the constant question of "what are you going to do with your life", and I had absolutely no idea.
I considered so many things. I even took a semester of collage trying to figure out what I wanted. All that ever became clear was that when I wasn't sewing, or crafting or creating something in some way, I was miserable. And, on top of everything, what was I going to do with all the costumes I had made?!
At that time my parents were retiring and decided to move down to Oklahoma to spend there retirement years with a beloved Aunt. I, of course, was forced to come too since I was, by that time, just 18 and could not possibly afford to live on my own.
So, to Oklahoma I went... but just before we left New York, I applied to become a clothing vendor in the Oklahoma Renaissance Faire. I thought that would be a great way for me to get out my creativity, make some money, and wear a costume while I did it!
Well, I got accepted, and from that point on, life went by really fast! I didnt realize the sheer volume I would sell, and there for make, so I spent alot of time behind a sewing machine. I sold more stuff faster than I could make it! But once the show what finally over, I was asked if I wanted to come back in the fall and sell my costumes at the Halloween Festival. I accepted and thus began my journey toward Wtich hats!
I started the first year with only about 10. I sold them the first two days. Then I made more. And more. And more. By the end of the show that year I had sold about 40.
The next year I made 50 to start with. I ended up selling about 75 by the end of the show. Then more the next, and more the next.
After a few years of this, I met the man of my dreams and ran off to Guam to marry him. He's a Navy man and we are very happy together, but obviously being in Guam, or anywhere else made having a shop in Muskogee Oklahoma pretty hard, so here I am! I closed the shop last year and opened one on Etsy! I miss all of my old clients. Most of them became dear friends! But my mom would say, "You gatta do whatcha gotta do!"
I always loved making costumes, but the hats spoke to me in a deeper way. I remember Every hat I've ever made. They become more than just a design, or a product, they become children. People have asked me where I get my inspiration. It doesn't really work like that for me though, it's more like the reverse, the hat tells me how it wants to be and that's why no two hats are EVER the same!
I hope my hats speak to your Glamorous, Eccentric side, and make you feel Sassy, and I hope you love them as much as I do!
Enjoy!
Shop members
Jamie Stotz

Owner, Maker, Designer

Hello everyone! I'm Jamie Stotz and I am the Designer/Creator here at Evercrumbly & Witch. I have been making over the top witch hats for about 5 years now. You may know me from my shop at The Castle of Muskogee's Halloween Festival in Muskogee OK.
Shop policies
Last updated on
September 24, 2012
Hello Everyone!

I am so happy to finally be on ETSY! For those of you who may know me as The Broom Closet from Muskogee, OK, welcome back and I am so glad to see you again!!!

But for all of you who don't know me (yet), this is what I do:

I make over-the- top, one of a kind, Fabulous (with a capital F) witch hats! They are not just pretty to look at, they are fully functional hats. You can tug on them, bend the brim, they are lined and no two hats are ever the same! They are all signed, dated, and individually named.
Now, that being said, they do make glorious centerpieces, I just want you all to know that that isn't all they can be!

Keep your eyes pealed for my new sister store, opening soon!

So, Enjoy!
Accepted payment methods
Shipping
I will ship the item(s) the following business day after payment notification is received. All of my hats are set to be shipped Parcel Post. As it gets closer to Halloween I know time will become an issue. If you are willing to pay for faster shipping, contact me and I will upgrade you shipping cost.

Hat pins and accessories are shipped Priority.

All shipments will have Delivery Confirmation for your peace of mind, and mine!
I will send you the tracking number within a day of shipment.