Announcement It about time I updated this info, huh. All it took was one person to get me to address my prices. So...... This is the shop you get those heavyweight fly Old school leather joints we used to wear back in the day. You can get almost any design you can come up with.

Welcome to Everything Old School.


Please take a moment to read all store policies before making a purchase.


|Payments|

I ONLY accept paypal. I no longer accept money orders. Payment is due at time of purchase. Any order that has not been paid for within 3 days will be cancel and negative feedback given. If you have problems with the payment system please contact me before abandoning the order. If you would like to reserve an item please convo me. I will hold reserved items for 7 days.
________________________________________________________________

|Shipping|

I use first class shipping via USPS by default but if you would like to receive your order quicker via priority mail then please let me know before you make your purchase and I will make the appropriate adjustments. I also recommend you request insurance to protect your order as I am not responsible for any lost or damaged packages after I put them in the hands of the post office. All U.S. packages are tracked via delivery confirmation.

Please note that I try to ship within 5 days of payment as some items are made after order.

International customers please note that I can not purchase delivery confirmation on international orders. If you desire insurance you must convo me before making payment and upgrade to priority shipping as that is the only way international shipping can be insured. I can not be responsible for lost or damaged packages that have not been insured by you once I give them over to the postal service. I keep international customs receipts as proof of mailing.

Items purchased on Friday will be mailed on Monday as I do no ship over the weekend.

**** I ship to the address on your paypal account unless you specify another address.****
______________________________________________________________

|Refunds and Exchanges|

All sales are final so please view pictures, read descriptions thoroughly, and ask as many questions about the item as you like before making your purchase.

________________________________________________________________

|Checking out|

If you need help completing your oder on etsy please visit this link for a walk through http://www.etsy.com/help_guide_checkout.php

________________________________________________________________

|Wholesale Buys|
If you would like to purchase in bulk for resale, I would do 10 for $250. 25 for $500. This price is for the "Africa" medallions. To mix them up the price would go up per variation. Its a great deal. They are not cheap. If it doesnt meet my standards I start over. Nothing but the best. If this is your intention please email me with your plans. We will go from there.
____________________________________________________________________

Don't forget to add me to your favorites:)

Thank you,
Douglas

<script type="text/javascript">

var _gaq = _gaq || [];
_gaq.push(['_setAccount', 'UA-35128821-1']);
_gaq.push(['_trackPageview']);

(function() {
var ga = document.createElement('script'); ga.type = 'text/javascript'; ga.async = true;
ga.src = ('https:' == document.location.protocol ? 'https://ssl' : 'http://www') + '.google-analytics.com/ga.js';
var s = document.getElementsByTagName('script')[0]; s.parentNode.insertBefore(ga, s);
})();

</script>
Announcement
It about time I updated this info, huh. All it took was one person to get me to address my prices. So...... This is the shop you get those heavyweight fly Old school leather joints we used to wear back in the day. You can get almost any design you can come up with.

Welcome to Everything Old School.


Please take a moment to read all store policies before making a purchase.


|Payments|

I ONLY accept paypal. I no longer accept money orders. Payment is due at time of purchase. Any order that has not been paid for within 3 days will be cancel and negative feedback given. If you have problems with the payment system please contact me before abandoning the order. If you would like to reserve an item please convo me. I will hold reserved items for 7 days.
________________________________________________________________

|Shipping|

I use first class shipping via USPS by default but if you would like to receive your order quicker via priority mail then please let me know before you make your purchase and I will make the appropriate adjustments. I also recommend you request insurance to protect your order as I am not responsible for any lost or damaged packages after I put them in the hands of the post office. All U.S. packages are tracked via delivery confirmation.

Please note that I try to ship within 5 days of payment as some items are made after order.

International customers please note that I can not purchase delivery confirmation on international orders. If you desire insurance you must convo me before making payment and upgrade to priority shipping as that is the only way international shipping can be insured. I can not be responsible for lost or damaged packages that have not been insured by you once I give them over to the postal service. I keep international customs receipts as proof of mailing.

Items purchased on Friday will be mailed on Monday as I do no ship over the weekend.

**** I ship to the address on your paypal account unless you specify another address.****
______________________________________________________________

|Refunds and Exchanges|

All sales are final so please view pictures, read descriptions thoroughly, and ask as many questions about the item as you like before making your purchase.

________________________________________________________________

|Checking out|

If you need help completing your oder on etsy please visit this link for a walk through http://www.etsy.com/help_guide_checkout.php

________________________________________________________________

|Wholesale Buys|
If you would like to purchase in bulk for resale, I would do 10 for $250. 25 for $500. This price is for the "Africa" medallions. To mix them up the price would go up per variation. Its a great deal. They are not cheap. If it doesnt meet my standards I start over. Nothing but the best. If this is your intention please email me with your plans. We will go from there.
____________________________________________________________________

Don't forget to add me to your favorites:)

Thank you,
Douglas

<script type="text/javascript">

var _gaq = _gaq || [];
_gaq.push(['_setAccount', 'UA-35128821-1']);
_gaq.push(['_trackPageview']);

(function() {
var ga = document.createElement('script'); ga.type = 'text/javascript'; ga.async = true;
ga.src = ('https:' == document.location.protocol ? 'https://ssl' : 'http://www') + '.google-analytics.com/ga.js';
var s = document.getElementsByTagName('script')[0]; s.parentNode.insertBefore(ga, s);
})();

</script> No items listed at this time
Reviews

My disappointed review comes from the lack of communication and treatment from the merchant. I ordered this item as a father's day gift, was hoping to receive it in at least a weeks time. Yet, when I ordered I got no potential shipping information from the merchant. After about two days of no possible shipping date, I reached out to the merchant and received no response. Feeling frustrated I decided to just cancel my order, so I reached out to the owner again. No response. I had to contact Etsy customer service to get help. The owner finally replied. He simply said "If you read the information it ships in ten days, here is your change". It says five. The mere fact is that this owner is very rude, even though this person was lacking in communication. Be sure that customer service is valued prior to buying from any merchant.

Sometimes emails get lost in the shuffle and I'll take that criticism on the chin. It certainly wasn't intentional or personal. The medallion was actually shipping the same day I gave them a refund. As far as being rude, I don't know how I could be rude by not communicating. I replied once and it was in the refund comments. You should have more confidence in the process. Etsy Sellers are often hobbiest that handmake their products. People with jobs and families and circumstances. If you needed something for Father's Day you should have let me know that's what it was for. That's in my notes as well. Any one reviewing this feedback, please look at my other reviews. I'm not rude. I'm usually earlier with shipping than my stated time. If you let me know you need a custom medallion or one for a special occasion, I accommodate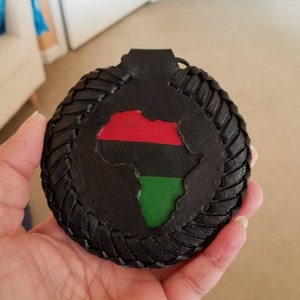 My husband had one as a teen and always wanted it replaced. It has taken me years to find one and I LOVE it. I cannot wait to give it to him for Fathers Day. Thank you!!!
Shop policies
Last updated on
February 4, 2011
Accepted payment methods
Accepts Etsy Gift Cards and Etsy Credits