Announcement ALL my eye chips are based on original authentic dolls: Takara Neo Blythe, Takara Middie Blythe, Kenner Blythe, AGD Blythe, Pullip, Taeyang, and Byul dolls. If you purchase eye chips for dolls different than the ones mentioned. It is under your own responsibility.

Registered mail service has gone up to $5.50 due to increase in shipping fees from the post office. I'm announcing here as I don't have time to edit over 350 listings. Thank you for you patience and understanding.

GREAT NEWS! As of June 3 2016, France, Germany, New Zealand, Finland, The Netherlands, UK, Sweden and Switzerland and been included in my safe list for shipping without registered mail service requirement for items up to $30, This was only available to the US and Australia. For all other countries, registered mail service is included in the shipping fee.

Promo buy 4 get 1 free. Buy true quality eye chips, your dollies are worth it :o) There is also a a big saving on shipping for the promo.

Don't settle for cheap imitations from copycats that have no experience in how to make professional eye chips and just stick glue on a piece of paper and cheap glass. I have been doing this since 2008, no one else can say this. I have gotten several messages from buyers that come back, complaining of the cheap and poor quality eye chips they have purchased elsewhere. My mother always says: cheap things turn out to be expensive because it's money you throw away. I'm glad they have come back but empathize with the frustrating situation for them. There is no way to make something of high quality and also cheap. You can get high quality, long lasting eye chips with vivid colors for you lovely dolls for just a few more dollars. She's worth it, isn't she? ;o)

I am the pioneer in commercializing them for Blythe dolls. I have been making Blythe doll eye chips since 2008. I was forced to make them because there were absolutely none available in the market for my dolls, not even the hand painted metallic kind. Hence, I have a lot of experience experimenting and creating new and advanced techniques with different chemicals and products for creating special long lasting eye chips for your dolly.

Get high quality eye chips from someone who has years of experience making them. I am the first to make them for Blythe and Pullip dolls. The term: realistic eye chips was actually imposed by me. Never heard of before in reference to these chips. These chips are very time consuming and have many setting steps to make them as well as low heated setting and final touches. Don't settle for low quality glue stick eyes from copycats that scour my shop to imitate me for a quick buck. Get your money's worth. Your dollies deserve life long pretty eyes :o)

Eye chips cannot be exchanged or orders canceled once the purchase is made because I make the eye chips once I receive the order. I order to exchange a model or cancel an order, I NEED TO BE NOTIFIED IMMEDIATELY. These are not mass produced chips and each set takes a lot of time to make. PLEASE make sure what eye chips you really want BEFORE placing the order and that they are for the correct type doll (Blythe, Pullip, etc).

Pullip eye chip molds are not always the same size, please make sure your Pullip, Dal or Taeyang have 12mm eyes or 13mm, or else NO DOT PURCHASE. I will NOT exchange them if they are not the right size. It's the buyer's responsibility to know the size.

I am no longer taking special commission orders for special design eye chips. Making specific models takes many hours of work and takes too much of my time from my dolly customizing. And some are not willing to pay the $54 fee.

EXTREMELY IMPORTANT NOTE: I will not exchange eye chips due to misuse of proper glues with my acrylic chips. In all my orders I add a special note with recommended glue, which GLUES not to use and the right amount to use. If the buyer does not pay any attention to my notes, I will NOT be held responsible. I will NOT replace cracked chips due to improper care of them, I cannot be held responsible if the buyer places extreme pressure on the eye chips and cracks the acrylic type. You need to revise the eye sockets for irregular bumps or roughness when you see the eye chip doesn't fit. All plastics can crack, except for flexible plastics, if they are given harsh impacts, extreme cold (freezer), from cold to hot very quickly (doll was given a boil perm, put in the freezer and taken out in hot summer weather) and given too much pressure. None of the processes that goes into making them will cause them to crack, therefore I will not replace them unless you received them cracked. ABSOLUTELY NO EXCEPTIONS. I currently count with 12 custom Blythe dolls that have my customs realistic eye chips and absolutely NONE of them have any problem of any kind. The eye chips ALL remain clear and beautiful like the first day I placed them in. My acrylic eye chips are UV laminated and water resistant. If I could I would make them bullet proof but I can't. If businesses had to replace items with flaws caused over time they would all declare bankruptcy. So please understand that I am only one person behind these chips, they are not mass produced and my business is less than tiny.

Thank you for taking the time to read and understanding =o)
Announcement
Last updated on
Jul 14, 2017
ALL my eye chips are based on original authentic dolls: Takara Neo Blythe, Takara Middie Blythe, Kenner Blythe, AGD Blythe, Pullip, Taeyang, and Byul dolls. If you purchase eye chips for dolls different than the ones mentioned. It is under your own responsibility.

Registered mail service has gone up to $5.50 due to increase in shipping fees from the post office. I'm announcing here as I don't have time to edit over 350 listings. Thank you for you patience and understanding.

GREAT NEWS! As of June 3 2016, France, Germany, New Zealand, Finland, The Netherlands, UK, Sweden and Switzerland and been included in my safe list for shipping without registered mail service requirement for items up to $30, This was only available to the US and Australia. For all other countries, registered mail service is included in the shipping fee.

Promo buy 4 get 1 free. Buy true quality eye chips, your dollies are worth it :o) There is also a a big saving on shipping for the promo.

Don't settle for cheap imitations from copycats that have no experience in how to make professional eye chips and just stick glue on a piece of paper and cheap glass. I have been doing this since 2008, no one else can say this. I have gotten several messages from buyers that come back, complaining of the cheap and poor quality eye chips they have purchased elsewhere. My mother always says: cheap things turn out to be expensive because it's money you throw away. I'm glad they have come back but empathize with the frustrating situation for them. There is no way to make something of high quality and also cheap. You can get high quality, long lasting eye chips with vivid colors for you lovely dolls for just a few more dollars. She's worth it, isn't she? ;o)

I am the pioneer in commercializing them for Blythe dolls. I have been making Blythe doll eye chips since 2008. I was forced to make them because there were absolutely none available in the market for my dolls, not even the hand painted metallic kind. Hence, I have a lot of experience experimenting and creating new and advanced techniques with different chemicals and products for creating special long lasting eye chips for your dolly.

Get high quality eye chips from someone who has years of experience making them. I am the first to make them for Blythe and Pullip dolls. The term: realistic eye chips was actually imposed by me. Never heard of before in reference to these chips. These chips are very time consuming and have many setting steps to make them as well as low heated setting and final touches. Don't settle for low quality glue stick eyes from copycats that scour my shop to imitate me for a quick buck. Get your money's worth. Your dollies deserve life long pretty eyes :o)

Eye chips cannot be exchanged or orders canceled once the purchase is made because I make the eye chips once I receive the order. I order to exchange a model or cancel an order, I NEED TO BE NOTIFIED IMMEDIATELY. These are not mass produced chips and each set takes a lot of time to make. PLEASE make sure what eye chips you really want BEFORE placing the order and that they are for the correct type doll (Blythe, Pullip, etc).

Pullip eye chip molds are not always the same size, please make sure your Pullip, Dal or Taeyang have 12mm eyes or 13mm, or else NO DOT PURCHASE. I will NOT exchange them if they are not the right size. It's the buyer's responsibility to know the size.

I am no longer taking special commission orders for special design eye chips. Making specific models takes many hours of work and takes too much of my time from my dolly customizing. And some are not willing to pay the $54 fee.

EXTREMELY IMPORTANT NOTE: I will not exchange eye chips due to misuse of proper glues with my acrylic chips. In all my orders I add a special note with recommended glue, which GLUES not to use and the right amount to use. If the buyer does not pay any attention to my notes, I will NOT be held responsible. I will NOT replace cracked chips due to improper care of them, I cannot be held responsible if the buyer places extreme pressure on the eye chips and cracks the acrylic type. You need to revise the eye sockets for irregular bumps or roughness when you see the eye chip doesn't fit. All plastics can crack, except for flexible plastics, if they are given harsh impacts, extreme cold (freezer), from cold to hot very quickly (doll was given a boil perm, put in the freezer and taken out in hot summer weather) and given too much pressure. None of the processes that goes into making them will cause them to crack, therefore I will not replace them unless you received them cracked. ABSOLUTELY NO EXCEPTIONS. I currently count with 12 custom Blythe dolls that have my customs realistic eye chips and absolutely NONE of them have any problem of any kind. The eye chips ALL remain clear and beautiful like the first day I placed them in. My acrylic eye chips are UV laminated and water resistant. If I could I would make them bullet proof but I can't. If businesses had to replace items with flaws caused over time they would all declare bankruptcy. So please understand that I am only one person behind these chips, they are not mass produced and my business is less than tiny.

Thank you for taking the time to read and understanding =o) No items listed at this time
Reviews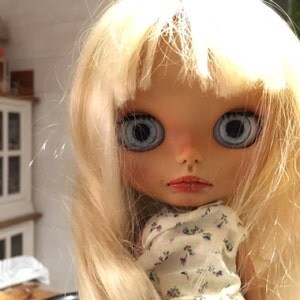 Parfait magnifique ❤️❤️❤️ j'ai commandé beaucoup de yeux dans cette boutique, envoie rapide pour la France!! Thank you so so so much!!!!!!!!! You are the best! ❤️

Long delivery month. It isn't possible to trace. Eyes of the bigger size, it is necessary to sharpen (the doll the size of 8,5 mm - at the seller has 10 mm) eye pupil very big, isn't suitable for middle blythe - does a look awful. I am sorry the spent money and time.

Buyer just admitted in her review that the eye chips she needed was 8.5 mm. Middie Blythe eye chips are 10 mm !!! I can provide screen shots that she says it's for a doll that had 8,5 mm eye chips and she says in the review it's not suitable for middie Blythe? WoW! I also can provide screen shots that I offer her a refund anyway in return for the eye chips. This woman is a LIAR, I sent item out on June 14 and she got them on July 10, shipping from Argentina to Isreal is 2 to 4 weeks like in most countries. The tracking number is: RR683568558AR. SELLERS BEWARE OF VERY UNREASONABLE BUYER-
Almost nothing on carving, rather mostly on how to paint lips with acrylics. Info seems rather dated, and in fact the seller agreed it was a decade old. Not happy with this purchase, but seller refused refund. I recommend the free YouTube videos and avoid this. PS This seller is very rude if you are an unhappy buyer - I did not try to bully her or anything else. This woman is mad! Check her response to the other unhappy buyer a few ages back ...

Buyer first left 3 stars with another review and attempted to blackmail me by asking me for a refund or would leave that feedback, that's extortion. I can provide screen shots. When I explained that I didn't mind her review, would not refund 4 moral reasons (will not allow a buyer to bully me). She made a snarky remark about the tutorial being a decade old. That's bullying. Now I see she left a 1 star review and changed the comment (also have proof of screen shots), that's retaliation. The techniques are basic and will continue to be used decades more, long after my tutorial is gone; just like it was before my tutorial. It's like changing chips or doing at re root, there are techniques that are always done the same. SELLERS BEWARE of retaliatory actions from buyer out of spite. Can provide screen shots as proof.
About
Began creating for just my dolls in 2008 and began to create for others by popular demand.
I started my Etsy shop because of a friend's suggestion since is was the most popular place to sell custom Blythe items.

I am the very first to commercialize custom realistic eye chips for Blythe dolls and the term realistic for these eye chips came from me.
Shop members

Shop policies
Last updated on
July 14, 2017
Welcome to my shop! Here you will find mainly Blythe human realistic custom eye chips designed by me and professionally finished with UV lamination for long lasting beautiful eyes.
Occasionally you will find other Blythe items and vintage toys and stickers, including vintage Strawberry Shortcake items and fun scratch and sniff stickers =o)

GREAT NEWS! As of June 3 2016, France, Germany, New Zealand, Finland, The Netherlands, UK, Sweden and Switzerland and been included in my safe list for shipping without registered mail service requirement for items up to $30, This was only available to the US and Australia. For all other countries, registered mail service is included in the shipping fee.
Accepted payment methods
Shipping
YOU PAY ONLY ONE SHIPPING FEE for purchasing my custom realistic eye chips, no matter how many you buy =o)

Registered mail service for purchases under $30 is optional only for my safe countries (please view list in my shop announcement to see these countries). Registered mail service is an extra $5.50, when items go over $30. For all other countries registered mail service is already included in the shipping fee and all the promos with discounts on chips and shipping. Registered mail service is available in my shop to add to your shopping cart and also included in my featured items.

Thank you for your visit =o)
Refunds and Exchanges
I do accept returns if my item was not as described. I will not accept returns out of buyer's remorse or misuse of items.

My tutorials do not have refunds, they are sent via e-mail to download and are guides to help you. REMEMBER, I am not responsible for the outcome of you work. It's up to you to use my tutorials correctly and instructions indicate. My tutorials are not magical so PLEASE DO NOT LEAVE ME NEUTRAL OR NEGATIVE FEEDBACK before contacting me so I can see if I can help you out with something you don't understand. COMMUNICATION IS THE KEY. This is a tutorial based on my personal experiences over the years.

If you purchased an item/items with insurance and tracking number and see the package is damaged or tampered with, PLEASE DO NOT SIGN for it or I will not be able to claim the insurance for damage. I cannot be held responsible for damaged goods due to the post office's improper handling of packages.
I always package my items securely foe safe arrival, so things should go smoothly.

I always send care instructions and recommended glues for my eye chips. I will not be held responsible for misuse of glues and harsh cleansing products on the eye mechanism. These harsh cleansing products can cause damage to the chips over time.
Additional policies and FAQs
Feel free to contact me with any questions or concerns. I will get back to you ASAP.

I am no longer taking special custom requests for making specific eye colors.