Announcement Wearable Felting Nunofelting Fiber Art. Making Handcrafted felted Designer Hats, Bags, Scarves and Accessories is my passion.
My highest priority is exclusive design, best materials and excellent quality.
I love to make functional, beautiful, high quality things.

♥ One of a Kind Handmade Designer felted Bags, Purses, Messengers.
♥ Whimsical felted Hats for Women, Men and Children. Party Hats, Carnival Hats. Photographer Props.
♥ Handmade felted and nunofelted Scarves and Wraps.
♥ Handmade felted Jewelry.

All of the felted Hats, Bags, Scarves and accessories are 100% handmade by me from merino wool, silk, cotton, linen, leather, wood - all natural high quality materials.

All my products are eco friendly and made by me with a lot of love.

Thanks for visiting my Shop!

♥ My website: http://www.feltstream.com

♥ Want to keep up with the latest news? Be my friends!
http://www.facebook.com/pages/FeltStream/235257529820846

Follow me on Instagram https://www.instagram.com/feltstream.dina.ivanova/
Announcement
Last updated on
Sep 12, 2016
Wearable Felting Nunofelting Fiber Art. Making Handcrafted felted Designer Hats, Bags, Scarves and Accessories is my passion.
My highest priority is exclusive design, best materials and excellent quality.
I love to make functional, beautiful, high quality things.

♥ One of a Kind Handmade Designer felted Bags, Purses, Messengers.
♥ Whimsical felted Hats for Women, Men and Children. Party Hats, Carnival Hats. Photographer Props.
♥ Handmade felted and nunofelted Scarves and Wraps.
♥ Handmade felted Jewelry.

All of the felted Hats, Bags, Scarves and accessories are 100% handmade by me from merino wool, silk, cotton, linen, leather, wood - all natural high quality materials.

All my products are eco friendly and made by me with a lot of love.

Thanks for visiting my Shop!

♥ My website: http://www.feltstream.com

♥ Want to keep up with the latest news? Be my friends!
http://www.facebook.com/pages/FeltStream/235257529820846

Follow me on Instagram https://www.instagram.com/feltstream.dina.ivanova/ No items listed at this time
Reviews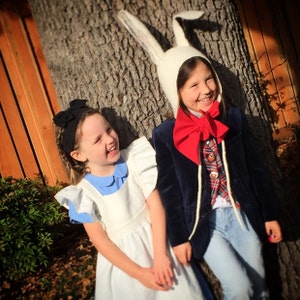 This bunny ear hat is amazing. It is so well made with a high quality of felt. The ears stand up on their own and one is a bit cheeky, perfect for my daughter's white rabbit costume. Non stop complements... Shipping was quick and reasonably priced to Canada.

The hat is perfect!!! I love it! Great seller, will buy from again.

Wow, this is the most beautiful and unique hat I have ever laid eyes on. Dina's work is unbelievable, truly heirloom quality. The hat was customized for my daughter and shipped quickly. Dina was responsive and went above and beyond when I changed my mind several times. I am excited to order from her again! Thank you Dina!
About
Quality and inspiration
In 2008 a very good friend of mine gave my daughter few sweetest felted animals. I was so excited and curious about them, and asked my friend, how they were made. She told me about felting. It was the beginning of my addiction to felting.

Felting occupies not only my mind, but also a lot of space in our apartment, which became my studio in the same time. My daughter loves what I do; my husband is my first critic and admirer. I felt everywhere where we go, even in forest in Finland, where we spent part of summer in our camper (mobile home). When we are travelling, my wool and soap are always with me. I'm happy that I found felting. It brings me so much joy.
My daughter is a great inspiration for me. She inspires me to make things for children. Making thing for children makes me happy. I feel a great joy doing it. When I do something for kids, I'm free. My fantasy has no limitation, because kids they are open to everything new.
I have many ideas. I wished the days were longer. There is just not enough time to get everything done.
I find very important to make quality things of quality materials. We should think about the health and wellbeing of our children.
My dream is to make more beautiful quality things for children and their mamas. I like to learn and am learning every day. I would like to make my little felt studio a little bigger. Step by step. Children are growing up every day.
Shop members
Dina Ivanova

Owner, Maker, Designer
Shop policies
Last updated on
August 6, 2014
Thank you for visiting my shop!

I make unique handmade Felted Scarves Wraps Bags Purses Hats Brooches Flowers Accessories for Women, Men and Children.
All felt carves, hats, bags, purses, flowers, accessories are 100% handmade by me from merino wool, silk, cotton, linen, leather, wood - all natural high quality materials.

Wearable Felting Nunofelting Fibre Art and making Handmade felted Designer Hats, Bags, Scarves and other Accessories is my passion.

If you need help in a DIFFERENT LANGUAGE, Feel free to contact me in German, Finnish, English and Russian.
Accepted payment methods
Payment
Payment is currently accepted:

German and European customers:
Sepa money transfer, Direct checkout, Etsy Gift Card, Paypal

Non-European customers:
Direct checkout, Etsy Gift Card, Paypal

Please pay within 7 days or I shall cancel the sale.

Custom duties and import sales tax:
Deliveries to Non-European countries and to some European countries (e. g. Switzerland, Iceland, Norway) may cause customs duties and/ or import sales tax (the sales tax percentage in your country), which must be paid by the customer. Deliveries are often free up to a certain value;Feltstream adds the relevant form and a copy of the invoice to every delivery to custom-affected countries, so you won't get any trouble at the customs. Please inform about customs duties and import sales taxes at your local tax office.
Shipping
Ready made items will be shipped within 3 working days of receipt of payment. Items made to order will be shipped according to the time scale indicated on the item description.

Time of delivery
The term for delivery starts on the day after payment authorization, for any other method of payment on the day following the conclusion of the contract and ends on the last day of the term. In case the last day of term is a saturday, sunday or bank holiday the next working day is substituted.

Maximum Time of delivery within Germany is as followes:
3-5 working days for any ready made item without alterations
5-8 working days for any ready made item with alterations
2-3 weeks for any custom made item unless stated otherwise in the description.

The maximum additional time of delivery outside Germany which has to be added to the stated delivery is as followed

Austria, France, Denmark, Netherlands: 5 working days
further EU: 10working days
Europe, non EU: 14 working days
worldwide: 20 working days

The items outside Germany will be shipped as a registered letter. After shipping the item I provide the purchaser with a track number.

Items will be shipped to the address provided on Etsy. If you would like them shipped to an alternative address, please use the "Message to Seller" option.

PLEASE NOTE: The Feltstream cannot be responsible for extra taxes and charges on top of the postage once the item has been sent. International customs fees are the purchaser's responsibility.

Please see below for returns.
Refunds and Exchanges
The German policies are binding.

Instructions on withdrawal

Right of withdrawal

You have the right to withdraw from this contract within 14 days without giving any reason.
The withdrawal period will expire after 14 days from the day on which you acquire, or a third party other than the carrier and indicated by you acquires, physical possession of the goods.
To exercise the right of withdrawal, you must inform us (Dina Ivanova, Otto-Richter-Str. 15, 97074 Würzburg, Tel.: +499318803605, E-Mail: dina_vin [!at] yahoo.com) of your decision to withdraw from this contract by an unequivocal statement (e.g. a letter sent by post, fax or e-mail). You may use the attached model withdrawal form, but it is not obligatory.
To meet the withdrawal deadline, it is sufficient for you to send your communication concerning your exercise of the right of withdrawal before the withdrawal period has expired.

Effects of withdrawal

If you withdraw from this contract, we shall reimburse to you all payments received from you, including the costs of delivery (with the exception of the supplementary costs resulting from your choice of a type of delivery other than the least expensive type of standard delivery offered by us), without undue delay and in any event not later than 14 days from the day on which we are informed about your decision to withdraw from this contract. We will carry out such reimbursement using the same means of payment as you used for the initial transaction, unless you have expressly agreed otherwise; in any event, you will not incur any fees as a result of such reimbursement. We may withhold reimbursement until we have received the goods back or you have supplied evidence of having sent back the goods, whichever is the earliest.
You shall send back the goods or hand them over to us, without undue delay and in any event not later than 14 days from the day on which you communicate your withdrawal from this contract to us. The deadline is met if you send back the goods before the period of 14 days has expired.

You will have to bear the direct cost of returning the goods. You are only liable for any diminished value of the goods resulting from the handling other than what is necessary to establish the nature, characteristics and functioning of the goods.

Das beizufügende Muster-Widerrufsformular lautet:

Model withdrawal form

(complete and return this form only if you wish to withdraw from the contract)

- To
Dina Ivanova
Otto-Richter-Str. 15
97074 Würzburg

Email: dina_vin [!at] yahoo.com
- I/We (__________________________________________________________*)
hereby give notice that I/We (__________________________________________*)
withdraw from my/our (______________________________________________*)
contract of sale of the following goods (__________________________________*)
- Ordered on (____________________*)/received on (____________________*),
- Name of consumer(s),
- Address of consumer(s),
- Signature of consumer(s) (only if this form is notified on paper),
- Date
___________
(*) Delete as appropriate.
Additional policies and FAQs
Liability for defects. The german law terms are binding
Applicable law. Every purchase made is subject to german law.
Privacy. Any private data will be processed according to german law.
Nothing in this shop is intended as a toy for little children.
How to Choose the Correct Size?
SIZE: Please measure the length of your child's foot and add up to ½ inch (or 1.25 cm) for growing room. This is your "Inside Sole Length" in the chart below.
After you choose a size, search for the size in my shop.
You can see it in the titles of items: "Size BABY 2,5 - 6,5" or "Size KIDS 8 - 13".
Please make sure, that you are purchasing the right size.
If you prefer more growth room, I recommend choosing the larger size.
If you are in between sizes, order up a size.
Babies
EU Size --- US Size --- Inside Sole Length ---- Apr. age
16/17 ----- 2,5 -------- 3.725" (9,5 cm) -------- Babies 0-3 mm
18/19 ----- 3,5 -------- 4.125" (10,5 cm) ------ Babies 3-9 mm
20/21 ----- 4,5 -------- 4.625" (11,7 cm) ------ Babies 9-15 mm
22/23 ----- 6,5 -------- 5.2" (13,2 cm) --------- Babies 15-22 mm
Toddler/Kids
EU Size --- US Size --- Inside Sole length ----- Apr. age
24/25 --------- 8 ---------- 5.625" (14,2 cm) --- Toddler 2-3 yy
26/27 --------- 9 ---------- 6.125" (15,5 cm) --- Toddler / Kids 3-4.5 yy
28/29 --------- 11 --------- 6,75" (17,2 cm) ----- Kids 4.5-6 yy
30/31 --------- 13 -------- 7.225" (18,5 cm) ---- Kids 6-8 yy
32/33 ------ Youth 1,5 -- 7,625 (19,5 cm) ----- Kids 8-9 yy
CUSTOM SIZES: In the moment I'm not taking the custom sizes for the shoes.
If you have any question or suggestions, please contact me.
CARE: Felted items are easy to care for! They may be hand washed
in cold or low warm water and air dried as needed for care.
Please, ensure that felted item are not deformed during the washing. Do not use hot water. Felted items should not be squeezed. Dry away from heating appliances.
NEW TO ETSY?
Use this tutorial to help you through the checkout process:
http://www.etsy.com/help/article/339
CUSTOM SIZES: I accept custom sizes. If you didn't find your size in the chart, you can contact me and make a custom order.
If you have any question or suggestions, please contact me.
Thank you for visiting and supporting my shop!
Dina