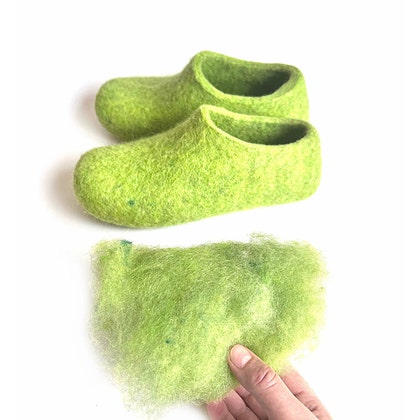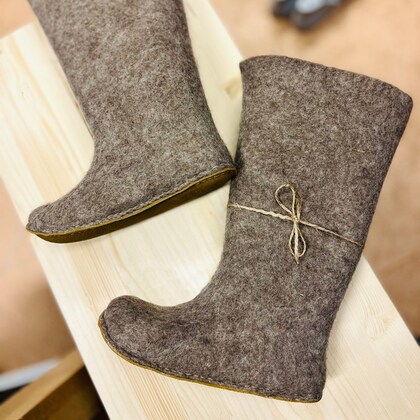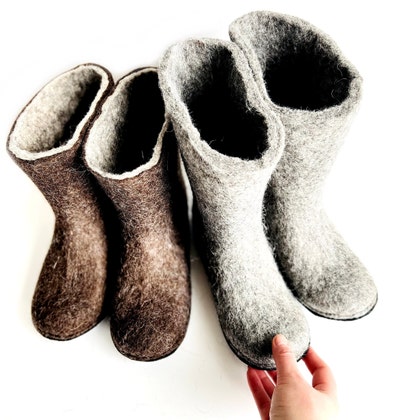 Announcement Welcome to Vilnius, the capital of Lithuania! I'm all about handmade comfort and style, so if you're looking for the perfect and cute pair of barefoot women's and man's wool slippers, you've come to the right place! I specialize in custom handmade warm organic wool slippers, house shoes, clogs, mules and boots, which means you get to choose the colors, fit, and style that suits you best. Plus, you won't find anything more comfortable than these cozy custom slippers!
So, whether you're looking to treat yourself or surprise a loved one, why not head over to my Etsy online shop and check out my range of custom felted wool slippers? Trust me, your feet will thank you!

Wiggle your toes into everyday luxury wool. Once bought = hooked for life!

37 options of natural organic wool colors to mix and match.
Add a sustainable crepe rubber soles for indoors and outdoors. Choose your favorite color from 10 options!

You will get obsessed with these wool slippers from the first walk. And don't be surprised by answering the question "Where did you get these?" hundreds of times a day.

Naturalness is the key! If you're looking for responsibly made warm and comfortable natural wool footwear, give your feet a @feltwoolslippers.

SUSTAINABILITY FEATURES
I am using the ethical organic wool only.
I am working with the Responsible Wool Standard (RWS) to ensure full traceability of wool and to protect the welfare of sheep, the environment in which they live and the small farmers who care for them.
For all our handmade felt footwear, we source wool from Austria and Germany (wool alpine and wild) Tyrol Bergshaft type carded wool because this kind of wool is the best for wet felting the footwear. The local European farmers' water and soap washing process is environmentally friendly as the water is recycled so that it doesn't pollute local rivers.

Handmade by local artisan Dovile in Lithuania, city Vilnius (European Union).

100% Biodegradable
100% Recyclable
The organic wool is biodegradable, so after the wearing your slippers or boots, you can simply compost them in your garden. NEW BIO CREPE SOLES- If you choose your felted slippers or wool boots with crepe rubber soles - welcome to compost them in your garden as well!

Ships in packaging made from recycled and recyclable materials.

Shop eco-friendly handmade wool felt footwear and organic wool supplies on the one-stop shop for everyone who loves the planet!

FOLLOW US
- Instagram
https://www.instagram.com/FELTWOOLSLIPPERS/
- Facebook > https://www.facebook.com/feltwoolslippers
- Twitter > https://twitter.com/FeltWoolSlipper
- Blog > https://www.feltwoolslippers.com/
- Pinterest: https://www.pinterest.com/FeltWoolSlippers/
- TikTok: https://www.tiktok.com/@feltwoolslippers

IMPORTANT: Shipments may be delayed during a pandemic or winter/spring holidays or the unforeseen nature or political circumstances. Our team is working hard to get your order to you as soon as possible. Thank you for your patience during this time.

GET INSTANT 10% OFF - Sign up for OUR newsletter - http://eepurl.com/hrrqw9
/we will not accept this discount code if the promotion discount is running already and for the custom orders)

--
Check the warm GIFTS- Traditional felt Handmade Boiled wool slippers, felt shoes, Wool Boots, Valenki, Winter Boots, Woolen Clogs. For Women and Men or Unisex sizes. With bio crepe soles, TR rubber soles or without the soles:
* Without any soles, just pure wool.
* Latex soles (for indoors only, healthy to your foot);
* BIO crepe rubber soles - sustainable!
* TR rubber Soles for Outdoors - Lightweight, comfortable, Non Slippery, with traction.
Welcome to find more info about these 4 sole advantages in FAQs

FeltWoolSlippers - STAY CLOSE TO NATURE
>>>>Our MOTO: Warm Feet = Warm Hearts <3
Your feet deserves to feel comfortable, healthy everyday. Lets create your unique style!

BLOG:
https://www.feltwoolslippers.com/

Thank you so much!

Every pair is handmade by our wool masters of our studio with a great attention and care. If any questions, please contact. We are accepting the custom orders.
Wear Eco friendly | Choose the beauty, simplicity and perfection on the everyday 💕
Announcement
Welcome to Vilnius, the capital of Lithuania! I'm all about handmade comfort and style, so if you're looking for the perfect and cute pair of barefoot women's and man's wool slippers, you've come to the right place! I specialize in custom handmade warm organic wool slippers, house shoes, clogs, mules and boots, which means you get to choose the colors, fit, and style that suits you best. Plus, you won't find anything more comfortable than these cozy custom slippers!
So, whether you're looking to treat yourself or surprise a loved one, why not head over to my Etsy online shop and check out my range of custom felted wool slippers? Trust me, your feet will thank you!

Wiggle your toes into everyday luxury wool. Once bought = hooked for life!

37 options of natural organic wool colors to mix and match.
Add a sustainable crepe rubber soles for indoors and outdoors. Choose your favorite color from 10 options!

You will get obsessed with these wool slippers from the first walk. And don't be surprised by answering the question "Where did you get these?" hundreds of times a day.

Naturalness is the key! If you're looking for responsibly made warm and comfortable natural wool footwear, give your feet a @feltwoolslippers.

SUSTAINABILITY FEATURES
I am using the ethical organic wool only.
I am working with the Responsible Wool Standard (RWS) to ensure full traceability of wool and to protect the welfare of sheep, the environment in which they live and the small farmers who care for them.
For all our handmade felt footwear, we source wool from Austria and Germany (wool alpine and wild) Tyrol Bergshaft type carded wool because this kind of wool is the best for wet felting the footwear. The local European farmers' water and soap washing process is environmentally friendly as the water is recycled so that it doesn't pollute local rivers.

Handmade by local artisan Dovile in Lithuania, city Vilnius (European Union).

100% Biodegradable
100% Recyclable
The organic wool is biodegradable, so after the wearing your slippers or boots, you can simply compost them in your garden. NEW BIO CREPE SOLES- If you choose your felted slippers or wool boots with crepe rubber soles - welcome to compost them in your garden as well!

Ships in packaging made from recycled and recyclable materials.

Shop eco-friendly handmade wool felt footwear and organic wool supplies on the one-stop shop for everyone who loves the planet!

FOLLOW US
- Instagram
https://www.instagram.com/FELTWOOLSLIPPERS/
- Facebook > https://www.facebook.com/feltwoolslippers
- Twitter > https://twitter.com/FeltWoolSlipper
- Blog > https://www.feltwoolslippers.com/
- Pinterest: https://www.pinterest.com/FeltWoolSlippers/
- TikTok: https://www.tiktok.com/@feltwoolslippers

IMPORTANT: Shipments may be delayed during a pandemic or winter/spring holidays or the unforeseen nature or political circumstances. Our team is working hard to get your order to you as soon as possible. Thank you for your patience during this time.

GET INSTANT 10% OFF - Sign up for OUR newsletter - http://eepurl.com/hrrqw9
/we will not accept this discount code if the promotion discount is running already and for the custom orders)

--
Check the warm GIFTS- Traditional felt Handmade Boiled wool slippers, felt shoes, Wool Boots, Valenki, Winter Boots, Woolen Clogs. For Women and Men or Unisex sizes. With bio crepe soles, TR rubber soles or without the soles:
* Without any soles, just pure wool.
* Latex soles (for indoors only, healthy to your foot);
* BIO crepe rubber soles - sustainable!
* TR rubber Soles for Outdoors - Lightweight, comfortable, Non Slippery, with traction.
Welcome to find more info about these 4 sole advantages in FAQs

FeltWoolSlippers - STAY CLOSE TO NATURE
>>>>Our MOTO: Warm Feet = Warm Hearts <3
Your feet deserves to feel comfortable, healthy everyday. Lets create your unique style!

BLOG:
https://www.feltwoolslippers.com/

Thank you so much!

Every pair is handmade by our wool masters of our studio with a great attention and care. If any questions, please contact. We are accepting the custom orders.
Wear Eco friendly | Choose the beauty, simplicity and perfection on the everyday 💕
All

64

Womens boots MID CALF

1

WMNS knee high boot TALL

1

Womens slipper neutral

12

Womens slipper 2-color

1

Wool slippers Marble

1

Womens felted mules

2

house slip on shoes MEN

12

Mens slippers 2-color

15

Mens felt clog slippers

13

BIG FOOT

1

DECORATED

5
Average item review
(316)
See reviews that mention:
Loading
This is the second pair of slippers we have purchased and they are again perfect! I will be recommending this shop to all my Michigan friends and family. They are the perfect fit, color, fabric is comfortable, and they are the best slippers we have ever owned!!!

These felt boots are wonderful and worth the price. Very good quality and very well custom made with thick wool. Amazing customer service. Very fast and informative. Followed advice on sizing and they fit perfectly. Highly recommend!!!

Lovely product, delivered to my daughter just before Valentines day, and I was happy to see she was very happy with them!

High quality, excellent craftsmanship, and exactly what I was looking for. Bought these slippers for my dad for a gift and he loves them. They fit him perfectly (thanks to custom sizing!) and he says they keep his feet perfectly warm without overheating. They do take a few weeks to arrive so order accordingly, but I highly recommend.

These are awesome! We are in Michigan so they are perfect for my partner to slip on to walk around the cold house in winter. Even ordered a second pair for myself! Exactly as expected. Thank you!

This shop listens very well and makes the slippers to fit exactly, all of my family and inlaws now have a pair.

love these slippers, very recommended!

Problem with sizing but it was resolved! Thank you, Dovile.

Problem with sizing but it was resolved! Thank you, Dovile.

Problem with sizing but it was resolved! Thank you, Dovile.

Video summary:
100% Sustainable Wool Felted Shoes and Boots are made by hands using the heritage wet felting technique. The felted wool is friendly with freezing cold, so your foot stays warm and comfortable during the cold season months.
Wear Eco friendly - Natural Wool Therapy - Bare Foot - Wool Felted Slippers, Boots, Shoes and Clogs
Shop members
Dovile

Owner, Designer, Marketing, Photography, Shipping

My name is Dovile. I'm founder at FeltWoolSlippers. I am making all the orders using organic wool. I was inspired with my Grandmother who was the best felted boots maker in our country side.

Sheep Do

Assistant

My name is Do. I am a sheep. An assistant :)

Sheep Do2

Assistant

My name is Do2. I am a sheep. An assistant :)
Shop policies
Welcome to my studio FeltWoolSlippers on Etsy!
Let's make something warm, stylish and unique no one's ever seen!

Choose from subtle natural wool colors, select your style and add personalized text to create a boiled wool slippers, felted shoes and wool boots you can call your own. Create your own felted footwear - select from 37 trendy wool colors! Add the colorful biodegradable crepe rubber soles.
Accepted payment methods
Accepts Etsy Gift Cards and Etsy Credits
Returns & exchanges
See item details for return and exchange eligibility.
Payment
I do accept Payment via Etsy checkout system that ensures the payment information secure of every customer.
Shipping
INTERNATIONAL SHIPPING & TRACKING
All items will be shipped from European country Lithuania:
- FREE SHIPPING using Lithuanian Postal Services, registered priority air mail with tracking number.
- SHIPPING UPGRADE - Express shipping option - DHL Worldwide Express (delivery in 1-3 business days).
We do ship Worldwide.
Please note that during the Holiday season and the the delivery terms are longer.
IMPORTANT: Shipments may be delayed during a pandemic worldwide!
Our team are working hard to get your order to you as soon as possible. Thank you for your patience during this time.
YOUR CORRECT ADDRESS IS VERY IMPORTANT
The buyer is responsible for giving their correct and current delivery address. In case of the address is incorrect or the buyer exceeds the maximum holding time and the package is returned to the seller, the seller agrees to reship the package only if the buyer pays for the repeat shipping.
PLEASE please DOUBLE check your shipping address!
Please also check your ZIP code!
If you want that your order was shipped to the other address, please write me a note or send me a convo.
CONTACT
Please write me using Etsy Conversations! Thanks so much!
https://www.etsy.com/shop/FeltWoolSlippers
More information
Last updated on
Jan 5, 2023
Frequently asked questions
Sizing details
There are several different shoe-size systems used worldwide.
Did you know that Nike and Adidas shoe sizing is different? We are using our sizing table!

*Each pair is custom handmade for the REGULAR foot width and for the normal arched foot.

HOW TO FIND YOUR SIZE - check product images (there is a sizing table and directions how to take a bare foot length measurements). MEASURE your bare foot length. Measure the longest distance between your heel and biggest toe and add that number /inches or cm/ into the notes when ordering.

**IF YOUR FOOT IS WIDE, NARROW OR HAVE A HIGH or/and LOW STEP - please let me know.

***IF IT IS A GIFT, please send me a message via Etsy messages
****If you are planning to wear thick socks, plz let me know.
Care instructions
As 100% wool slippers, boots, clogs and snow boots are handmade from natural wool, so the care about is SIMPLE!
- Simply clean by hands with a damp sponge and brush gently.
- Then lay to dry in a warm place and to ventilate in a fresh air.
- Use a soft brush to remove dirt or debris that has accumulated.
Do not use hot water and washing machine!
Sole options
FELT SOLES (natural wool)
We will not put any kind of soles - just pure natural wool. Totally warm and natural feeling. Will dry easier when washed. No sweating, no bad smell whatsoever.

LATEX SOLES_NON SLIP
Naturally sourced rubber LATEX SOLES- Makes your slipper boots more grip on any kind of floor. Wear indoors, use them as carpet slippers, relaxing at home and even sleeping :)

ECO FRIENDLY biodegradable CREPE RUBBER -Natural Caoutchouc Crepe Vegetable (10 colors: natural and colorful) soles for outdoors or indoors. Added without any glues.

TR NATURAL RUBBER SOLES
Durable rugged rubber soles - for snowy, cold, wet conditions.
Lightweight, Non slippery, grippery, flexible, comfortable.

ALL SOLES are tested by our team and reviews
Production time & Shipping terms
MAKING TIME
All items at my shop are handmade to order. I will make your order in 5-8 business days. Ready to ship items will be shipped in 1-2 business days.

REGISTERED PRIORITY AIR MAIL WORLDWIDE ----10-15 business days
I do offer Worldwide shipping. I ship with registered priority air mail. It is possible to track online.

DHL EXPRESS SHIPPING ---- 2-4 business days
Are you in a rush? Please select the DHL Worldwide Express delivery in 2-4 days
Please tell me when you need your order and I will make it ASAP!

During the holiday period, orders may take longer due to the large number of orders.
If you should need your order more sooner please send me a message via Etsy Conversations and I will let you know what timeline is possible.
Get instant 10% OFF
🎁%% ---- GET INSTANT 10% OFF --- 🎁%%
Sign up for FeltWoolSlippers Newsletters
http://eepurl.com/hrrqw9
Custom and personalized orders
YESS PLEASE!

I'm very happy to receive & make the custom or personalized orders for you. Animals, hearts, flowers, custom colors felt shoes and etc. are very welcome! Lets create together.

Please note, that we will not accept the returns or refunds for the custom made products with custom bare foot width and/or custom bare foot length, and/or custom decorations, and/or custom colors and etc. Hope you understand that a custom order is.
And please note as we add a thick layers of the wool to the toes and heel area and also around the feet, thus our products may look bigger size externally. All orders are responsibly custom handmade to order according confirmed bare foot measurements & add ons.
We check every step of our production.
Customer Support 24/7
Customer satisfaction is very important to me. I am here to help!
*Please send me a message using Etsy messages or email me - if you have the slightest questions, advices or suggestions.
**I will reply as soon as possible, Monday to Sunday, 24/7.
***Sorry, but due to the time zone differences, I am sometimes unable to respond immediately to your message.
Thank you for understanding and your patience. I really do appreciate it.

info (at) feltwoolslippers.com
Replacement items and returns (please talk in each case)
All my shop @FeltWoolSlippers items are custom hand made-to-order.

*REGULAR
If you find that you made a mistake when taking your bare foot length measurements and the product doesn't fit - we can simply offer an exchange. Please let me know your case using Etsy messages. Buyers are responsible for shipping costs for returns.
I will start the hand making of a replacement order only after receiving the original, unused, ideal condition item(s). Buyers pay the replacement delivery cost and the 45% extra price of original item for the remaking.

**WIDE, VERY WIDE, NARROW OR/AND CUSTOM DECORATIONS
Sorry, but I do not offer an exchanges as each pair is specially made for you.
Refunds
All my shop items are custom hand made-to-order.
*If you find that you received an incorrect item and you just want a refund.
Sorry, I do not offer any refunds. I do offer a regular sizing item for remaking / replacement when I will receive the original product return from you.
Buyers are responsible for shipping costs for returns and shipping costs for items that were remade for replacement shipping. If the item (s) are not returned in their original condition, the buyer is liable for any loss of value.
My feet is wide / narrow / flat arches/ high arches ???
Do not worry! WE WILL BE HAPPY TO MAKE THE SPECIALLY CUSTOMISED PAIR FOR YOU.

--------? -?-? Is your foot wide / narrow / flat / high arches / low arches

PLEASE let us know and we will send you the special instructions how SIMPLY MAKE the measurements of your bare foot length/
OR
Check my shop section *Wide large US 3 - US 15
OR
Request Custom Order.

All other my shop items are custom hand made-to-order according to your own measured and approved bare foot length and width only. Each pair is handmade for the regular foot width and for the normal arched foot.
Seller details
is considered a professional seller (known as a trader) in the EU. What's this?