Reviews

I'm super excited about it. I'm truly blessed that I was able to get it.once again Grace has another breathtaking piece of jadeite Bangle. I want to thank her and her father in law for absolutely stunning collection of jade. Thank you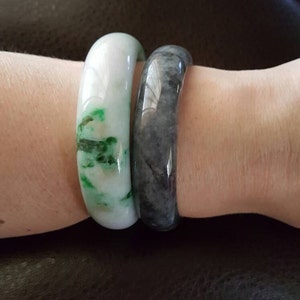 Best quality jadetie bangles. I'm super happy.grace goes beyond custmercare. Thank you for all your help.i can't give her anymore stars. But 100% percent customer satisfaction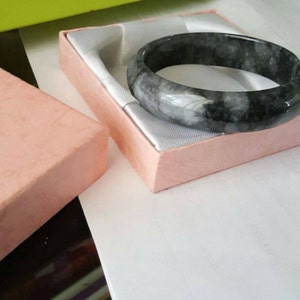 I love the black color and the pictures .I'm super happy with the bangle it exceeded my, expectations by far. I'm truly greatful to grace. May God bless her. she goes beyond custmercare. I pray she has more bangles.other goodies. Grace thank you from the bottom of my heart .Jacqueline .
About
GeGeDesigns
Welcome to my new shop! Here are an assortment of jewelry and accessories I've made and antiques and treasures from my collections and travels to Asia. I hope that you will be able to find something that you like.

Please feel free to ask me any questions or just simply have a conversation with me about any of these pieces!

*An important note about jade bangles. Not all jade bangles are the same even if they "look" the same. If a jade bangle's colors are too good to be true (examples purple white and green all together in one piece) or if their prices are too good to be true (a uniquely colored jadeite bangle for only $30), then you should question the integrity and the authenticity of that piece. The inappropriate use of technology runs rampant in the Jade industry nowadays.

I hand inspect all my pieces in person and guarantee that they are 100% real and have no use of chemicals or heat treating to enhance colors.

There has been a sudden increase in the technology of replicating nephrite and Jadeite using glass polymer. Please know that all my pieces are genuine jadeite that is untreated and not made with anything such as dyed quartz, dyed glass or fake serpentine/agate. There are over 30 minerals that can be passed off as Jadeite and if you ever suspect that any of my pieces are false, you have a 100% money back guarantee for the lifetime of the piece.
Shop members
Grace Gee

Owner

Grace Gee is the owner of GegeDesigns and sources her jades world wide from a network of vintage dealers whom she has known through her father in law who used to be a Jadeite dealer in Hong Kong and Shanghai.
Shop policies
Last updated on
February 13, 2011