Announcement HAPPY NEW YEAR!! To celebrate our 7th year on Etsy, we are giving a FREE GIFT with every purchase when you recommend our shop to a friend! Either by sharing our Facebook page (www.facebook.com/ghostshipjewelry), sharing our shop link (www.ghostship.etsy.com) on your Facebook/Twitter/Instagram or just telling a friend, "Hey, go to GHOSTSHIP ON ETSY for amazing jewelry!!".
Then include a note during Checkout letting me know that you reco'd our shop - we will send you an extra piece of jewelry free of charge as our thank you :-).
XO, Ky & Ricky
***********************************************
Welcome to the GhostShip from Toronto, Canada!! Here you can find high quality Handmade Artisan Jewelry, Bridal Jewelry, 14k Gold Jewelry, Sterling Silver Jewelry, Gemstone Jewelry, Pearl Jewelry, Lockets and more, all without breaking the bank.
***BRIDAL ORDERS: we can make duplicates for your bridal party with special discounts!
***EASY SHIPPING: We can also ship directly to your giftee anywhere in the world, with a handwritten personalized note from you! Flat rate shipping no matter how many pieces you order!!
***FACEBOOK GIVEAWAYS: Don't forget to "Like" our Facebook page - where we give away FREE jewelry!! (www.facebook.com/ghostshipjewelry)
***********************************************
GhostShip's jewelry line is romantic and beautifully delicate, all lovingly hand crafted with care and attention to detail.
Besides beachcombed sea glass - hints of pearls, antiqued filigree and natural gemstones also dot this precious jeweled landscape.
Designs range from the subtle and the 'barely there' - to the ornate, the unusual and the spectacular...
but each one guaranteed to be a memorable treasure.
So come aboard the GhostShip and dive back in time - who knows what you may find.
***********************************************
2016-2017 Collections
New to the Shop - the latest trends in GOLD JEWELRY - 14k Vermeil Gold Designs - 14k gold over sterling silver makes for high quality pieces without the price tag! You'll find staple line studs, trendy triangle necklaces, minimal gold hoop earrings and more...all in 14 karat gold Vermeil!
*I'm still carrying my original Worry Lockets with the addition of round photo lockets and floating silver lockets, they are our best sellers!
*New designs are added daily - with a focus on hand forged, everyday jewelry in 14 karat vermeil gold and 925 sterling silver.
*For Brides - classic freshwater pearl jewelry and gemstone jewelry make great affordable gifts for your bridal party. All designs can be duplicated!
*You'll also find unique, eco-friendly seaglass designs, beachcombed from Canada's frosty shorelines. Check out our gorgeous Dreamcatcher Necklaces, solitaire necklaces, statement necklaces, filigree lockets and charm necklaces using Canadian sea glass.

We are here to answer any questions you have - custom work, shipping, substitutions etc., just send us a convo!

With love,
Ky & Ricky
Announcement
Last updated on
Jan 14, 2017
HAPPY NEW YEAR!! To celebrate our 7th year on Etsy, we are giving a FREE GIFT with every purchase when you recommend our shop to a friend! Either by sharing our Facebook page (www.facebook.com/ghostshipjewelry), sharing our shop link (www.ghostship.etsy.com) on your Facebook/Twitter/Instagram or just telling a friend, "Hey, go to GHOSTSHIP ON ETSY for amazing jewelry!!".
Then include a note during Checkout letting me know that you reco'd our shop - we will send you an extra piece of jewelry free of charge as our thank you :-).
XO, Ky & Ricky
***********************************************
Welcome to the GhostShip from Toronto, Canada!! Here you can find high quality Handmade Artisan Jewelry, Bridal Jewelry, 14k Gold Jewelry, Sterling Silver Jewelry, Gemstone Jewelry, Pearl Jewelry, Lockets and more, all without breaking the bank.
***BRIDAL ORDERS: we can make duplicates for your bridal party with special discounts!
***EASY SHIPPING: We can also ship directly to your giftee anywhere in the world, with a handwritten personalized note from you! Flat rate shipping no matter how many pieces you order!!
***FACEBOOK GIVEAWAYS: Don't forget to "Like" our Facebook page - where we give away FREE jewelry!! (www.facebook.com/ghostshipjewelry)
***********************************************
GhostShip's jewelry line is romantic and beautifully delicate, all lovingly hand crafted with care and attention to detail.
Besides beachcombed sea glass - hints of pearls, antiqued filigree and natural gemstones also dot this precious jeweled landscape.
Designs range from the subtle and the 'barely there' - to the ornate, the unusual and the spectacular...
but each one guaranteed to be a memorable treasure.
So come aboard the GhostShip and dive back in time - who knows what you may find.
***********************************************
2016-2017 Collections
New to the Shop - the latest trends in GOLD JEWELRY - 14k Vermeil Gold Designs - 14k gold over sterling silver makes for high quality pieces without the price tag! You'll find staple line studs, trendy triangle necklaces, minimal gold hoop earrings and more...all in 14 karat gold Vermeil!
*I'm still carrying my original Worry Lockets with the addition of round photo lockets and floating silver lockets, they are our best sellers!
*New designs are added daily - with a focus on hand forged, everyday jewelry in 14 karat vermeil gold and 925 sterling silver.
*For Brides - classic freshwater pearl jewelry and gemstone jewelry make great affordable gifts for your bridal party. All designs can be duplicated!
*You'll also find unique, eco-friendly seaglass designs, beachcombed from Canada's frosty shorelines. Check out our gorgeous Dreamcatcher Necklaces, solitaire necklaces, statement necklaces, filigree lockets and charm necklaces using Canadian sea glass.

We are here to answer any questions you have - custom work, shipping, substitutions etc., just send us a convo!

With love,
Ky & Ricky No items listed at this time
Reviews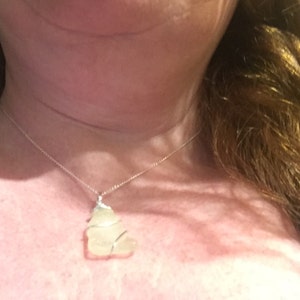 Speedy shipping even from CN to US. Love them.

Such a pretty necklace. Thank you! As always, I am very pleased with my purchases from this shop.
About
How The GhostShip Washed Ashore...
GhostShip represents much more than an on-line jewelry store to me. It is my passion for life, nature and all things creative.
One day, a friend and colleague of mine showed me a beautiful sea glass bracelet she made - and I immediately fell in love with the weathered unusual gems.
After many hours of beachcombing on Toronto's beautiful shorelines and testing out my designs, GhostShip was born. That was 2009.

Since then, I've combined my love of found objects, connecting with nature, and finding meaning behind each design. I believe that each piece of jewelry I create should have a message - it's like wearing a badge, a reminder, a keepsake. Which is why I share my personal stories in each piece of jewelry - why I named that piece, what it stands for, and what I am honoring.
As I believe every step I take and every breath I breathe should be meaningful and present. I guess that's the Buddhist in me :-)

GhostShip's style reflects my love of eco friendly found objects and all things vintage and pretty. Although I'm a true minimalist myself, I am drawn to lace, filigree, ornate and sparkly things!
So since I can't stop creating things and often go into a frenzied ball of designing, this is where hubby comes in. I call him the "VP of Everything Else"! He's the glue that holds GhostShip together. He makes sure the orders go out the same day, rain or shine. He makes sure all inquiries and custom requests are answered. He is MY rock (if not a little weathered too, haha!)
GhostShip is a team, and we consider each and every jewelry design a part of us - and we hope you enjoy your treasures too!

With love,
Rick and Kyra Crilly
Shop members
Rick and Kyra Crilly

Owner, Designer, Admin & Shipping & Prep

Welcome! We are husband and wife team - I love to design and create, while Ricky is the "VP of Everything Else" and is the glue that holds it all together! Every piece is handmade by us in our Toronto studio. Contact us for any questions!
Shop policies
Last updated on
April 23, 2017
Welcome to our shop! Please take a moment to read our payment and shipping policies - lots of good info here!
CERAMIC ORDERS: just a reminder, all ceramic orders are pickup only in Toronto, Ontario either at our downtown studio or an agreed location.
Accepted payment methods
Accepts Etsy Gift Cards and Etsy Credits
Payment
Payments are processed through Paypal or credit/debit cards.
As you go through the Checkout process, feel free to leave me a note if you have a special request!
If you'd like an item reserved, I'll reserve it for you, just send me a message!
Shipping
All items (except Ceramics, which are PICK UP ONLY) are shipped via Canada Post first class mail and are sent out the same business day your payment clears. It then goes through Canada Post First Class Mail or USPS if you live in the USA.

If you purchase multiple items at the same time, you are only charged shipping for the first item, the other items are FREE SHIPPING.
Isn't that a great deal?

DELIVERY TIME:
Please note that here in Canada there are no tracking numbers for first class mail...we aren't that sophisticated yet :-)
If you're in a rush and would like expedited service, we can use a courier service (cost is usually $30-$50, depending on your zip code and if you need 3 day or next day service).
DELIVERY TIMES: These are estimates only: within Canada 1-2 weeks, to the USA and international 2-4 weeks. Add on a couple of extra days during the busy Christmas rush. We guarantee your order will be posted same day or next business day - but can't guarantee a specific date of arrival :-p
If you are planning for a wedding, please try to order at least 3 weeks to ONE MONTH before your wedding day, just to be safe.

FOR CERAMIC ORDERS:
If you've purchased a ceramic piece, then you live in Toronto and have already arranged for pickup in our downtown Toronto studio or an agreed location.
If you haven't, please send me an email to: kyracrilly [!at] gmail.com or phone/text to 416-347-0170
Refunds and Exchanges
Not quite to your liking? Wasn't what you expected?
Return it and we'll refund your money, no hard feelings, no questions asked!

If your treasures arrive damaged from it's journey or if something breaks within the first year, please convo me and we'll replace your item, GUARANTEED.

We want you to have a great GhostShip experience, so please email me and I know we can work something out.
Additional policies and FAQs
CARE AND STORAGE:
All metals eventually oxidize - the rate depends on the ambient humidity, your body acidity and the types of chemicals (lotions and perfumes) you put on your skin.
To keep your treasures looking like new, store them in a ziploc bag in a dry place, away from humidity & moisture when you aren't wearing them.
Clean your jewelry after wearing them to remove sweat, perfumes and lotions - all of which can cause oxidizing. Wash with warm soapy water and dry well before storing.

Sterling Silver plated items (like GhostShip Worry Lockets) require a little bit of extra care...and are especially affected by moisture and sweat - so AVOID SHOWERING and EXERCISING WITH YOUR JEWELRY ON - it wears off the plating much faster! You can also keep your plated items lasting longer by wearing them over your clothes and avoiding contact with perfumes and lotions - any acids tend to erode gold and silver platings.
I've treated my plated findings with a special coating to make them last longer, but a little care can go a long way!

Your sea glass gems will become more translucent with time, due to your natural oils coating the stones. Some people prefer the frostiness, so simply wash with warm soapy water and dry to restore its original look.

ALLERGIES:
If you have sensitive or acidic skin, you may be allergic to silver, nickel, copper or brass items. Allergies can show up as a rash on your neck or itchy ears when wearing earrings. Even 925 sterling silver contains a small amount of nickel, which is usually the culprit.

Disclaimer: GhostShip products are intended to be used for external use by adults only and are not to be consumed internally. To do so may result in serious injury. If rash develops, discontinue use. If symptoms persist, consult a physician immediately.

CHAINS:
All silver necklaces and brass necklaces (except Lasso and some other styles) are usually snake, rolo, link or cable style, depending on availability from my suppliers. Their thickness is the same, about 1.5mm and generally look the same. Please inquire if you would like something very specific, otherwise you'll receive the current available chain style with your pendant.

BRIDAL ORDERS:
If you'd like to place a bridal order (multiples of the same item) or have a special request, just contact us!

CUSTOM ORDERS:
Although we are not taking custom designed orders right now, a different length chain, change in earring hook style or different colour gem if available is no problem at all. Convo us and we can work with your needs!