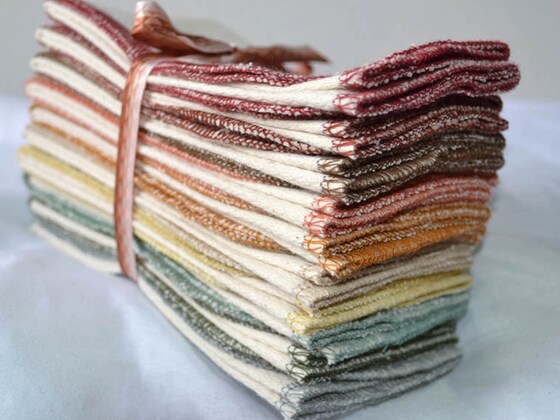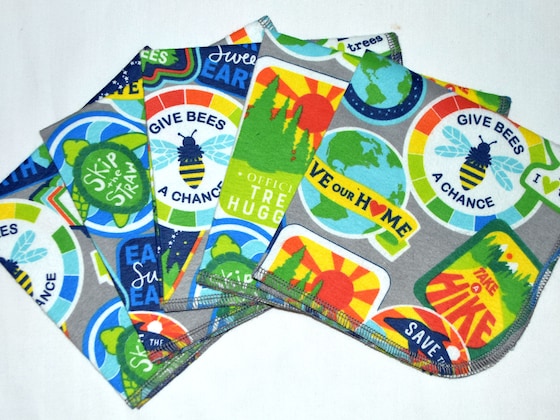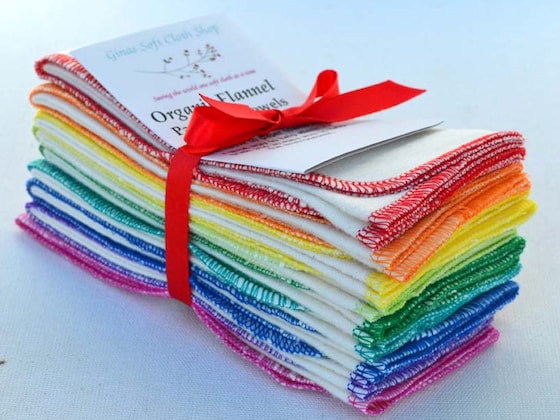 Announcement Welcome! Our products make great gifts for people who have everything (super soft Bamboo wipes, Organic Facial Rounds); college students (our paperless towels can wipe down a counter top, wash dishes and can be used for a wash cloth...multipurpose uses); New moms and babies, and teachers. Many of our items already have free US shipping, too.

*****************************************************

We are a small batch manufacturer, registered with the CPSC because we care about your safety and well being.

****************************************************
Thank you for stopping by! Please convo me if you would like something special, or made in a different color than shown. We are happy to work with retailers, co-ops, schools, and distributors and we do offer competitive pricing for quantity purchases.

*****************************************************

Go here: http://eepurl.com/uBVg1 to be added to our mailing list for sales and to be notified of new products, etc. We are Co-op and wholesale friendly...just start a convo.

*******************************************************

FAQ:

Q. There are so many choices, how do I choose, or even know what I want?

A. Here is a basic breakdown of our different fabric options, the pluses and minuses, etc.

Birdseye cotton: This is a 100% cotton fabric that is woven on a special loom called a "dobby loom". It creates a particular weave that forms a diamond pattern with a dot (actually an under weave) in the middle that looks similar to the eye of a robin, or a bird's eye. It is this special weave that gives this fabric its strength, softness, durability and absorbability. After it is washed, the fibers "fill" or quilt up, fluff up and become more interlocked. There is a slight grippy texture on one side of the fabric and almost a flannel like softness on the other. It is very absorbent and quick drying. We carry three types:

1. Organic Birdseye Cotton: Birdseye that was grown from organic cotton seed, and by strict organic growing methods and without the use of chemicals, pesticides or herbicides. It ranges in color from ivory to light tan. No bleach, peroxide, whiteners or brighteners are ever used. Our Organics are GOTS certified. Organic Birdseye is slightly heavier than the non-organic versions.

2. Unbleached Birdseye Cotton: Cotton grown in the typical method. Pesticides and/or herbicides may have been used in the production methods. It ranges in color from ivory to light tan. No bleach, peroxide, whiteners or brighteners are ever used. Our fabric is OKEO TEX certified, which means that no harmful chemicals are left in the fabric.


3. White Birdseye Cotton: Cotton grown in the typical method. Pesticides and/or herbicides may have been used in the production methods. It has been bleached white with peroxide, but rinsed completely out. It is also a certified OKEO TEX product.

Organic Cotton Flannel: Flannel has a plain (over and under weave) with some loose fibers that add fluff and softness to the fabric. This cotton was grown from organic cotton seed, and by strict organic growing methods and without the use of chemicals, pesticides or herbicides. It ranges in color from ivory to light tan. No bleach, peroxide, whiteners or brighteners are ever used. Our Organics are GOTS certified. Flannel is softer than Birdseye, but not as absorbent.

White Cotton Flannel: Flannel has a plain (over and under weave) with some loose fibers that add fluff and softness to the fabric. This fabric is an OKEO TEX fabric, but has been bleached white with peroxide. Flannel is softer than Birdseye, but not as absorbent.

Organic Cotton and Bamboo Velour: This is a very plush and soft knitted fabric that has a "pile" (velvet like texture) on one side and has a texture like a tee shirt on the other. Ours contain 70% Viscose Bamboo (a silky-soft fiber), 28% Organic Cotton, and 2% polyester. The fabric is a natural creamy ivory color. These make great wipes and are very soft.

Organic Cotton and Bamboo Fleece: This is also a very plush and soft knitted fabric that is made of 70% Organic Viscose Bamboo and 30% Organic Cotton fibers. The fabric is a natural creamy ivory color. This fabric has a pile that is more cushy than silky and also makes great wipes, facial cloths, etc. This may be the very best option for the most sensitive skin.



Q. When is 2 Ply better than 1-Ply, and vice-versa?

A. That depends greatly on your end use.

Baby Wipes: For diapering wipes, I personally prefer to have a few of each on hand.

1. The 2-Ply Birdseye 8x8 Little Wipe is the most versatile all around wipe because it does a great job of dealing with a messy bum. Plain and simple. A double thickness of cloth is better to keep that messy stuff away from one's hand.

2. The 1-Ply Birdseye 8x8 Little Wipe is perfect for getting in all of those "nooks and crannies". It is very easy to feel through the cloth to get everything nice and clean

3. 1 Ply Flannel 8x8 Little Wipe is very soft either dry or wet, but does a great job of getting baby nice and dry.

4. Organic Bamboo and Cotton Velour 8x8 Little Wipe is luxuriously silky soft, and great for blowing noses as well as washcloths.

5. Organic Cotton and Bamboo Fleece 8x8 Little Wipe is soft and fluffy, but sometimes a bit too thick to get in all of the crevices.

Napkins (Serviettes) and Kitchen Cleanup:

1. The 1-Ply Birdseye 8x8 Little Wipe is a bit thin and small for a nice napkin. These are great to dry your hands with, though.

2. The 2-Ply Birdseye 8x8 Little Wipe is great for casual napkins and things like making a sandwich, a lunch or kid's napkin. They also fit nicely into most napkin holders.

3. 11x12 1 Ply Paperless Towel is meant to take the place of a typical paper towel, and can do everything a paper towel can do, but without ripping. These will shrink about 1 inch in either direction. And are OK for a napkin for most casual meals. These are GREAT for cleaning the counter tops with because you can feel through the cloth. These are also great for dish washing cloths, and a favorite of people who like to camp because they wash up and dry so quickly, and are very versatile.

4. 11x12 2 Ply Paperless Towel shrinks a bit less and wrinkles a bit less than the 1-ply version. These are heartier, thicker and much better for messy meals like BBQ Chicken. These are my favorite for general around the kitchen use.

5. 14x14 1 Ply Paperless Towels are great for a nicer dinner napkin. They are a larger size for bigger clean ups in the kitchen and can be easily folded in half or quarters to mop up a big spill.

6. 14x14 2 Ply Paperless Towels are very nice napkins, can be used to dry dishes, etc. Their size and double thickness are the ultimate in handy kitchen cloths.

**************************************************
Announcement
Welcome! Our products make great gifts for people who have everything (super soft Bamboo wipes, Organic Facial Rounds); college students (our paperless towels can wipe down a counter top, wash dishes and can be used for a wash cloth...multipurpose uses); New moms and babies, and teachers. Many of our items already have free US shipping, too.

*****************************************************

We are a small batch manufacturer, registered with the CPSC because we care about your safety and well being.

****************************************************
Thank you for stopping by! Please convo me if you would like something special, or made in a different color than shown. We are happy to work with retailers, co-ops, schools, and distributors and we do offer competitive pricing for quantity purchases.

*****************************************************

Go here: http://eepurl.com/uBVg1 to be added to our mailing list for sales and to be notified of new products, etc. We are Co-op and wholesale friendly...just start a convo.

*******************************************************

FAQ:

Q. There are so many choices, how do I choose, or even know what I want?

A. Here is a basic breakdown of our different fabric options, the pluses and minuses, etc.

Birdseye cotton: This is a 100% cotton fabric that is woven on a special loom called a "dobby loom". It creates a particular weave that forms a diamond pattern with a dot (actually an under weave) in the middle that looks similar to the eye of a robin, or a bird's eye. It is this special weave that gives this fabric its strength, softness, durability and absorbability. After it is washed, the fibers "fill" or quilt up, fluff up and become more interlocked. There is a slight grippy texture on one side of the fabric and almost a flannel like softness on the other. It is very absorbent and quick drying. We carry three types:

1. Organic Birdseye Cotton: Birdseye that was grown from organic cotton seed, and by strict organic growing methods and without the use of chemicals, pesticides or herbicides. It ranges in color from ivory to light tan. No bleach, peroxide, whiteners or brighteners are ever used. Our Organics are GOTS certified. Organic Birdseye is slightly heavier than the non-organic versions.

2. Unbleached Birdseye Cotton: Cotton grown in the typical method. Pesticides and/or herbicides may have been used in the production methods. It ranges in color from ivory to light tan. No bleach, peroxide, whiteners or brighteners are ever used. Our fabric is OKEO TEX certified, which means that no harmful chemicals are left in the fabric.


3. White Birdseye Cotton: Cotton grown in the typical method. Pesticides and/or herbicides may have been used in the production methods. It has been bleached white with peroxide, but rinsed completely out. It is also a certified OKEO TEX product.

Organic Cotton Flannel: Flannel has a plain (over and under weave) with some loose fibers that add fluff and softness to the fabric. This cotton was grown from organic cotton seed, and by strict organic growing methods and without the use of chemicals, pesticides or herbicides. It ranges in color from ivory to light tan. No bleach, peroxide, whiteners or brighteners are ever used. Our Organics are GOTS certified. Flannel is softer than Birdseye, but not as absorbent.

White Cotton Flannel: Flannel has a plain (over and under weave) with some loose fibers that add fluff and softness to the fabric. This fabric is an OKEO TEX fabric, but has been bleached white with peroxide. Flannel is softer than Birdseye, but not as absorbent.

Organic Cotton and Bamboo Velour: This is a very plush and soft knitted fabric that has a "pile" (velvet like texture) on one side and has a texture like a tee shirt on the other. Ours contain 70% Viscose Bamboo (a silky-soft fiber), 28% Organic Cotton, and 2% polyester. The fabric is a natural creamy ivory color. These make great wipes and are very soft.

Organic Cotton and Bamboo Fleece: This is also a very plush and soft knitted fabric that is made of 70% Organic Viscose Bamboo and 30% Organic Cotton fibers. The fabric is a natural creamy ivory color. This fabric has a pile that is more cushy than silky and also makes great wipes, facial cloths, etc. This may be the very best option for the most sensitive skin.



Q. When is 2 Ply better than 1-Ply, and vice-versa?

A. That depends greatly on your end use.

Baby Wipes: For diapering wipes, I personally prefer to have a few of each on hand.

1. The 2-Ply Birdseye 8x8 Little Wipe is the most versatile all around wipe because it does a great job of dealing with a messy bum. Plain and simple. A double thickness of cloth is better to keep that messy stuff away from one's hand.

2. The 1-Ply Birdseye 8x8 Little Wipe is perfect for getting in all of those "nooks and crannies". It is very easy to feel through the cloth to get everything nice and clean

3. 1 Ply Flannel 8x8 Little Wipe is very soft either dry or wet, but does a great job of getting baby nice and dry.

4. Organic Bamboo and Cotton Velour 8x8 Little Wipe is luxuriously silky soft, and great for blowing noses as well as washcloths.

5. Organic Cotton and Bamboo Fleece 8x8 Little Wipe is soft and fluffy, but sometimes a bit too thick to get in all of the crevices.

Napkins (Serviettes) and Kitchen Cleanup:

1. The 1-Ply Birdseye 8x8 Little Wipe is a bit thin and small for a nice napkin. These are great to dry your hands with, though.

2. The 2-Ply Birdseye 8x8 Little Wipe is great for casual napkins and things like making a sandwich, a lunch or kid's napkin. They also fit nicely into most napkin holders.

3. 11x12 1 Ply Paperless Towel is meant to take the place of a typical paper towel, and can do everything a paper towel can do, but without ripping. These will shrink about 1 inch in either direction. And are OK for a napkin for most casual meals. These are GREAT for cleaning the counter tops with because you can feel through the cloth. These are also great for dish washing cloths, and a favorite of people who like to camp because they wash up and dry so quickly, and are very versatile.

4. 11x12 2 Ply Paperless Towel shrinks a bit less and wrinkles a bit less than the 1-ply version. These are heartier, thicker and much better for messy meals like BBQ Chicken. These are my favorite for general around the kitchen use.

5. 14x14 1 Ply Paperless Towels are great for a nicer dinner napkin. They are a larger size for bigger clean ups in the kitchen and can be easily folded in half or quarters to mop up a big spill.

6. 14x14 2 Ply Paperless Towels are very nice napkins, can be used to dry dishes, etc. Their size and double thickness are the ultimate in handy kitchen cloths.

**************************************************
See reviews that mention:
Why Paperless Towels, Gina?
After graduating from Bauder College in Atlanta, GA in 1983 with a degree in Fashion Design. I moved back to my home state of Maryland for family reasons and worked at a fabric store for many years and designed and sewed custom-created formal wear and wedding dresses.

My life took a turn, and moved away from sewing (as a living) for a time; but then I sustained a shattered leg injury from a bad fall, which took a year to heal, but that injury began a domino effect of health related issues, and I found that I once again needed to make a living working from home on my own schedule. We then moved to the quiet, peaceful and beautiful Mountain State of West Virginia, where we live now.

All along, I loved, made, and used cloth napkins in my home for economic reasons, but more importantly simply because they feel better than paper napkins, and they never fall apart like paper napkins do. Then, I read about "paperless towels", an idea similar to cloth napkins, but used to wipe down counters, wipe up messy kids, anything that you would use a paper towel for. Just like cloth napkins are better than paper napkins, these Paperless Towels are so much better than paper towels.

I now have a business partner since January 2017. Victoria and I now have a storefront in our small little town and employ 5 other woman.
Shop members
Gina Jordan

Owner, Sewist

Victoria Kesner

Co-Owner/Production Manager

In January 2017 I became Gina's Business Partner. Growing this business together had been a dream of a lifetime. We have been able to provide jobs and empower others to follow what they believe in.
Shop policies
Accepted payment methods
Accepts Etsy Gift Cards and Etsy Credits
Returns & exchanges
See item details for return and exchange eligibility.
Payment
We welcome Paypal, Etsy's instant checkout, Personal Checks and Money Orders. If a personal check is returned, a $25 charge will be added to the amount owed.
Shipping
We ship at the lowest cost that is practical, usually USPS, and we are happy to combine items for a lower shipping cost.

Please be aware that we live on a beautiful mountain in WV. Our mailbox is 1/2 mile away from our house, at the bottom of the hill. During extreme weather conditions, our shipping may be delayed because we simply can't make it down or up the mountain safely. I'll make every attempt to notify you if your shipment is going to be late. Thank you for understanding.
Additional policies and FAQs
I am very open to consignment and wholesale. Just convo me and let me know what you have in mind.
Seller details
GinasSoftClothShop is considered a professional seller (known as a trader) in the EU. What's this?