Announcement New Ring Styles! Unique Diamond Rings!
Announcement
Last updated on
Sep 13, 2016
New Ring Styles! Unique Diamond Rings! No items listed at this time
Reviews

Received my ring 😃. Love it! Exactly as pictured. Thanks for the fast shipping and secure packaging! 👍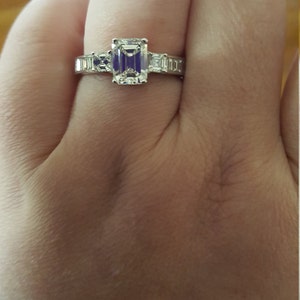 Like most guys, I didn't know the first thing about shopping for a diamond: clarity, cut, color etc. and between Kat and the team at The Diamond Specialist there was at least 50 emails educating and explaining everything each step of the way, giving me options and working with my budget. I currently live overseas so communicating wasn't convenient but they made it easy by always responding within 24 hours. Once the order got processed, it took 2 days for the design and they finished the ring by the end of the week. Kat sent me pictures right away and the ring looks exactly as shiny and clear and brilliant as described. Once it arrived, I was told it was shipped with the highest level of protection, tracking and even took a picture of the recipient for proof of delivery! Amazing. I would highly recommend them to anyone!
Shop policies
Last updated on
May 26, 2015
Welcome to The Diamond Specialist. Our professional and courteous staff is dedicated to make The Diamond Specialist your #1 Online Diamond source. We carry all styles and qualities of Diamond Engagement rings from Solitaire rings to Engagement Rings with side Diamonds. We also carry Diamond Bracelets, Diamond Pendants and Diamond Earrings.

The Diamond Specialist also provides you with a large collection of watches to choose from like Rolex, Cartier, Breitling, Panerie and much more… We carry an extensive collection of Loose Diamonds certified by GIA, DIA and EGL Laboratories. We also have a large selection of Fancy Colored Diamonds as well as Non-Certified Diamonds.

Here at The Diamond Specialist, we realized that people are looking for High Quality diamonds at affordable prices. So our motto is simple, "We work hard, to make you look good." It simply means that we provide the best Diamond products that will make you feel and look good without the extra cost. Here at The Diamond Specialist we have professional Goldsmiths on site that can duplicate any style of Jewelry or Engagement rings you could have possibly seen anywhere else for a fraction of the price.

The Diamond Specialist welcomes all trade-ins from scrap Gold and Diamonds to your existing Engagement Ring for Cash or Store Credit toward your next purchase. We have a lifetime trade in policy that allows you to always upgrade the center diamond you purchased from us. However, The Diamond Specialist went the extra step by allowing our customers to trade-in any other products purchased from us for newer designs without any financial loss. With over 25 years in business, count on us to always be there for you on your special day.
Store Policy

• Sales Tax: Sales Tax will be automatically added to the original price of purchase for all California Residents. (No Exceptions)

• Ring size: We are capable of making any ring in any finger size. All rings are Custom made to each Individual finger size. Finger sizes smaller than 5- and 91/2+ are considered not standard finger sizes so therefore are non-Refundable. (These finger sizes are eligible for upgrade and Exchange Only)

• Eternity Rings: Eternity Bands are available for any finger size. We custom make all eternity bands to fit each Individual finger size. (Eternity Bands are eligible for upgrade and Exchange)

• GIA and EGL Diamonds: These Diamonds are evaluated from well respected Laboratories. We purchase GIA and EGL Certified Diamonds directly from the Source. We import these Diamonds from overseas and are Non-Refundable. (Diamonds certified by GIA or EGL are subject to a 7% Re-Stocking fee when Returned)

• Diamonds not Certified By GIA or EGL can have a variance of one to two Grades Higher or Lower. Diamond grading is not an exact Science. Diamond Grading is an opinion. Our Gemologist's have over 25 years of Experience and we strive for accuracy. We offer GIA and other top Laboratory certified Diamond for your protection.

• Engraving: We offer free Engraving to all our Valued Clients. We can only fit 5 to 6 characters on each Individual Ring. These Engravings are all Hand Carved.

• Jewelry Warranty: We offer a 90 Day Warranty for all products purchased from us (Center Diamonds is not included under this Warranty). Additional Warranty is Available (Contact us for more Information). All our Items are Hand Made and we strive for perfection so please allow us time to make your product properly. Side Stones are under Warranty and if you do have an issue we will repair or replace your ring free of charge. Side stones are rarely an issue however this is not a valid reason for a refund. Please keep in mind that all our items are handmade. Our Craftsmanship is of the highest quality so therefore we offer a Life-Time Upgrade and Exchange.

• We strive to portray all Information accurately including product images and colors. Due to the variance of computers and computer monitors, color may vary. All images, text, product designs and HTML are copyrighted.
Accepted payment methods
Payment
Payment:

You can pay for your Item using Pay-Pal. If you do not have a Pay-Pal account you can sign up at: www.paypal.com. It's Fast, Safe and Free.
We accept all major credit cards: Visa, MasterCard, Am/Ex and Discover. (There is an automatic 5% processing fee on all merchandise returned using Credit Cards).
We offer a convenient Lay-Away Plan (Please contact us for additional Information).
We have Financing Available (Please contact us for more Information)
For Additional Discounts and Promotions please contact us at 1-800-694-3181.

For any other queries, please contact us at 1-800-694-3181.
Standard California state sales tax applies to all California orders.
Shipping
SHIPPING:

We only ship to confirmed address.
We do not ship to PO Boxes, FPO, AMP and AFO addresses.

Shipping:
We offer FREE Delivery shipping with our items for $500 and up and additional charges may apply for $500 and below items. All our Items are insured for full Value. We Safely Package all Items in a jewelry/gift Box. Please allow one to two Days for Domestic and three to five Days for International. Customers are Responsible for all Custom, duties and Taxes. Please check these costs with your local customs Office.


International Disclaimer:

All items shipped outside the United States are subject to import and duties custom taxes.
These charges are not included in the item price or shipping charges. We will not be responsible for any duties and custom taxes applicable in your country.

Kindly check with you country's custom office to determine what these additional costs will be prior to bidding or buying.

For items $500 and below:


Next day Air $29.99 (will arrive on the next business day from the time the package leaves the office.
Canada $65.00 (will arrive within 2-4 business day from the time the package leaves the office).
International $85.00 (will arrive within 2-7business day from the time the package leaves the office).
Refunds and Exchanges
Return Policy:
We have a 14 Day Money Back Guarantee. We offer a FULL MONEY BACK GUARANTEE on all items Not As Described. (Certain Restrictions and re-Stocking fees may apply). We strive for Quality and Accuracy (Please read all our feed backs and check us on BBB). All of our Items are handmade so we kindly ask you be considerate and read all our policies before you make a purchase. Your satisfaction is very important to us. We will do whatever is necessary to assure all clients a safe and pleasant transaction. To maintain our low prices we ask you work with us and we guarantee you will be 100% satisfied or your money back.
Valuable Information: If you purchase a style that you no longer care for we will exchange or upgrade it for you. If you purchase an item and do not like the way it looks on your hand we will upgrade or exchange it for you. If you like the style of the ring and just want to upgrade or exchange the Center Diamond we will accommodate you. We can offer you an Exchange with GIA, EGL or any other certified Laboratory you trust and prefer. If there is any part of your purchase that you do not like or wish to change we will accommodate you. If we do not have the style we will custom make it for you at no additional charge to you. We are a full service Jewelry Company with access to everything. We are also a Diamond Brokerage House. We check all stones purchased from our Sources for Quality control and Price Satisfaction. We are on your side and we work hard to make sure you get exactly what you are looking for.

Disclaimer: The Jewelry Industry is very highly competitive. We suggest you evaluate your product very smartly. When you receive your product and wish to have it checked we suggest:
#1 Ask them how much it would cost to have the same exact product duplicated.
#2 Make sure they are providing you with the same product GIA, EGL ect.
#3 Make sure they are not showing you a more expensive version just to make a sale then providing you with a lower quality product.
Example: "Hello. This is my sister's ring. Can you make this ring? How much would it cost to have this ring duplicated with the same Quality?" Then you can ask them "what do you think of the color and quality?" When the sales person feels that they are not just evaluating an item and might have a chance to make a sale they are more honest and provide you much more accurate information. All jewelry stores have very high operating costs and cannot compete with our prices so therefore might be Bias in their evaluation. We are confident that if you evaluate your item responsibly you will be another satisfied client for life.
To safely return an item:
• Please contact us for a RAN # authorization (We will not accept any packages we are not expecting)
• Include all paperwork including Certification and appraisal (all items missing Certifications or Appraisal will be charged $75.00 for each)
• Return item in original item box.
• Items being returned must not have been worn or used.
• All items must be Return Insured
• Items must be returned in the same condition as received to maintain our low prices and Return policy.
Additional policies and FAQs
Custom Jewelry:

We are a Diamond jewelry manufacturing company. We make all our items from scratch to assure quality and durability. All rings are custom made to fit each Individual finger so that you will not have problems with side stones falling out in the future. Other jewelry companies size rings up or down to sell their inventory. This weakens the integrity of the metal and causes side stones to fall out easier in the future. We are capable of duplicating any design or style in the market for less money (please contact us for more information). We carry thousands or different style of Engagement Rings and Bridal Sets. If you do not see the style you are looking for in our store, please send us a picture and we will Custom make it for you at no additional charge. We beat any advertised price Guaranteed!