Announcement SALE JUNE 28 TO JULY 6, 5-20% off all finished jewelry. We look forward to seeing you there!

Welcome to Heart of Water Jewels (Instagram @heart_of_water_jewels). We're happy to be a part of the warm and creative community of artists here on Etsy. We specialize in handforged, original and bespoke jewelry designs with natural colored gemstones. No casting is used in the production of our work; each piece has been made using direct metal techniques, beginning with a sheet of gold or silver. Please browse our "Sold" items to see some of the many unique pieces we've enjoyed offering over the years. We are a small fish, swimming thoughtfully in a big pond ...preferring the quiet places to the rushing current. Thank you for finding your way to our work!

*** We welcome layaway ☺ ***
Announcement
Last updated on
Jun 21, 2017
SALE JUNE 28 TO JULY 6, 5-20% off all finished jewelry. We look forward to seeing you there!

Welcome to Heart of Water Jewels (Instagram @heart_of_water_jewels). We're happy to be a part of the warm and creative community of artists here on Etsy. We specialize in handforged, original and bespoke jewelry designs with natural colored gemstones. No casting is used in the production of our work; each piece has been made using direct metal techniques, beginning with a sheet of gold or silver. Please browse our "Sold" items to see some of the many unique pieces we've enjoyed offering over the years. We are a small fish, swimming thoughtfully in a big pond ...preferring the quiet places to the rushing current. Thank you for finding your way to our work!

*** We welcome layaway ☺ *** No items listed at this time
Reviews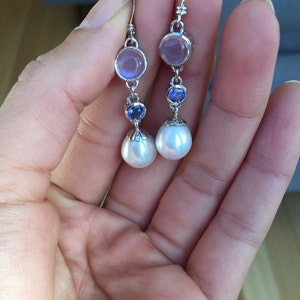 Incredibly beautiful. Thank you so much Sally! It was an absolute pleasure working with you.

The hen pendant is well made and so very cute. It arrived quickly and well packaged too. I enjoyed doing business with Sally, and I know I'll be a repeat customer. Thank you!

highest quality rainbow moonstone. It is perfect for the celestial theme, like a clear full moon.
About
Beautiful Little Fish
When I began trying my hand at design, I was advised to let go of the idea of having my ideas forged by hand. It's true that working directly with metal, no molds or casting, is an "old way" ... slow and low volume. But handforged jewelry has magic in it; it can hold all the qualities we wish to give you ...

A good deal of that magic comes from the hands of the master goldsmith. With over 35 years of bench experience, the bench jeweler who works with my layouts brings a patience and ease to his craft that comes through in the finished piece. The skill it takes to produce a fine piece of jewelry using hand forging techniques is largely exctinct in the West, and rapidly disappearing in the East as well. All the jewelry you see in this online store is made entirely by hand. Pomme prefers to work behind the scenes, but can be seen in everything in our store.

You see me here as well, in all of our designs, which originate in my heart and mind; I design jewelry that I would want to wear. I render all layouts by hand, no CAD ... these layouts are like blueprints for the metalsmith to work with. I also enjoy designing bespoke jewelry with the customers' preference in mind; this is another type of challenge and pleasure. You will glimpse me in our jewelry photography ... and when you write to us I will answer. We look forward to hearing from you.

To have a heart of water is to be kind, to have a soft and fluid heart. One of the ways we do that through our Etsy venue is by offering these top quality, original designs at reasonable market prices. We know the unique impression made by jewelry that has been forged by hand; more durable and more valuable than molded jewelry, it also contains more presence. We love being able to offer that to you. We love offering designs that have an essence of their own, hopefully an inspiration that speaks to your heart, too. Additionally, we choose local suppliers (gemstones, boxes, business cards) that are also small family businesses whose primary motivation is customer satisfaction. Everything flows from this, and returns to us in the form of a healthy pastime!

The advice we received at the start was true for the man who gave it. He works in a big, busy pond; he may not have imagined that there are quiet places along the banks where small things thrive. We prefer these places, where the current is soft and our colors flash, and we can enjoy being ... a beautiful little fish. Thank you for finding your way to us. We welcome the chance to collaborate with you!

**To see more of the many pieces we've created over the years, please visit our galleries at www.namchaijewels.com .... or browse our Sold Items here on Etsy.** Thank you!

(Our only presence is online; this site and the site listed above. We are not affiliated with any other jewelry companies or representatives. If you see other jewelers or shops copying or selling our designs, please feel free to convo us and let us know.)
Shop members
Sally

Owner, Designer

In a nutshell: I believe in the heart, in its ability to be present in things that come from the hands. And its presence is what gives meaning and value to anything ... this is where we begin!
Shop policies
Last updated on
June 4, 2016
Welcome to Heart of Water Jewels on Etsy! In the sections below, we have tried to offer all the information you might need on our payment, shipping and refund policies. We've also included a section on our famous Lotus design. Please enjoy reading, and let us know if you have any questions.

Please visit our "About" page to learn more about us, why we do what we do... we welcome you, and look forward to knowing you as a customer!
Accepted payment methods
Payment
The total price of each item is listed in our store; items can be purchased immediately by buying the listing. We also offer payment plans for customers who prefer paying for their jewelry in several installments; please write to us to let us know what will work for you. We prefer payment through Paypal. Feel free to write if you have any questions, we're happy to help.

Our payment procedures for custom orders differ from those for regular purchases from our shop; please see more details under "Additional Information" (below).
Shipping
We offer shipping by International Registered Airmail and Fedex. Delivery time for registered airmail is 10 days to 2 weeks. Signature is required for delivery and confirms receipt (signature either from someone at the address on the package, or from the PO box staff in the case of a PO box address). We appreciate your patience with international airmail; we cannot control speed of delivery, but we have never had a package lost or undelivered by a this method.

International Registered Airmail is increasingly trackable online, but not yet 100% of the time. We can track and trace packages sent by this method through our local postmaster, however (down to date of delivery and signature). This is a low-key but secure shipping method.

And finally, FedEx is available. and is shown as a preferred option on many of our listings now.

In the event of non-delivery or loss, action will be taken after non-delivery/loss has been confirmed by the Postal system/Courier following investigation.

******* Please fee free to discuss your shipping options**********

Each item in our store is shown with our suggested shipping method, but all methods are available for all items. If you would prefer a shipping method other than what is shown for your item, please write to discuss it with us. If you have any questions about shipping methods, do feel free to ask; we're happy to answer your questions or concerns. We have a good understanding of what methods work best for what areas, etc.

Shipping charges do not cover customs charges or import duty. Customs charges vary from country to country, and are the responsibility of the buyer. Write with any questions ... thank you!
Refunds and Exchanges
Our business begins and ends with our customers' satisfaction. If you have been sent the wrong item or are not satisfied with your jewelry, please write within 5 days of receipt to request a full refund, excluding shipping/handling, currency exchange and listing fees. Refunds will not be made on items that are returned without communication, or on items that are not returned in the same condition in which they were shipped. Return postage charges are the responsibility of the buyer; contact us to discuss your concerns, and to receive shipping instructions.

If an item needs adjustment or repair due to an oversight or error on our part, we are more than happy to offer any necessary work free of charge, at our workshop (please write to arrange and to receive safe shipping suggestions prior to returning your item). In terms of sizing, we don't reimburse the cost of having a ring resized in your country that we have made correctly in the requested size. Please consider the size you request carefully, and do talk to us if you're not sure; we're happy to help. In general, when buying jewelery online, it's important to study the photos and descriptions so that you are as familiar as possible with what you are buying before you buy ... in our shop, we welcome any and all questions, talk is free! Our jewelry is top quality and handmade; nothing beats that combination. Uniquenesses in handmade work are inevitable, and we ask for your appreciation of this, and welcome your communication if you feel anything is amiss in your setting. We look at our relationship with you as a long-term one, and always have your satisfaction first in our minds.
Additional policies and FAQs
Our LOTUS Design. The Lotus design you see in our store is an original, copyrighted design, created in 2006. It was designed to hold a star sapphire that was so beautiful ... every setting made to hold it seemed to diminish it's natural splendor. The Lotus setting steeped inside the designer for close to two years before emerging in its final form with the curved petal prongs, pedestal base, and delicate trademark side scrolls that you see here. For those who say there are no new ideas, we would ask you to show us a ring like our Lotus, prior to the year it emerged from our workshop ... we're proud of this original design! It's a hallmark of our Etsy store in fact: the first piece we sold here was a Ruby Lotus ring. The copies that have become available elsewhere in the last few years, unfortunately here on Etsy and also by several US jewelers, are a very high compliment. But know that the original Lotus is made here, more beautiful and with a more reasonable pricetag than any of the copies outside of this shop.

We have several Lotus offerings in our store now. The "Lotus" is the original, classic setting, for cabochons or cut stones. The Baby Lotus is the Lotus for tiny gems (gems under 4.5mm). The Venus Lotus holds rose cut rainbow moonstones. The Lotus Engagement Setting has a wider band, and holds 2 diamond melee on each side support ... and the Lush Lotus features curved petal prongs, with additional carving/cutwork in the basket (inside each petal and between the petals). It is an exquisite version of the Lotus, and works well for gems of 7mm and wider. The Petal Lotus features petals on each side support, finished at their base by delicate double wraps on the shank.

CUSTOM ORDERS: We welcome custom orders; please feel free to write with questions or ideas. For custom work we require a 50% non-refundable deposit to begin the work, with the balance due on completion (plus shipping). Communication is key for custom orders; we are happy to take the time required before beginning work on your custom jewelry. Because custom orders are specifically requested and agreed upon by the customer, and are not a part of our line, they are non-refundable.

We do not have insurance that covers loss or damage to materials provided by the customer. In the event that a gem is damaged during setting, we would be unable to replace or provide other reimbursement for the gem. We take extreme care with all the materials we work with, and have not yet had a situation of loss or damage arise -- our bench is a place of old ways and patience. But setting is a stressful process, and damage to a gem is a possibility; we would ask you to consider our policy, and make sure you are comfortable with it before beginning any work with us using your materials (thank you).

Loss of materials in the post is also a risk one takes with shipping. We have not yet had a situation of loss arise, but again, it's possible. We will provide full reimbursement of items shipped by us that have been proven to have been lost (confirmed through postal tracking systems) after the postal tracking process has been completed. Refund excludes shipping charges. Refunds do not include the value of any materials that were provided by the customer, as the price of these materials is not included in the price paid to our shop.

Our policies are in place to give our customers a general understanding of what can be expected. We tend towards flexibility over rigidity; customer satisfaction plays the strongest role in our response to situations that arise.

Thank you!



.