Announcement WELCOME! Looking for something specific? Speed up your search by looking at my SHOP SECTIONS listed at the left of the screen ~ I have SO many items waiting to be listed! Please check back for LOTS of beautiful vintage clothing and household goods.
Announcement
WELCOME! Looking for something specific? Speed up your search by looking at my SHOP SECTIONS listed at the left of the screen ~ I have SO many items waiting to be listed! Please check back for LOTS of beautiful vintage clothing and household goods. No items listed at this time
Reviews

Very happy with purchase. Arrived very quickly. Thanks!

Quick delivery!! Very unusual and fun to wear.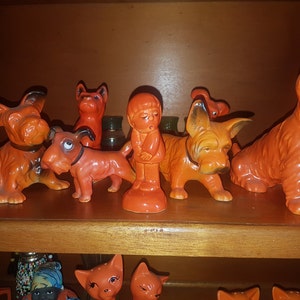 Shes the Dog Whsperer now. My 1st Etsy purchse will be my forever favourite. Amazing communication. Safe packaging, fast post and a free gift . What more can you ask for?
About
When Life Gives You Lemons...
A few years ago my life changed in a dramatic way, and I found myself in a position that I did not expect to be in as I was entering middle age. Physical issues related to the work that I had done my entire life made it clear that I would not be able to continue in that career and I had to make some tough and scary choices.

I closed my business and began the process of deciding what the rest of my life would look like. One of the things that was fortunate for me was that I had amassed a HUGE collection of vintage items over a period of over thirty years.

Many of the pieces I was completely in love with and fully intended to keep, but the rest I was ready to part with. I had just been dragging my feet because I didn't know where to start.

Then...... I heard about Etsy! What a fabulous thing! A world-wide audience for my treasures! What more could I ask for?

I absolutely love the feeling of sending my beloved treasures off to new homes, where I believe they are going to be as safe and loved as they were with me.

As for the rest of my life? Still a work in progress :-) Exciting, but scary.
Shop members
Jean

Owner, Vintage Addict

Happily entering middle age, I am starting a new life that includes Etsy and going back to school - both interesting and fun adventures!
Shop policies
Last updated on
July 1, 2016
~ Thank you for your interest in my treasures! I am excited about sharing my collection of vintage clothing and household goods. I am intrigued by the history of vintage pieces, and I enjoy thinking about where they have been - who has worn or loved them before me - and who will wear or love them after me!

~ The vintage items are in excellent condition. I have been collecting for over thirty years and am very picky about the condition and quality of the items I purchase. If there is any condition issue that I am aware of - I will make sure YOU are aware of it too!

~ My vintage items, (both clothing and houshold) fall into a W-I-D-E swath of history. I just like what I like, and unique and beautiful items from many eras have managed to find their way into my collection at one time or another. Now they can find their way into yours!
ENJOY - and come back often!
Accepted payment methods
Accepts Etsy Gift Cards and Etsy Credits
Payment
~ I accept PayPal, credit cards through Etsy, and Etsy Gift Cards.

~ PUTTING ITEMS ON 'HOLD/LAYAWAY' - Unfortunately, because I am tired of dealing with the stress, as of 4/5/14, I am no longer doing holds or layaways UNLESS YOU ARE ABLE TO PROVIDE AT LEAST ONE REFERENCE from another Etsy vendor who will attest to your reliability as a customer who makes their payments on time.

Although I have been VERY clear about my policies regarding timely payments, my experience has been that more often than not, I end up having to track people down for past due payments. I have also had customers just disappear and stop making payments or communicating with me in the middle of a layaway, which means that the item was unavailable to other buyers while they "had it on layaway". Then I have to go through the process of cancelling the sale and providing a refund.

To give me a reference, please provide me with the name of the vendor(s) that you have previously done business with and I will contact them.

I am genuinely sorry that I felt like I had to make this change, but it had gotten to the point of ridiculousness.
Shipping
~ I ship to the address provided to me by Etsy upon completion of your transaction - To avoid any issues, PLEASE be sure they have current and accurate information.

~ If you purchase more than one item at a time, chances are you will save some money with the combined shipping. This is not always the case, but if you would like to have me figure out the total amount to ship multiple items, contact me and I will be happy to figure it out for you. If you are domestic, please include your zip code when you contact me and I can give you a pretty exact figure.

~ If you live in the Tacoma, Washington area and would like to pick your item up rather than pay postage - contact me. If we can arrange something that works for both of us I am more than happy to do that.

~ I use recycled boxes to ship the vast majority of my packages. I am a firm believer in recycling, and also feel that under most circumstances, a box affords your item more protection from potential punctures or tears than an envelope.

If you would like me to use a different form of packaging, let me know BEFORE YOU MAKE YOUR PURCHASE! If a new box needs to be purchased, the cost will be added to the shipping and handling. Some boxes and envelopes are available free from the USPS, but they will sometimes require using a higher shipping rate. I can also usually get your package out much more quickly with the recycled boxes since I have them readily available.

~ UNLESS YOU REQUEST OTHERWISE, I will ship items at Standard or Priority rate. This does mean that it may take a little longer for the item to get to its destination. If you want to speed up the process, let me know BEFORE YOU PURCHASE and I will re-calculate the shipping cost for you and change the rate on the listing. If the shipping rate has not been changed to reflect the higher rate before the item was purchased, the difference in postage must be paid before it is shipped.

~ PLEASE NOTE that the lower INTERNATIONAL SHIPPING RATE does not provide a tracking number once the package has left the US. Again, let me know BEFORE PURCHASING if you would like to upgrade to a higher shipping rate to allow for that, and I will add it to the shipping shown on the listing. Please be aware that the international rates jump *significantly* when you go above the First Class (lowest) rate.

~ ITEMS LOST OR DAMAGED IN TRANSIT: I will pack your item(s) extremely carefully, but I can not be responsible for the care it is given once it leaves my hands, and I WILL NOT BE HELD RESPONSIBLE FOR PACKAGES LOST OR DAMAGED IN TRANSIT.

If you are interested in INSURING your package, contact me before purchasing and I will let you know how much additional postage it would be. If you decide to go ahead with insurance, I will add it to the shipping rate on the listing. Adding insurance is generally surprisingly reasonable.

If you opt to insure your package, you will be considered the insured party, and as such, you will be responsible for working with the USPS if anything should happen to the package in transit. Be sure to take photos and hold on to all the packaging, etc.

~ Last, but not least, please don't ask me to lie on the U.S. customs forms. They are essentially signed contracts with the US government, and I am not willing to risk Hip Kitty Vintage by being less than honest when I fill them out.
Refunds and Exchanges
~ All sales are final. Vintage items are sold 'as is'. I am a stickler for trying to find items that are in perfect or near-perfect condition to sell. I am also obsessively careful about trying to find any flaws, and if I do, I will mention and/or photograph them. However, rarely something minor may slip by me. Please keep in mind that these items are all at least twenty years old, (the majority are significantly older than that), and it is almost impossible for the items to be completely flawless.

~ IMPORTANT! The measurements shown in listings of clothing items are of the garments, and not the wearer! I try to make sure that the measurements are as accurate as possible. Unless otherwise noted, the measurements on the garments are taken by laying them flat, measuring across the garment from side to side, then doubling the appropriate measurements to get what is shown in the listing. For example: if a garment laying flat measures 15" from side to side at the waist, I will list the waist measurement as 30". If you are unsure about the fit, please take a similar garment of your own, lay it out flat and take the measurements to see if they are comparable. If the garment is of an unusual or otherwise difficult shape to measure using that method, I will describe in the listing how the measurements were taken.

~ If you have specific questions about an item you are interested in, measurements that you think might be a little tricky... PLEASE ASK! I am more than happy to answer your questions. My intention is to give you any information you need to be comfortable before making a purchase.

~ EXCEPTION TO THE RULE - Items like radios, telephones, clocks, anything that "RUNS" has been tested before being listed. If you receive an item that *should* be working, but is not WHEN YOU RECEIVE IT - it is returnable, otherwise these items are also not returnable. Although I would never sell an item that wasn't working without making that very clear in the listing, there is no way for me to predict how long it will continue to work once you have received it. Contact me WITHIN 48 HOURS of receiving your item to let me know if there is a problem.

IMPORTANT - To return one of these items, it MUST be packed in the same or similar packaging as what you received it in. If it is returned to me with any additional damage directly related to insufficient or faulty packaging, I will not be able to give you a full refund.

~ If you feel like anything you purchase from me has been grossly misrepresented, please don't hesitate to contact me!
Additional policies and FAQs
~ Ask me about discounts on multiple purchases. I am happy to give you a break in the price when the purchases are made at the same time.

~ MAKING OFFERS: I am willing to at least consider *reasonable* offers on some (but not all) items. If you low-ball me, chances are very good that it would cut considerably into my profit on the item and I will not accept it.

~ When I put a "CIRCA" date on an item, it is sometimes an educated guess based on over thirty years of collecting vintage items. If I occasionally get it wrong, it is not intentional and if you have concrete information regarding when an item was produced, let me know! I LOVE to be educated by my customers!