Reviews

Really cool looking, love it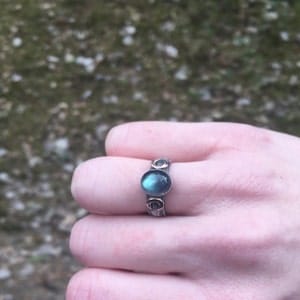 I asked Char if she could make one of these with labradorite, and I couldn't be more pleased! I even asked if she could use a greener variation of the stone and she managed. Super happy with the service, communication, and finished product! Highly recommended <3 Thanks, Char!
About
Indigo Silver Studio
I learned basic jewelry making and metalworking skills back in High School. Working plain basic metals into wearable pieces of art was extremely satisfying. I fell in love with it.

Then I raised my family. I am the mother of four lovely daughters. Life gets busy guiding children into beautiful young ladies. :) But times flies, (faster than we think) and when my last two girls hit high school and I had a little more time again, I started making jewelry part time, just for fun. Now I have a full time studio and am loving it.
My studio is located in my home, on our small 40 acre farm. We are a good 1/2-hr out of town, so not having to leave home to commute into town every day is wonderful. My morning commute consists of coffee (ummmm coffee), taking Grace (my Golden Retriever) and Mason (my Great Pyrenees) outside, and then heading to the studio.

All my jewelry is handmade by me. I love real, natural stones and am picky about where and who I trust buying my stock from. I do weed out the occasional stone that is not up to pare before I place anything low quality in my jewelry. Only occasionally do I include a lab created stone in my line, but I will always note that in the listing.
I use all solid quality metals. Nothing I make is silver or gold filled. My skinny stacking rings are generally not stamped as they are smaller than my stamp.
Quality is very important to me, but so is affordability, please know I do my very best to balance the budget in that department. I sell well below mall jewelry store prices, but I must maintain a workable studio with tools, supplies and equipment.

Customer service and happiness is very important to me. And I am pretty easy to get along with. Please feel free to convo me with any questions or concerns. You will not fight to be treated like you should be treated.....like a valued customer. :) Whew!!

I thoroughly enjoy my work. As a long time rock hound, artist, crafter I can't think of a better way to spend my days than to create.
Ok...maybe only one better way....I will drop everything when I get a chance to spend time with one of my grand-daughters. :D

We also have a big garden, and chickens, horses, dogs and a herd of farm cats. We grow a lot of our own vegi's, and herbs for culinary and medicinal use. So hubby spends time haying and tilling. And I spend a lot of time weeding, canning, freezing and did I say weeding? ;)

I am truly blessed. And I thank all my customers here on Etsy for their patronage. Please know that every purchase in my shop is made with love, and that each piece I make and send out into the world brings many years of enjoyment to it's purchaser is my goal.

(I am still working on my Shop Page, so check back soon. I am planning on adding studio pictures and maybe some work in progress pics.)

Thank You! :)
Char
Shop members
Char

Owner, Creator, Designer
Shop policies
Last updated on
April 20, 2016
Thank you for visiting Indigo Silver.
~~~~~~~~~~~~~~~~~~~~~~~~~~~~~~~~~~~~~

I have loved creating things and collecting rocks all my life.

Once when I was doing a interview I was asked if I collected anything. I answered: rocks.
Sounds pretty Charlie Brown Halloween'ish, but it is true.
It's not like I pick up any and all rocks, but over the years I have collected many interesting pieces from fossils, agates, petrified wood....

Being able to work with and search for interesting stones for jewelry is like a dream come true.
So for everyone that has or is thinking of purchasing a piece of my jewelry, know that is was created with all the excitement of a true rockaholic!
~~~
As a full time artist, this is my livelyhood.
I put a lot of attention to detail and finishing of my pieces so you will have a true treasure.

~~~~~~
MY STONES:
I love real natural gemstones. Most of my jewelry is made with real gemstones. Occasionally I find some good deals on lab created stones, which for all intents is real as they are molecularly the same as "real" stones. A lot of jewelry on the market is made with lab stones, as they are cheaper and free of inclusions. I do use some colored quartz, like my emerald green quartz ring. But I do not use colored glass stones, ever. All my listings will state which type of stone is used. I buy from only a select few trusted suppliers.
Some of my stones may or may not be treated. Treated stones are an industry standard and are done to enhance color, clarity or to stabilize. Many stones are treated in one way or another. Some stones (eg: London Blue Topaz or affordable Citrine) would not even be available/possible if it was not for treatment. These treatments are quite stable and permanent and sometimes help stones maintain quality and stability.

MY METALS:
I do not use gold or silver filled metals....EVER. All my pieces are SOLID .925 sterling silver or SOLID 14k gold. As of this summer, all my pieces will be stamped with their metal content, except my skinny 1.3mm stacking rings. I am still hunting for a readable tiny stamp for these.

MY PRICES:
I know my prices are much more affordable than the jeweler at the mall. This is not in any way due to the fact that my gemstones are not real or my work is inferior. It is completely due to the fact that I do not mark up my work nearly as much as the big jewelers. I do not have an expensive slot in the mall to pay for nor do I have salespeople's salaries to pay for as they do.
This savings I can pass along to you.

I try to keep my jewelry prices as reasonable as I possibly can. But some gems are just more expensive than others and the price of silver is a fluctuating market.
Right now silver is on the rise like never before. My gemstones are genuine unless noted. Although I can purchase wholesale most of the time, real gems are not always cheap.
Accepted payment methods
Accepts Etsy Gift Cards and Etsy Credits
Payment
I accept PayPal and Etsy Direct Checkout

Pay Pal payments can also be made (even without opening a Pay Pal account) with a Debit or Credit Card.

You will receive a shipping and tracking notice when your items ship.
Shipping
US SHIPPING:
I ship with the US Postal Service First Class or Priority both are insured.

I purchase shipping online thru Etsy, for all shipments to the US. So whether your package comes First Class or Priority you will receive a tracking number via email.

Although it is rare, packages have been lost in the mail. With tracking it happens less than it used to, but it still happens.
Please contact me or your local post office with the tracking information you where provided, if you have not received your jewelry in a timely manner. I will be more than happy to help you track it or I will replace your piece and file the insurance on packages.


**** PLEASE READ ***** INTERNATIONAL SHIPPING:
NOTE: I have gone back to using ONLY PRIORITY INTERNATIONAL for international shipping. (I know it is expensive, it is not my choice, the US Post Office has raised their rates)

I will make exceptions, if you would like First Class Insured, please contact me via convo to set something up.
First Class takes longer and provides less tracking.
AND..... I have had First Class International take up 6 WEEKS to some destinations and up to 8 WEEKS at the longest.
I am sorry, but I have had to many misunderstandings in the past with First Class times and tracking, that is why I am setting Priority as the default method.

I will not refund for shipping on returned items, refunds will be for purchase price only and only upon my receiving the item back and in proper condition. Please contact me prior to returning items. Returns must be posted within 14 days. I will not pay return shipping costs.
All of my rings are made to order, thus are custom orders. So custom order guidelines apply.

Taxes, duties, import charges, VAT etc... are buyers responsibility, these are NOT charged by the US Post Office, I have no way of knowing if you will have these charges when I am shipping.
It is the buyers responsibility to check with their postal service prior to purchase.

Here is a website that might help calculate your import/VAT/duties/tax/etc...
(I cannot guarantee this duty calculator is 100% accurate, the best way to know for sure is to contact your postal office or website)
http://www.dutycalculator.com/new-import-duty-and-tax-calculation/

I will not mark items as "gifts", and I cannot change the price on the postage label, if caught this carries a hefty fine and possible imprisonment.
Refunds and Exchanges
If returning an item, I strongly suggest purchasing tracking.

Please, if you are not satisfied with your purchase, email or convo me. Exchanges and repairs are available.

Many of the rings pictured in my shop are not the exact ring and stone you will receive. They are made to order, meaning yours will be made upon ordering, in your size and from a lot of stones that are all similar.
Some listings include possibilities for color or shade requests, such as my labradorite ring.

Photos can vary in color from computer to computer, due to monitor settings and such. If you are worried about color, tone, etc...best thing to do is check the listing on another computer, phone, tablet and see if it matches up. (My phone seems to show pics a bit brighter than my computer, but my computer shows pics more accurately) Or feel free to contact me with any questions before purchase.

Rings with solid bezel set stones are hard to resize. So please try to be sure of your size when ordering. If you need help in figuring your size, please feel free to contact me. I have a number of ways to help.
Some rings without solid bezel settings can be resized easily. Contact me if you are in need of a re-size.

I want you to be as thrilled with your jewelry as I am while I am creating it.
Additional policies and FAQs
~~~~~~~~WEEKENDS~~~~~~~~~~

I love to spend time with my family. So in order to try and maintain a bit of balance in my life, I do not check my shop as often on weekends as I do during the weekdays.

~~~~~~~~ RING SIZING ~~~~~~~~

The BEST way to get your right size is a trip to the jewelry counter.
Any place that sells rings should have a ring sizer that you can use. I am not sure if I can list names here, but W@lm@rt's jewelry counter has ring sizers and they do not work on commission, so there's a bit less pressure from the sales people. (Km@rt is another low-pressure idea.)

I also have ring sizers listed in my shop for a low price.


~~~~~~ MADE TO ORDER RINGS ~~~~~~
Please allow as least one to two weeks for fabrication and shipping. Fabrication time will depend on the number of orders ahead of yours.

I work on a first ordered, first finished basis.

*************************

Please feel free to email me if you have any questions, requests or before leaving negative feedback.



~~~~~~~~ BIRTHSTONE GUIDE:~~~~~~~~


MODERN:
-------
January - Garnet
February - Amethyst
March - Aquamarine
April - Diamond ..(wish I was born in April! LOL)
May - Emerald
June - Pearl
July - Ruby
August - Peridot
September - Sapphire
October - Opal
November - Topaz
December - Blue Zircon / Blue Topaz
~

TRADITIONAL:
-----------

January - Garnet
February - Amethyst
March - Bloodstone
April - Diamond
May - Emerald
June - Alexandrite
July - Ruby
August - Sardonyx
September - Sapphire
October - Tourmaline
November - Citrine
December - Turquoise
~

ZODIAC:
-------
Capricorn (Dec 22 - Jan 20) - Ruby
Aquarius (Jan 21 - Feb 21) - Garnet
Pisces (Feb 22 - March 21) - Amethyst
Aries (March 22 - April 20) - Bloodstone (Jasper)
Taurus (April 21 - May 21) - Sapphire
Gemini (May 22 - June 21) - Agate
Cancer (June 22 - July 22) - Emerald
Leo (July 23 - August 22) - Onyx
Virgo (August 23 - Sept 22) - Carnelian
Libra (Sept 23 - Oct 23) - Chrysolite (Peridot)
Scorpio (Oct 24 - Nov 21) - Aquamarine
Sagittarius (Nov 23 - Dec 21) - Topaz



~~~~~~~~ PEARL and OPAL CARE Info: ~~~~~~~~

*Only use jewelry cleaners labeled as safe for pearls and opals.
*Never use an ultrasonic cleaner or steam clean pearls or opals.
*Avoid contact with - dish soaps, detergents, bleaches, powdered cleansers, abrasives, baking soda, ammonia-based cleaners, window cleaners, hair sprays, perfumes, vinegar, lemon juice, or alcohol.

*Your pearl was set in it's bezel on a prong, similar to how pearls are set as stud earrings. Check it occasionally to make sure it is secure. Try not to pull off your ring by grabbing the pearl; over time this will loosen its setting.

*Opals are semi-porous gemstones. They will soak up liquids. While opals do need to retain some water, soaking or steaming an opal for extrended periods of time can water-log them. They will then appear cloudy until they dry out. On the flip side...setting them for long periods of time in dry environments can cause them to dry out, making them brittle. Opals are also sensitive to extreme tempature changes. Going from very low temps to very high temps can make them crack. (ex: wearing them outside in winter coming inside and running your ring under hot water)

An interesting article on pearls:
http://ezinearticles.com/?Mother-Of-Pearl-Silver-Jewelry:-Origins,-Facts-and-Care&id=250633

This information is provided only as a customer courtesy. It is not by any means a 100% complete list of pearl and opal care/facts. I do not make claims to be an expert in these gems.
Common sense and a little extra care will have these lovely gemstones looking great for years to come.