Keikopet is taking a short break
Reviews
No reviews in the last year

My pup loves his new, very large, bed! Keikopet was quick, responsive and provided a great quality product. Thank you!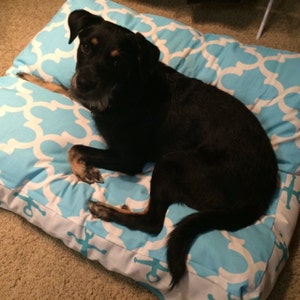 Whitley loves her new bed! So happy with how it turned out! Thank Keikopet!

love, love, love! beautiful workmanship, excellent communication and arrived quickly. thank you so much!

As a REPEAT buyer (3rd time) I am a huge fan of Erika's beds. She is so nice and easy to work with, especially for a custom order. Her beds are high quality and so easy to clean. You simply take the cover off the bed, wash it as usual and hand wash the pillow insert. Looks the same every time, and always just as soft! My dogs love their beds from Erika, we are on our third order because they need beds in every room of the house. Will definitely order from Erika again and would refer her to a friend.

I ordered a custom pillow, and so I was not exposed to the washing instructions on each individual pillow's page. I read the item description page, and it was not mentioned. I also did not see the sentence on the policies page directing clients to Erika's website for washing instructions. If you would prefer a dog bed that can be machine washed after accidents or excessive exposure to mud, etc, be advised that this will fall apart unless hand soaked. We had a puppy over to play with our dog and she had an accident on this. For me, hand-washing would not have done the job. I personally would prefer a dog-bed that can withstand a thorough washing, given the nature of dogs.
Such a great pillow! Love the material and patterns! Thank you!

The shop worked so hard to make sure I loved the bed and I did!

Love, love, love this bed! So does my pup. It was difficult to pick which design I wanted--a good thing--there are so many options to make it truly unique. It looks so cute in my room and easy to wash as well. Dried in the dryer on high heat without issue. I would purchase again

Excellent communication regarding custom orders. I received updates and turn around time was very quick! My dogs and I are very happy with our custom order beds. They are super soft and easy maintenance. I couldn't be happier. Thank you!

Super cute pet bed! My pup loves it :) Fast shipping, also. Will definitely be purchasing from here again!

Thank you so much Erika! I absolutely love my puppy's bed!
The material pattern is so cute! Our furkid loves her bed & lounges it in day & night. The custom bed came quickly! I like that the outer cover is machine washable. Thanks!

Beautiful bed and quality. I have bought from here several times and am always really happy with the products.

Very pretty fabric and very nice seller.