Announcement FOLLOW US ON INSTAGRAM! @AsylumArtwork

Due to the new restrictions for selling specimens on Etsy, I have a limited number of items in my shop here. Spending money on listing new items in this shop while having to censor the listing so that nobody can see the item in the first photo is not financially practical and very disheartening to know that scientific specimens are now considered "mature content" and must be hidden from general audiences. I will be moving my shop elsewhere at some point, unless Etsy decides to do away with these restrictions. But, in the meantime, you can follow me on INSTAGRAM @AsylumArtwork for more updates and awesome new items.

Official Working Member of M.A.R.T. (Minnesota Association of Rogue Taxidermists).
http://www.roguetaxidermy.com

LIKE US ON FACEBOOK! http://www.facebook.com/AsylumArtworkAndOddities

I've got some cool things in the works, so check back often! I am listing new items all the time! Some are original creations, and some are unique vintage or antique items from my personal collection, so keep your eyeballs peeled :) If you are looking for something specific, send me a convo and I'll let you know what I have.

Proud member of "A Nightmare On Etsy" team! Check out other dark artwork and everything that nightmares are made of by entering NIGHTMARETEAM into the search box on Etsy! (The search tag NIGHTMARETEAM is all one word.)

http://www.etsy.com/teams/5578/a-nightmare-on-etsy

My artwork strives to honor the life of each of the animals that I preserve.
Please Note:
NO ANIMALS ARE KILLED FOR THE SOLE PURPOSE OF CREATING THIS ARTWORK!
I use the remains of animals that are already deceased to create my artwork, and these materials would otherwise be considered "garbage" and be discarded if I didn't use it. I think it's disrespectful to Mother Nature to not try to use every part of the animal that has already passed.
I NEVER kill any of the animals that are used in my artwork!
I love animals and would never harm them!
The specimens that I preserve come from a variety of sources such as:
-Animals that died naturally
-By-products of the food industry (such as fetal animals) which would have otherwise been discarded as waste or ground up into commercial pet food.
-Road kill
-By-products of the fur industry (such as skulls and innards)
-Nuissance animals that are removed because they pose harm or may be considered a threat to people (again, I NEVER personally kill these animals, however I put their remains to use once they are deceased, rather than let them be thrown away as garbage)
Announcement
FOLLOW US ON INSTAGRAM! @AsylumArtwork

Due to the new restrictions for selling specimens on Etsy, I have a limited number of items in my shop here. Spending money on listing new items in this shop while having to censor the listing so that nobody can see the item in the first photo is not financially practical and very disheartening to know that scientific specimens are now considered "mature content" and must be hidden from general audiences. I will be moving my shop elsewhere at some point, unless Etsy decides to do away with these restrictions. But, in the meantime, you can follow me on INSTAGRAM @AsylumArtwork for more updates and awesome new items.

Official Working Member of M.A.R.T. (Minnesota Association of Rogue Taxidermists).
http://www.roguetaxidermy.com

LIKE US ON FACEBOOK! http://www.facebook.com/AsylumArtworkAndOddities

I've got some cool things in the works, so check back often! I am listing new items all the time! Some are original creations, and some are unique vintage or antique items from my personal collection, so keep your eyeballs peeled :) If you are looking for something specific, send me a convo and I'll let you know what I have.

Proud member of "A Nightmare On Etsy" team! Check out other dark artwork and everything that nightmares are made of by entering NIGHTMARETEAM into the search box on Etsy! (The search tag NIGHTMARETEAM is all one word.)

http://www.etsy.com/teams/5578/a-nightmare-on-etsy

My artwork strives to honor the life of each of the animals that I preserve.
Please Note:
NO ANIMALS ARE KILLED FOR THE SOLE PURPOSE OF CREATING THIS ARTWORK!
I use the remains of animals that are already deceased to create my artwork, and these materials would otherwise be considered "garbage" and be discarded if I didn't use it. I think it's disrespectful to Mother Nature to not try to use every part of the animal that has already passed.
I NEVER kill any of the animals that are used in my artwork!
I love animals and would never harm them!
The specimens that I preserve come from a variety of sources such as:
-Animals that died naturally
-By-products of the food industry (such as fetal animals) which would have otherwise been discarded as waste or ground up into commercial pet food.
-Road kill
-By-products of the fur industry (such as skulls and innards)
-Nuissance animals that are removed because they pose harm or may be considered a threat to people (again, I NEVER personally kill these animals, however I put their remains to use once they are deceased, rather than let them be thrown away as garbage) No items listed at this time
Reviews

Looks nice, the heart is a very cute addition, but it constantly comes out of the key chain. Also, I've purchased the same key chain without the heart for $6, so I was a little disappointed there.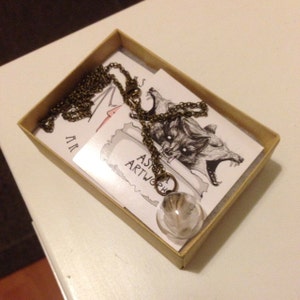 Cute handmade necklace. Small and elegant.
About
From The Bowels Of The Asylum...
One girl, one fabulous faux hawk, and some very twisted ideas are the foundation of Asylum Artwork!
I've created a studio in my home called Asylum Artwork and Oddities, and that is where I go to think, create, relax and visit with my dead things. I love to collect all things odd and bizarre, and am fascinated with taxidermy and preserved specimens. I try to create things here in my studio that are not your "run of the mill" items. I love doing anatomical dissections, and enjoy the natural beauty that this world has to offer--both inside and outside of the organisms that inhabit it!
I love to collect antique oddities as well, and adore old medical and surgical instruments. Compared to the instruments of today, some of these antiques are so pedestrian, rudementary and utterly horrific, and that is exactly what attracts me to them. I also enjoy antique funeral items and am, in general, fascinated with life and death. Using these items in my artwork just feels right, to create a piece that is both beautiful and fear-inspiring at the same time. My art tends to be on the darker side of beautiful. I don't create things simply because I think they will "sell" or "bring in money". I create things that I love, things that I want to be a part of my world, but if someone else finds my work interesting--that's awesome! I love the pieces I create whether they are framed curios or preserved specimens, and I want to share my creations with others who enjoy the same kind of things.
Shop members
Trust Me, I'm A Doctor

Owner, Maker, Designer, Curator, I Do It All!
Shop policies
Last updated on
December 8, 2014
My artwork strives to honor the life of each of the animals that I preserve.
Please Note:
NO ANIMALS ARE KILLED FOR THE SOLE PURPOSE OF CREATING THIS ARTWORK!
I use the remains of animals that are already deceased to create my artwork, and these materials would otherwise be considered "garbage" and be discarded if I didn't use it. I think it's disrespectful to Mother Nature to not try to use every part of the animal that has already passed.
I NEVER kill any of the animals that are used in my artwork!
I love animals and would never harm them!
The specimens that I preserve come from a variety of sources such as:
-Animals that died naturally
-By-products of the food industry (such as fetal animals) which would have otherwise been discarded as waste or ground up into commercial pet food.
-Road kill
-By-products of the fur industry (such as skulls and innards)
-Nuissance animals that are removed because they pose harm or may be considered a threat to people (again, I NEVER personally kill these animals, however I put their remains to use once they are deceased, rather than let them be thrown away as garbage)
Accepted payment methods
Payment
Etsy direct checkout available. PayPal also welcome!
If paying by automated check, I will ship your item out to you once the check has cleared, so expect a delay of several days for the payment to clear when paying with an electronic check.

FREQUENTLY ASKED QUESTIONS:

***DO YOU OFFER RESERVED LISTINGS OR PAYMENT PLANS?***
Unfortunately, no. In the past, I did offer the option of reserving items and using payment plans, however, it quickly got out of hand. I ended up with a shop full of reserved items and very few people actually making the payments for the items they had reserved. To make it fair to everyone, I am no longer reserving any items or offering payment plans.
Shipping
Shipping to the USA only. Sorry, no international shipping.

Every order is shipped with a tracking number. If you wish to purchase shipping insurance, please notify me prior to purchasing and I will add the insurance cost to the listing for you.

Due to shipping regulations, all wet specimens will be shipped WITHOUT the liquid preservative.
Refunds and Exchanges
I love my artwork and creations, but if for some reason you don't feel the same, I will accept item returns within 7 days for a full refund minus the cost of shipping :)
To return your item, please contact me for the proper return shipping address.
Should your item(s) get lost or damaged in the mail, please understand that it is not our fault.
We ship items to the exact address provided to us by Etsy on the receipt at the time of purchase. Please double check to ensure your shipping address is correct before submitting your order. Every order is shipped with a tracking number.
We package each item very securely for shipping. However, accidents can happen while your package is in the hands of the postal service. If you wish to purchase shipping insurance prior to your order shipping out, you can do so by purchasing this listing in addition to the item(s) you want to insure.
https://www.etsy.com/listing/176595866/shipping-insurance-for-usa-shipping
If your item is lost or damaged in the mail and no shipping insurance was purchased at the time of checkout, the seller cannot be held responsible for any damages or loss.
Additional policies and FAQs
FREQUENTLY ASKED QUESTIONS:

***DO YOU OFFER RESERVED LISTINGS OR PAYMENT PLANS?***
Unfortunately, no. In the past, I did offer the option of reserving items and using payment plans, however, it quickly got out of hand. I ended up with a shop full of reserved items and very few people actually making the payments for the items they had reserved. To make it fair to everyone, I am no longer reserving any items or offering payment plans.


***DO YOU SELL PRESERVED DOMESTIC DOGS OR CATS OR PUPPIES OR KITTENS?***
NO!!! IT IS ILLEGAL TO BUY, SELL, OR TRADE ANY ITEM THAT CONTAINS THE FUR OR SKIN OF DOMESTIC CATS AND DOGS!!!! If you don't believe me, you can check it out for yourself--it's called The Dog And Cat Protection Act Of 2000 and it STRICTLY PROHIBITS buying or selling these items! As there are exceptions to every rule, this law does have one exception--it is legal if you are specifically licensed by the USDA to buy or sell these animals for research purposes only. Very few of these special licenses exist, and I can guarantee that nobody selling on Etsy has one. This law doesn't take into account the matter in which the animal died (road kill, natural death, euthanization, etc.). It's just plain old ILLEGAL. Even if you obtained these animals from a licensed facility for research purposes YOU CAN NOT LEGALLY RESELL THEM! So, no, I cannot sell you any kind of preserved specimen having to do with dogs or cats. It's for your own protection as well as mine.



***HATE MAIL POLICIES***
If you simply cannot help yourself and feel that you have to write me some hate mail concerning the items listed for sale in my shop, you will most likely NOT receive a response from me. However, please be aware that any and all hate mail may be publicly posted for others to read on Facebook or other social media. Also, to make it easier for you and possibly save you the trouble of sending me hate mail, please know that:

-NO, I do not kill any animals. EVER.
-YES, I have a college education and a doctorate degree.
-YES, everything I do is perfectly legal in my state, so if you don't like it you should write your congressman to get the law changed.
-NO, I do not need to find religion--I'm a practicing Christian and God-fearing person who just likes preserving dead animals.
-NO, I don't want to go to Hell, but thanks for asking.
-NO, I am not a serial killer.

And to the PETA members who feel it necessary to send me hate mail, let me save you some time--here is my standard response:
My artwork strives to honor the life of each of the animals that I preserve.
Please Note:
NO ANIMALS ARE KILLED FOR THE SOLE PURPOSE OF CREATING THIS ARTWORK!
I use the remains of animals that are already deceased to create my artwork, and these materials would otherwise be considered "garbage" and be discarded if I didn't use it. I think it's disrespectful to Mother Nature to not try to use every part of the animal that has already passed.
I NEVER kill any of the animals that are used in my artwork!
I love animals and would never harm them!
The specimens that I preserve come from a variety of sources such as:
-Animals that died naturally
-By-products of the food industry (such as fetal animals) which would have otherwise been discarded as waste or ground up into commercial pet food.
-Road kill
-By-products of the fur industry (such as skulls and innards)
-Nuissance animals that are removed because they pose harm or may be considered a threat to people (again, I NEVER personally kill these animals, however I put their remains to use once they are deceased, rather than let them be thrown away as garbage)
I did, however, find a few facts on PETA--and it seems that they DO kill animals. Of the 29,000+ animals that PETA has killed, how many of their lifeless bodies ended up rotting at the garbage dump like trash? In my opinion, that's not a dignified resting place for these poor animals to be thrown out and forgotten as if they never mattered. Anyway, just my opinion. Not trying to start an ethical debate, but I'd appreciate it if you kept your unkind words to yourself.
Here's some info I found on PETA:
Hypocritical Animal Rights Group Brings Death Toll to 29,398
Washington, D.C. – Today the Center for Consumer Freedom (CCF) released its yearly report on People for the Ethical Treatment of Animals' (PETA) shameful animal care record at its so-called pet shelter in its Norfolk, VA headquarters. New records show PETA killed a staggering 89.4 percent of the adoptable pets in its care during 2012. Despite years of public outrage over its euthanasia program, the notorious animal rights group has continued killing adoptable dogs and cats at an average of over 30 pets per week.
According to records from the Virginia Department of Agriculture and Consumer Services, PETA killed 1,647 cats and dogs last year while placing just 19 in adoptive homes. Since 1998, a total of 29,398 pets have died at the hands of PETA workers.
"For the 14th year in a row, PETA leaders have shown yet again they don't care about the unlucky dogs and cats that come to its shelter for help," said J. Justin Wilson, CCF Senior Research Analyst. "The animal rights group is talking out of both sides of its mouth – on one side preaching its animal liberation agenda, while on the other signing the death warrant of over 89 percent of pets in its care. It's beyond hypocritical."