 No items listed at this time
Reviews


Fast delivery. I like the leash. Much better price than the ones I've seen on Amazon. Thanks so much.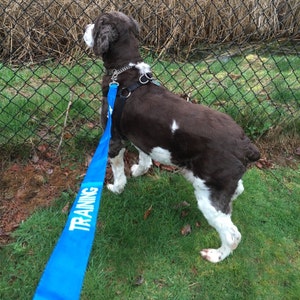 Love this lead! Surprisingly lightweight but bold and easy to read from a distance. Fantastic communication from the seller as well. We'll be using it on all of our walks around town from now on!
About
The Beginning and the Inventory Clearance Sale!
I own 3 small dogs and often go to the park with them. One day, I saw a woman who's dog had a yellow ribbon on it's leash. I asked her what that was about and she said her dog is nervous/reactive and it gives people the message to stay away. I thought it was a great idea; however, discovered that most of the general public doesn't know about the yellow ribbon thing. I thought there had to be a better way to get that same message out but in a simpler, clearer way so there would be no question in people's minds of exactly how to approach a particular dog.

Voila! That was the birth of Leash Alerts! Now, responsible dog owners can let oncoming people and their dogs/children know if their dog is friendly and approachable, or if their dog is nervous and they should think twice about getting too close.

I use the leashes myself since I have one dog who is as friendly as can be (he just wants to lick you to death!) but he barks like a lunatic whenever anybody walks by. People have been scared by my little 10 pound Pomeranian, when all that is happening is he is barking because he wants to get close to you! Then, my other little guy is a rescue and he IS a bit reactive and I have him wear the NERVOUS leash. He is terribly cute and people, including kids, have come up to him too fast in the past and it really freaks him out. So now, I can easily let others know not to reach out to him so fast or try to hug him because I can't predict how he will react.

I also have fostered a few dogs for a local rescue organization. When I would take the dogs on walks, I thought "nobody knows these pups are looking for their forever home unless I approach them and tell them". Sure, I used the bandannas on them, but they either slipped to the side, got bunched up and they always got really dirty. Now, foster parents of rescue dogs never need to waste another walk again! Anyone within walking distance will be able to see the bright yellow leash with the words ADOPT ME on it and people can now approach you to ask about the dogs.

Lastly, I have in the past year, been in school to become a dog trainer. In my apprentice program, I have been exposed to a multitude of bully breeds that revealed themselves to be the sweetest dogs around. With the FRIENDLY leash, owners can let others know not to be afraid of their bigger, intimidating looking dog. This leash can help break the stereotype of the bully breeds.

There are plans to make additional products, but these 6 are the ones I'm starting with. I am open to suggestions, so feel free to email me with any suggestions, questions or comments.

UPDATE: It has been a year now since the start of my Leash Alerts business and it is time to clear out my inventory! HURRY to purchase your leashes at BELOW WHOLESALE cost! Once this inventory is gone...it's gone!

Thank you! WOOFY!