 No items listed at this time
Reviews

Finally own the Xronos alarm clock! I'm a DevOps developer, so I work a staggered schedule to increase coverage on the Ops side. Ran an old Android tablet as an alarm for years, but I prefer a dedicated alarm device. Kept forgetting to switch alarms on standard dual alarm clock I bought after the tablet battery died. Been eyeing the Xronos since the first version. I like it's unconventional look, it has video game function buttons, has an SD card for custom alarm sounds and, most importantly, is a set-and-forget alarm that works for my staggered schedule. Love the inside temp function on it as well. And being the information junky that I am, I'll be adding-on an outside temp module when it becomes available. Very pleased with my purchase!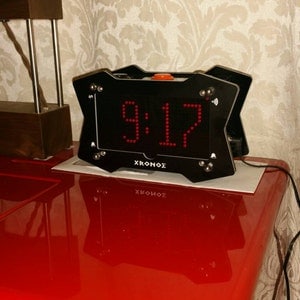 Awesome clock cant wait till the next version comes out. I would recommend this clock to anyone who wants something different and not your typical chinese store bought piece of you know what. Excellent seller as well can customize to your liking.

Kit shipped in record time (Upgraded to Priority Shipping for free), and the seller is wonderful to work with! I was hesitant in purchasing this kit due to the price. I know why it's higher The PCB build is top-notch! All of the components are high-grade. It's well worth the money spent. I really love that the firmware can be hacked/upgraded. You will truly love this clock.