Announcement As of March 13 th 2017 a Price Reduction on 18 and 24 inch letters!! Wedding Guest books alternatives, Wooden letters, Nursery wall decor, Decorative wall art, Shabby chic, Nursery letters, Wood Initial, Wall decor, Wall Art, Modern, Distressed, Rustic, Western, Cabin, Home decor, Crafts, Home and Living

Painted varieties offered are Shabby chic, Modern (not distressed), or Distressed light, medium or heavy.
Font styles offered are: Block, Feminine, Western Cowboy, Serif and our own Decorative fonts. Some Arial and Modern Kaitica fonts. You have 42 colors to choose from.

Since the size most often commands the price, the size cannot be changed in the listings, but you can choose the color, letter, and font that you want with a note to the seller as you purchase. If you don't see a letter you want in one of the sizes that we offer, just convo us and we will set up a listing for you to purchase.

We have new prices see below. We offer these 5/6 specific sizes and the regular prices for most of our letters. If you want a letter in one of the sizes below that we offer, please contact us if it is not listed and we will make a listing for you to purchase it.
Please do not order off of any listing for another letter.
If you want to upgrade to a different size please do so within a week after purchasing.Thank you.


12"= $36.00
18"= $56.00
20"=$64.00
24"= $74.00
30"= $98.00
36"= $118.00

To get in touch with us go to our shop page and click on the "contact the seller" button.
The shop page link is:
http://www.etsy.com/shop/LettersofWood?ref=si_shop

I welcome custom orders. Use my letters to form names, words and phrases. Just convo me and I will make a listing for you to purchase. Mix or match letters, fonts, sizes and colors.

Give me a date that you want or need your item by and I will do my best to make sure that you get it before or by that date. We strongly urge the dates, due the importance of weddings, gifts, nursery dates.

Otherwise our updated shipping production time can be from 2 up to 6 weeks if we are really busy.
http://www.etsy.com/shop/LettersofWood/policy

Click on my shop page link below to see all the letters sizes and their prices, colors, fonts.
http://www.etsy.com/shop/LettersofWood?ref=si_shop

To see the names with the corresponding colors and numbers on the blocks, click on the "color name and number" section, on the left side of our shop page,( link is above), and then click on the listing and scroll down for the colors name.

My shop LettersofWood.
http://LettersofWood.etsy.com

"Like" me on facebook or on my shop page to be one of the first to see any sales, giveaways, specials or blogs that we might be having or be on.
www.facebook.com/LettersofWood

Follow me on twitter:
https://twitter.com/LettersofWood
@LettersofWood

Visit our new shop ArtofMichaelHutton for wall art home decor-painting of birds, flowers and more. At https://artofmichaelhutton.etsy.com

Visit our other new shop at https://PastReclaimed.etsy.com for reclaimed wood wall art, wood wall decor, lath art with rustic mosaic original geometric designs for wall art, that can also be made into headboards, tables and benches. We coming custom orders.

Check us out new reclaimed wood wall art shop at https://PastReclaimed.etsy.com
Announcement
Last updated on
Mar 13, 2017
As of March 13 th 2017 a Price Reduction on 18 and 24 inch letters!! Wedding Guest books alternatives, Wooden letters, Nursery wall decor, Decorative wall art, Shabby chic, Nursery letters, Wood Initial, Wall decor, Wall Art, Modern, Distressed, Rustic, Western, Cabin, Home decor, Crafts, Home and Living

Painted varieties offered are Shabby chic, Modern (not distressed), or Distressed light, medium or heavy.
Font styles offered are: Block, Feminine, Western Cowboy, Serif and our own Decorative fonts. Some Arial and Modern Kaitica fonts. You have 42 colors to choose from.

Since the size most often commands the price, the size cannot be changed in the listings, but you can choose the color, letter, and font that you want with a note to the seller as you purchase. If you don't see a letter you want in one of the sizes that we offer, just convo us and we will set up a listing for you to purchase.

We have new prices see below. We offer these 5/6 specific sizes and the regular prices for most of our letters. If you want a letter in one of the sizes below that we offer, please contact us if it is not listed and we will make a listing for you to purchase it.
Please do not order off of any listing for another letter.
If you want to upgrade to a different size please do so within a week after purchasing.Thank you.


12"= $36.00
18"= $56.00
20"=$64.00
24"= $74.00
30"= $98.00
36"= $118.00

To get in touch with us go to our shop page and click on the "contact the seller" button.
The shop page link is:
http://www.etsy.com/shop/LettersofWood?ref=si_shop

I welcome custom orders. Use my letters to form names, words and phrases. Just convo me and I will make a listing for you to purchase. Mix or match letters, fonts, sizes and colors.

Give me a date that you want or need your item by and I will do my best to make sure that you get it before or by that date. We strongly urge the dates, due the importance of weddings, gifts, nursery dates.

Otherwise our updated shipping production time can be from 2 up to 6 weeks if we are really busy.
http://www.etsy.com/shop/LettersofWood/policy

Click on my shop page link below to see all the letters sizes and their prices, colors, fonts.
http://www.etsy.com/shop/LettersofWood?ref=si_shop

To see the names with the corresponding colors and numbers on the blocks, click on the "color name and number" section, on the left side of our shop page,( link is above), and then click on the listing and scroll down for the colors name.

My shop LettersofWood.
http://LettersofWood.etsy.com

"Like" me on facebook or on my shop page to be one of the first to see any sales, giveaways, specials or blogs that we might be having or be on.
www.facebook.com/LettersofWood

Follow me on twitter:
https://twitter.com/LettersofWood
@LettersofWood

Visit our new shop ArtofMichaelHutton for wall art home decor-painting of birds, flowers and more. At https://artofmichaelhutton.etsy.com

Visit our other new shop at https://PastReclaimed.etsy.com for reclaimed wood wall art, wood wall decor, lath art with rustic mosaic original geometric designs for wall art, that can also be made into headboards, tables and benches. We coming custom orders.

Check us out new reclaimed wood wall art shop at https://PastReclaimed.etsy.com No items listed at this time
Reviews

My purchased was shipped and delivered perfectly on time! I would highly recommend purchasing from LettersofWood. They did a BEAUTIFUL job and responded quickly to any of my questions. I am extremely satisfied with their service.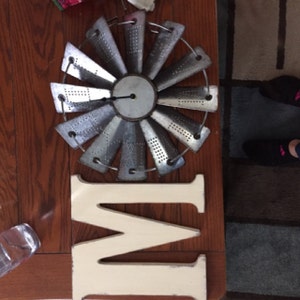 Absolutely love it! WOW!!! Beautiful and so many compliments. Love the way they work with you and made everything stress free. I will definitely buy from them again!! Sincerely, Paula
About
Shop members

Shop policies
Last updated on
October 1, 2016
Thank you for visiting my shop, LettersofWood. I have handmade wooden letters, hand painted and distressed in a vintage style for your wedding decor, guest book, and photo props. Letters for your kids room and nursery letters. I welcome custom orders, in any of our 6 sizes, colors or fonts. Mix and match letters to form names, words, phrases. I have sections offering 6 specific sizes of wooden letters, with their 6 different prices, in any color on my color chart or letters in my shop, fonts and finishes.

Our sizes and prices are:

12" = $36.00
18" = $64.00
20"= $74.00
24" = $84.00
30" = $116.00
36" = $128.00

Please add a "Need by Date", or "Want by Date" when you purchase, and I will do my best to make sure that you get it by or before that date.
Otherwise our current shipping time, depending on how many orders we have, is within 2-6 weeks.

A great gift for any occasion.
Accepted payment methods
Accepts Etsy Gift Cards and Etsy Credits
Payment
I prefer Paypal payments with the Paypal debit card, master card and visa credit cards through Paypal, or payment directly through Paypal itself at time of purchase.

I also accept the credit card payment directly through Etsy.
Shipping
Please add a note to the seller as you purchase, the date that you really want or need your item by and I will do my best to make sure that I get it to you on time. We urge you to please give us a date. Otherwise our current updated shipping time at this time is in 2-6 weeks after payment is received and/or clears, depending how busy I am with orders.
Many items are handmade per order, it takes time. I try to work on many orders at one time, to save time and gas for trips to town to ship the items, but I am only human and can do only so many at once. Please be patient and PLEASE contact me and wait a couple days for me to reply, before taking drastic action!

If drastic action is taken, it could shut me down for good. I do this for a living and need to keep it up. I also try to give to others that are needy, and that would hurt them. We work as hard as we can on getting the letters out to you as soon as I possibly can, and I want them to look as good as they possibly can for you.

I ship usps priority. I send you, per email (the evening the item ships), the tracking number so you can track your package. I do charge a small fee that is included in the shipping cost to cover the cost of packaging.
Refunds and Exchanges
If the item is grossly misrepresented in relation to the photo and you would like a refund, or it has been damaged when you get it, please contact us within 3 business days after you receive the package. If there are any problems please contact us and we will do our best to make it right. We don not refund for late shipments.

If there is a problem, please let us know and we will try to make it right, or do what we can so you will be happy with our shop and your purchase.
More information
Last updated on
Nov 4, 2016
Frequently asked questions
Sizing details
Letters come in sizes 12" at $36.00, 18" at $64.00, 24" at $84.00, 30" at $116.00 and 36" at $128.00. We do offer a few 20" letters at $74.00 and some 8" and 10" letters at $32.00. See our shop at https://LettersofWood.etsy.com
Gift wrapping and packaging
We do gift wrap with message for an extra $20.00
Wholesale availability
We will possibly have sales at times. There will be no wholesale prices or discounts in regard to number of letters purchased, as prices of materials continue to rise. We use the best quality of materials for your letters.
We offer many colors. See our color blocks and the color names to the left as you scroll. Many colors are offered that are not on the blocks but are listed on the left. Click on https://www.etsy.com/listing/104451466/handmade-wooden-letters-name-colors-and?ref=shop_name_active_1
All our letters are Shabby Chic, even though they may not be listed as that style, We offer 3 levels of distressing, light, medium and heavy. You can also choose them to be the modern painted(non-distressing) style.
We offer all our letters for wedding guest book alternatives, shower gifts, nursery decor, kids names, wall decor and home decor.
Block style, Serif style, some in Western style( See our listings) some in Feminine style(see listings). https://LettersofWood.etsy.com
Custom and personalized orders
Please give us a "need by date" time or "want by date" time so we can make sure that we get your order to you by the time that you need it.
We are very busy and the date really helps us organize so the customers and us are happy. This also helps to eliminate STRESS for all of us.
Please do not give a date if you are going to harass us all along the way wanting to know when it is going to ship. It will be shipped so you can get it by your need by date.
Otherwise, if there is no need by date, since we are busy, it could be from 2-6 weeks before we ship, possibly another week if an unexpected illness happens.