Announcement LilyTheFairy Merch MOVED TO https://www.etsy.com/ca/shop/LilysFairyShop

PAYPAL ONLY.

Unique items, jewelry, fashion, art.

Lily has always been known for creations such as classy chainmail, intricate wirework, attention to detail, quality, One Of A Kind, Custom Items, also Lily's personal customer service. Her open mind, uniqueness, and versatility have created a wonderful foundation for continuing growth in our alternative community. Always open to Trade, She has always been supportive to other artists, often collaborating with Models and Photographers locally and overseas to create some very beautiful images and items.

"I have been lucky enough to custom make jewelry for some really awesome people like Cyndi Lauper, Clive Barker, Apnea, Razorcandi, Eden Prosper, Ugly Shyla, Szandora, Shifty Shellshock, Lizzy Borden, Jill of Ultra Gypsy Belly Dance, and quite a few Suicide Girls.
You can find my jewelry being worn all over the world by all walks of life, from people to pets, and in gardens too! Dont be surprised if you stumble by some of my jewelry in shops when you are out traveling in places like San Francisco or New York, Toronto, and Japan!" -L!ly Mоnѕ†еrMeat
Announcement
Last updated on
May 13, 2016
LilyTheFairy Merch MOVED TO https://www.etsy.com/ca/shop/LilysFairyShop

PAYPAL ONLY.

Unique items, jewelry, fashion, art.

Lily has always been known for creations such as classy chainmail, intricate wirework, attention to detail, quality, One Of A Kind, Custom Items, also Lily's personal customer service. Her open mind, uniqueness, and versatility have created a wonderful foundation for continuing growth in our alternative community. Always open to Trade, She has always been supportive to other artists, often collaborating with Models and Photographers locally and overseas to create some very beautiful images and items.

"I have been lucky enough to custom make jewelry for some really awesome people like Cyndi Lauper, Clive Barker, Apnea, Razorcandi, Eden Prosper, Ugly Shyla, Szandora, Shifty Shellshock, Lizzy Borden, Jill of Ultra Gypsy Belly Dance, and quite a few Suicide Girls.
You can find my jewelry being worn all over the world by all walks of life, from people to pets, and in gardens too! Dont be surprised if you stumble by some of my jewelry in shops when you are out traveling in places like San Francisco or New York, Toronto, and Japan!" -L!ly Mоnѕ†еrMeat No items listed at this time
Reviews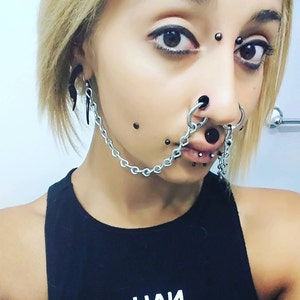 Thank you sooo very much they fit perfectly!!! Love your work and i will definitely be buying from you again. Thank you again!

This was one of my little one's favorites. She loves it so much!

These tattoos were so bright and pretty!
About
Lily The Fairy's Story
"I aim to educate and inspire children of all ages to be eco friendly and use positive words, thoughts, and ideas to change the world." - Lily The Fairy

Deep in The Land of Fae lives a Purple Tinker Fairy named Lily. She lives in a stone stronghold between Fae Bay and Fae Fields, just on the other side of Fae Forest, Tamwoth, Ontario. Lily loves going to little human's Parties and making Videos for all her human friends online. Lily The Fairy enjoys making videos for business and birthdays, or anything else you can think of. She plays with fashion and flowers, always finding inspiration in nature, she cares about our Earth and loves to create handmade treasures. She finds items everywhere, from Fae Forrest to human's trash, and uses them in her tinkering! Lily The Fairy is a wonderful Original Character, look around her website at www.LilyTheFairy.com and feel free to contact her with any questions!
Shop members
LilyMonsterMeat

Owner, Maker, Designer

Lily has custom made jewelry for some really awesome people like Cyndi Lauper, Clive Barker, Apnea, Razorcandi, Eden Prosper, Ugly Shyla, Szandora, Shifty Shellshock, Lizzy Borden, Jill of Ultra Gypsy Belly Dance, and quite a few Suicide Girls.

Ogre Meat

Owner, Maker, Designer

Horror-Driven Wearable Sculpture and Furnishings.

Lily The Fairy

Flutterby Fairy

Lily The Fairy Makes lovely Fairy Treasures and offers many other family friendly items!
Shop policies
Last updated on
May 3, 2014