Reviews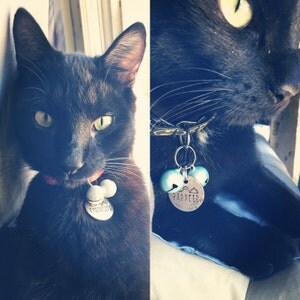 I ordered two of these for my kittens and they came out absolutely beautiful! The quality is great and the tags look even better than expected. Thanks so much CanineHabits!!

This is the cutest, I love it. Very happy :) Also I hope your mother is okay!

Terrible communication. Asked to ship to a different address weeks before it shipped and didn't receive a response. Product is smaller than expected
About
Style and Function for The Dog.
I love that I can craft beautiful items for my customers, but it means even more to me to know that I can make something that can give people a little extra reassurance to really enjoy life with their dogs - whether that's summiting a mountain, splashing around at a dog beach, or going for a daily stroll around the neighborhood.

I was once told a story about a friend's dog who decided to tour the neighborhood on his own one day. A nice family found him wandering, and based on his shaggy look and lack of collar the kids immediately decided he was a stray and fell in love with him. Luckily my friend was already on the search for him, and although the family was sorry to see him go, his adventure ended with him safely back at home.

Sadly, this isn't always the case, which is why I always remind people to keep some sort of collar on at all times. Just because a dog is chipped, doesn't mean that the person that finds them wont convince themselves that they're rescuing a stray without ever trying to find the owners.

I make my products with both dogs and their owners in mind, and I'm always looking for ways to improve my techniques to make sure my tags can hold up to everything your dogs can throw at them! Plus, many of the materials I use are purchased from other shops right here on Etsy!

My lifelong passion is making life better for pets in any way I can. In addition to making custom pet products, I have worked with dogs for most of my life and I am currently working towards an education in pet nutrition.

When I'm not working, I love to hike, camp, and climb with my two amazing dogs.
Shop policies
Last updated on
June 6, 2016
Thank you for choosing Canine Habits for your pet accessory needs!
Accepted payment methods
Payment
Need to cancel your order? Don't worry, I won't take it personally. As long as your order hasn't been marked "shipped," send me a message and I'll take care of the rest. And if I miss your message and ship anyway, I'll still refund you - no funny business though, I'll check the date and time on your message! ;)
Shipping
Once shipped, transit time for domestic orders is about 2-6 days, and 10-30 days for international orders.

Once a package is shipped, I no longer have control over what happens to it. If a package is lost, damaged, or late, please let me know and we will try to work something out. Please note that I cannot be held responsible for issues with USPS, or mistakes made by the buyer. It is part of the risk we take with online transactions.

It is up to the buyer to double check that the correct address is provided, and to request insurance if you feel it is needed. I highly recommend upgrading your order to include shipping insurance to cover losses or damages. Shipping insurance does not cover delays.
Refunds and Exchanges
I'm unfortunately unable to take returns on custom Pet Tags - unless of course you're fine with me selling someone else a tag with your personal information on it.

Did I make a mistake? Shoot, well send me a message and I'll replace the tag for you. No need to pay for my mistakes!

Did you make a mistake? Don't worry, everyone does it now and then. I'm happy to replace it for a basic "reprint" fee + shipping.
Additional policies and FAQs
Frequently Asked Questions:

Q. How do I order my tag?
A. Choose the design, select the correct options from the drop-down menu(s), and then hit the green "add to cart" button. In your cart you can then include your specifications for your order in the "Note to Canine Habits" box. No need to request a custom order, since all of my tags are custom orders!


Q. When will my order ship?
A. I aim to ship most orders in about 2 weeks, although during times of high demand it may take 3-4 weeks. The scheduled ship by date is an estimate. Orders very rarely take longer than 4 weeks to ship. Check my shop announcement for current turnover.


Q. Why does it take so long to make my tag?
A. By placing an order, you are essentially buying a spot on my wait list. The amount of time it takes for me to finish an order will depend on my regular work schedule and how many orders are ahead of yours.


Q. Can I request a rush order?
A. My schedule currently does not allow for me to offer rush order. Please note that upgrading to Priority Shipping does not decrease the turnover.


Q. My order says it shipped, but the tracking information hasn't updated. Where is my order?
A. Tracking information is controlled by USPS and may not be updated right away. Once I drop orders of at the shipping hub, I no longer have control over them. If you notice an issue with your tracking information, please email me at k9habitsorders [!at] gmail.com and we will try to figure it out.


Q. Does my tag come with something to attach it to my pet's collar?
A. Yes. All tags come with a silver or brass split ring. If you prefer an S-hook, please say so when ordering. All tags are sent unattached from the ring to avoid warping the tag or ring during shipping. If you would like me to attach it, please say so.


Q. Can you stamp information on the back of my tag?
A. Yes, many of my designs include the phone number on the back instead of the front of the tag by default.


Q. Will two phone numbers fit on my tag? Can you include an address or my name? Will it cost extra?
A. Most tags include up to 30 characters for contact information (usually on the back of the tag). Anything extra can be purchased with the "Extra Information Upgrade" in my shop. Please note that long words / addresses may need to be altered, and I reserve the right to do so as needed.


Q. Will information on the back of the tag show through to the front?
A. Because of the force needed to create a deep impression, you may be able to see where the other side of the tag has been stamped. It is usually not enough to bother most people. If this is an issue, I recommend requesting to have everything stamped on one side.


Q. Can I request a special font, design stamp, or logo?
A. I include a list of the available fonts and designs in most of my listings. Because I use premade sets of letters and designs, they cannot be altered, although I can mix and match fonts as needed. Some fonts may limit the number of characters that will fit in a given space.


Q. How big are your tags?
A. 7/8" is about the size of a nickel, and 1" is about the size of a quarter. The 1 1/4" tags are about the size of a half dollar.


Q. My dog is very active and spends a lot of time outside. What is the best metal choice for her?
A. Brass is my favorite metal option for active dogs. It is very durable and stays readable longer than the other metal choices when exposed to the elements.


Q. How long do your tags last?
A. Every pet plays different, and therefore their tags will wear down at different rates. Some dogs may use the same tag their entire life, while others push their tags to the limits, needing frequent replacements. I have found that the tag itself will usually outlive the rings attaching it to your pet's collar, so it is important that the rings don't get bent or broken. NEVER attach your pet's leash to the rings on the tag.


Since you are a good customer that read my policies and FAQ, feel free to use the coupon code PANCAKE when you place your order for 5% off (cannot be combined with other discounts).


Q. I want to purchase two or more of the same tag, but it says there's only one left! What do I do?
A. Some of my more popular designs will sell out before I have a chance to update the quantity. You can either send me a message to let me know that the item quantity is low, or you can purchase another tag and let me know that you want a different design.


Q. Do you offer bulk discounts?
A. I do offer discounts on orders of 5+ tags. The discount will vary based on the complexity of design, number of characters, and type of metal.


Q. I still have questions! What is the best way to contact you??
A. If you have a question about an existing order, please email me at k9habitsorders [!at] gmail.com
If you haven't placed an order yet, feel free to send me a message here on Etsy.