Announcement PLEASE NOTE- LOVEJOYSTORE WILL STILL BE OPEN FOR SALES, HOWEVER WE WILL BE AWAY FROM 7-14-16 THRU 7-22-16 SO WE WILL NOT BE CARVING DURING THIS PERIOD. IF ORDERING, PLEASE KEEP THIS IN MIND IF IT IS WITHIN THAT TIME FRAME ~~~ WELCOME to LOVEJOYSTORE ~ We specialize in personalized wedding gifts / custom carved wood signs for any occasion! ~we design, create, carve, and finish your special sign~ from our home to yours. What a perfect gift that will last a lifetime!! Please read below for all sign, order, and shipment details.
GREAT FOR~ Wedding gifts - Family Name gifts - Anniversary Gifts - Home Decor gifts - Housewarming gifts ~

~~TO ORDER *** Please add your personalized information for your sign, in the "Notes To Seller" BOX at checkout, so that we have this with your order.

~~TURN-A-ROUND
~~We are currently at a 7-10 business day turnaround for creating your sign. Also, please allow 3-6 business days for delivery via USPS Priority shipping within the United States. We also ship internationally to Canada- We can not determine the shipping time for these orders due to 'customs' but they tend to be around 2 weeks (without guarantee).

~~We can make Your sign LARGER - message us With Your Price Point and Details before ordering please.

~~Please message us for a DISCOUNT on an order of 3 or MORE SIGNS!

We would like to thank our great customers for making our business a success!

Thank you for visiting Lovejoystore!

*** PLEASE READ BELOW FOR ALL SIGN AND STORE DETAILS


ART PATTERN CHANGES
If you wish to change any of the art patterns, please email first before purchasing. There may be an upgrade/new design charge. For example, if you wanted a Green Bay Helmet carving instead of the hearts, we can do it, but it will be an additional charge.

BULK DISCOUNT PRICING
We offer a discounted rate on an order of 3 or more signs--plus a combined shipping rate.
We offer the combined shipping rate on 2 or more signs as well when the two signs are purchased together.

ADDRESS CHANGES
If you wish to change the shipping address, please do so at checkout in the shipment details. We only ship using USPS. Sorry, no exceptions.

OUTDOOR SIGN STATEMENT**FINISHING OF SIGNS
We put an indoor/outdoor sealant on our signs but DO NOT recommend that they be placed outdoors in the direct elements. The harsh wind, rain, snow and sun can wear the finish off and damage the sign. If a person decides to place outside we suggest they have partial protection from all the elements and that the sealant be re-applied annually. We are sorry but we cannot guarantee a sign that has been placed outside.

COMMUNICATION (telephone)
Depending on our demand may result in a delay in confirmation of orders and email replies. I'm sorry but we do NOT communicate via telephone any longer due to privacy issues. Any requests, questions, or otherwise, can be sent in an email through etsy conversation. We will also have a record for communications this way. Please understand and respect this policy, thank you :)

EXPEDITING ORDERS
Sorry, We do not expedite orders any longer.

MISTAKES
If there is a mistake on our part, we will re-make and re-ship the sign with no extra cost to you. If there is a mistake on your part, we regret that we can not re-make or re-ship the sign without charging again. However, if this were to happen, we do offer a discounted rate for such mistakes.

PROOFING
If you require a proof, please expect a delay with our reply. You will be placed in line behind previously requested projects, as these are done in a first come first serve basis as well.

PICTURES OF COMPLETED SIGNS
Because we do not have the man power and time, (photos and posting them do take a fair amount of time) we Do Not send pictures of the completed signs. We are sorry, as many of you will not see the product if it is shipped elsewhere but maybe the recipient would be gracious enough to take and send a photo for you.

COLORING OF COMPLETED SIGNS
There has been some confusion about the coloring of our signs... We DO NOT paint any of our signs/ lettering. Any coloring you see is done in wood/stain coloring. **None of our photos are displayed with paint- Only stain**

***Another Note-- Each piece of wood is different in that it takes the stain differently...some wood takes the stain and it comes off a shade darker or a shade lighter then the next piece of wood.
We DO NOT use different colors of stain for each sign. The same colors are used for each sign.
The lighting in photography also plays a part in how the coloring comes off on the sign. The computer monitor settings can also play a part in how the coloring comes off...
there are so many factors for lighting of a picture and we simply cant control them all :) So PLEASE be aware of this note when purchasing-- that it could be a shade lighter or darker!!

WE HAVE ADDED GIFT CERTIFICATES FOR PURCHASE
See link here ** https://www.etsy.com/listing/204916599/personalized-sign-gift-certificate
Please read the description for full details and if you have any question or would like to upgrade, please email, thanks!

THANK YOU SO MUCH for visiting us! Your business is truly appreciated and we hope to be working with you soon!

All the best, Katie and Jason Lovejoy :) from Lovejoystore
Announcement
Last updated on
Jul 11, 2016
PLEASE NOTE- LOVEJOYSTORE WILL STILL BE OPEN FOR SALES, HOWEVER WE WILL BE AWAY FROM 7-14-16 THRU 7-22-16 SO WE WILL NOT BE CARVING DURING THIS PERIOD. IF ORDERING, PLEASE KEEP THIS IN MIND IF IT IS WITHIN THAT TIME FRAME ~~~ WELCOME to LOVEJOYSTORE ~ We specialize in personalized wedding gifts / custom carved wood signs for any occasion! ~we design, create, carve, and finish your special sign~ from our home to yours. What a perfect gift that will last a lifetime!! Please read below for all sign, order, and shipment details.
GREAT FOR~ Wedding gifts - Family Name gifts - Anniversary Gifts - Home Decor gifts - Housewarming gifts ~

~~TO ORDER *** Please add your personalized information for your sign, in the "Notes To Seller" BOX at checkout, so that we have this with your order.

~~TURN-A-ROUND
~~We are currently at a 7-10 business day turnaround for creating your sign. Also, please allow 3-6 business days for delivery via USPS Priority shipping within the United States. We also ship internationally to Canada- We can not determine the shipping time for these orders due to 'customs' but they tend to be around 2 weeks (without guarantee).

~~We can make Your sign LARGER - message us With Your Price Point and Details before ordering please.

~~Please message us for a DISCOUNT on an order of 3 or MORE SIGNS!

We would like to thank our great customers for making our business a success!

Thank you for visiting Lovejoystore!

*** PLEASE READ BELOW FOR ALL SIGN AND STORE DETAILS


ART PATTERN CHANGES
If you wish to change any of the art patterns, please email first before purchasing. There may be an upgrade/new design charge. For example, if you wanted a Green Bay Helmet carving instead of the hearts, we can do it, but it will be an additional charge.

BULK DISCOUNT PRICING
We offer a discounted rate on an order of 3 or more signs--plus a combined shipping rate.
We offer the combined shipping rate on 2 or more signs as well when the two signs are purchased together.

ADDRESS CHANGES
If you wish to change the shipping address, please do so at checkout in the shipment details. We only ship using USPS. Sorry, no exceptions.

OUTDOOR SIGN STATEMENT**FINISHING OF SIGNS
We put an indoor/outdoor sealant on our signs but DO NOT recommend that they be placed outdoors in the direct elements. The harsh wind, rain, snow and sun can wear the finish off and damage the sign. If a person decides to place outside we suggest they have partial protection from all the elements and that the sealant be re-applied annually. We are sorry but we cannot guarantee a sign that has been placed outside.

COMMUNICATION (telephone)
Depending on our demand may result in a delay in confirmation of orders and email replies. I'm sorry but we do NOT communicate via telephone any longer due to privacy issues. Any requests, questions, or otherwise, can be sent in an email through etsy conversation. We will also have a record for communications this way. Please understand and respect this policy, thank you :)

EXPEDITING ORDERS
Sorry, We do not expedite orders any longer.

MISTAKES
If there is a mistake on our part, we will re-make and re-ship the sign with no extra cost to you. If there is a mistake on your part, we regret that we can not re-make or re-ship the sign without charging again. However, if this were to happen, we do offer a discounted rate for such mistakes.

PROOFING
If you require a proof, please expect a delay with our reply. You will be placed in line behind previously requested projects, as these are done in a first come first serve basis as well.

PICTURES OF COMPLETED SIGNS
Because we do not have the man power and time, (photos and posting them do take a fair amount of time) we Do Not send pictures of the completed signs. We are sorry, as many of you will not see the product if it is shipped elsewhere but maybe the recipient would be gracious enough to take and send a photo for you.

COLORING OF COMPLETED SIGNS
There has been some confusion about the coloring of our signs... We DO NOT paint any of our signs/ lettering. Any coloring you see is done in wood/stain coloring. **None of our photos are displayed with paint- Only stain**

***Another Note-- Each piece of wood is different in that it takes the stain differently...some wood takes the stain and it comes off a shade darker or a shade lighter then the next piece of wood.
We DO NOT use different colors of stain for each sign. The same colors are used for each sign.
The lighting in photography also plays a part in how the coloring comes off on the sign. The computer monitor settings can also play a part in how the coloring comes off...
there are so many factors for lighting of a picture and we simply cant control them all :) So PLEASE be aware of this note when purchasing-- that it could be a shade lighter or darker!!

WE HAVE ADDED GIFT CERTIFICATES FOR PURCHASE
See link here ** https://www.etsy.com/listing/204916599/personalized-sign-gift-certificate
Please read the description for full details and if you have any question or would like to upgrade, please email, thanks!

THANK YOU SO MUCH for visiting us! Your business is truly appreciated and we hope to be working with you soon!

All the best, Katie and Jason Lovejoy :) from Lovejoystore No items listed at this time
Reviews


Very pleased with the sign! I got it for my newly married friend and I know they will love it! Great quality and workmanship and the turnaround time was so quick. Thank you!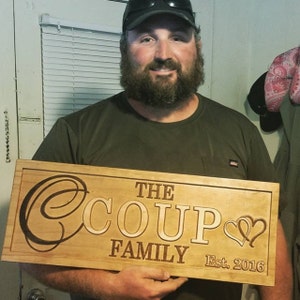 This was THE PERFECT GIFT! The bride and groom loved it! The staining and finish was beautiful and will be used in their wedding reception as well as adorning their home. Thank you!
Shop policies
Last updated on
February 17, 2016
Our signs are made of 100% solid pine. Once they are completed, they are sprayed with a sealer for a long lasting life of beauty.
Accepted payment methods
Payment
Please pay through paypal.
Shipping
Please see the store's announcement for the most accurate turn-a-rounds (completions). Once your sign is complete (usually 3-7 business days), we will then ship your sign via USPS. We ship priority mail, so it usually takes 3-5 business days for delivery within the United States. Please keep in mind weekends and holidays.
Refunds and Exchanges
With our personalized, custom signs we do not refund or exchange them unless it is a mistake that we made. If it is a mistake that the buyer has made, we regret that we can't refund or exchange the sign, however, we do offer a discounted replacement. Because the wood we use is pine, it will have natural characteristics such as knots and grains that add beauty to each piece and will make each sign truely unique and one of a kind. These characteristics of the wood are not to be considered defects and we can not refund for this reason.
Additional policies and FAQs
We update our store announcement most often, please refer to that for any time off or additional information

*** PLEASE READ BELOW FOR ALL DETAILS~~WELCOME to LOVEJOYSTORE!!~We specialize in custom carved wood signs~we design, create, carve, and finish your special sign~ from our home to yours. What a perfect gift that will last a lifetime!! We would like to thank our great customers for making our business a success!


ART PATTERN CHANGES
If you wish to change any of the art patterns, please email first before purchasing. There may be an upgrade/new design charge. For example, if you wanted a Green Bay Helmet carving instead of the hearts, we can do it, but it will be an additional charge.

BULK DISCOUNT PRICING
We offer a discounted rate on an order of 3 or more signs--plus a combined shipping rate.
We offer the combined shipping rate on 2 or more signs as well when the two signs are purchased together.

ADDRESS CHANGES
If you wish to change the shipping address, please do so at checkout in the shipment details. We only ship using USPS. Sorry, no exceptions.

OUTDOOR SIGN STATEMENT**FINISHING OF SIGNS
We put an indoor/outdoor sealant on our signs but DO NOT recommend that they be placed outdoors in the direct elements. The harsh wind, rain, snow and sun can wear the finish off and damage the sign. If a person decides to place outside we suggest they have partial protection from all the elements and that the sealant be re-applied annually. We are sorry but we cannot guarantee a sign that has been placed outside.

COMMUNICATION (telephone)
Depending on our demand may result in a delay in confirmation of orders and email replies. I'm sorry but we do NOT communicate via telephone any longer due to privacy issues. Any requests, questions, or otherwise, can be sent in an email through etsy conversation. We will also have a record for communications this way. Please understand and respect this policy, thank you :)

EXPEDITING ORDERS
Sorry, We do not expedite orders any longer.

MISTAKES
If there is a mistake on our part, we will re-make and re-ship the sign with no extra cost to you. If there is a mistake on your part, we regret that we can not re-make or re-ship the sign without charging again. However, if this were to happen, we do offer a discounted rate for such mistakes.

PROOFING
If you require a proof, please expect a delay with our reply. You will be placed in line behind previously requested projects, as these are done in a first come first serve basis as well.

PICTURES OF COMPLETED SIGNS
Because we do not have the man power and time, (photos and posting them do take a fair amount of time) we Do Not send pictures of the completed signs. We are sorry, as many of you will not see the product if it is shipped elsewhere but maybe the recipient would be gracious enough to take and send a photo for you.

COLORING OF COMPLETED SIGNS
There has been some confusion about the coloring of our signs... We DO NOT paint any of our signs/ lettering. Any coloring you see is done in wood/stain coloring. **None of our photos are displayed with paint- Only stain**

***Another Note-- Each piece of wood is different in that it takes the stain differently...some wood takes the stain and it comes off a shade darker or a shade lighter then the next piece of wood.
We DO NOT use different colors of stain for each sign. The same colors are used for each sign.
The lighting in photography also plays a part in how the coloring comes off on the sign. The computer monitor settings can also play a part in how the coloring comes off...
there are so many factors for lighting of a picture and we simply cant control them all :) So PLEASE be aware of this note when purchasing-- that it could be a shade lighter or darker!!

THANK YOU SO MUCH for visiting us! Your business is truly appreciated and we hope to be working with you soon!

KIND REGARDS, Katie and Jason Lovejoy :) from Lovejoystore
__________________________________________________________________