Announcement PLEASE NOTE: CURRENT LEAD TIME ON ALL ORDERS IS 3-4 WEEKS. THANK YOU! To shop more vintage, Follow my Instagram page for weekly flash sales on classic vintage finds and design inspiration @mariaclaireinteriors

Vintage Finds • Designer Pillow Covers • Table Runners • Cotton Bunting • Home Decor
Instagram @mariaclaireinteriors
Pinterest @mclaireinterior

Handmade, high quality home decor. A mix of thoughtfully curated vintage and antiques for home.

ABOUT -
Welcome to Maria Claire Interiors. I am an Interior Designer with a BFA in Interior Design and love to mix design styles. I love hunting for antique and vintage items that will make a space more personal. I'm passionate about design, decor, interiors, and the surroundings that make spaces livable, special, and unique to the people living among them. I believe that good design and decor should be affordable. In addition, I restore and renovate old homes in order to bring back their original beauty while incorporating modern aspects for today's lifestyle.

This shop was born out of a necessity to have specific, non mass produced, affordable, high quality, and one of kind items for my home and the home of friends, family, and clients. My love and passion for vintage and antiques began as a toddler while going to art galleries, flea markets, antique stores, and ancient historical sights around the world.

Studying design at Buffalo State College and living in an architecurally and historically rich city like Buffalo, NY has allowed me to work among some of the greatest treasures, artists, and architecture in the world. My husband and I have lovingly restored a 100 year old Craftmasn home in a historic district of Buffalo, and love living among the architectural details that make old homes so special

Having worked with architects on residential and commercial projects, designing restaurants, and in the kitchen design field for several years, I am most happy designing spaces and celebrations for my friends and family, raising my children, along with having a shop on Etsy, where I get to work with amazing clients! Thank you for your support!


READ THE POLICIES SECTION FOR MANY ANSWERS TO YOUR QUESTIONS HERE:
https://www.etsy.com/shop/MariaClaireInteriors/policy?ref=shopinfo_policies_leftnav

* * * * * * * I N T E R N A T I O N A L M A I L * * * * * * *
MARIA CLAIRE INTERIORS IS NOT RESPONSIBLE FOR INTERNATIONAL PACKAGES AFTER THEY HAVE SHIPPED FROM THE UNITED STATES. IF YOU HAVE RECEIVED AN EMAIL WITH A SHIPPING NOTICE, IT WILL CONSIST OF A TRACKING NUMBER. TO FIND OUT WHEN YOUR PACKAGE SHIPPED, GO TO THE USPS WEBSITE AND TRACK YOUR PACKAGE WITHIN THE U.S.at
https://www.usps.com/welcome.htm
WE ARE NOT RESPONSIBLE FOR INTERNATIONAL MAIL POLICIES, EXTRA CHARGES BY YOUR COUNTRY'S POST, AND CANNOT TRACK PACKAGES AFTER THEY HAVE SHIPPED FROM THE US. Please contact your country's post for further details. Thank you for your understanding.

************** R E T U R N *** P O L I C Y **********************

RETURN POLICY -

Maria Claire Interiors accepts returns on up to two handmade NON Custom items only within 14 business days of receiving your item. As long as your return package within 14 days from the time you received it. NO RETURNS ON ANY CUSTOM LENGTH OR COLOR. No returns on orders with more than 2 handmade items. Please allow up to 7 5-7 business days for a refund to appear. Shipping costs are non refundable.

Items must be unused and returned exactly as received. Meaning, no stains, rips, holes, washes, marks, smells, etc.

NO RETURNS ON VINTAGE ITEMS. ALL SALES ARE FINAL. VINTAGE ITEMS ARE NOT PERFECT AND WILL HAVE SLIGHT FLAWS OR VARIATIONS BUT IN OVERALL GOOD, GREAT, OR EXCELLENT CONDITION. PLEASE READ ITEM'S DESCRIPTION AND SEE PHOTOS. I WELCOME INQUIRIES ON ALL ITEMS AND WOULD BE HAPPY TO REPLY TO ANY QUESTIONS REGARDING A CERTAIN PIECE.

MARIA CLAIRE TAKES DAYS OFF TOO!
Holidays, evenings, and weekends are devoted to family, so thank you for your support and understanding! I try to respond to convos or emails the same day...if not, please know that all convos and emails will be answered within 48 hours.Thank you for your understanding.

CUSTOM ORDERS are accepted if time permits and materials are on hand. CUSTOM ORDERS MAY TAKE LONGER TO SHIP. Please see the shop'spolicy on custom orders in the POLICIES section of our shop under ADDITIONAL POLICIES/CUSTOM ORDERS. NO RETURNS ON CUSTOM ORDERS.

To learn more about this shop, check out the ABOUT section...https://www.etsy.com/shop/MariaClaireInteriors/about?ref=shopinfo_about_leftnav

On INSTAGRAM @mariaclaireinteriors

On PINTEREST @ Maria Claire
http://www.pinterest.com/mclaireinterior/
Announcement
Last updated on
Jul 8, 2017
PLEASE NOTE: CURRENT LEAD TIME ON ALL ORDERS IS 3-4 WEEKS. THANK YOU! To shop more vintage, Follow my Instagram page for weekly flash sales on classic vintage finds and design inspiration @mariaclaireinteriors

Vintage Finds • Designer Pillow Covers • Table Runners • Cotton Bunting • Home Decor
Instagram @mariaclaireinteriors
Pinterest @mclaireinterior

Handmade, high quality home decor. A mix of thoughtfully curated vintage and antiques for home.

ABOUT -
Welcome to Maria Claire Interiors. I am an Interior Designer with a BFA in Interior Design and love to mix design styles. I love hunting for antique and vintage items that will make a space more personal. I'm passionate about design, decor, interiors, and the surroundings that make spaces livable, special, and unique to the people living among them. I believe that good design and decor should be affordable. In addition, I restore and renovate old homes in order to bring back their original beauty while incorporating modern aspects for today's lifestyle.

This shop was born out of a necessity to have specific, non mass produced, affordable, high quality, and one of kind items for my home and the home of friends, family, and clients. My love and passion for vintage and antiques began as a toddler while going to art galleries, flea markets, antique stores, and ancient historical sights around the world.

Studying design at Buffalo State College and living in an architecurally and historically rich city like Buffalo, NY has allowed me to work among some of the greatest treasures, artists, and architecture in the world. My husband and I have lovingly restored a 100 year old Craftmasn home in a historic district of Buffalo, and love living among the architectural details that make old homes so special

Having worked with architects on residential and commercial projects, designing restaurants, and in the kitchen design field for several years, I am most happy designing spaces and celebrations for my friends and family, raising my children, along with having a shop on Etsy, where I get to work with amazing clients! Thank you for your support!


READ THE POLICIES SECTION FOR MANY ANSWERS TO YOUR QUESTIONS HERE:
https://www.etsy.com/shop/MariaClaireInteriors/policy?ref=shopinfo_policies_leftnav

* * * * * * * I N T E R N A T I O N A L M A I L * * * * * * *
MARIA CLAIRE INTERIORS IS NOT RESPONSIBLE FOR INTERNATIONAL PACKAGES AFTER THEY HAVE SHIPPED FROM THE UNITED STATES. IF YOU HAVE RECEIVED AN EMAIL WITH A SHIPPING NOTICE, IT WILL CONSIST OF A TRACKING NUMBER. TO FIND OUT WHEN YOUR PACKAGE SHIPPED, GO TO THE USPS WEBSITE AND TRACK YOUR PACKAGE WITHIN THE U.S.at
https://www.usps.com/welcome.htm
WE ARE NOT RESPONSIBLE FOR INTERNATIONAL MAIL POLICIES, EXTRA CHARGES BY YOUR COUNTRY'S POST, AND CANNOT TRACK PACKAGES AFTER THEY HAVE SHIPPED FROM THE US. Please contact your country's post for further details. Thank you for your understanding.

************** R E T U R N *** P O L I C Y **********************

RETURN POLICY -

Maria Claire Interiors accepts returns on up to two handmade NON Custom items only within 14 business days of receiving your item. As long as your return package within 14 days from the time you received it. NO RETURNS ON ANY CUSTOM LENGTH OR COLOR. No returns on orders with more than 2 handmade items. Please allow up to 7 5-7 business days for a refund to appear. Shipping costs are non refundable.

Items must be unused and returned exactly as received. Meaning, no stains, rips, holes, washes, marks, smells, etc.

NO RETURNS ON VINTAGE ITEMS. ALL SALES ARE FINAL. VINTAGE ITEMS ARE NOT PERFECT AND WILL HAVE SLIGHT FLAWS OR VARIATIONS BUT IN OVERALL GOOD, GREAT, OR EXCELLENT CONDITION. PLEASE READ ITEM'S DESCRIPTION AND SEE PHOTOS. I WELCOME INQUIRIES ON ALL ITEMS AND WOULD BE HAPPY TO REPLY TO ANY QUESTIONS REGARDING A CERTAIN PIECE.

MARIA CLAIRE TAKES DAYS OFF TOO!
Holidays, evenings, and weekends are devoted to family, so thank you for your support and understanding! I try to respond to convos or emails the same day...if not, please know that all convos and emails will be answered within 48 hours.Thank you for your understanding.

CUSTOM ORDERS are accepted if time permits and materials are on hand. CUSTOM ORDERS MAY TAKE LONGER TO SHIP. Please see the shop'spolicy on custom orders in the POLICIES section of our shop under ADDITIONAL POLICIES/CUSTOM ORDERS. NO RETURNS ON CUSTOM ORDERS.

To learn more about this shop, check out the ABOUT section...https://www.etsy.com/shop/MariaClaireInteriors/about?ref=shopinfo_about_leftnav

On INSTAGRAM @mariaclaireinteriors

On PINTEREST @ Maria Claire
http://www.pinterest.com/mclaireinterior/ No items listed at this time
Reviews

Delighted with this lovely cushion cover. Thanks

Absolutely perfect- love it. Thanks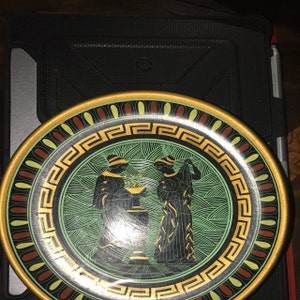 Unbelievably beautiful. Thank you. Extremely fast shipping too.
Shop policies
Last updated on
April 2, 2017
SHIPPING: ITEMS CAN TAKE FROM 1-2 WEEKS PLUS SHIPPING! ALL ITEMS ARE HANDMADE BY ME IN THE ORDER IN WHICH THEY ARE RECEIVED, WITH ATTENTION TO DETAIL AND QUALITY!
Thank you!
Accepted payment methods
Accepts Etsy Gift Cards and Etsy Credits
Payment
PAYMENT AND RETURN POLICIES:

Maria Claire Interiors accepts Pay Pal, all major debit or credit cards, and e-checks.

If paying with a debit or credit card, click the "Check out with PayPal" button and look for the option "Don't have a PayPal account?". Then click the "continue checkout" link. You can enter your card information there.

PAYING THROUGH A BANK ACCOUNT OR E-CHECK:
Please note that these payments take up to 5 business days to clear and be processed, so I can't start your order until that happens.
• If payment is not received within 6 days, the item will be re-listed and I will contact you to let you know the payment has not been received.

RETURN POLICY:

Maria Claire Interiors accepts returns within 14 business days of receiving your item. As long as your return package within 14 days from the time you received it. Please allow up to one week to revive your refund.

Items must be unused and returned exactly as received. Meaning, no stains, rips, holes, washes, marks, smells, etc.

As always, please contact me with any questions or concerns. Conversations and emails are always answered within at least 48 hours, most often the same day.
Shipping
••••SHIPPING QUESTIONS ANSWERED••••
**********Some items may take 1-2 weeks to ship. We make orders in the order they are received. Please order ahead of time to ensure your item arrives in time.**********

★~~~★ ORDERS WITH MULTIPLE ITEMS ---- MORE THAN TWO ITMES ---- OR LARGE ORDERS ---- TAKE LONGER THAN THE ESTIMATED LEAD TIME ★~~~★

WHO WILL DELIVER MY ITEMS?
• All items ship via The United States Postal Service.

SHIPPING LEAD TIMES
• US packages are sent out with PRIORITY MAIL and have an estimated delivery time of 1-3 business days within The United States AFTER THE TIME OF PRODUCTION WHICH MAY TAKE UP TO TWO WEEKS. All packages come with TRACKING AND INSURANCE.

• PARCELS (BOXES) OR PACKAGES....MANY ITEMS.... will be sent out by Parcel Post and have an estimated delivery time of 2-9 business days FROM THE DATE OF SHIPPING *IN MOST AREAS OF THE U.S.*
International parcels can take up to 2-3 weeks or longer depending on your country's incoming mail processing.

*****• I N T E R N A T I O N A L * M A I L• ******
•International shipping will be mailed FIRST CLASS MAIL or PARCEL POST. Most international orders may take up to two to three weeks for delivery or longer. I cannot confirm delivery date and am not responsible for lost packages. I can provide proof of shipping from The U.S. with a receipt and customs forms. International packages can only be tracked using express international mail.
PLEASE BE AWARE THAT AN IMPORT CHARGE MAY APPLY IF YOU ARE ORDERING INTERNATIONALLY. The amount of this charge depends on your country's policies. It is your responsibility to pay this charge when you pick up the package.

HOW WILL I KNOW MY ITEM HAS SHIPPED?
•You will receive an email once your order has shipped.
Refunds and Exchanges
We accept returns/refunds on up to 2 non custom items only. Custom sizes or lengths cannnot be returned. Cannot return more than items. I make sure there are no flaws before shipping handmade items. Swatches are available upon request for $2.50. Items must be returned within one week of receiving your item for a refund or exchange.

*NO REFUNDS ON CUSTOM ORDERS. NO REFUNDS ON VINTAGE. All packages come with insurance against loss, damage, or shipped to wrong address. THANK YOU.
Additional policies and FAQs
CUSTOM ORDERS
•We accept some custom and large orders if time permits and materials are in stock. We do not accept returns of custom items or large orders..

•If we are accepting custom orders at the current time, prices will be figured once your request is made.

•CUSTOM PRICING reflects the time it takes to make your item, extra materials used (including waste of material to make a custom size), and cost of additional materials.