Announcement Marks Pottery specializes in handmade functional pottery in stock and ready for delivery. All shipping is priority shipping and takes 2-3 days.

Enhance your life with handmade pottery. There's no comparison between a manufactured product from a factory from who knows where to one made from a lifetime of passion to perfect a craft. (I have been making pottery in some way for over 35 yrs now.) I hope handcrafted pottery becomes part of your plan to make life more enjoyable

This is my second store on etsy. I have been selling on etsy July 2009. My other store is http://www.etsy.com/shop/MarkHudak Since this store is new you may want to see that I have made well over a 1000 sales and have a 100% satisfaction rating.

You may be asking why I have a second store. The simple answer is the pottery in this store is fired at a bit lower temperature than in my other store and the glazes and some designs are different as well and some of the designs are similar. There is enough of a difference that I decided to give them their own spotlight so to speak.

My pottery is handcrafted, insuring its individuality. All work is microwave, dishwasher, oven safe, lead-free and food safe, non toxic.. Don't put in hot oven from refrigerator or freezer. Never place on electric elements or direct flame.

We proudly ship only thru the US Post Office that always deliver as best as possible for the best prices and do it without recognition. Thank you US Post Office for making my business successful.

WE DO SHIP to other countries. If you want to purchase something send me a convo. I will give you an estimate. If you agree I will make a reserved listing for you with shipping adjusted for your country. Please be aware that the service is first class and can take 7-10days or more. The package cannot exceed 4 lbs. in which case it could be broken down to 2 or more smaller packages.

My wife and I own Throwing Mud Gallery, in Tacoma, Washington. Stop by and see us if you're in the area. (www.throwingmudgallery.com)

Please see shop policies for more information.

New pieces are added frequently so keep checking back.

NEW TO ETSY? Here's a helpful guide that explains how to purchase an item on Etsy. http://www.etsy.com/help_guide_checkout.php

My website is www.stonewarecreations.com
Announcement
Marks Pottery specializes in handmade functional pottery in stock and ready for delivery. All shipping is priority shipping and takes 2-3 days.

Enhance your life with handmade pottery. There's no comparison between a manufactured product from a factory from who knows where to one made from a lifetime of passion to perfect a craft. (I have been making pottery in some way for over 35 yrs now.) I hope handcrafted pottery becomes part of your plan to make life more enjoyable

This is my second store on etsy. I have been selling on etsy July 2009. My other store is http://www.etsy.com/shop/MarkHudak Since this store is new you may want to see that I have made well over a 1000 sales and have a 100% satisfaction rating.

You may be asking why I have a second store. The simple answer is the pottery in this store is fired at a bit lower temperature than in my other store and the glazes and some designs are different as well and some of the designs are similar. There is enough of a difference that I decided to give them their own spotlight so to speak.

My pottery is handcrafted, insuring its individuality. All work is microwave, dishwasher, oven safe, lead-free and food safe, non toxic.. Don't put in hot oven from refrigerator or freezer. Never place on electric elements or direct flame.

We proudly ship only thru the US Post Office that always deliver as best as possible for the best prices and do it without recognition. Thank you US Post Office for making my business successful.

WE DO SHIP to other countries. If you want to purchase something send me a convo. I will give you an estimate. If you agree I will make a reserved listing for you with shipping adjusted for your country. Please be aware that the service is first class and can take 7-10days or more. The package cannot exceed 4 lbs. in which case it could be broken down to 2 or more smaller packages.

My wife and I own Throwing Mud Gallery, in Tacoma, Washington. Stop by and see us if you're in the area. (www.throwingmudgallery.com)

Please see shop policies for more information.

New pieces are added frequently so keep checking back.

NEW TO ETSY? Here's a helpful guide that explains how to purchase an item on Etsy. http://www.etsy.com/help_guide_checkout.php

My website is www.stonewarecreations.com No items listed at this time
Reviews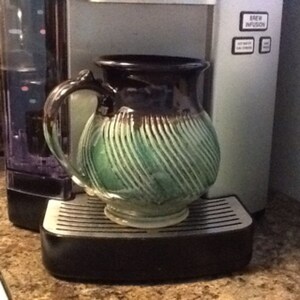 Love my mug! I like getting to use a little art piece every time I have a cuppa! Sweet!

Absolutely beautiful! We are using it as a candy dish at the front desk of our office. We have received many compliments!

Fantastic bowl. Beautiful to look at empty (from any angle), it's the perfect size to accomodate so many meals and no matter what I'm eating, the food looks great in it. Above and beyond care was taken in packaging to ensure it arrived undamaged and was shipped quick, with lightning fast delivery. Couldn't ask for more.
Shop policies
Last updated on
April 28, 2015
Pots are like people. No pottery is perfect and neither are we. However we all have interesting characteristics that make us special. So to with pottery. Don't seek pefection in pottery or people. Enjoy them for what they are and you will find your life greatly enriched.

All of my pottery is porcelain and fired to 2200 degrees F, which for pottery geeks, is called "cone 5-6. I fire in an oxidizing atmosphere which simply means I control the amount of oxygen available by not using combustible fuel to heat my pottery. I find it a cleaner and more efficient use of energy.

Some of my glazes are flowing and fluid, creating interesting glaze runs and patterns. Especially where the glazes overlap.
Even though the glazes are consistent, there is still the element of chance, thus insuring the individuality of each piece.

If the item is a repetitive one it may be represented by a picture that is close but not exactly what you would receive. If it is the actual item it will say so. Please feel free to contact me if you have questions.

All pieces are already made and ready to ship.

I make all my own glazes. I make all my own work and have no employees or apprentices.

My website is www.stonewarecreations.com
Accepted payment methods
Payment
Payment can be made thru Paypal. Which allows payment with credit cards, bank cards and e-checks thru their system.
You can also choose direct payment to use credit or debit cards.
In the rare case that you want to send a check we can do that as well.
Shipping
ShippingWe will try to ship your pottery within 1 day of payment confirmation within 2 on weekends or holidays. The pottery is packed very carefully to avoid damage.

My preferred method of shipping pottery is USPS Priority Mail. This takes 2-3 business days, and sometimes less.

Prices for shipping in the USA are listed

WE DO SHIP to other countries. If you want to purchase something send me a convo. I will give you an estimate. If you agree I will make a reserved listing for you with shipping adjusted for your country. Please be aware that the service is first class and can take 7-10days or more. The package cannot exceed 4 lbs. in which case it could be broken down to 2 or more smaller packages.

Please make sure that the shipping address on Etsy checkout and PayPal match; otherwise, it could delay shipment until we can verify which address to ship to.

Should there be any damage, I will replace the item at no shipping charge to you, upon confirmation of damage by the post office.
Refunds and Exchanges
Since all pottery is handmade, there will be variations. We hope you understand this and appreciate it. We do want you to be happy with your purchase so in the odd chance that you absolutely need to return it (within 30 days of purchase), we can work something out - please contact me. Shipping charges will not be refunded for returns.

If there is a physical flaw in the pottery or damage during shipping, I will replace the item upon confirmation of damage.

For returns and exchanges, you will be responsible for the additional shipping charges. For returns, your money will be refunded once the piece arrives safely.
Additional policies and FAQs
SENDING A GIFT:
When sending a gift, please make sure that you put the address you want the item shipped to when you pay for it.. We can include a note that says it comes from you. If you want to say anything else, please tell us in the message to seller on the etsy purchase.