Announcement \

~~~~Please go visit my new Etsy Shop at~~~~
https://www.etsy.com/shop/lucyjory
It's a jewelry and scarves shop, handmade bracelets and necklaces plus my crochet scarves
Dog Bracelets, working with leather cords in different sizes and colors.
variety of dog breeds charms, cat charms and more
Great gifts

For MaxMinnieandMe I work custom orders too, you can pick your art and your dog breed and I will paint it for you.
Look around the shop and tell me what you want...

~~~ ALL ARTWORK PROTECTED BY ONE OF MY COPYRIGHTS REGISTERED WITH THE LIBRARY OF CONGRESS,
#s VAu-725-337 REPRODUCTION OF ANY IMAGES PROHIBITED BY LAW~~


We have way to many great pictures of them not to share! and because my clients/friends love to share their baby's pictures with me I thought it would be great if you post them there too! we all share that love for our furry family members…..so please feel free to post and comment, so GO LIKE OUR PAGE!!! here is the link: ~~~https://www.facebook.com/pages/Dachshund-Art-by-Lucy/465989913505315~~~

Lucy
Max, Minnie, Mikki and Maddox
Announcement
Last updated on
Jan 6, 2017
\

~~~~Please go visit my new Etsy Shop at~~~~
https://www.etsy.com/shop/lucyjory
It's a jewelry and scarves shop, handmade bracelets and necklaces plus my crochet scarves
Dog Bracelets, working with leather cords in different sizes and colors.
variety of dog breeds charms, cat charms and more
Great gifts

For MaxMinnieandMe I work custom orders too, you can pick your art and your dog breed and I will paint it for you.
Look around the shop and tell me what you want...

~~~ ALL ARTWORK PROTECTED BY ONE OF MY COPYRIGHTS REGISTERED WITH THE LIBRARY OF CONGRESS,
#s VAu-725-337 REPRODUCTION OF ANY IMAGES PROHIBITED BY LAW~~


We have way to many great pictures of them not to share! and because my clients/friends love to share their baby's pictures with me I thought it would be great if you post them there too! we all share that love for our furry family members…..so please feel free to post and comment, so GO LIKE OUR PAGE!!! here is the link: ~~~https://www.facebook.com/pages/Dachshund-Art-by-Lucy/465989913505315~~~

Lucy
Max, Minnie, Mikki and Maddox No items listed at this time
Reviews


Very cute!! Will look great hanging on my porch door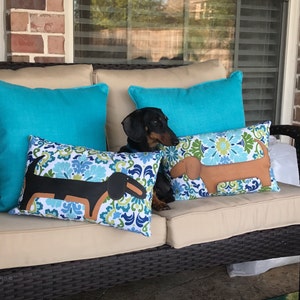 So cute! Beautifully made, fast shipping. High quality artisan piece.
About
Dachshunds and other breeds art by Lucy
Hi there!! and thanks for stopping by my store.
Since I remember I was always encourage to be creative. For me work is PLAY!
I love what I do and Thank God I found my passion.
The commercial part of my work started in a very funny way, so let me share my experience with you.
We adopted Max our dachshund, we fall in love with him so decide to share the good news with friends and relatives, that is when my little doxie logo was born, in the announcement cards lol.

Halloween came and the Happy Halloweenie started to sell well first to friends then on another well known site base on bids, after that came Thanksgiving then Christmas and found myself having the time of my life painting and creating new items ….now I go all year long Valentine's day, St. Patrick's, 4 of July, ….birthdays….orders etc

Then Another Dachshund came into our life a lovely black and tan female we call Minnie and that is how my store name was born….<"MaxMinnieandMe">

These days we have another dachshund named , Mikki black and tan female like Minnie, with a huge attitude lol
I know, the name of the store should include Mikki……MaxMinnieMikkiandMe but I am worry if the future brings more doxies into our lives this store name will be so big that will not fit on my Etsy banner or business cards.

<MaxMinnieandMe> have been a great way to give my creativity an outlet and give my husband and home a break lol
Before the store open I was using my husband travel (frequent) to redecorate, paint or fix new spaces in the house….he will come to a new color added and like my paints very colorful ones.
I Love what I do!
and the best part is getting to meet wonderful people that appreciate what I do and bring smiles to their faces
So please take your time and look around my little store!
Have fun and drop a message….share pictures of your babies
I would love to hear from you!
and if you like any item but want a different doxie (long hair, wirehair, dapple, brown…..) just contact me and I will be happy to paint it for you.
I also paint different breeds

Hi everybody! Max, Minnie, Mikki and myself wanted to share our new ~~Facebook Page~ with you all, the idea is to promote my craft but mostly to brag about my babies :)
We have way to many great pictures of them not to share! and because my clients/friends love to share their baby's pictures with me I thought it would be great if you post them there too! we all share that love for our furry family members…..so please feel free to post and comment, so GO LIKE OUR PAGE!!! here is the link: ~~~https://www.facebook.com/pages/Dachshund-Art-by-Lucy/465989913505315~~~

Lucy
Max, Minnie, Mikki and Maddox
Shop policies
Last updated on
October 23, 2016
Payment
For any custom order you need to pay ahead,
Shipping
Inside US:
US Priority Mail......with tracking number for you to check on the package.
If the USPS Tracking number said it was deliver to the address you have on Etsy I am not responsible for a missing package. IF the USPS do not deliver the package, the package is lost.....I will replace it, no cost to you.
Out of US
First Class Mail, Insurance require....takes 4 to 6 + more weeks to be deliver
I am not responsible for mail outside the US (international customs)
Refunds and Exchanges
For any item to be refunded, I will only do it once the item is back in my hands and there is no damage to it. You are responsible to pay for the shipping back. depending on the reason you send it back I will pay the shipping (if it was my mistake) not if you change your mind.
If the tracking shows that the item was deliver, will not be refunded

The address you set up on Etsy is the address will be deliver, I have no control over addresses, so if your item is deliver to your previous address, I am not responsible to replace, redirected to your new address or refunded.