Announcement LuckiestDuck1 sells classic, one of a kind, fun vintage lingerie and clothing. This shop is transgender friendly! I'm a retired theatrical performer, after all, and I've worked with many transgender performers, on and off stage. All are warmly welcomed and your privacy, if it's important to you, is taken seriously. I want you to know that I take special care to be sure that all of my items are clearly photographed and accurately described to ensure your confidence and ease of purchase. I happily all questions, too. What might you find here? You'll also find lots of vintage lingerie in the form of camisoles, full and half slips, pettipants, maxi and mini slips, cat suits, chemises, peignoirs and long gowns, by the likes of Vanity Fair, Van Raalte, Munsingwear, Olga, Warner's, Legg's, Eyeful. Calvin Klein, Frederick's of Hollywood, Vassarette, Barbizon and more. I have a special place in my heart for chiffon, so you'll always find plenty of that here, too! I also specialize in dresses: shirt dresses with matching belts, shifts, skirt sets, skirts, wool skirt suits and knit skirt suits. I have Ship 'n' Shore, Chaus, Oleg Cassini, Flora Kung, Castleberry and Evan Picone, to name a few. I also love boucle and tweeds! I sell women's hats, when I can find them and unusual shoes and purses. Occasionally, I find an awesome corduroy pants suit or denim overalls and in it goes. I don't forget about men's fashion and whenever I find something great for men, I put it here, too: men's sweaters, men's athletic jackets, men's shirts, men's suits, men's robes, men's smoking jackets, and men's ties! Some of these brands include Woolrich, Casual Craft, and Eddie Bauer. There's quite a lot packed into this little store, so take your time, look around and enjoy yourself.

Enjoy!

Kathy

I also sell other vintage home goods at my 2nd Etsy shop:
http://www.etsy.com/shop/LuckiestDuck2

and vintage and non-vintage items at my Ebay store:
http://stores.ebay.com/LuckiestDuck3

Love lingerie? Then, you'll enjoy my Vintage Lingerie Sellers Sales Team blog where there's lots of useful lingerie info and great pieces for sale from a variety of shop owners:
http://www.vintagelingerielove.blogspot.com/
Announcement
Last updated on
Dec 27, 2016
LuckiestDuck1 sells classic, one of a kind, fun vintage lingerie and clothing. This shop is transgender friendly! I'm a retired theatrical performer, after all, and I've worked with many transgender performers, on and off stage. All are warmly welcomed and your privacy, if it's important to you, is taken seriously. I want you to know that I take special care to be sure that all of my items are clearly photographed and accurately described to ensure your confidence and ease of purchase. I happily all questions, too. What might you find here? You'll also find lots of vintage lingerie in the form of camisoles, full and half slips, pettipants, maxi and mini slips, cat suits, chemises, peignoirs and long gowns, by the likes of Vanity Fair, Van Raalte, Munsingwear, Olga, Warner's, Legg's, Eyeful. Calvin Klein, Frederick's of Hollywood, Vassarette, Barbizon and more. I have a special place in my heart for chiffon, so you'll always find plenty of that here, too! I also specialize in dresses: shirt dresses with matching belts, shifts, skirt sets, skirts, wool skirt suits and knit skirt suits. I have Ship 'n' Shore, Chaus, Oleg Cassini, Flora Kung, Castleberry and Evan Picone, to name a few. I also love boucle and tweeds! I sell women's hats, when I can find them and unusual shoes and purses. Occasionally, I find an awesome corduroy pants suit or denim overalls and in it goes. I don't forget about men's fashion and whenever I find something great for men, I put it here, too: men's sweaters, men's athletic jackets, men's shirts, men's suits, men's robes, men's smoking jackets, and men's ties! Some of these brands include Woolrich, Casual Craft, and Eddie Bauer. There's quite a lot packed into this little store, so take your time, look around and enjoy yourself.

Enjoy!

Kathy

I also sell other vintage home goods at my 2nd Etsy shop:
http://www.etsy.com/shop/LuckiestDuck2

and vintage and non-vintage items at my Ebay store:
http://stores.ebay.com/LuckiestDuck3

Love lingerie? Then, you'll enjoy my Vintage Lingerie Sellers Sales Team blog where there's lots of useful lingerie info and great pieces for sale from a variety of shop owners:
http://www.vintagelingerielove.blogspot.com/ No items listed at this time
Reviews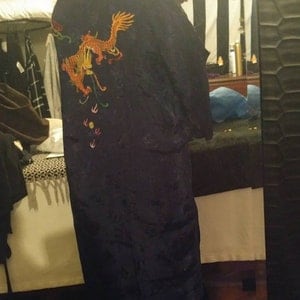 Thank you so much! I absolutely love this item. I appreciate your speedy reply to my email questions. Your description of the item was perfect! Very excited and happy!!

Really cute hat. Thank you.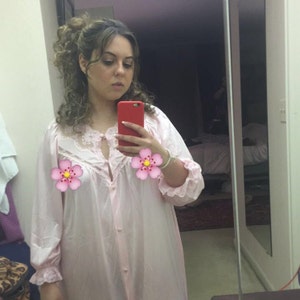 Adorable and such soft and beautiful fabric!
About
Bee Allergy Sends Woman Indoors
That's how it all started. I was a gardener bee keeper (forgot to mention that in my short bio..) and one day had an allergic reaction to a bee sting. It threw my life tospy-turvy, because at the time I was a professional gardener and wanted to expand my bee keeping. Suddenly I went from being all about the outdoors, to being all about the indoors.

I thought if I was going to be inside for a while, I might as well use my time wisely and that's when I began helping my Mother in her efforts to downsize her belongings. We found clothing from when she was a girl, from when my grandmother was young, and clothing from my great grandmother. So, I set up a shop. It's been fun taking this clothing and finding new and happy homes for it. I love to hear the stories of what happens to the clothing I sell. And so does my Mother. I have heard many wonderful ones.

After a time, I thought I'd expand a little and look for other cool stuff. That's what I do now. I look for things. I wash. I measure. I mend. I iron. And I take pictures of pretty people wearing pretty clothing. Then I take my dogs for a walk, feed the ducks and pet the cats and rabbit. Not bad. And last but not least, I get to meet really nice people from all over the world. How cool is that?

So that's my story in a very short nutshell. I'm adding new things daily (to my store and to my story!), so come back often. And check out my other Etsy store Medicinew2 for more vintage items.

May you find something you really love here that 's cool to wear and while you wear it, may you be blessed with many years of health and happiness!

Kathy
Shop members

Shop policies
Last updated on
April 12, 2016
Welcome to LuckiestDuck1 where I specialize in vintage lingerie and classically cool clothing.

I am drawn to clean lines, drapey fabrics that flatter, vibrant life-affirming colors and anything quirky and fun. Oh...how something feels is very important to me. I like a great silky satin, or a nubbly boucle.

Many items I have for sale come from my family's old New Hampshire farm, where my Mother still resides. Some of the clothing was her's as a young woman, or even her mother's or grandmother's. There's a lot of history in these pieces and if I know it, I make it a point to tell you about it. It's a gigantic thrill for her to know where these pieces end up and who's wearing them. We love your stories, too.

I love what I do. And I love my customers. My sincerest hope is you will be pleased with your purchase and come back again and again.
Best wishes,
Kathy
Accepted payment methods
Money Order
Check
Other Method
Payment
We accept Paypal, Etsy Direct Check Out, checks, cash, Lay-a-Way and will trade (if you have something we want). We expect payment at time of purchase, but if you work something out in advance with us, we will hold an item and/or set up a payment or layaway plan.

LAY-A-WAY PLANS ARE AVAILABLE WITH NO ADDITIONAL FEES OR MINIMUM PURCHASE REQUIRED. Here's how they work:

6 week Layaway Plan
No minimum amount required/No interest / No prepayment penalty/Non-refundable down payment

1.) A non-refundable Down payment of 20% of the total shipping & purchase price starts the process and holds the items for you.
2.) The remaining dollar amount due is divided into 3 equal dollar amounts. The first is due in 14 days. The second is due 14 days after this. The third is due in 14 days after this.

Now for the details... by making the non-refundable down payment you are agreeing to the following:

1. Layaway terms are for 6 weeks from time of layaway. Payment amounts based on the total amount of shipping costs and sales price for the items (s) put to layaway. No minimum amount required. Orders can be multiple items.
2. An initial non-refundable down payment of 20% on the total amount of shipping costs and purchase. is require to start the layaway. With the initial 20% down, the buyer agrees to this contract and the terms set forth.
3. Buyer agrees to make scheduled payments via an Etsy "purchase" of the item in the agreed upon amount, every 12 calendar days, until the amount is paid in full. Minimum payments are 1/3 of the outstanding balance . No invoices will be sent to the buyer. Item is shipped upon completion of payments.
4. Shipping charges are included in the total amount and that are divided in the layaway plan.
5. Buyer to notify seller preference regarding how they would like for the seller to ship items (s). Ships USPS either parcel post or priority mail domestic. Internationally, ships USPS First Class International. .
6. Under the contract purchases are interest free no finance charges applied to purchases.
7. All sales are final.

Terms of this layaway contract are binding between the seller and buyer. Modifications or changes to this contract are at the sole discretion of the seller.
Shipping
DOMESTIC SHIPPING: Most items ship within 1 - 3 days, USPS First Class Mail, Parcel Post or Priority. If you live near by, I always consider pick-up as an option.
INTERNATIONAL SHIPPING: Most items ship within 1-3 days, USPS First Class International Mail, Parcel Post or Priority Mail.
COMBINED SHIPPING: I happily combine shipping, whenever possible between my three Etsy shops. LuckiestDuck1 (you are here now!) & LuckiestDuck2, (to get there, follow this link:
www.etsy.com/shop/LuckiestDuck2)
and VintageCoffeeMugShop (to get there, follow this link:
www.etsy.com/shop/VintageCoffeeMugShop).
A NOTE ABOUT HAVING PACKAGES LEFT AT YOUR DOOR: Please be absolutely sure your home is a safe place to leave a package. If you have had packages stollen from your mail or are concerned that they might be, I will have your package delivered to the post office, where you can pick it up at your convenience. There may be an additional charge for this service.
Refunds and Exchanges
RETURN POLICY: I do not accept returns but I do happily answer any questions, and offer additional photographs, that help you purchase this product with confidence! I make an exception for the following situations and do offer refunds, if I have made a gross error in my description or measurements, or the item has been damaged in shipping. If the items was misrepresented, I require that you return it to me, and will confirm the discrepancy with you. If I agree, I will refund your purchase and shipping costs. If the item has been damaged, please send me a photo of the damaged item and DO NOT DISCARD THE PACKAGING, as I may need it in order to obtain a reimbursement from the carrier. In either of these cases, I will happily offer you either a discount, return and credit or return and refund upon confirmation or shortly after.
Additional policies and FAQs
HOW DO YOU KNOW WHAT AGE A GARMENT IS?

I can tell a lot by how it was made. Certain things are clues that help narrow the timeline down. Things like whether or not the seams were "pinked" ( cut with a special zip-zag pair of scissors as a means of finishing the edges) or whether or not a metal zipper or metal "slides" on the straps of a piece of lingerie were used. If there is a label, a union label, care instructions and manufacturing labels all help to narrow the timeline down, as well. Sometimes the previous owner remembers exactly when they purchased it. I research every garment and do my best. If you have specific insight into a garment or fabric I have for sale. I love to hear about that as well. It only helps to increase my knowledge.

HOW WILL I KNOW WHAT CONDITION THE GARMENT IS?

I go over my items at a minium of 3 times before it leaves my collection. I wash, iron/steam and have modelled most items and flaws are most often caught at one of those stages. I try to view them in different kinds of light, as this can show a previously hidden flaw or stain. I'm a fussy buyer myself, and I like to know exactly what condition an item is in prior to purchasing it. I relate the flaws that I would like to know about, if I were purchasing the item. I describe the dress in a way that I would feel comfortable buying it.

DO YOU WASH EVERY ITEM YOU SELL?

Yes and no. Most items I wash, but if I receive a dry cleanable item in clean condition, I pass that savings on to you. I always state if a dry cleanable item has been cleaned by me or not. My items are clean, fresh and in wearable condition, upon your receipt of them. In the rare exception where this is not the case, when washing would actually damage it, for instance, like with some delicate collectors' pieces, I always disclose it.

WILL YOU THINK I'M A PEST IF I CONVO YOU WITH A LOT OF PICKY QUESTIONS?

No. I will think you are very smart. I love questions.

I LOVE TO BUY LINGERIE, BUT WILL YOU RESPECT MY PRIVACY?

Absolutely. I don't relate the convos, items purchased or names of my lingerie customers. Not even to my husband. I keep that strictly private. I may relate that a certain piece was sold and to what country it was shipped. But that is it.