Announcement WELCOME to the original home of my beautiful and very popular ELECTRIC HURRICANE LANTERN TABLE LAMPS! These are real kerosene, oil lanterns that are converted to electric. Features two versions: Table Top and Pendent. The Pendant hangs from the ceiling and must be wired to your electrical system where the table top simply plugs into an outlet.

** Need a hanging pendent lantern? Request a custom order or message me **
Announcement
Last updated on
Dec 22, 2017
WELCOME to the original home of my beautiful and very popular ELECTRIC HURRICANE LANTERN TABLE LAMPS! These are real kerosene, oil lanterns that are converted to electric. Features two versions: Table Top and Pendent. The Pendant hangs from the ceiling and must be wired to your electrical system where the table top simply plugs into an outlet.

** Need a hanging pendent lantern? Request a custom order or message me **
Reviews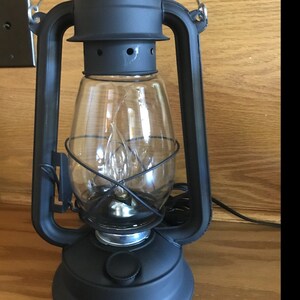 Product exactly as described. Very nicely built - Very happy with my purchase and speedy delivery of the product.

This lamp looks great on a book shelf as a reading light or in a man cave to give that rustic appearance!
About
Lanterns Of Hope During Dark Times
It was early May, 2012 and life was going pretty well. I just finished my insane diet and lost 35 pounds! I felt great, was full of energy and excited for the upcoming summer. I happen to be an actor and filmmaker and was in early pre-production on my next movie that I was super excited about. Then on one sunny spring morning, it all came to an shocking end.

My 23 year friendship with my best friend came to an erupt end when he revealed that he had betrayed me using nasty lies and deceit. Three years before this I got him a job working as my assistant in a warehouse where I worked for 8 years. He thanked me by setting wheels in motion to get me fired. Why? He was afraid of layoffs. I had much more to lose than he did. I had a mortgage to pay. He did not as his home was paid off and he had a standing job offer. I did not. His plan eventually worked and 5 months later I was fired for no reason. He won and I lost big. I knew I had to make some changes and that's what lead me here.

I wanted to work from home and for myself. I never wanted to work for another again. I knew there had to be something. I recalled a small project I created a few years before this. I had converted a kerosene hurricane lantern into an electric table lamp for my home office. I loved it and I knew others would as well. I didn't feel ebay was the best place to sell so I searched and that is when I discovered Etsy. I created my shop pretty quickly and began listing my new electric hurricane lanterns. In less than two weeks time they began selling.

It took long hours and long days but was well worth it. Although my life did fall apart after losing my job and my house fell into foreclosure I was happy to be working for me. For the next five years my life was horrible and I pretty much lost everything. I barely survived. To despite that this lantern business grew. It has become a success story in itself and people from all over the world are lighting their spaces with these really beautiful lanterns.

A few years after starting this business a customer wrote me and told me about the difficulties they were having in life. They were happy that I had shared this story because they were inspired and it gave them hope. She purchased a lantern and told me this: "I hope this lantern lights my way, the way it lit yours." I always think of that and for me these will always be more than just lanterns. They are a symbol of hope which help lit my way during the long dark days. I hope they can do the same for you.
Shop members
Mike M Burke

Owner, Maker, Designer, Curator, Art, Photography, Creating, Crafting

Mike is best known for his work as an actor, writer, filmmaker, and artist. In 2012 he built his Etsy shop based off his electric hurricane lantern table lamp that was originally for his home office.
Shop policies
Last updated on
June 28, 2015
Welcome to MikeMBurkeDesigns at Etsy.com. This is original home to my wonderful and popular Electric Hurricane Lanterns!

These lanterns are built with care. I love these lanterns as much as my customers do! I have them all over my own house!

Please take the time to read my shop policies, shipping info, FAQ's, and full description of the lanterns BEFORE purchasing. Most of your concerns should be answered here as well as important information.

Thank you for visiting and enjoy your tour of my shop!
Accepted payment methods
Accepts Etsy Gift Cards and Etsy Credits
Returns and exchanges
I take the extra the time to pack these well, with care, and to protect them. The packages are marked as FRAGILE in order to take that extra precaution against abuse from the shipping service.

If a lantern arrives with scratches in the paint, broken glass, or appears to have been crushed by the shipping service please contact me immediately so an arrangement can be made for an exchange or replacement.

Make sure you check your package the day you receive it. If you happen to wait 30 days and then find there is a problem I will not be able to offer you an exchange, return, or refund.

IMPORTANT: I ask that you read the ENTIRE description of the lanterns in the shop before making a purchase. I provide as much detail as possible so that you know exactly what you are getting. I will not accept any return or give out refunds because you didn't read the description including construction, electrical parts used, color, size, etc.

The lanterns I use are real Kerosene Lanterns which means they are originally intended for rough use whether it's for camping, in a storm, or providing some light and warmth. I convert these real lanterns into electrical. There will be times when a lantern will have small dimples or tiny dents in the metal. This is normal from the manufacture and in no way affects the quality and operation of the lantern. Any lantern I use that has larger dents or dimples will be discounted as a special deal in my shop. Some customers have actually requested that I provide lanterns like this for a more rustic and rough lamp. The lanterns I provide are new.

Refunds will be decided on a case by case basis. Damaged items can be exchanged or returned for a full refund. Make sure you contact me as soon as possible so we can discuss further. Please read my shipping policy as well as it also relates to returns.


Orders are considered lost after six weeks have gone by and will be replaced at that time if we can not locate it.
Payment
I do accept credit cards through Etsy, Etsy gift cards, and Paypal.

In order for a custom order to be processed payment must be received first and cancellations will not be accepted (See Custom Orders down below.)
Shipping
The majority of times I ship through USPS. It typically takes two days to arrive after I ship if ordered within the US. Other countries will be longer. I do ship worldwide.

Most times I ship Mon-Sat. Your order will usually ship same day or next depending on the time of day. On Saturdays there are times when items will not be able to ship until Monday.

Larger orders will be shipped using FEDEX or UPS.

It's important that you check you shipping address before finalizing your order. Check for errors and correct. If an item is shipped back to me you will be 100% responsible for the shipping fees for me to resend it to you.

IMPORTANT: If you pay using Paypal your shipping address will get changed automatically by Etsy. They will use your Paypal address as the ship to. PLEASE CHECK your address before finalizing your order. If there is a mistake and your package is returned to me I will not be responsible for the shipping fees to send it to the proper address. PLEASE DOUBLE CHECK!

INTERNATIONAL CUSTOMERS: When the package is shipped to you there is a possibility you will be charged extra custom charges and taxes. Each country has a different policy and not all of them add these extra charges. PLEASE note that these charges are out of my control. When I ship the package the weights, dimensions, and custom description is accurate. You will be fully responsible for any extra custom charges that your post office may present to you. Check your country to see if you will be charged. Returns will not be accepted due to these charges. If an order comes back to me to due to custom charges, whether you never claimed the item or refused these charges, I will only refund the purchase price and not the shipping fee.
Additional policies and FAQs
YES I do accept custom orders. I ask that you contact me first to see if I can built the lantern to your request. Although I no longer carry hanging lanterns in stock I do build them as custom orders.

Please allow extra time for these type of orders to be built and shipped. Many times I will need to order special parts.

The sales price could vary due to the cost of special parts and requests.

PLEASE TAKE NOTICE that you will need to pay for your custom order before I order any parts to build them. The parts I use are typically special items that I normally don't use or carry in my regular inventory. I must protect my business form customers who change their mind or cancel all together AFTER I have already purchased parts and /or built the item.

I will not accept any cancellations or issue any refund if you change your mind after your payment if received.


FAQ's

Do you build hanging lanterns?
Mike:. Yes I do as custom orders.

Do you ship internationally?
Mike: Yes I do. My top three international customers are UK, Canada, and Australia however I do ship worldwide. Please know that it does cost more to ship from the US. I do my best to keep my fees low and fair.

Do you provide a 240V socket and plug for my country?
Mike: I am unable to do this. Those parts are not available to me. I have searched for the proper parts to fit in my lanterns without luck. It's best for you to use a special adapter which I can suggest one if you ask me. This has worked out well for my international customers.

Do you offer custom colors?
Mike: Yes I do but sometimes a color may be requested that is not available to be or certain shades. Custom colors will cause a slight increase in the sales price to cover the custom color.

Can you build a lantern to hang on the outside wall of my house?
Mike: Yes I can as a custom order. I've had a few orders like this. I can provide a bracket for the wall. It will cause an increase in the sales price.

Are the lanterns weatherproof?
Mike: Yes they are but how well they do depends on your intentions. I will seal the electrical parts with an outdoor weather seal to protect the inside well of the lantern. If the lantern is placed under a porch or on the wall of the house it will be fine. If it's place directly outside exposed to all types of weather with no covering of any kind I can not make any guarantees to how it will hold up.


If any question or concerned was not covered here or through my shop policy feel free to contact me.