Announcement SHOP NOTE: I am currently able to ship within 5 - 8 business days! Order now for lots of holiday wear from MonogramMania!

Welcome to MonogramMania! I love personalized things! I would love to create a special personalized gift just for you!
_________________________

NEW! Follow me on FACEBOOK and be the first to be notified of special sales! Check it out!
http://www.facebook.com/#!/pages/Orlando-FL/MonogramMania/126178137406915?ref=ts&ajaxpipe=1&__a=8
_________________________

Any of the items shown in my store can be customized especially for you! See a fabric you like, but want it on a burp cloth instead of a onesie? No problem!

My flickr page with some of my current fabric is located here:

http://www.flickr.com/photos/monogrammania/sets/72157614515023390/

Check it out to see fabric possibilties!

Please don't hesitate to contact me if you would like to have a custom item made for you.

Washing instructions for appliqued and monogrammed items:
*Turn inside out
*Wash in cold water on delicate cycle
*Hang to dry
*Light warm press, if needed

FIT GUIDE:
Bodysuit fit guide:
- NB
- 3M: 8 - 12.5 lbs
- 6M: 12.5 - 16.5 lbs
- 9M: 16.5 - 20.5 lbs
- 12M: 20.5 - 24.5 lbs

Monag Tee fit guide:
- 12M suggested for 6-12 months
- 18M suggested for 12-18 months
- 2 suggested for 18M - 2 years
- 4 suggested for 3-4 years
- 6 suggested for 4-6 years
- 8 suggested for 7-8 years
- 10 suggested for 9-10 years

I have several types of tees available! If you don't specify a tee style, I'll use the regular "girly" style tee (fitted with a banded collar) or the regular boy style tee. If a different tee is shown in the photos, it may be available to you! Please ask about tee styles when placing your order!

I have various brands of tees on hand. I use high quality tees from different manufacturers, including but not limited to: Monag, Carter's, Gildan, Hanes, Cherokee, Bella, and Rabbit Skins. I reserve the right to use the tee brand I have on hand, if no brand is specified.

Certain items listed are for short sleeve tees and bodysuits. Long sleeves are an extra $2.00. If no style is specified, I'll stitch short sleeves. If you wish to have long sleeves, please let me know and I'll be happy to accommodate you! I'll invoice you for the extra $2.00 for the long sleeves (if the listing does not already state long sleeves).

I reserve the right to substitute fabrics, embellishments like rick rack, ribbon, pompom trim, etc. based on availability. **If you love the fabric or embellishment shown in a particular photo, please include that in the comments section of your order.** Availability of certain fabrics and embellishments varies, and this is why I sometimes use something different than a listing shows.

Hairbows are not included in my listings. They are just shown as a possible accessory for the tees. If you are interested in where I purchase these beautiful hairbows, please convo me. I'll be happy to share!

Thank you for shopping with MonogramMania!

PROUD MEMBER OF ETSY KIDS, Street Team ASE
Announcement
SHOP NOTE: I am currently able to ship within 5 - 8 business days! Order now for lots of holiday wear from MonogramMania!

Welcome to MonogramMania! I love personalized things! I would love to create a special personalized gift just for you!
_________________________

NEW! Follow me on FACEBOOK and be the first to be notified of special sales! Check it out!
http://www.facebook.com/#!/pages/Orlando-FL/MonogramMania/126178137406915?ref=ts&ajaxpipe=1&__a=8
_________________________

Any of the items shown in my store can be customized especially for you! See a fabric you like, but want it on a burp cloth instead of a onesie? No problem!

My flickr page with some of my current fabric is located here:

http://www.flickr.com/photos/monogrammania/sets/72157614515023390/

Check it out to see fabric possibilties!

Please don't hesitate to contact me if you would like to have a custom item made for you.

Washing instructions for appliqued and monogrammed items:
*Turn inside out
*Wash in cold water on delicate cycle
*Hang to dry
*Light warm press, if needed

FIT GUIDE:
Bodysuit fit guide:
- NB
- 3M: 8 - 12.5 lbs
- 6M: 12.5 - 16.5 lbs
- 9M: 16.5 - 20.5 lbs
- 12M: 20.5 - 24.5 lbs

Monag Tee fit guide:
- 12M suggested for 6-12 months
- 18M suggested for 12-18 months
- 2 suggested for 18M - 2 years
- 4 suggested for 3-4 years
- 6 suggested for 4-6 years
- 8 suggested for 7-8 years
- 10 suggested for 9-10 years

I have several types of tees available! If you don't specify a tee style, I'll use the regular "girly" style tee (fitted with a banded collar) or the regular boy style tee. If a different tee is shown in the photos, it may be available to you! Please ask about tee styles when placing your order!

I have various brands of tees on hand. I use high quality tees from different manufacturers, including but not limited to: Monag, Carter's, Gildan, Hanes, Cherokee, Bella, and Rabbit Skins. I reserve the right to use the tee brand I have on hand, if no brand is specified.

Certain items listed are for short sleeve tees and bodysuits. Long sleeves are an extra $2.00. If no style is specified, I'll stitch short sleeves. If you wish to have long sleeves, please let me know and I'll be happy to accommodate you! I'll invoice you for the extra $2.00 for the long sleeves (if the listing does not already state long sleeves).

I reserve the right to substitute fabrics, embellishments like rick rack, ribbon, pompom trim, etc. based on availability. **If you love the fabric or embellishment shown in a particular photo, please include that in the comments section of your order.** Availability of certain fabrics and embellishments varies, and this is why I sometimes use something different than a listing shows.

Hairbows are not included in my listings. They are just shown as a possible accessory for the tees. If you are interested in where I purchase these beautiful hairbows, please convo me. I'll be happy to share!

Thank you for shopping with MonogramMania!

PROUD MEMBER OF ETSY KIDS, Street Team ASE No items listed at this time
Reviews

Speedy delivery and great quality shirt! So adorable!

It turned out perfect!!! Thank you SO much!!!!!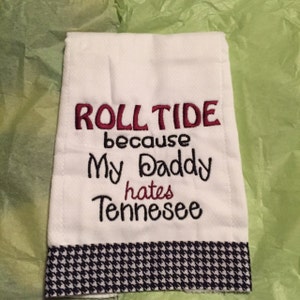 This is exactly what I wanted!! As always, you do amazing work!! Thank you!!
Shop policies
Last updated on
July 20, 2016
Hi from MonogramMania! I am so glad you've decided to check out my Etsy store. I work hard to customize and create personalized items which will make you smile!

Long sleeve shirts and bodysuits are an extra $2.00. If you don't specify style, I'll stitch short sleeves. Long sleeve price will be invoiced to you.

I work and am available to answer convos and stitch items Monday - Saturday. I take Sundays off from Etsy to worship and spend time with my family.
Accepted payment methods
Accepts Etsy Gift Cards and Etsy Credits
Payment
I am happy to accept Etsy checkout and Paypal. I will also accept money orders. If you pay with a money order, I'll create your personalized item once payment is received and cleared. Thanks!

Due to the nature of my personalized items, I will only begin stitching for you after payment has cleared. After that, I work just as fast as I can to get your package to your doorstep!
Shipping
I ship USPS first class mail, unless other arrangements are made prior to purchase. I attempt to ship within 5-10 days of receipt of order. I often ship before the 5 days. I try to keep shipping costs to a minimum - saving you money to use for actual personalized goodies is my goal!

I ship to the address on your Etsy checkout form. Please make certain the shipping information is correct! If you checkout using Paypal, I will ship to the address listed with your Paypal account. Please ensure your Paypal address is up to date.

Though I have been fortunate and this has not been a problem, I am not responsible for items that are misplaced or lost in the mailing process. If you are concerned about any item being lost in the mail, please contact me for the purchase of shipping insurance PRIOR to placing your order.
Refunds and Exchanges
I work hard to ensure your items are carefully created, specifically for you. If I make a mistake, I'll be happy to work to rectify the situation.

If you wish to cancel an order, you must contact me (following Etsy cancellation procedure and ONLY via Etsy conversation, per Etsy policy) within 12 hours of purchase. I work quickly and aim to ship quickly, so I cannot guarantee that a request for cancellation will be granted. Because my items are personalized, it is most likely that requests for cancellations will not be honored.
Additional policies and FAQs
I welcome custom orders. Please don't hesitate to contact me with ideas or questions! I'm here to help!

I use standard tees for Sample Sales. I do not grant requests for special tees in the sample sale tees. Gildan, Hanes, Monag, etc. are brands I normally use.
I use Carter's brand bodysuits.
I most often use Monag brand shirts. They are offered in even numbered sizes for the most part. If a tee style is not mentioned, I will stitch a regular "girly" tee (banded collar and fitted in nature) or a regular "boy" style tee. If you'd prefer a different style tee, please let me know! I can most likely accommodate your request! (Even if the photo shows a particular style tee, I will use the regular girly or boy tee if no mention is made of tee style.)

I reserve the right to change fabrics and embellishments from the listing photos, based on availability. **If you love what it shown, please convo me to check for availability.** This includes but is not limited to fabric, rick rack, ribbon, and pom pom trim.

Thanks!

Following is a fit guide provided by the manufacturers. If in doubt, please convo me - I'll be happy to assist you in making a size choice!

Bodysuit fit guide:
- NB
- 3M: 8 - 12.5 lbs
- 6M: 12.5 - 16.5 lbs
- 9M: 16.5 - 20.5 lbs
- 12M: 20.5 - 24.5 lbs

Tee fit guide:
- 12M suggested for 6-12 months
- 18M suggested for 12-18 months
- 2 suggested for 18M - 2 years
- 4 suggested for 3-4 years
- 6 suggested for 4-6 years
- 8 suggested for 7-8 years
- 10 suggested for 9-10 years