Announcement Welcome to Montage Decor. We hope you linger to see our ever changing inventory of all sorts of Vintage, Antique, and Handmade items. Take a peek
in Montage Decor's Closet....we have everything from Retro 80's concert T's to jewelry and sexy lingerie! Thanks for stopping by.
Announcement
Last updated on
Mar 8, 2017
Welcome to Montage Decor. We hope you linger to see our ever changing inventory of all sorts of Vintage, Antique, and Handmade items. Take a peek
in Montage Decor's Closet....we have everything from Retro 80's concert T's to jewelry and sexy lingerie! Thanks for stopping by. No items listed at this time
Reviews

Very fast shipping and love the shirt! Thank you!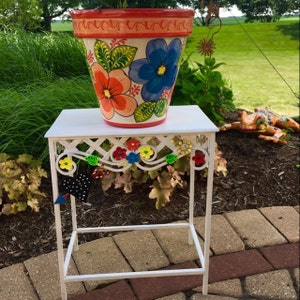 Table arrived quickly and packed extremely well. I painted this stand and added a little metal arrow on the left side to use on my outdoor patio. I will definitely order from this seller again!

It's an odd item to be buying but I dropped the one I had since a child (I'm old) and it shattered. Well packaged and speedy delivery. Thank you.
About
From the Farmer's Market to my own Shop, Virtual and Physical
As a lifelong contractor and Interior Designer, I was looking to get out of the physical side of that business. I was connected with someone who had an entire house full of furniture to get rid of in order to remodel and sell the house. The things in the house were all Vintage items from the 60's, and I became fascinated, being a designer, with the fabrics I remembered from my childhood. The person who lived in the house had been a sewer.

I took some of the things and repurposed them, painted them, or otherwise upcycled them. I got a spot at one of
the Baltimore Farmer's Market and started selling. I had a very good repsonse to that once a week venue, and then got one more local that I could use any day of the week. That led to renting a store five years ago, which is now a local fixture in my area. I now have room for dining room sets, Welsh cabinets, hutches, and lots of wall art and wall decor. I love anything that's Vintage and had lots of it in my own attic. I started an Etsy site and then did not do much with it for a year, but now I sell many things out of my store on Etsy. I love the people I've "met" on here!
Shop members
Jeri Kidd

Owner, Designer, Creator

A lifelong Interior Designer, Artist, and Craftsperson, I love to create, especially with paint. I now paint on furniture, shelves, bric a brac, mirrors, anything that can be enhanced with paint. I have degrees in English and Broadcasting and love to read. I now have a B & M store in Pasadena, Md.
Shop policies
Last updated on
July 7, 2017
Hello, using a lifetime of artistic experience fits into who I am. I don't like to see things needlessly thrown away when I can see ways to repurpose them. Having been a paperhanger, painter, and Faux finisher for years, I can look at something and imagine it different instantly. I love working with paint, wood, metal, and found objects.
I have a particular talent with paint and have been working with all types of paint
for over 50 yrs, a lifetime of experience. I'm always evolving new ways to make finishes.
Accepted payment methods
Accepts Etsy Gift Cards and Etsy Credits
Payment
Paypal and Direct Checkout are both available in this shop, as well as " Checks" which is only for furniture, custom orders, and other items
I consider too expensive to ship without knowing I will actually be paid.

To use Paypal: You DO NOT need a PayPal account to use Paypal:
1) Choose PayPal as the payment option
2) Submit the Order
3) Use the "Pay Now" button
4) Pay with any Credit Card. Paypal was devised to be a secure
payment site. I have never had an issue concerning paypal.
I am adding the instructions for people who say they do not know
how to use it. It is the most convenient way for me to bill for extra
shipping charges should they arise.

I do not accept returns. Items are as is, vintage items for the most part that show wear which is described in each listing. If there are any flaws I am aware of, there will be a picture of it and a note in the body of the description. I do not misrepresent anything I sell and it's not my intention to do so.

If you purchase something from me and you are not satisfied with it, I
would prefer you contact me first so we can discuss rather than leaving
a review that is less than five stars. My reputation as a seller in person
and on internet is very important to me. Please ask any and all questions
BEFORE purchase I try to include accurate measurements in every listing,
but sometimes they are not in there yet. If you need them to decide on an
item, please convo and I will provide and alter the listing.
I will consider making exceptions in the return policy if warranted.
Thanks!

If there would be a reason you would need to make payments on an item I would
consider doing that and ship upon completion of payments. I only invoice via Paypal so please note that.
Shipping
Most items are shipped out next day unless a large item that has to go to
Greyhound. I do believe in great customer service.
I only insure items I feel need insurance due to value or location.
Many items already have insurance added to them by the Post Office.
If item is costly I add appropriate amount to the order, as it's not the
customer's place to pay insurance.
I have never had any claims filed in relation to shipping.

I do not have time to refund shipping costs, or argue with people about shipping prices. I have been doing this long enough to
give a reasonable price for shipping. I do not like to haggle prices about the
items. I do a lot of research to decide what to charge. I feel that people don't
want to pay shipping costs, but you as a consumer are paying them on every
single thing you buy, you just don't see it.

If the listing has in the body of it: IF ITEM CANNOT SHIP FOR POSTED
PRICE, buyer will have to pay difference.
I am perfectly fine with someone contacting me PRIOR to purchase to ask shipping charges. It's not fair to me either to stick me for shortages as
some have done.

Furniture shipping can be either be arranged delivery if a feasible distance
(within 90 miles from Annapolis Md.) meaning I would meet you somewhere and
drive there myself. Otherwise, furniture or larger items can be shipped cost
effectively though Greyhound, who gives the best most reliable service.
Their space limitations are 72" L/ 30" H/ and 48" D. Anything larger
cannot be shipped this way. Item can also not weigh more than 100 lbs.

Customer can also arrange their own shipping, and for larger items I prefer this.
If any questions about shipping, please convo me for further details.
Once I send an item out I consider it delivered by the delivery date given by
the carrier unless I am otherwise informed.
If there are any problems upon delivery, which I have not personally experienced,
I would require documented photos of any damage immediately, and we can
discuss from there. As I say, I have not had this happen.

If the item comes back to me, customer will have to pay to reship the item. I have no way of knowing if this is your correct address. Please check your address in the order before placing the order. If you have an address on paypal, and you pay with paypal, I will only ship to that address. No exceptions.

Once something leaves the U.S I have
no way to be responsible for it, if mailed USPS they do not bear responsibility
for anything outside the U.S. so customer purchases at their own risk and
responsibility. I alter the listing and customer agrees they may never
receive it. I also have not had that happen.

If you buy an item listed as PAY BY CHECK ONLY using paypal,
I will refund the amount to you minus a restocking charge. I cannot control
the fact that people continue to do this, buy something without reading
the listing where it states in CAPITAL LETTERS to contact me first for
SHIPPING CHARGE to be added to order. I cannot pay anyone's shipping
charge for an item. I have no control over shipping prices that change daily.
Thanks!
Refunds and Exchanges
All items are Vintage or Antique and therefore in the condition of something
very old but well maintained. I am not hard to work with, I have been a
self employed business person my entire life. Please contact me if you
feel you need to. All electronics are "AS IS." I am not versed enough to
determine electrical things, and it's too expensive to have them assessed
as people don't want to pay me for that. If item turns on and seems to go through functions, that is considered "working" to me.

Having said that, in general my policy is NO returns. Please be sure the
item is something you want before purchase. I do not intentionally
misrepresent anything, not my policy as a human being to do so.
If you need measurements and they are not there, please contact me
prior to purchase. I try to make sure they are in the listings but if they are not, I will be happy to send to you and alter listing to reflect
the measurements.

If you purchase something that is clearly listed as PAY BY CHECK ONLY,
and ignore that and go ahead and pay with paypal, I will refund most of
the charge, but charge a restocking fee.

If shipping charges are over I will refund any shipping over 3.00. Conversely, if it costs more to send your item than quoted price
I would expect to invoice you for difference.
No one likes shipping costs but they are part of shopping online. In fact they are part of your everyday life- as they are added on to every single thing you purchase - you just don't see it.
Additional policies and FAQs
I do make custom orders, I have a B&M store also named Montage Decor, and have done that there. Store has same policy, AS IS and Final Sale. I try to represent any existing flaws (if any) in my items and show them clearly. Not my policy as a human being to try and deceive anyone.

Store is located at 8445 B Ft. Smallwood Rd at Carroll Rd. Pasadena, Md. 21122. We do not have set hours- if weather good - most likely there. You can contact me to find out.
More information
Last updated on
Jan 14, 2017
Frequently asked questions
Do I receive all items in pictures?
In my listings everything other than props are included. Etsy's inventory says "1" for renewal purposes. If there are 2 things in listing, you receive both for posted price.