Reviews

I was nervous ordering this item, especially since I only had little over a week before my husband's 50th birthday. I ordered it on a Monday and received an email on Tuesday that it was shipping that day! It arrived and was wayyy better than I could've pictured it. Quality work and my husband can't stop looking at it. He loves it!

Amazing! This is my second purchase and they both turned out great. Super fast shipping too!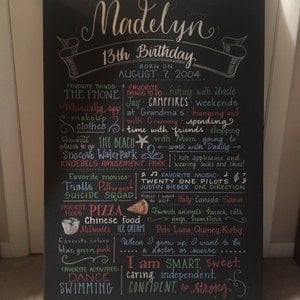 I absolutely LOVE my custom piece and cant wait to give it to my daughter on her birthday!
About
Moulage Collection
A lifetime of studies in fine art and a degree in Fashion Design led me to create my brand, Moulage Collection, in 2011. I design and personally craft every item in my shop, all of which are styled with my signature elegance.

In the Spring of 2012, I drew an artwork for my neighbor Bella's first birthday, which attracted immediate attention when I shared photos of it online. That one drawing became the basis for my line of Favorite Things Posters, and inspired me to expand into a wide range of hand-drawn artworks.

My artwork has been featured in The Knot, Brides Magazine, Hostess with the Mostess, Kara's Party Ideas, Pizzazzerie, Chickabug, The Wise Baby, Ceremony Magazine, and Mingle Magazine, but most importantly, in thousands of real birthdays, weddings, and celebrations around the world!
Shop members
Elizabeth

Owner, Designer, Artist
Shop policies
Last updated on
July 10, 2017
Thank you for choosing my artwork! If you have any questions at all, please don't hesitate to contact me!
• • • • • • • LEAD TIME • • • • • • •
I always ensure delivery prior to your event date! When you order, please choose your lead time from the drop down menu.
It is always best to order as early as possible to reserve your spot on my schedule; you do not need to include the final content for your drawing when you order.
If you don't have a deadline and would like to receive your order as soon as possible, you can expect receive it about 2 weeks after ordering and confirming your content with me.
INTERNATIONAL ORDERS (outside the USA): With regular shipping (the cost that is automatically calculated when you order), you must order at least three weeks in advance of your event date. For express shipping, please contact me to calculate the cost before you order.
Follow me for ideas and updates!
Facebook.com/MoulageCollection
Instagram @MoulageCollection
And check out my sister shop, brush&arrow, for printable artwork!
BrushAndArrow.etsy.com
Accepted payment methods
Accepts Etsy Gift Cards and Etsy Credits
Payment
• • • Ask me if your drawing could be eligible for a 50% rebate! • • •

To place your order for a custom artwork, purchase any example that is the size and materials that you want, and then I'll design your drawing with your own content.

Placing your order with payment reserves your spot on my schedule. If you'd like to pay in installments, please contact me to set up your payment plan as far in advance as possible before your event.
Shipping
I generally use UPS to ship to contiguous U.S. addresses. A 20% lower shipping rate is available, if you choose to use the U.S. Postal Service instead of UPS. Please see my refund policy for more information about claims with each carrier.

I ship orders based on your event date, not your order date, to allow for updates. Drawings for children will arrive about a week in advance; for adults, I ship as early as possible. If you want to receive your order earlier, please let me know. After I send the shipping notification with tracking number, the buyer is responsible for checking the tracking. Please tell me as soon as possible if your item is not delivered on the expected day, so that I can provide a timely solution.

When you order multiple items at once, a combined shipping cost will be reflected. For items shipping separately, please place separate orders.

International shipping and delivery dates, including express shipping, are never guaranteed; they are always only an estimate.
Refunds and Exchanges
Custom artwork can not be returned or exchanged, but I will work with you to create an artwork that you will love. I encourage you to read my shop reviews to see how satisfied all of my clients are! Should you choose to cancel, an amount based on the work that has already been completed will be deducted from your refund. Damage caused by improper handling, purchasing the wrong item, or theft after delivery does not warrant a refund or replacement.

This has never happened, but in the event of a personal emergency, natural disaster, or other unforeseen circumstance, or if I am physically incapable of completing your order, I will give you the option to either receive it at a later date, or receive a full refund. If you have paid for earlier delivery and choose to receive it at a later date, I will credit the cost difference. I reserve the right to cancel and refund your order, in whole or in part, or deny business to anyone for any reason.

I have never shipped an order late, but I cannot take responsibility for late arrivals caused by the shipping carrier, or other circumstances out of their control (such as delays due to weather), but can file a claim for reimbursement if it happens.

Digital images, once downloaded or emailed, are not refundable, for any reason.


Damage claims:

• Clients in the US: Should damage or any other issue occur, please notify me immediately. Do not discard any items or packaging. You can choose to have a drawing re-made immediately, or a full refund after the claim has completed. It is up to the shipping carrier to determine if the damage is eligible for reimbursement. PLEASE DO NOT CONTACT UPS or file a claim yourself (if you do, I will not be able to offer you a resolution).

• Should you choose to use USPS for domestic shipping, you must file the claim. Please designate yourself as the claim recipient; you can either keep the money as a refund, or purchase another drawing as a replacement.

• International clients: In the event that your shipment is damaged or lost, I will do everything in my power to come to a resolution, but because the shipment is transferred to a local carrier for delivery, I cannot guarantee a replacement or reimbursement.
Additional policies and FAQs
DESIGN PROCESS

Generally, I use the example that you purchase as a starting point, unless you instruct me otherwise. Anything that you do not explicitly state will be left to my discretion. In addition to the colors that you specify, I will use neutral colors, unless you specifically request that I exclude them. Please don't assume that I know which aspect of the example you want copied on your drawing.

For Favorite Things Posters™, I recommended about:
• 30 words for an 11" x 14" drawing
• 50 words for a 15" x 20" drawing
• 60 words for a 16" x 20" drawing
• 70 words for an 18" x 24" drawing
• 80 words for a 20" x 24" drawing
• 150 words for a 24" x 36" drawing
The word count is counted when everything is written in full sentences. If you include more than this, I might omit certain things that will not fit, although I'll include as much as I can. The word count is not an exact cutoff, but is an approximation of how much will look best on each size. I generally work "top down," so the information should be written by order of importance (most important things first; this includes requests for drawings). Since drawings also take up space, including more illustrations means that fewer words might fit.

Drawings with large headers, including multiple names, fit fewer words than the usual recommendation for that size. Certain design requests will impact other parts of the drawing. I take no responsibility for misspellings or mistakes that exist in the information provided by the client, although I will edit and correct your content, including grammar, spelling, and correct proper names. Please proofread your content carefully, and tell me if something is misspelled on purpose if it is not obvious. I will not include any wording that is crude or otherwise in poor taste, at my own discretion. If you don't write the information in full sentences or in the exact wording, I will re-word what you have sent me, but it's always best to send me your exact wording. I will not include drawings of body parts or any copyrighted material.

I do my best to provide accurate photos of each item, but drawings might vary in appearance from the examples shown, due to monitor displays, lighting in photos, variations in materials used, and the nature of custom artwork. No one photograph should be used as a single reference. The more specific you are with your requests, the better I can meet them. Props in photos, including frames and easels, are not included with the purchase of a drawing.

If you place your order far in advance of your event date, I will confirm the wording with you closer to the shipping date. All shipping dates are contingent on prompt communication from the buyer.

"PROOFS:" If you would like to see a photo of your finished artwork before I ship, you must notify me when you order since this will add time to the process. All design decisions must still be made in advance, since major changes are not possible at this point. After I send the photo, you can pay full price for a new drawing if you want to make changes that are extensive enough to require me to start from scratch (essentially, the first drawing serves as your "proof" and the total cost is two times my regular price). Or, I can send you photos as I progress; should you request changes, they will be charged based on the amount of work completed. Progress photos are not available if you order less than 14 days prior to your event.

Because I create artwork entirely by hand, your artwork might contain subtle fixes and corrections, which are not flaws. If you'd like your drawing to contain no corrections, or if you'd like to approve any corrections that I must make to your artwork, please notify me when you order.

It is the buyer's responsibility to review all photos, the entire description of the item(s) that they purchase, and my messages via Etsy's conversations, and to convey the information to the recipient if purchasing on behalf of someone else.

I'd love to hear how you like your drawing! If you send me a photo of how you use it, or share it on social media sites, you agree that I may share the photo on my blog, Facebook, or other printed or electronic media as an example of my work, unless you instruct otherwise. I use many drawings as examples, and when I do, the wording on the drawing can be read by anyone who visits my shop. I might also include some details of our transaction for context, such as your first name. If you do not want me to share photos of your drawing, and/or certain details of our transaction, just tell me when you order and I would be happy to keep it private.

All policies are subject to change without notice. While I will honor any information that was current at the time of your purchase, it must be in writing with that date. All other policies will be enforced as they currently appear. I am willing to make exceptions or do something differently if you ask!
More information
Last updated on
Aug 4, 2016
Frequently asked questions
How do I place an order for customized artwork?
To place your order for custom artwork, purchase the example in my shop that is the size and materials that you want. Since everything I do is custom, your artwork will not have to match one of my existing examples.
How far in advance should I order?
You should order as far in advance as possible. Placing your order reserves your spot on my schedule, and when you order well in advance, I'll contact you as we get closer to your event date to get all of your updated content for the drawing.
How quickly can I get a drawing?
You can choose your lead time from the drop-down menu when you add a drawing to your cart. If you don't have a deadline and would like to receive the drawing as soon as possible, I can usually have it to you within a couple weeks after you place the order.