 No items listed at this time
Reviews
No reviews in the last year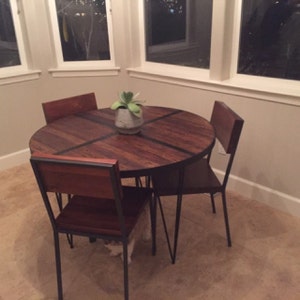 Thanks it looks great and fits the space perfectly!

What a beautiful table! It looks even better than the pictures when you see it in person. Also, the owners of this shop are both very nice people who were great to work with. I had a strange shipping complication with my order initially, but as soon as it was identified, the owners worked tirelessly with FedEx to resolve the issue. I thoroughly recommend both this beautiful table, as well as doing business with the shop owners.

I purchased and paid for this item and after many many attempts at communication and resolution the best the seller came up with was that they used the wrong shipping address and that I should call the carrier to re route the item. I still do not have the item, nor a refund. So that makes the seller....................
It's true the shipping address was initially incorrect. We called FedEx to correct the address after the first of three delivery attempts. After that, despite having the correct address, FedEx was unable to find the delivery location. The buyer was not asked to call and "re route" the item. We suggested that he may want to call FedEx and help them find his address since the driver was having difficulty. He refused. We then spent hours on the phone with FedEx over the course of a month trying to get it delivered to the right place. Instead they returned it to us (despite calling three times to try and stop the package). We attempted to call the buyer to ask if he would like a refund or the item sent back out. He did not respond. We shipped it again at our expense and it was delivered on January 22nd.