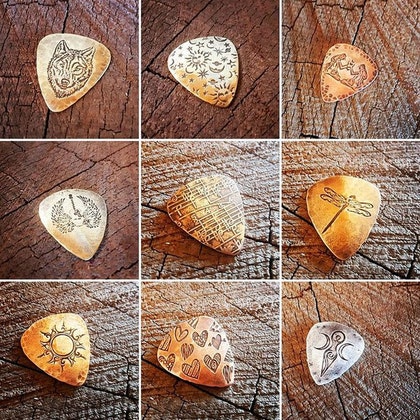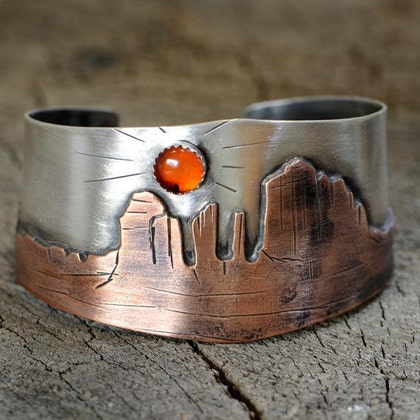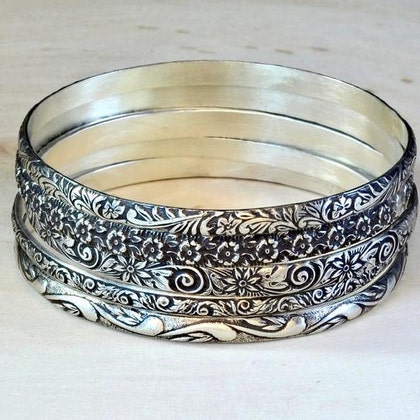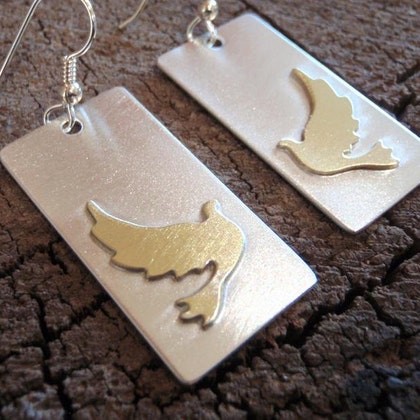 Announcement Nicilaskins' Shop Announcements

ORIGINAL CREATOR of the stamped metal Guitar Picks

Handmade with attention to detail and quality, Nici Laskin passionately crafts custom guitar picks, tie bars, cuff links, mens' accessories, bracelets, pendants, earrings, necklaces, money clips, golf markers, high quality stamping blanks, wedding bands, and much more in a variety of metals including sterling silver, gold, aluminum, bronze, brass, and copper. We strive not only to bring you the highest quality artistic work available, but also personal attentive service with guaranteed satisfaction and are always available to answer questions and discuss custom designs. Please don't hesitate to contact us at any time or give us a call at 914-8371392

Given the handmade time consuming nature of our work, orders generally ship within 1-5 business days of placing your order. Select items ship within 1-2 days

We use the thickest metals with certified purity from reputable US Vendors, so our stamping is always clean and precise without bending, marring, denting, and punching through the back, therefore we can gladly stamp both sides of jewelry with symbols and personalized messages. Not only do we produce our own stamping blanks, but we are also a supplier of the highest quality blanks on Etsy. If you don't see exactly what you would like in my shop, no worries, we always welcome your custom and personalized orders whether you are looking for that unique wedding ring, graduation gift, something special for a birthday, anniversary or a gift for someone who is impossible to please.

******INTERNATIONAL CUSTOMER*********
Please be aware that you will be responsible for your own VAT ( Value added tax or Import Tax ) by law


You can also follow and like us on Facebook:
www.facebook.com/NiciArt

Check out my custom guitar picks in action
http://www.youtube.com/watch?v=YYGanv5YULw

Thanks for visiting,
Nici and RJ
Announcement
Nicilaskins' Shop Announcements

ORIGINAL CREATOR of the stamped metal Guitar Picks

Handmade with attention to detail and quality, Nici Laskin passionately crafts custom guitar picks, tie bars, cuff links, mens' accessories, bracelets, pendants, earrings, necklaces, money clips, golf markers, high quality stamping blanks, wedding bands, and much more in a variety of metals including sterling silver, gold, aluminum, bronze, brass, and copper. We strive not only to bring you the highest quality artistic work available, but also personal attentive service with guaranteed satisfaction and are always available to answer questions and discuss custom designs. Please don't hesitate to contact us at any time or give us a call at 914-8371392

Given the handmade time consuming nature of our work, orders generally ship within 1-5 business days of placing your order. Select items ship within 1-2 days

We use the thickest metals with certified purity from reputable US Vendors, so our stamping is always clean and precise without bending, marring, denting, and punching through the back, therefore we can gladly stamp both sides of jewelry with symbols and personalized messages. Not only do we produce our own stamping blanks, but we are also a supplier of the highest quality blanks on Etsy. If you don't see exactly what you would like in my shop, no worries, we always welcome your custom and personalized orders whether you are looking for that unique wedding ring, graduation gift, something special for a birthday, anniversary or a gift for someone who is impossible to please.

******INTERNATIONAL CUSTOMER*********
Please be aware that you will be responsible for your own VAT ( Value added tax or Import Tax ) by law


You can also follow and like us on Facebook:
www.facebook.com/NiciArt

Check out my custom guitar picks in action
http://www.youtube.com/watch?v=YYGanv5YULw

Thanks for visiting,
Nici and RJ
See reviews that mention:

I was born in the late 70's in Leipzig , East Germany. When I turned 12, the Berlin Wall came down and a whole new world opened. I finished school in my home city and also went to Nursing school there. After moving to a different city in Germany, I met my husband of now 9 years on the internet, of all places. He is from New Jersey and we decided to move there. I am always up for an adventure so off we went. Because I was a nurse from a foreign country, it was not easy to get a license and work. I was prepared to go back to school all over again in the US to become a registered nurse. ( I had worked for 4 years in Germany as registered nurse ). My hubby "shopped" around and called almost every state in the USA to see where it would be easiest for me to find work without going back to school and, voila! New Mexico appeared on the radar.

New Mexico accepted my translated license and gave me a brand spanking new one after I passed ( with flying colors ) my NCLEX (which is like the bar exam for a lawyer). And then we moved again ... to New Mexico.....

I won't bore you with my life too much. We came back in the summers to New Jersey to visit my in-laws and to have be closer to my parents in Germany. (Yes, I took the summers off.) I painted and went to a pottery class in 2008. Next to the building where the pottery classes were held was a small work shop occupied by a little old lady who was a Metalsmith. She made beautiful things in sterling silver and with sparkling gemstones and - lucky for me - she taught classes, too.

That is when it began. She showed me how to make a ring and a bracelet from the beginning and how to handle a torch. Needless to say , I love fire!
In short , I was hooked!

I started out as a small hobby shop in the garage in our house in New Mexico making small pieces and selling them at the local farmers market. I did not sell a huge amount but it was fun and I met awesome, wonderful people and made a couple of friends. One of them introduced me to Etsy, and I opened my shop here in 2009. I was still working as a nurse at that point and saw the site as a nice venue to sell some of my work.

Last year in September, my husband "took over" my shop (so to speak) and tried to make it nice for me. My native language is German and so my descriptions were not the best. "This is a sterling silver flower necklace " - well, you get the picture. He took new photos and revamped my store, giving me a lot more time to create and make and build up my shop inventory.

December of 2011 was the first month on Etsy where I could say, "Hey, this is a real business and I am making money. Maybe, just maybe, I could do this full- time." I could and I did. In February of 2012, I made this my full time job. I also started making guitar picks out of sterling, aluminum, bronze and copper. Making them from scratch, starting with a blank sheet of metal, cutting the shape out, filing and deburring, stamping, patina and finally polishing the picks is gratifying, especially because I know people will cherish my little picks and play music with them.

My hopes for the future is that I will be successful here on Etsy and on my own little .com site, designing and making beautiful jewelry that others enjoy .

nicilaskin.etsy.com
Shop members
NIci Laskin

Owner, Metalsmith

Crazy German artist

RJ Laskin

Assistant

Mountain biker, Company Health Benefits Coordinator, Photography, Listings, Telephone Support, Postal Runner, Pressing and cutting, blogger

Carol Laskin

Painter

Having enjoyed painting both as a hobby and custom work for professional clients, Carol Laskin joined our NiciArt team in 2016 and offers her unique talents and skills to create custom portraits, pet portraits, and landscapes
Shop policies
Thank you for visiting our shop here on Etsy. Please don't hesitate to contact us or call our shop phone 914-837-1392 with any questions or to discuss custom order requests.

We are always happy to work with you on all custom requests, rushed orders, bulk orders, wholesale, or crafting that special last minute gift.

******INTERNATIONAL CUSTOMERS*********
Please be aware that you are responsible for your own VAT ( value added tax or Import tax )
Accepted payment methods
Accepts Etsy Gift Cards and Etsy Credits
Returns & exchanges
See item details for return and exchange eligibility.
Payment
Etsy does not distribute your payment and personal information to third parties. Sellers do not have access to your credit card information. Secure payment options include: Visa, Mastercard, American Express, Discover, Apple Pay, Google Wallet, Paypal, Etsy gift cards, SOFORT Transfer, and iDEAL.

Cashiers Checks, Wire Transfers, Money Orders, and Personal Checks will be accepted on a case by case basis, however funds must be fully processed and cleared before orders are put into production or shipped to customers. We also reserve the right to refuse Paypal payments on custom orders in excess of $500.00

COD is acceptable for "stock" items only.

Corporate and Wholesale orders are always welcome. For order less than $2500.00, full payment should be rendered at the time of purchase. Orders in excess of $2500.00 may be placed with a partial payment of 50% at the time of purchase and 50% upon shipment. Completed NiciArt LLC W9s, invoices, and purchase agreements are available upon request.

To discuss payment options, wholesale orders, and corporate contracts, please don't hesitate to contact us or call our shop phone at 914-837-1392
Shipping
As NiciArt offers a vast range of products, production time will vary depending on the customization, complexity of requests, and availability of materials. Our general guideline for turn around time is approximately 1-2 weeks, however rushed orders and same day shipping can often times be easily accommodated upon request. Please feel free to reach out to us to discuss rushed orders at anytime or give us a ring at 575.737.8521.
Domestic orders less than $100.00 are generally shipped with the USPS and always include tracking and insurance. As expedited shipping options, we offer USPS Priority Mail, USPS Express Mail, and all Fedex products.
If your package is damaged in transit, substantially delayed, or undelivered, please contact us immediately for a replacement and timely filing of any insurance claims. Items "scanned as delivered" will require completion of a mail fraud complaint form:
https://postalinspectors.uspis.gov/investigations/mailfraud/fraudschemes/mailtheft/ReportMailTheft.aspx
and a case number for our logs.
We would prefer, you use our customer service email cs [!at] niciart.com or call our shop at 575.737.8521 so that we log the issue for proper follow-up.
*** International Customers***
US law requires us to mark all merchandise as commercial goods on custom forms and declare the full purchase value. Requests to alter customs forms may result in order cancellation. Customers are responsible for all VAT Fees incurred upon import, local taxes, and collecting their packages from their post office. Refused and return packages will be refunded less the shipping charges. Please note, we reserve the right to also refuse returns on custom items for issues related to VAT and taxation.
International orders are generally dispatched with First Class International Mail, insurance, and tracking, however depending on your country, tracking may not display in real-time. We also offer expedited international shipping options including USPS Priority International and Express International. Fedex is available upon request and rates will include Fedex third party customs clearing fees. Transit times on international orders are provided as an estimate only and may vary depending on customs and local postal delivery speeds.
Additional policies and FAQs
Our official business hours are 9:00am – 8:00pm PST M-F and 10:00am – 5:00pm PST Weekends, however we are happy to take phone calls outside of regular business hours.

We do not collect or distribute any personal information. Subscriptions to any mailing lists, news letters, or RSS Feeds is entirely voluntary.

When placing custom orders, please feel free to include a contact telephone number. Oftentimes picking up the phone is the quickest way for us to communicate with you to ensure the fastest turn around times. You phone number will never be redistributed or used for marketing.

While our items are priced as fairly as possible, we are always willing to entertain offers and in some cases price match as well as discussing wholesale pricing and bulk order discounts.

Order cancellations requests should be made within 24 hours of placing a non-rushed order. If your order has already shipped, we will follow our exchanges and refunds policies.

All customer service requests should be made either through our shop phone, convos or by sending an email to rj [!at] niciart.com to ensure proper logging and follow-up on any issues.