Reviews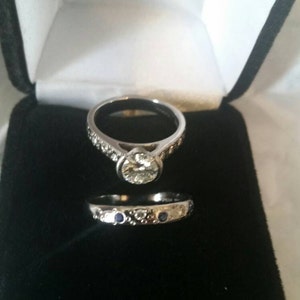 Thank you soooo much! This ring is absolutely gorgeous and goes perfectly with my matching engagement ring with a little added blue! I am in love! <3 Your work stunning! I can't wait to wear them together very soon!

What can I say? She said "yes". She must love it!
About
Architectural inspired jewelry designs
My design background is in architecture and influences my design progress and the aesthetic of my jewelry creations.

I studied architecture at the Bauhaus University in Weimar, Germany and worked as an Architect for many years in Europe, Mexico and the US.

I started to get interested in jewelry when I was looking for a wedding ring. But I just could not really find anything I really liked enough to consider wearing it for the rest of my live. I eventually took a community college jewelry making class to be able to better understand the process (and it seemed like a fun thing to do). Once I touched metals and tools, I instantly fell in love. I took more and more classes, bought lots of tools and practiced many different techniques. I opened my first Etsy shop http://www.etsy.com/shop/nodeform end of 2008. It took some time to get it running and growing into a successful business.

I quit my corporate day job as an Architect on Labor Day 2011 and decided to give jewelry making my full attention. It was the best decision ever. I enjoy being my own boss and devote all my time to create my art work. I love working with my customers and bring my designs to life.

Everything you see in my Etsy shops is made by me. I don't use any help. I mostly use fabrication and lost-wax-casting techniques to create my designs with my own hands in my tiny studio. I only outsource casting of high temperature alloys such as Platinum, Palladium and palladium white golds. All silver and yellow gold is cast in-house by me. I also do all wax carving, fabrication, stone setting and finishing. Even when I use new techniques such as Computer Aided Design (CAD) or CNC milling of wax models, I am still the person who makes all the decision every step of the process, who moves the computer mouse, writes the files and changes the wax cutting tools in the mill. All the casting and finishing after the CNC wax models are cut is still done by manual techniques, which often have been used since ancient times. This allows me to work closely with every piece of jewelry I create and make sure they all are made with only the highest metalsmithing standards and proper quality control procedures.
Shop members
Konstanze

Owner, Maker, Designer, Jeweler, Artist, Photographer, Graphic Designer, Head Of Communications, Marketing Lead

Studied Architecture in Germany and worked as an Architect for years. Discovered jewelry design and metalsmithing in 2005 and instantly fell in love. Now this is my full time job.
Shop policies
Last updated on
March 6, 2016
Hello, and thank you for visiting my wedding shop, NodeformWeddings!
I strive to have your purchase safely in your hands, making you smile as quickly as I can. All items are handmade by me from start to finish.
_______________________
Please also check out my other Etsy Store for unique and one-of-a-kind gemstone jewelry.
http://www.etsy.com/nodeform
Accepted payment methods
Payment
Payment is expected at the time of your purchase. Your jewelry is shipped (resized or made to order) after full payment has cleared. To check the ship by date of your order please visit:
https://www.etsy.com/your/purchases
See updated turnaround times below under Shipping.
Because of sales tax laws, there will be sales tax added if you live in California (7.5% state tax, if you live in Los Angeles County 9% to 10% depending on your city & county tax rate).
If you need to cancel an order, no problem. Please let me know as soon as you can. If I already have started work on your custom order there may be a restocking fee for cancellations.
I reserve the right to refuse sales if needed.
Shipping
SHIPPING
-------> Due to Maternity time off and reduced studio hours current turnaround times increased:
Ready to ship rings ship within 2 - 10 business days unless they need to be resized (resizing takes 1-3 weeks). Made to order rings will ship within 12 weeks after purchase date. No rush orders accepted.
Custom designs take longer depending on complexity. To check the ship by date of your order please visit:
https://www.etsy.com/your/purchases
I will send domestic packages USPS Priority Mail with Delivery Confirmation. A signature will be required if the value is more than 250$. Insurance is included for all orders. Express mail is available at a higher cost. Please contact me before purchasing to adjust the shipping price.
NOTE: If you would like other shipping arrangements, please contact me before purchasing.
Orders will be shipped to the address you indicate during Etsy checkout.
INTERNATIONAL ORDERS will be shipped either USPS First Class or Priority international which does not include a tracking number. I takes about 10 business days minimum, often longer depending on your country. Your customs may hold up your product for several days/weeks as well.
All rings over 150$ value get automatically shipped with insurance. For rings up to 600$ value are shipped via standard first Class or Priority mail with no tracking.
Delivery Confirmation is included for First-Class International and Priority Mail International Flat Rate Envelope & Small Flat Rate Box package types going to the following countries:
Australia, Belgium, Brazil, Canada, Croatia, Denmark, France, Germany, Great Britain and Northern Ireland, Israel, Netherlands, New Zealand, Spain, and Switzerland.
If you want to upgrade to the more expensive for trackable Priority or Express mail contact me before purchasing. Rings over 600$ value usually get shipped by International express or priority mail which includes tracking. Not all countries allow jewelry to be sent via express. In those cases I have to choose priority mail.
I do not write GIFT on international packages, any customs fees are the responsibility of the buyer.
To check what fee's you might have to expect: www.dutycalculator.com/new-import-duty-and-tax-calculation
A packing slip reflecting the item prices and the shipping address is enclosed with EVERY order I ship. No exceptions. Please do not ask me to commit mail fraud.
There are countries that do not allow jewelry to be shipped. Please check the rules and regulations of your country's import policies. I cannot be responsible for customs opening and seizing items that you have purchased so PLEASE CHECK BEFORE PURCHASING.
LOST ITEMS: I will help you to try locating your item. Most items are shipped with insurance but please note that there is a waiting period on insurance claims before a refund can be issued.
Claims filing timelines:
For lost parcels you must wait 21 days for Domestic (US) and 45 days for International locations, except for Italy which requires 60 days.
Damage claims can be filed immediately.
Claims must be filed no later than 80 days from the shipment date.
Please contact me if a package did not arrive within these time frames.
RUSH ORDERS: There is a $50 - $200 rush order fee for one item depending on how quickly you need it to be rushed and how complicated the item is (rush fee is higher for rings with stone settings than for simple metal only wedding bands). It's not always possible to rush something, so please ask before ordering.
Refunds and Exchanges
I stand behind my work and want you to be happy with your purchase. If for any reason you are not satisfied, please notify me. You must contact me within 14 days of receiving your item if you wish to exchange or return it (restocking fees may apply, see below). If you send it back, it must be postmarked within 10 days of the initial convo stating the problem. The item must be received in it's original, unworn condition. Please note that custom made items and Made to Order rings in sizes larger than ring size 9 are not always possible to return. Please contact me to see if we can work something out.

All ready to ship rings can be returned or exchanged as long as no resizing was requested.
Any made to order or resized rings will incur a 15-30% re-stocking fee if returned or exchanged. The fee percentage depends on the cost of materials and labor that went into making the ring. Each piece of jewelry I make is hand carved, cast and fabricated to your specifications. Each finished ring is created requiring hours of work and commitment of materials and labor.

No returns on custom designs and personalized rings (like engraved rings). Some slightly customized rings may be returned/exchanged with a 15% - 50% restocking fee. It will depend on the style, material and size of the ring and what customization was requested. All diamond ring sales with diamonds 0.25ct and up are final since they are always considered custom orders.

REFUNDS:
I only refund the purchase amount. Shipping on either end will not be refunded. I will gladly exchange items but new shipping will apply. I will refund you within 48 hours of receiving the product in unused original condition. I reserve the right to apply a restocking fee (see above) for returned items if they were customized in any way (other than ring sizing) to your specifications. This is to cover my fees, shipping insurance, new material costs, overhead etc. Please see instructions for save return below.

EXCHANGES:
If the wrong size was ordered and if it can be resized, it will be done free of charge once (within the first 4 month after purchase). Not all rings can be resized easily without damaging the integrity or put stress on the stone. If a new ring needs to be made in those cases or for up-sizing a ring more than 2 sizes, there is a $20 - $60 charge depending on material, style, etc. The buyer will pay shipping for both the return and the resending of the package. Please see further down for ring sizing recommendations.

INSTRUCTIONS FOR RETURNS/EXCHANGES.
1. Contact me first to get return authorized and to receive return address.
2. Please insure the returned item during transit and purchase delivery confirmation or other tracking as appropriate. I take no responsibility for items you mailed if they get lost or damaged.
3. Returned items WILL NOT BE ACCEPTED unless packaged in a cardboard box or min a padded envelope.
4. Item MUST be wrapped in tissue, bubble wrap or other padding material to keep it from moving in the box. Alternatively use the small gift box the ring was shipped in. Package it well so it does not get knocked around during transport.
5. A piece of paper with your name, return address, phone number and email must be placed IN THE BOX with your item. For resizing please also note the ring size you need on this paper. If you found the ring size using the plastic ring sizers included in your original purchase, feel free to include the one that fits best in the return package. It does help with getting the size correct.
Items not conforming to the above WILL NOT BE ACCEPTED, and will be returned to sender unopened.

Returns MUST BE TRACKED if you're within the U.S. You can easily create a shipping label using this link in PayPal:
https://www.paypal.com/us/cgi-bin/webscr?cmd=_ship-now
To insure your return package I recommend buying third party insurance like http://www.shipsurance.com/
Or you can go to the post office and get all the services right there. It usually cost a bit more at the post office.
Additional policies and FAQs
PRECIOUS METALS:
If you want to know more about the precious metal options I have available, please check out my metal info page: http://nodeform.com/pages/precious-metals
All of the precious metals I use have been recycled or refined to be ready for reuse. I do my best to avoiding conflict and banned gemstones.
CUSTOM ORDERS:
Unfortunately at this time I am not accepting custom projects using customer provided
gemstones or diamonds for liability and insurance reasons.
I am open for custom projects only if I am not busy at the time and can actually do the job. They can be fun. It's often possible to make slight changes to the designs I already offer to fit to your needs. Since I am creating every ring from scratch I am able to alternate the design to make it your very personal ring. Customizations will often add time to the making process and may increase the cost. They also affect return and exchange policies.
ENGRAVING:
Most rings that have a flat shank wider than 2.5mm can be engraved on the inside. Comfort fit bands can be be engraved if wider than 3.5mm. The narrower the ring the smaller the font will be. Engraving will be done with a laser engraver. Most true type fonts that you have on your computer can be used including numbers and some symbols. Maximum numbers of letters depends on ring size and selected font. In most cases up to 25 letters is possible.
Engraving adds 7 to 10 days to your turnaround time.
Cost for custom engraving is here:
https://www.etsy.com/listing/155002346/wedding-ring-engraving-for-1-or-2-rings
Please add it to your order if you want your ring engraved.
Once a ring has been engraved it cannot be returned or exchanged for a different size. All engraved ring sales are final.
RING SIZING:
Please make sure of your ring size before ordering as not all rings can be sized after they were made. It is always better to get the ring in the correct size the first time around. This is best done either by a jewelry store with calibrated metal ring sizers of the same width as the ring you are ordering. You can also order one of my ring plastic ring sizers if you can't make it to a store but those are not as accurate as metal sizers.
https://www.etsy.com/listing/106577180/snap-out-plastic-ring-sizer-and-zip-tie
Printing out something from a website or measuring the circumference with a string or paper strip tends to not be correct. It is better to err on the side of slightly too small than too large. If for any reason a ring you ordered does not fit, please contact me and we will work something out. Most rings I am selling can not easily be sized by me especially if it has a stone set. Usually I would have to make a new ring in the new size.
If you know your size in a different international measuring system, refer to this handy online ring size converter. http://www.onlineconversion.com/ring_size.htm
I base my sizes on these dimensions.
Please note that ring comfort depends also on the shape and width of the ring. Wider bands tend to feel tighter than narrower ones of the same size. If you size a finger with narrow sizers, then a wide band made for that finger will need to be a little larger in size in order to fit the same. How much larger depends on the person, but an 1/8 to a 1/4 size is common.
Here are a few steps to make your measurement more accurate:
* When measuring, keep in mind that each finger could have a different size, so don't presume that a ring that fits your left ring finger will also fit your right ring finger.
* Measure when your hands are warm, not cold.
* Make sure the measurement you choose easily fits over your knuckle.
More info on sizing see here: http://nodeform.blogspot.com/2012/04/ring-sizing.html
MAINTENANCE:
It's recommended to please take your ring to any professional goldsmith for cleaning and stone security checks twice a year. I recommend polishing of rings every 1 to 2 years, which can be done by any professional goldsmith. It will remove slight scratches and restore the rings original luster and finish.
Rings can also be sent back to me to restore them to their original specs as much as possible (removes all but deep scratches, check and tighten stones). Starting fee for that service is 50$ (per ring) plus shipping. Any necessary repairs will be billed separately depending on material and labor involved. Any ring sizing (if even possible) after the first 4 month start at a service fee of 50$, price increases depend on style, material and size difference.
WARRANTIES: see http://nodeform.com/pages/warranties
INSURANCE & APPRAISALS:
I don't offer insurance or appraisals. It's best you talk to your insurance reps to find out about their coverage and requirements.
You should add all fine jewelry to a homeowners or renters policy, or even better specialized jewelry insurance like Jewelers Mutual Insurance, which usually protect against loss, damage or theft at a very reasonable price.
CAN I VISIT?
Unfortunately not, I do not have retail shop open for visitors. Most of my jewelry is made to order; I don't keep a lot in stock for you to try on. I am unable to hand deliver local order as that it time I need to spend working in the studio. Thanks for understanding.
PRIVACY
We value your privacy and promise to never sell or give your information to anyone.