Reviews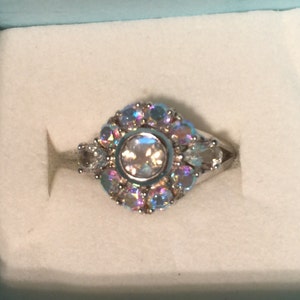 The ring is even more gorgeous in person! I have never seen anything like it and am so glad I stumbled upon your store!
About
Designing Timelessly Beautiful, Affordable Jewelry!
I started NorthCoastCottage Jewelry Design & Vintage Treasures in February 2012, and it's been a fun and wild ride ever since. I've met the loveliest people on Etsy, Twitter, Facebook and Pinterest by sharing what I love to do - a truly worthwhile and enriching endeavor.

And here's what our customers say (in addition to the feedback you can see for yourself): I just received my gorgeous [custom order] earrings - they are perfect!!! Thanks again ... I'll be watching your site for my next purchase. +++++++ I got my package of goodies today. OMFG, it was so awesome! ... What can I say about the earrings except the took my breath away, they're so beautiful, I was blown away! ... I just tried them on & they're unbelievably beautiful! I'm so glad I found them with you! Thanks so much & color me VERY happy! +++++++ I'm a believer in the jewels as well & love reading the information you write with your jewels, I'm learning a lot more from you! +++++++ Thanks so much for all your help and attentiveness - you rock!! +++++++Thank you again so much for your help! Your customer service is amazing, and you have gone above and beyond what I ever would have imagined! :) +++++++ Hi Laurie, just got my Alexandrite & it fits perfectly & it's gorgeous! Thank you so much, I love it! A part of my Dad is back with me now, I can feel him here! +++++++ I showed my neighbor my earrings & she asked if she could borrow them. I jokingly said NO, but I wasn't joking a bit! They are so gorgeous I can't believe it! Such a beautiful birthday gift to myself!! +++++++ I don't know who is more thrilled about these earrings, but it might be me because I get to own & wear them! lol I'm so glad I made your day by purchasing these items, you do beautiful work! Thank you for writing me back, & yes that would be fine if both items are shipped together, I don't mind at all! Have a great day, I know I'm smiling just thinking about my new earrings & thanks again!! ;-) +++++++ I just got [my locket], I am so beyond happy right now, and I wanted to Thank you for all. It's gorgeous and I love it. And thank you so much for the chain! I will leave a comment on your shop as soon as I will be able to. : ) Thank you once again! +++++++ I just wanted to let you know that I got my ring last week, and it is gorgeous!! I love it so much. Thank you so much for all the work you put into it! :) And...if you're interested in making us a wedding band to match, that would be amazing, and I would love it! Thank you again so much for my beautiful ring! :) +++++++ Received the necklace today----LOVE IT!!!!! and the gift box is adorable---perfect! I'm so excited to give it to her---I know she will love it! +++++++ Your commitment to your products remains a rare commodity these days. +++++++ Hello! My boyfriend, well fiancé now, just proposed with this ring! I could not be happier! I have gotten so many compliments and a few people have even asked if it was from Tiffany's! Thank you so much for making such a beautiful ring. [titania halo ring] +++++++ I received my new ring last night. Thank you so much for taking care of everything. It really means a lot nowadays to find someone with great customer service. I'm looking forward to wearing this ring forever. It is, of course, beautiful. Thanks a million!!!!! +++++++ I am so in love with this ring... It's just beautiful. My heart soared when I found it. I told my husband this is the one. I've searched and searched and nothing compares to this one. +++++++ My wife and I want to thank you for your prompt turn-around....Your service and commitment has been second to none and we will gladly tell our family and friends. +++++++ I received it and i LOVE it!!! It has the most sparkle and shine of any other piece of jewelry I own!! Thank you so much! +++++++ I just purchased earrings from your website. Honestly, I just wanted a nice small pair of gold earrings. Looked in every jewelry store here in Northern California as well as the entire internet (well almost) and your earrings are the winners! I so enjoyed the back story that you wrote about the history of the earrings, and the properties of the lapis stone.+++++++ My ring is beautiful. Love the design, and appreciate the fast delivery luv, luv! +++++++ "I have been searching for an engagement ring that is both ethical and beautiful. This ring is both. Thank you so much for doing what you do! We would like the donation to go to the environmental cause. Again, thank you!!!!! +++++++ "My wife really loved Her locket! It was the perfect Valentines gift for Her. Thank you so much for helping me find just the right thing for Her. I'll return to NorthCoastCottage, again, I'm sure!" +++++++ I was a professional for many years and I know exceptional customer service when I see it!" +++++++ "Wearing my lovely jewelry set today. They say you see something new every time you look at great art, so true with these pieces." +++++++ "Hi Laurie, I received my ring today and it was everything and more than I could expect. I am a lover of vintage everything. I love to hold a piece of history in my hand. When I first set eyes on the ring I knew it was the one. This ring is going to be my wedding ring, May 8th is the big day! I love that you wrote about the gemstone. That just confirmed to me that this ring is meant to be on my finger, for I too believe in the healing powers of stones and crystals. +++++++ "Everyone loved their jewelry and I cannot wait to buy more! You're an amazing artist!!" +++++++ "I custom ordered a pair of clip-on earrings and the design, setting and stones were just beautiful! Perfect!" +++++++ "Wow! So happy I found this store. Laurie offers extraordinary customer service and her items were better than described. I will keep coming back." +++++++ "Beautiful - so simple but so inspired!" +++++++ "The earrings arrived safely today. I am very pleased. They're a gift for a friend and I know she will just love them." +++++++ "My birthstone is Alexandrite which was really ugly when I was a child, but the new Alexandrite is amazing! My husband wanted to get me a ring featuring my birthstone for a while but the only ones I really liked were between $600 and $700. I was not going to spend that much on a ring - I would go without first ... but I followed a link to [your shop] and found the absolutely perfect ring. The best part is that it was affordable! I was finally going to get an Alexandrite ring I could afford without it being cheap looking and too tiny to see. While I was visiting my family in Texas my husband ordered my ring as a surprise. What a great surprise! I have to tell you it is every bit as beautiful on my hand as it was online. I absolutely love it! ++++++++ [From Moscow:] "Thank u sooo much!! I received my Manipura Necklace! It's better than I expected. And one more thank for your clients' approach: heart shaped stickers, lovely gift wrapping and pleasant words written by hand! It was sooo cute!! Keep it on!!" +++++++ I am so pleased...You've been such a great shop owner, and it's been my pleasure to buy from you. In all ways, you have been great--responsive, flexible, and prompt.

+++++++

We strive to deserve positive feedback. Please don't give us negative feedback before your contact us, because we will do everything we can to earn your highest satisfaction!

We use sustainable business methods including recycling, eco packaging and eco/fairtrade resources and materials. Items are handcrafted in a smoke- and pet-free environment.

We ship worldwide, and our shipping rates are low. We also like to trade and take best offers. And yes, we do accept wholesale orders.

Have fun looking around!

ALL JEWELRY AND OTHER PRODUCT DESIGNS COPYRIGHT NORTHCOASTCOTTAGE 2012. ALL RIGHTS RESERVED.

Credits: Chakra Nation website, Love Is in the Earth by Melody, Charms of Light by Caryl Haxworth, and Liz Oakes for descriptions of the healing properties of some stones used in my designs.

Disclaimer: While many people take such healing information more seriously than others, absolutely no health-related claims are being made by me, and nothing I sell is to be construed in any way as a substitute for proper medical attention.
Shop members
Laurie (@morninglaurie )

Owner, Maker, Designer, Curator

I started NorthCoastCottage Jewelry Design & Vintage Treasures in February 2012, and it's been a fun and wild ride ever since. I've met the loveliest people on Etsy, Twitter, Facebook and Pinterest by sharing what I love to do!
Shop policies
Last updated on
January 22, 2017
Welcome to NorthCoastCottage Premier Jewelry Design, where you will find beautiful original creations in affordable high-quality jewelry. Customer satisfaction guaranteed!

10% of our proceeds go to causes we support, including heart disease and cancer research and treatment, children and animals, conservation and the environment, legal aid and human rights. Feel free to specify where the 10% of your order total should be directed!
Accepted payment methods
Payment
PayPal, credit card, money order, gift card or trade. Payment must be made within five days of placing your order.
Shipping
We ship standard USPS and UPS Ground within 5 business days (usually much sooner!) of payment confirmation. PLEASE NOTE: If you would like insurance or expedited shipping on your package, convo us about it before you pay so that we can send a revised invoice. Once your order is shipped, we are not responsible for delay, loss or damage. Your order will be sent to the address on your PayPal account, so please confirm it is correct before ordering and making your payment.
Refunds and Exchanges
All handmade pieces are subject to unique imperfections.

100% customer satisfaction is one of our core values (along with using ethically sourced materials and donating a portion of each sale to one of several charities).
Exchanges or refunds will be given in the event of dissatisfaction with an item, provided the item has not been altered by another jeweler or craftsman, in which case no refund can be issued. A refund or exchange request must be made within 5 days of package receipt, and items must be received back at NorthCoastCottage within 5 calendar days of the refund request. Upon receipt of the returned item, a refund will be issued within two business days. Return shipping costs will be covered if the return is due to a defect or other fault on the part of NorthCoastCottage. NorthCoastCottage is not and cannot be held responsible for damage to items, loosened gemstones and ordinary wear and tear, although we are always available for advice and repairs.

We strive to deserve positive feedback with every order and every item. Please don't give negative feedback before your contact us, because we will do everything we can to earn our customers' highest satisfaction!

Vintage clothing is sold as is because of the many tiny parts to items with beads and sequins. But we do hereby swear that we do not sell anything we would not wear ourselves.
Additional policies and FAQs
We are open to custom requests and can even use your material to make a piece for you. Feel free to convo me with any questions or ideas.

We have a second shop on Etsy, TheLoyalBunnyGallery, which offers fine art photography and altered photography in both print and digital formats. It is a hobby sideline and is not related to NorthCoastCottage.