Announcement we are busy selling locally for the holiday season. if you are interested in holiday gifts send us a message. otherwise we will be adding lots of beauties in the new year.
Announcement
Last updated on
Nov 23, 2016
we are busy selling locally for the holiday season. if you are interested in holiday gifts send us a message. otherwise we will be adding lots of beauties in the new year. No items listed at this time
Reviews
No reviews in the last year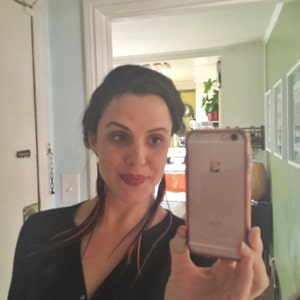 These earrings are knock outs and arrived swiftly and beautifully packaged - if you're sending as a gift you can be confident the recipient will feel extra special. No need to send to yourself first for gift wrapping - always a bonus when I'm shopping online. The earrings themselves are beautifully made and make me feel like a woodland nymph. They come with a card explaining how to best take care of the feathers should they ever need a fluff up, say after a long night of dancing or twirling through a misty meadow. :) I will be wearing mine for years to come!

I am totally in love, THANK YOU!

About
Exploring the Elements Through Organized Mayhem
I started playing with beads before I can remember. As a little girl, living with my parents in their handmade Yurt in New Mexico, my mother must have introduced me to beads. We have an early tape recording of my big tin of beads spilling on the floor, so my tendency to collect sparkly little pieces of glass into big piles of chaos, then reordering the chaos into beautiful designs, goes back to at least age four.

My mother, although she is mostly a painter and silkscreen artist, had an old fish tackle box filled with beads of glass and stone. She told me that in a past life, we were the royal jewelers to the ancient Egyptian queens. She imbued in me a love of jewel-toned colors like lapis, carnelian, gold, jasper. She also taught me peyote stitch. I remember watching mesmerized as she slowly wove together a coral snake in small irridescent rust colored beads with contrasting bands of gold and black. She told me the snake was a sacred symbol of womanhood and earth energy, and always spoke of the times when men and women lived in balance - when the feminine, life-giving principle was honored.

In the wintertime, when the intentional community I was raised on would have their annual Studio Sale, there was always a room set aside for the kids to sell their wares - everything from chocolate to dolls to swords to jewelry could be found there, and we banked big time on a combination of talent and irresistible cuteness. I would prepare months in advance for this weekend event, and saved my money to buy supplies when my parents went north to Santa Fe, which was a haven of jewelry supply and bead stores. I remember arranging my hanks of glittery teal and gold bugle beads on a sunny spot on the floor of the hotel while my parents listened to Sting.

So it all started with beads. Then I learned silver-smithing in my early twenties. But I had also started working for a nonprofit mining watchdog group, and knew firsthand how devastating mining practices can be for a landscape and its watersheds. Every day as I was growing up, I would drive by the country's third largest open-pit copper mine with its lake of toxic water at the bottom. A very definitive moment for me was when I made the executive director of this nonprofit a ring embellished with a type of cabochon that was a byproduct of tile manufacturing. It was set in silver, and I was proud that I had found a way to avoid use of precious stone. She refused the gift because she did not want to be seen wearing the silver in her meetings with the big multi-national mining corporations she was trying to hold accountable. This woman generally wore jewelry of glass strung on string. Her ethical stance made a big impression on me, and helped me later to prioritize minimizing metals and precious stones as much as possible in my work. It turns out creativity thrives within containers and self-imposed limitations, I've found.

Fast forward another decade with the whole feather jewelry craze. Making feather jewelry for myself soon turned into a full-blown business, Plume Featherwear. I hadn't planned to make a living as a jeweler, but then I met and fell madly in love with the man that was to become my husband, and moved out to an old farmhouse on the scenic Columbia River Gorge. I found jeweling could support me in the boonies so long as I had a mailbox - which was a really crucial thing, because my lover and I kept moving from one rural paradise to the next for a few years, followed always by a trail of feathers and beads.

Over the years, I've decided to branch out from feathers, and now my Etsy shop represents my love affair with renewable materials. Choosing to minimize the use of metal and stone has given me a permission slip to delight in the elemental and sensual qualities of other more renewable materials like wood, shell, leather, horn, bone, (and of course the ever-present glass beads).

At this point, the jewelry almost makes itself! I just obey the directive, as I watch the order that wants to emerge from the lovely chaos, the jumble of colors and materials on my desk. I have the best job in the world. I self-educate about a myriad of cosmic topics while I am jeweling by listening to video and audio online. On a typical day I can be found doing something along the lines of: listening to Nassim Haramein and pondering the physics of space and the fractal nature of reality while I watch it emerge from my hands before my very eyes in my designs; studying a Shipibo textile and puzzling at how I could translate that into beadwork; staring agape at the gorgeous jewelry in Angela Fisher's book "Africa Adorned".

I give gratitude to the continual urge to create and express myself that is all of our indigenous birthright. The sacred elements of Mother Earth and the sparkly mayhem of the Cosmos come together to give my hands this exquisite, tedious work of Joy.
Shop members
Charlotte Marie Wood

Owner, Creator, Shipper

Marya Gendron

Designs, Owner

The designer grew up on an intentional community of artists in southwestern New Mexico. She has traveled widely and lived in Austria, Germany, and Turkey.
Shop policies
Last updated on
May 13, 2015
Welcome! Thank you for visiting our shop!
Accepted payment methods
Accepts Etsy Gift Cards and Etsy Credits
Refunds and Exchanges
If you are not satisfied with your order, we accept returns postmarked up to 10 days after purchase. Items must be in original condition. Please note that because each piece is hand-made and original, natural irregularities and imperfections will exist. Returns will only be accepted for goods that were broken or damaged in shipment, or for serious defects.