Announcement Hello Lovelies!
I am revamping my shop and my life!
Sounds dramatic? lol well it kinda feels that way in the midst of my little artist storm I am brewing.

I will be accepting only 1-2 commissions per month. This is an insane number to drop down to from what I have been creating for, but it is necessary I am finding.

I will be accepting commissions based on several things:

1. All of my Oonakin get to the front of the line for commissions. If you want one, message me for details and waiting list availability. They have their own que.

2. Horns need to be Large - Extra Large horn/headdress/mask. There is no small, or medium size available.

3. Needs to be challenging or intriguing to me as an artist. Make my artist self swoon, co-create with me. I love challenges that look impossible, and I have the right mind to figure it out, eventually even haha

4. I am not creating any more Hooves or Paws. They are lovingly put on the shelf for now. I may revisit them in the future, but I need to create other things. I adore that they have their own presence online and with the individuals that I created them for <3

I need to create space in my life for my fine art, and for my other creative projects, and endeavors. This means I need to be very particular as to what commissions I accept as Oonacat.

Honestly, it is about the joy I feel creating something spectacular for you. Thats about as blunt as I can get with it. I want to LOVE creating for you, and it not just be a monetary exchange. I am giving up mucho dinero not creating my hooves anymore, and turning away lots of commissions, not cause I dont think they are beautiful or worthy, but cause I need to remain true to the ever changing needs of my artist self.

One other hint I have noticed about myself and my creations: if you love it and you see it on my page (www.facebook.com/oonacat) .. have me commission it asap, for I tend to have this heartbreaking habit (as hundreds can attest to) of being done with creating something, just as you may have wanted it. Please dont wait! History has shown, I will stop creating, eventually, that which you adore, and will have moved on to new creations

Thank you all for joining me on this journey and taking the time out of your day to get to know part of my artist self, and co create with me. I am so thankful for you all and hope to keep creating some seriously kickass stuff for you all !

Warmly,
Oonacat

www.facebook.com/oonacat

https://www.facebook.com/photo.php?fbid=530298437054872&set=a.275587645859287.66274.275569872527731&type=1&theater

---------------------------------------------------

Heelless Hooves and Paws, Creatures, Horns and Masks, Custom made with artistic beauty and high quality materials. Oonacat also makes unique wearable horns and sculpted ears!
Like, chat and tag me on Facebook for a chance to win free giveaways!
www.facebook.com/oonacat
Announcement
Hello Lovelies!
I am revamping my shop and my life!
Sounds dramatic? lol well it kinda feels that way in the midst of my little artist storm I am brewing.

I will be accepting only 1-2 commissions per month. This is an insane number to drop down to from what I have been creating for, but it is necessary I am finding.

I will be accepting commissions based on several things:

1. All of my Oonakin get to the front of the line for commissions. If you want one, message me for details and waiting list availability. They have their own que.

2. Horns need to be Large - Extra Large horn/headdress/mask. There is no small, or medium size available.

3. Needs to be challenging or intriguing to me as an artist. Make my artist self swoon, co-create with me. I love challenges that look impossible, and I have the right mind to figure it out, eventually even haha

4. I am not creating any more Hooves or Paws. They are lovingly put on the shelf for now. I may revisit them in the future, but I need to create other things. I adore that they have their own presence online and with the individuals that I created them for <3

I need to create space in my life for my fine art, and for my other creative projects, and endeavors. This means I need to be very particular as to what commissions I accept as Oonacat.

Honestly, it is about the joy I feel creating something spectacular for you. Thats about as blunt as I can get with it. I want to LOVE creating for you, and it not just be a monetary exchange. I am giving up mucho dinero not creating my hooves anymore, and turning away lots of commissions, not cause I dont think they are beautiful or worthy, but cause I need to remain true to the ever changing needs of my artist self.

One other hint I have noticed about myself and my creations: if you love it and you see it on my page (www.facebook.com/oonacat) .. have me commission it asap, for I tend to have this heartbreaking habit (as hundreds can attest to) of being done with creating something, just as you may have wanted it. Please dont wait! History has shown, I will stop creating, eventually, that which you adore, and will have moved on to new creations

Thank you all for joining me on this journey and taking the time out of your day to get to know part of my artist self, and co create with me. I am so thankful for you all and hope to keep creating some seriously kickass stuff for you all !

Warmly,
Oonacat

www.facebook.com/oonacat

https://www.facebook.com/photo.php?fbid=530298437054872&set=a.275587645859287.66274.275569872527731&type=1&theater

---------------------------------------------------

Heelless Hooves and Paws, Creatures, Horns and Masks, Custom made with artistic beauty and high quality materials. Oonacat also makes unique wearable horns and sculpted ears!
Like, chat and tag me on Facebook for a chance to win free giveaways!
www.facebook.com/oonacat No items listed at this time
Reviews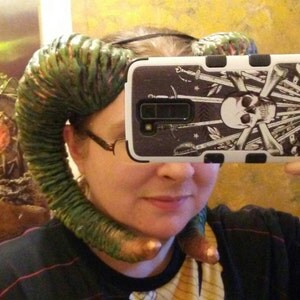 These are fantastic! They are exactly how i described them and they fit perfectly. The quality is top notch and the weight is light enough it wont strain your neck but heavy enough they dont flop about. Great job. Well worth it. Thank you.

Oonacat was wonderful enough to give me status updates, and it arrived within the expected time. Well worth the wait!
About
Oonacat Creating
I am a full time artist with a BFA, my main medium is oil on canvas. Oonacat is my alter ego, slightly eevill, side passion of mine.

Sit back and grab an Icetea, this could be a fun journey...

Oonacat is evolved from several seemingly unrelated sources as a name, in a odd winding path.

My middle name is Leona. I was named after my great grandmother who was an artist in the 1800s. Leona also means lioness. I tend to take after my middle name beautifully in nature, both as a full time artist and my personality.

For the longest time, I had a nickname of Leonaoona.

My childhood was a rich, long series of adventures and otherlands, with many excursions into the woods with my dear friend of a life time. One such trip, while stalking deer in the woods, just to see how close we could get, we created a sign language that only we knew.
Over time, we created over 300+ words to it, and even had some spoken words. "Oona" means cat in our language.

Then I saw the movie "Legend" as a teenager, and Oona, the fairy in it, was always so fascinating to me. But more importantly and recently, I rewatched Legend as an adult, and fell in love with the amazing Tim Curry as the magnificent Devil. Seeing again his costume inspired me to make my own hooves. If you have not yet seen that movie (starring a young Tom Cruise), unicorns, and goblins, it is a masterpiece in my humble opinion, for its time.

Oonacat emerged out of all of these experiences, residing next to my creative and artistic side.

My art, my imagination, has always been one to push reality a little sideways, so naturally I was obsessed with this goat hoofed creature. I had only a couple of months to create a demon costume for Halloween. After alot of research, testing out various materials, consulting with special FX professionals in the business, the end result was a very durable, and artistically pleasing heelless hoof.

I bring to each pair of hooves and horns, my artistic talent, my ability to make your vision a reality, and my passion for creating new and exciting concepts and ideas that you will love.
Shop members
Oonacat

Owner, Designer, Maker, Artist

I am a full time fine artist with a BFA. My medium of choice is oil on canvas. I have always been driven by creating things that move me, and others. The hidden things in life tend to pull me, so I love to create items that push reality a little side
Shop policies
Last updated on
April 14, 2014
Welcome to Oonacat!

Thank you for looking around and taking the time to get to know me and my creations.

I always welcome customized orders and I love the input and inspiration of other people.

Most of my creations are time consuming and custom made to order, therefore Please read all of the policies.

Thanks!
Accepted payment methods
Payment
We accept PayPal, which allows you to pay with your PayPal balance or use a credit card through their processing service.
Shipping
I will work very hard to get your items to you in a timely fashion. Nothing leaves my workshop unless I am 100% satisfied and proud of it, and so are you.


Oonakin; Creatures that Perch
I start all of my creations at the beginning of each month, please be patient with me if there is a waiting list, as often times happens during certain times of the year. I usually have your creation done by the end of the month, or early the following month.





Horns:
I start all of my creations at the beginning of each month, please be patient with me if there is a waiting list, as often times happens during certain times of the year. I usually have your creation done by the end of the month, or early the following month. I spend alot of time sculpting each horn, painting, and detailing, then to get final approval from you, and then they are ready to be shipped.


I generally ship packages on Friday, but we'll make every effort to get your purchase out as quickly as possible. I ship via USPS priority, and if it is within the US, it will take 2-3 days to get to you.

All of my creations are carefully placed in secure containers and then posted to you via tracking post, with a tracking number so I will always know where your creation is if you wish to track it.

If you have any other requirements regarding postage, please don't hesitate to contact me.
Refunds and Exchanges
Oonakin:
These are all made to order, and since they are so highly customizable to that persons desires and use expensive materials and in depth pre mold process to achieve the finished look, there are no refunds or exchanges on any Oonakin.

Horns:
I will gladly accept returns if you are unsatisfied for any reason with your Horns. They are returnable for 7 days after you receive them, as long as they are in pristine condition. After that time period, no returns or refunds will be accepted. Shipping costs will be covered by the client.


Hooves/ Paws:
Each pair of Hooves/Paws I create are a complex and intensive process, completely customized to each person, and a one of a kind product, using professional grade materials, some of which are very pricey. I always make sure with each major step in my creation of your hooves that you approve of them. There are no returns on Hoof /Paw shoes or boots.