Announcement Pad and Quill is the tale about a shop formed with book binders, carpenters, a painter and a working mom. Coming together and creating beautiful hand made iPad/iPhone cases, leather bags and other dry goods. We love to celebrate the artisan.
Announcement
Last updated on
Aug 1, 2017
Pad and Quill is the tale about a shop formed with book binders, carpenters, a painter and a working mom. Coming together and creating beautiful hand made iPad/iPhone cases, leather bags and other dry goods. We love to celebrate the artisan. No items listed at this time
Reviews

What a great watch band! Amazing leather and color! Thanks and I'll be back! :)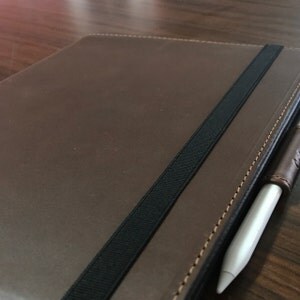 About
Durable Goods, Artisan Made.
Our Values

At Pad & Quill, we make a versatile artisan-made bags and leather accessories that blur the line between work and play. Using only the highest quality materials and workmanship, each piece is thoughtfully designed to meet the demands of our modern age while honoring the traditions of the past; where so many brilliant ideas started with a Pad & Quill.

Our Story

One of the favorite reads on the family bookshelf is Robinson Crusoe, the great adventure of a man lost at sea and then compelled to survive on the remnants of his ship and the provision of the island. At one dire point, desperate for provision, Crusoe discovers a handful of unspoiled seed among the reclaimed wreckage. He carefully husbands his find into a small crop, which he in turn harvests and resows. Within a handful of seasons, he's cultivated his seed into rolling fields of produce capable of feeding many.

This in essence is the Pad & Quill story. In the midst of a shipwrecked economy, having abandoned a floundering startup, we found ourselves on a proverbial island with a handful of seeds. When Brian called to say we ought to catch a ride on Apple's rising tide, I said "What???" and adjusted the earpiece on my rotary phone. Because, in terms of Mr. and Mrs. PQ, one was born a century too early and one a century too late. But we met here, in the decades of transition where technology is rapidly consuming tradition and the artisan craftsmanship of the working class is being plasticized and shipped overseas. Make no mistake, we love technology; Mr. PQ has queued up many a time, sleeping bag in hand, to grab the first gadget to roll off the assembly line. But like me, he also loves his art and in Pad & Quill we believe we have found the perfect marriage of artistic tradition and spectacular new technology.

Process

Brian, Kari and Stephen are the chief designers of all our products. Once we have prototyped a new product we invest in cutting dies and various materials to make these handmade items. We work with waxed canvas, full grain leathers, book bindery cloths and baltic birch.

Many of our products start production with our local CNC router. Bare sheets of russian baltic birch are transformed into device frames for iPads, iPhones and more. These frames and they are then finished with a furniture like satin varnish at Brushmasters here in Minneapolis. In our book style cases, the wood 'pages' then travel to our bindery where Tom and Jeff along with their employee's hand build every device cover and finish each piece with the classic PQ bookmark.

Our handmade leather parts and leather bags are crafted by our brothers and sisters in Leon, Mexcio. These are folks who's fathers, fathers worked with leather. Many of these leather items are then assembled at our bindery with our wood frames for final completion. We will communicate on every product page if and when a manufacturer helped us take these raw materials and turn them into something amazing.

Our products leave our shipping office daily where any of our Customer Service Guru's are standing by waiting to talk to you and answer any of your questions.

Durable Goods, Artisan Made.
Pad & Quill
Shop members
Brian (Mr. PQ)

Owner, Designer, Chief Everything Around Here

Dad of 4, married to Mrs PQ and could be diagnosed with adult ADD. Started PQ over 6 years ago with a team of bindery and wood artisans. Working with Kari, Tom, Jeff and our CNC operators, he designs products and manages day to day operations.

Kari (Mrs PQ)

Owner, Designer, Finances

Mom of 4, wife and fellow entrepreneur. Kari is involved with all the finances, marketing and branding at PQ. When she can squeeze in some time, she's either participating in an Ironman or Marathon somewhere in the country.

Dawn

Operations Manager

We all thank God for Dawn, our Operations Manager. She is our go to shipper and every other office task doer around here. She is Brian's "right hand" gal for all sorts of tasks and projects at PQ.

Stephen

Designer, Marketer, Assistant

Stephen is Mr. PQ's "left hand" guy for everything (since he's left handed). He runs our SEO, helps design a lot of our products, and does a lot more around here that we can't even begin to process. We thank God that we have Stephen on our team!

Jodi

Accountant

Jodi joined us about 2 years ago and has been such a key part of our PQ family balancing the books, catching anything that looks out of line and just all around helping in so many other areas. She's a blessing to our team!
Production partners
Gotham Textile

Minneapolis, MN

Gotham Textile is a traditional manufacturing business that was established in 1923. They specialize in leather goods, bags and accessories. Adam, Kellen & their team hand make all our leather goods here in Minneapolis, USA. www.gothamtextile.com

Portafolios de Piel Co.

León, Mexico

Portafolios de Piel Co. is a high quality leather manufacturer. They produce some of the highest quality leather goods on the market. They are passionate about quality, their people and their community in Leon.
Trendex Inc.

Saint Paul, MN

Since 1919, Trendex has worked with small companies and individuals. Taking ideas and initial concepts through final design prototype and into full production. Tom, Jeff and their folks are proud St. Paul, Minnesota based product manufacturers.
Shop policies
Last updated on
March 13, 2017
Welcome to our shop! We are passionate about creating beautiful and unique handmade iPads/iPhones/Macbook cases & leather bags along with other dry goods. We love to celebrate the craftsman and our manufacturing partners are not just companies, they are truly our friends.
Accepted payment methods
Accepts Etsy Gift Cards and Etsy Credits
Payment
We accept payment through Paypal or Etsy Direct. All orders need to be cancelled within 24 hours or they will be shipped. Dawn and her team love to ship things as fast as they can! :)
Shipping
We offer free shipping for most* domestic orders via USPS. (Most seconds items do not offer free shipping)

All international orders ship via FedEx International Priority 2-3 Day.

*Please note international customers are responsible for their own VAT/Duties. We do not pay those for you and they are not included in your shipping fees.* You will get an additional bill from FedEx upon delivery of your item, be prepared to pay this if you have duties in your country.
Refunds and Exchanges
30 day money back guarantee. If your item does not work out for you, let us know by contacting us and we'll get you return instructions!
Please note that your item must be in a like-new sellable condition to receive a refund.
-We cannot make exchanges on items. Please contact our team and we'll get you setup with a refund and you can then place a new order for a new item.


*Please note this does not apply to any seconds listing. All sales are final. No exceptions*
Additional policies and FAQs
100% Satisfaction Guarantee 30-Day Money Back Promise
It'd be nice if everything lasted a lifetime. It would also be nice if we didn't pay taxes. But some things never change – and neither will this guarantee. For the first 30 days, if you are not 100% satisfied with your Pad & Quill item, no matter what it is or why, send it back for a full refund. Please note: The item must be in like-new or sellable condition to receive a refund.

Additionally, this warranty does not apply to cases that have custom monogramming or are custom made like the Author Series for iPad.

25-Year Leather Warranty
Leather endures. Like Washington's soldiers at Valley Forge, leather marches on despite adverse conditions. Know what else is unrelenting? Pad & Quill leather bags and leather device covers. You'll depend on these items for 25 years. We will back you up as long as the product is used under normal conditions and for the purpose intended. Basically, if one of these items fails during the two and a half decades due to a manufacturing defect, we failed and will make it right.

10-Year Wallet Warranty
The average man carries his wallet for 7 years, but Pad & Quill's wallets are so beautiful we think you'll want to carry it for at least a decade. Therefore, we guarantee our full-grain leather wallets will be your faithful companion for 10 years at least. As long as they are properly cared for and used for their intended purpose, we will have your back if anything happens over the next decade due to a manufacturing defect. You've got enough things to worry about, your wallet shouldn't be one of them.

Book Bindery Case Warranty
Pad & Quill warranties our book bindery work for 1 year on all Linen Buckrum products and 60 days for all other book cloth products. We will back you up as long as the product is used under normal conditions and for the purpose intended.

Lifetime Wood Warranty
Stuff happens, dogs happen, forgetting your iPhone or iPad on the roof of your car happens. Belive me... we know. For the life of your wood book bound case product (eg. Little Pocket Book, Luxury Book, Contega, Cartella) we will replace your wood cradle and ship back to you, free of charge. Please contact customer service and let them know you are sending in your very sad case for repair. We will send you back a very happy one with all-new wood. Our repair team loves good jokes so try to include one in your package.

Stuff We Don't Cover
Our warranty covers faults in materials and workmanship but does not apply if the damage is caused by unreasonable use or neglect, normal marking from wear and tear, or if you just change your mind. Likewise, fluctuating fit, abuse of the product, and disregard for the product care instructions are not covered.

Check to see if you match any of these profiles, if so your product will have a good story to tell, but it's not covered:

The Super Stuffer. Putting more cards than recommended in our wallets is too tough on our stitches and they will likely surrender in defeat. Each wallet is designed with a specific amount of cards. Respect the stitch!
The Modifier. Putting rivets in our bags or custom stitch patches are really cool, honestly. But it does void the warranty.
The Accident Friend Maker. Spilled paint on the product? Dropped it from the roof of a skyscraper? Fell into the ocean? Well, you have a great story to tell new friends.
The Deep Sea Diver. You think swimming with our leather goods might be an option, it's not. Leather is water resistant but over time if it sees too much water it becomes dry and cracks. Remember our leather balm/oil is your friend for the next 25 years.
The Preference Changer. You've decided you no longer really like this color and want to trade in or get a refund. If it's not in new condition and beyond 30 days we recommend you gift it and become a hero to one of your friends.
MMA Fighter. You beat your PQ product, really hard. You put it into major jujitsu holds and it gets the living life beat out of it. Let's call all that scarring, marks of glory…but not covered under our warranty.
If you have any questions about if your product is covered under our warranty, feel free to contact us at any time.




Wholesale Order Requests:
Please contact wholesale@ padandquill.com for corporate orders (20 or more cases)
More information
Last updated on
Mar 13, 2017
Frequently asked questions
What is a seconds?
Our seconds listings will explain if there is anything majorly identifiably wrong with the case you are purchasing, however in general the seconds cases are listed because they have been previously used & show signs of light wear, or have a minor scuff or flaw on the cover or interior. We will always sell you an item that will still function for it's purpose.
Custom and personalized orders
We do not offer monogramming on our Etsy page. We do offer it through our direct site for an additional fee.
Gift wrapping and packaging
All of our items come with a "special" wrap designed just for that product and a hand waxed seal. Many customers have just put their item right under the tree without having to wrap it additionally because of how it already looks!