Announcement Please read completely prior to purchasing! <3 So much info in here!

Find us:
www.facebook.com/poppetsandmoon
www.poppetsandmoon.com
www.instagram.com/poppetsandmoon

______________________________________
Important Shop Stuff

We book at least 1-2 months in advance (sometimes more, your wait time will be on your receipt) and that's not including shipping time. We do allow you to put a deposit and settle up on Paypal at the very end!

We do take the time to get that rustically, perfect look. There's just one of us doing final finishes, (one in training) and we put a lot of love into each piece, so we do get backed up! Each headboard we do is 10+ step process on EACH side. That's 10+ separate things we do to make sure they're perfect. We stain/seal everything smoothe. No waxes, nothing that won't last.

We build everything primitive but solid wood, and well built. There will be a slight variation in your final product from the pictures listed, but each picture is an item we did. Filled nail holes, knots, wood splits, and the quirky things that make wood, wood are part of the charm.

----------->>>>>>Read Below Please for info on Shipping Process :) <<<<-----------
By purchasing you must agree with the following:

Sometimes things to go as planned and we run behind. Weather is usually the culprit. Please know that I will rock your item as long as I need to to make sure it's perfect. If the weather is getting in the way, I will not work on it during a hail storm or tornado! (this will definitely ruin your finish)

I keep you updated. You have my cell. Give me a call if you're working on a deadline :)

Shipping Tidbits:
Once consolidated, most transit orders are delivered within 7-10 days and you will have to pick it up at your Local Freight terminal! This does NOT include shipping consolidation time (this is how we get those cheaper rates) We ship ASSEMBLED. in Custom Boxes, and packed. We do not flat pack your headboard and have you put it together. (less structurally sound)

Consolidation is done per area and can add 2-3 weeks onto your order.

We ship mostly terminal to terminal. This means you're responsible for picking up your item at the local freight terminal. I will send out locations and estimated dates. We do not ship guaranteed or on pallets, so all our items move manually. Item delivery dates are not guaranteed. (unless you want to pay a lot more) Residential and Business delivery are also available at a separate charge (business can sometimes be cheaper)

For Residential Freight Deliveries:
Someone must be there to get the item off the truck. They are only required to bring it to your curb, but most help you. I can not guarantee that yours wont. (ive never had one that didn't, but since it's a possibility, please note it) They will give you a tentative time that they'll be in your area, and it's almost always wrong. Residential is great if you don't want to rent or borrow a truck, but it can be a pain too.

******* MOST IMPT THING*****
Once you sign for your item, you're stating that it is not damaged, and to your liking. We can not replace any items once they are signed for. If your box has holes in it, please check it prior to signing for it. I realize this is a bit cumbersome, but I do check multiple times with each individual freight carrier, with each piece that we ship. I call/check damage on the boxes before you pick it up. If anything is noted, I will let you know prior to pick up so you're aware. A hole does not mean damage. Our items are wrapped inside and out. Please, please peek through, open the box, ask them to do it for you. Make sure before you sign.

If for some reason there is damage after you've signed, I will be happy to send you a repair kit to fix it. We can not replace the whole item once signed for.

________________________________________________

Thank you to everyone who is on here supporting local.
The world is really so much better with creative minds making magic for all to see and enjoy!

To reach me anytime: 971-983-9444
Text/Call with any questions, insight you may need!

<3
Poppets and Moon Team
Announcement
Last updated on
Sep 26, 2016
Please read completely prior to purchasing! <3 So much info in here!

Find us:
www.facebook.com/poppetsandmoon
www.poppetsandmoon.com
www.instagram.com/poppetsandmoon

______________________________________
Important Shop Stuff

We book at least 1-2 months in advance (sometimes more, your wait time will be on your receipt) and that's not including shipping time. We do allow you to put a deposit and settle up on Paypal at the very end!

We do take the time to get that rustically, perfect look. There's just one of us doing final finishes, (one in training) and we put a lot of love into each piece, so we do get backed up! Each headboard we do is 10+ step process on EACH side. That's 10+ separate things we do to make sure they're perfect. We stain/seal everything smoothe. No waxes, nothing that won't last.

We build everything primitive but solid wood, and well built. There will be a slight variation in your final product from the pictures listed, but each picture is an item we did. Filled nail holes, knots, wood splits, and the quirky things that make wood, wood are part of the charm.

----------->>>>>>Read Below Please for info on Shipping Process :) <<<<-----------
By purchasing you must agree with the following:

Sometimes things to go as planned and we run behind. Weather is usually the culprit. Please know that I will rock your item as long as I need to to make sure it's perfect. If the weather is getting in the way, I will not work on it during a hail storm or tornado! (this will definitely ruin your finish)

I keep you updated. You have my cell. Give me a call if you're working on a deadline :)

Shipping Tidbits:
Once consolidated, most transit orders are delivered within 7-10 days and you will have to pick it up at your Local Freight terminal! This does NOT include shipping consolidation time (this is how we get those cheaper rates) We ship ASSEMBLED. in Custom Boxes, and packed. We do not flat pack your headboard and have you put it together. (less structurally sound)

Consolidation is done per area and can add 2-3 weeks onto your order.

We ship mostly terminal to terminal. This means you're responsible for picking up your item at the local freight terminal. I will send out locations and estimated dates. We do not ship guaranteed or on pallets, so all our items move manually. Item delivery dates are not guaranteed. (unless you want to pay a lot more) Residential and Business delivery are also available at a separate charge (business can sometimes be cheaper)

For Residential Freight Deliveries:
Someone must be there to get the item off the truck. They are only required to bring it to your curb, but most help you. I can not guarantee that yours wont. (ive never had one that didn't, but since it's a possibility, please note it) They will give you a tentative time that they'll be in your area, and it's almost always wrong. Residential is great if you don't want to rent or borrow a truck, but it can be a pain too.

******* MOST IMPT THING*****
Once you sign for your item, you're stating that it is not damaged, and to your liking. We can not replace any items once they are signed for. If your box has holes in it, please check it prior to signing for it. I realize this is a bit cumbersome, but I do check multiple times with each individual freight carrier, with each piece that we ship. I call/check damage on the boxes before you pick it up. If anything is noted, I will let you know prior to pick up so you're aware. A hole does not mean damage. Our items are wrapped inside and out. Please, please peek through, open the box, ask them to do it for you. Make sure before you sign.

If for some reason there is damage after you've signed, I will be happy to send you a repair kit to fix it. We can not replace the whole item once signed for.

________________________________________________

Thank you to everyone who is on here supporting local.
The world is really so much better with creative minds making magic for all to see and enjoy!

To reach me anytime: 971-983-9444
Text/Call with any questions, insight you may need!

<3
Poppets and Moon Team No items listed at this time
Reviews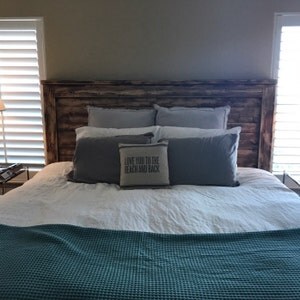 Words cannot begin to describe how obsessed with this headboard I am! From the second I contacted the seller she was extremely helpful and responsive. She worked with me almost everyday to ensure a safe delivery to my doorstep. She gave me such easy instructions to hook it up to my bed frame. Thank you so much for this beautiful piece! :)
The headboard is amazing! It took a little while but so worth the wait!!! So thrilled to get to see it everyday! Brooke is very good at communicating throughout the process. Thumbs way up!!!!

Great customer service and quality product. The headboard exceeded expectations. Thanks!
About
Poppets and Moon's Makin' Magic Moments
We are an Atlanta based workshop that specializes in rad, handmade furniture and event decor items that are destined to become part of our customers most precious life moments. We are so blessed to be able to do what we are passionate about, and we love making magic in our workshop for people to love and enjoy for years to come.

We have 3 builders, 2 designers, and 2 shipping/delivery guys plus an awesome pack and shipping team. We have bounced our workshop from inhouse to outhouse and are currently house hunting so we can build the perfect shop in our new home in the city.

After college, Brooke became a single mama and knew she needed to rock out her creative side so she could stay home and raise her son, Cannon. This has provided him the most amazing moments ever with his mama, and for that, we can't be more grateful for each and every person that even takes a peek at our shop. We joined up with some amazing atlanta artists and became staples in the art community. We love working with local talent, and consider some of these amazing creators as our greatest inspiration.

We are also making a difference in our community by employing women and single mamas into our internship program. We are hoping to become a huge influence in these women's lives by teaching them a skill-set they can then use to flip furniture of their own for profit. We love being able to provide support and serve as a compass for women to think about opening up their own small business to help provide for themselves and their family.

We are all one family. We all still work together...and that is what makes our furniture the creative and artistic expression that it is. We put so much love and passion into each piece, that we know they will be a product of love, from our family to yours :)
Shop members
Brooke

Owner, Creator, Designer

Industrial designer, event designer and local rockstar mama to an amazing 4 year old!

Melina

Customer Service

Handles customer service, design and media work

Anthony

Creator

Environmental Engineer, Civil Engineer and amazing builder of some of our awesome items! Fourth Generation furniture builder!

Matt

Shipper

Delivery and spreadsheet guy that helps clean up after two artists that destroy his house/garage to make this dream come true :)
Production partners
pinkytoast

Atlanta, GA

Created this painting in 2005
Shop policies
Last updated on
May 26, 2016
Please see our about me on our shop page!

Furniture Crafted with a little Bit of Magic!
Accepted payment methods
Accepts Etsy Gift Cards and Etsy Credits
Payment
Deposits/Payments through ETSY and Paypal
Shipping
We ship Consolidation Freight.
Terminal to Terminal.

This adds 2-3 weeks onto each order.
Please check the box prior to signing for the item to make sure there's no damage. We will not replace any item once it's signed for.

All Items are Not Refundable once Shipped.

If damaged happened during freight and wasn't found until after the item was unwrapped, I will send out a repair kit. Our items come packaged 2-3 times with protection so we make sure they're up for the freight journey. Damage is super rare, and we've never had to send out a repair kit.

All shipping invoices must be paid no less than 48 hours before Ship Date. The item will not ship if the shipping invoice is not paid prior to moving on from consolidation.

If you've arranged for Residential, someone must be home to help them get it off the truck (don't usually have to, but we do not ship with lift gates.)

Dock pickups can not be held longer than 48 hours without storage fees. The buyer must arrange for pick up during that time period, or extra fees will incur. (if I can get them waived I will, but they do charge us sometimes)

We try to get dock pick ups within 15 miles of your home address. Rarely have they been longer.
Refunds and Exchanges
No refunds or exchanges. No Cancellations after 48 hours! Thanks!