Announcement Welcome to RKEMdesigns!

= = = = = = = = = = = = = = = = = = = = = = = = =

SHIPPING SCHEDULE:
(Please note that "will ship" does NOT mean "will be delivered")

* Orders are processed in the order that they are received. Orders placed on weekends will be processed the next business day. Please note that business days are Mondays thru Fridays, except weekends and US federal holidays. Orders will only ship once payment funds have cleared and only to the address indicated on your order. Should you decide to have your items shipped to a different address, kindly please change the shipping address on your order.

Please allow the following schedule below to process your order(s):

READY TO SHIP - please allow 3-5 business days to ship and process orders.
LAPTOP/TABLET SLEEVE COVERS - 4 weeks.
MADE TO ORDER/CUSTOMER ORDER - will ship in approx. 4-6 weeks. Some custom orders may take longer. Business days are Mondays thru Fridays, no weekends and US federal holidays. Please note that there are no returns/exchanges or order cancellations on custom orders.

NEED YOUR ORDER SOONER? PLACE YOUR ORDER WITH "RUSH MY ORDER"
https://www.etsy.com/listing/258025406/rush-my-order?ref=shop_home_active_1

* FEEDBACKS & PRODUCT REVIEWS - I would greatly appreciate your feedback/product review to reflect more on my customer service and the item you purchased rather than other issues that are out of my control, i.e. shipping/delivery actions by the Post Office, which I have no control over. Most of the time, I am willing to accommodate, resolve issues and provide more info on your inquiry. Kindly please send me a message first and allow me to offer my resolution on any issues, before leaving any negative comments or filing a dispute. I usually respond to my customers' messages and inquiries within 24 hours. Thank you!

* FILING DISPUTES - I would greatly appreciate a message or inquiry before filing any dispute. I respond to messages within 24 business hours, Mondays thru Fridays. I am always willing to accommodate and willing to offer an amicable solution to avoid unnecessary disputes.

* Delivery speed is up to the Post Office. Please be informed that the Post Office usually gets busier during the busy holiday season which sometimes could cause delay in delivery of mail/packages. Mishaps and delays by the Post Office, including weather conditions are out of my control. I have no control over the packages once they have been shipped and in the possession of the Postal Service.

* Please make sure that you have your correct and current address on your order. I will only ship to the address indicated on your order. Buyer is responsible to have the package reshipped if wrong has been provided at the time of order. Thank you for your kind understanding.

* International orders are shipped via First Class International Mail. BE INFORMED THAT INTERNATIONAL PACKAGES ARE NOT TRACEABLE. Postal services from different countries can be unpredictable at times. I do not have control over the items once they're shipped, not even the US Postal Service does not have control over the packages once they leave the US territory. I have seen packages reach their destinations within 2 weeks, but others have taken up to 4 to 6 weeks. Some packages get stuck in customs. Buyer is welcome to have their package shipped with tracking number or insurance for an additional cost.

Buyer is responsible for customs' fees, shipping insurance and taxes. Be informed that I will declare the exact amount of the item(s) you purchased. Declaring the item(s) as "gifts" or indicating other amounts lesser than the purchased amount is illegal and prosecutable by the US federal law. I have no control over other countries' customs' fees.

* ALL SALES ARE FINAL. Please review the item's measurements, pictures and other information before completing your purchase.

* NO ORDER CANCELLATIONS ON CUSTOM ORDERS, SALE ITEMS, READY TO SHIP AND IN STOCK ORDERS.

Private custom listings are good for 24 hours only.

= = = = = = = = = = = = = = = = = = = = = = = = =

RKEMdesigns offers a wide variety of unique handmade bags and accessories. My bags and accessories are NOT mass produced. Each item is as unique and individual as you. Each and every item here in my shoppe is 100% individually handcrafted only by me, with pride here in U.S.A. They are quality handmade, stylishly unique, multi-functional, and meticulously handcrafted with great attention to details from premium cotton or canvas designer fabrics. Why carry plain ordinary bags, when you can show your own flair and personality! You can have your bag or any accessory custom ordered with endless eye-catching fabric combinations, designed to your own preference that will stand out from the rest!

All designs are original- no commercial patterns were used. Manufactured in a smoke-free, pet-free and clean environment - in U.S.A.

Each item is individually handcrafted, fabric pattern will vary due to fabric cut.

ALL ITEMS OFFERED HERE IN MY ETSY SHOP ARE HANDMADE WITH QUALITY AND QUALITY TAKES TIME! PLEASE REFER TO MY SHIPPING POLICIES BEFORE COMPLETING YOUR PURCHASE.

Custom orders are always welcome! If you like an item but in different fabric, just let me know. You can pretty much order them in any of the fabrics I used on any item. Sale prices do not apply to custom orders. Please send me a message for details.

ALL MESSAGES AND INQUIRIES WILL BE ANSWERED WITHIN 24 HOURS DURING BUSINESS HOURS, MONDAYS THRU FRIDAYS (except US holidays).

Thanks again for stopping by. Have a pleasant day!
Donna ~ RKEMdesigns
www.RKEMdesigns.com
Announcement
Last updated on
Jun 16, 2017
Welcome to RKEMdesigns!

= = = = = = = = = = = = = = = = = = = = = = = = =

SHIPPING SCHEDULE:
(Please note that "will ship" does NOT mean "will be delivered")

* Orders are processed in the order that they are received. Orders placed on weekends will be processed the next business day. Please note that business days are Mondays thru Fridays, except weekends and US federal holidays. Orders will only ship once payment funds have cleared and only to the address indicated on your order. Should you decide to have your items shipped to a different address, kindly please change the shipping address on your order.

Please allow the following schedule below to process your order(s):

READY TO SHIP - please allow 3-5 business days to ship and process orders.
LAPTOP/TABLET SLEEVE COVERS - 4 weeks.
MADE TO ORDER/CUSTOMER ORDER - will ship in approx. 4-6 weeks. Some custom orders may take longer. Business days are Mondays thru Fridays, no weekends and US federal holidays. Please note that there are no returns/exchanges or order cancellations on custom orders.

NEED YOUR ORDER SOONER? PLACE YOUR ORDER WITH "RUSH MY ORDER"
https://www.etsy.com/listing/258025406/rush-my-order?ref=shop_home_active_1

* FEEDBACKS & PRODUCT REVIEWS - I would greatly appreciate your feedback/product review to reflect more on my customer service and the item you purchased rather than other issues that are out of my control, i.e. shipping/delivery actions by the Post Office, which I have no control over. Most of the time, I am willing to accommodate, resolve issues and provide more info on your inquiry. Kindly please send me a message first and allow me to offer my resolution on any issues, before leaving any negative comments or filing a dispute. I usually respond to my customers' messages and inquiries within 24 hours. Thank you!

* FILING DISPUTES - I would greatly appreciate a message or inquiry before filing any dispute. I respond to messages within 24 business hours, Mondays thru Fridays. I am always willing to accommodate and willing to offer an amicable solution to avoid unnecessary disputes.

* Delivery speed is up to the Post Office. Please be informed that the Post Office usually gets busier during the busy holiday season which sometimes could cause delay in delivery of mail/packages. Mishaps and delays by the Post Office, including weather conditions are out of my control. I have no control over the packages once they have been shipped and in the possession of the Postal Service.

* Please make sure that you have your correct and current address on your order. I will only ship to the address indicated on your order. Buyer is responsible to have the package reshipped if wrong has been provided at the time of order. Thank you for your kind understanding.

* International orders are shipped via First Class International Mail. BE INFORMED THAT INTERNATIONAL PACKAGES ARE NOT TRACEABLE. Postal services from different countries can be unpredictable at times. I do not have control over the items once they're shipped, not even the US Postal Service does not have control over the packages once they leave the US territory. I have seen packages reach their destinations within 2 weeks, but others have taken up to 4 to 6 weeks. Some packages get stuck in customs. Buyer is welcome to have their package shipped with tracking number or insurance for an additional cost.

Buyer is responsible for customs' fees, shipping insurance and taxes. Be informed that I will declare the exact amount of the item(s) you purchased. Declaring the item(s) as "gifts" or indicating other amounts lesser than the purchased amount is illegal and prosecutable by the US federal law. I have no control over other countries' customs' fees.

* ALL SALES ARE FINAL. Please review the item's measurements, pictures and other information before completing your purchase.

* NO ORDER CANCELLATIONS ON CUSTOM ORDERS, SALE ITEMS, READY TO SHIP AND IN STOCK ORDERS.

Private custom listings are good for 24 hours only.

= = = = = = = = = = = = = = = = = = = = = = = = =

RKEMdesigns offers a wide variety of unique handmade bags and accessories. My bags and accessories are NOT mass produced. Each item is as unique and individual as you. Each and every item here in my shoppe is 100% individually handcrafted only by me, with pride here in U.S.A. They are quality handmade, stylishly unique, multi-functional, and meticulously handcrafted with great attention to details from premium cotton or canvas designer fabrics. Why carry plain ordinary bags, when you can show your own flair and personality! You can have your bag or any accessory custom ordered with endless eye-catching fabric combinations, designed to your own preference that will stand out from the rest!

All designs are original- no commercial patterns were used. Manufactured in a smoke-free, pet-free and clean environment - in U.S.A.

Each item is individually handcrafted, fabric pattern will vary due to fabric cut.

ALL ITEMS OFFERED HERE IN MY ETSY SHOP ARE HANDMADE WITH QUALITY AND QUALITY TAKES TIME! PLEASE REFER TO MY SHIPPING POLICIES BEFORE COMPLETING YOUR PURCHASE.

Custom orders are always welcome! If you like an item but in different fabric, just let me know. You can pretty much order them in any of the fabrics I used on any item. Sale prices do not apply to custom orders. Please send me a message for details.

ALL MESSAGES AND INQUIRIES WILL BE ANSWERED WITHIN 24 HOURS DURING BUSINESS HOURS, MONDAYS THRU FRIDAYS (except US holidays).

Thanks again for stopping by. Have a pleasant day!
Donna ~ RKEMdesigns
www.RKEMdesigns.com No items listed at this time
Reviews
All reviews are from verified purchases
Verified purchase means that the person writing the review purchased the item from this seller on Etsy.
All reviews are from verified purchases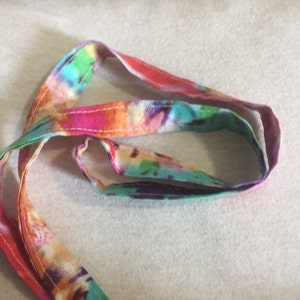 Exactly how it looks in the picture I love be it so much. Adds a little color whenever I have it with me.

This is the 2nd one for my daughter. 3 yrs of daily use &numerous washings made #1 a bit shabby. She loves this to carry necessities, insisted on RKEM

The lanyard is just as described and it arrived quickly. Very cute design!
Shop policies
Last updated on
November 2, 2016
WELCOME! Thank you for visiting my Etsy shoppe.
Accepted payment methods
Accepts Etsy Gift Cards and Etsy Credits
Payment
* I accept PayPal and Etsy Direct Check-Out where you can use your major credit cards for payment. Immediate payment is greatly appreciated or within 2 days. Any sale not paid for in 2 days will be cancelled.

* If you prefer to pay with money order, please do inform me. Please note that there will be a delay in processing and shipping your order if you choose this payment method. Money order payments must be received within 7 days or transaction will be cancelled for non payment. Personal checks are not accepted.

* Please note that I only ship purchased items once payment is cleared and funded.
Shipping
SHIPPING SCHEDULE:
(Please note that "will ship" does NOT mean "will be delivered")
PLEASE REFER TO THE SHOP'S ANNOUNCEMENT PAGE FOR CURRENT SHIPPING SCHEDULE.
* Orders are processed in the order that they are received. Orders placed on weekends will be processed the next business day. Please note that business days are Mondays thru Fridays, except weekends and US federal holidays. Orders will only ship once payment funds have cleared and only to the address indicated on your order. Should you decide to have your items shipped to a different address, kindly please change the shipping address on your order.
NEED YOUR ORDER SOONER? PLACE YOUR ORDER WITH "RUSH MY ORDER"
https://www.etsy.com/listing/258025406/rush-my-order?ref=shop_home_active_1
* FEEDBACKS & PRODUCT REVIEWS - I would greatly appreciate your feedback/product review to reflect more on my customer service and the item you purchased rather than other issues that are out of my control, i.e. shipping/delivery actions by the Post Office, which I have no control over. Most of the time, I am willing to accommodate, resolve issues and provide more info on your inquiry. Kindly please send me a message first and allow me to offer my resolution on any issues, before leaving any negative comments or filing a dispute. I usually respond to my customers' messages and inquiries within 24 hours. Thank you!
* FILING DISPUTES - I would greatly appreciate a message or inquiry before filing any dispute. I respond to messages within 24 business hours, Mondays thru Fridays. I am always willing to accommodate and willing to offer an amicable solution to avoid unnecessary disputes.
* Delivery speed is up to the Post Office. Please be informed that the Post Office usually gets busier during the busy holiday season which sometimes could cause delay in delivery of mail/packages. Mishaps and delays by the Post Office, including weather conditions are out of my control. I have no control over the packages once they have been shipped and in the possession of the Postal Service.
* Please make sure that you have your correct and current address on your order. I will only ship to the address indicated on your order. Buyer is responsible to have the package reshipped if wrong has been provided at the time of order. Thank you for your kind understanding.
* International orders are shipped via First Class International Mail. BE INFORMED THAT INTERNATIONAL PACKAGES ARE NOT TRACEABLE. Postal services from different countries can be unpredictable at times. I do not have control over the items once they're shipped, not even the US Postal Service does not have control over the packages once they leave the US territory. I have seen packages reach their destinations within 2 weeks, but others have taken up to 4 to 6 weeks. Some packages get stuck in customs. Buyer is welcome to have their package shipped with tracking number or insurance for an additional cost.
Buyer is responsible for customs' fees, shipping insurance and taxes. Be informed that I will declare the exact amount of the item(s) you purchased. Declaring the item(s) as "gifts" or indicating other amounts lesser than the purchased amount is illegal and prosecutable by the US federal law. I have no control over other countries' customs' fees.
* ALL SALES ARE FINAL. Please review the item's measurements, pictures and other information before completing your purchase.
* NO ORDER CANCELLATIONS ON CUSTOM ORDERS, SALE ITEMS, READY TO SHIP AND IN STOCK ORDERS.
Private custom listings are good for 24 hours only.
= = = = = = = = = = = = = = = = = = = = = = = = =
RKEMdesigns offers a wide variety of unique handmade bags and accessories. My bags and accessories are NOT mass produced. Each item is as unique and individual as you. Each and every item here in my shoppe is 100% individually handcrafted only by me, with pride here in U.S.A. They are quality handmade, stylishly unique, multi-functional, and meticulously handcrafted with great attention to details from premium cotton or canvas designer fabrics. Why carry plain ordinary bags, when you can show your own flair and personality! You can have your bag or any accessory custom ordered with endless eye-catching fabric combinations, designed to your own preference that will stand out from the rest!
All designs are original- no commercial patterns were used. Manufactured in a smoke-free, pet-free and clean environment - in U.S.A.
Each item is individually handcrafted, fabric pattern will vary due to fabric cut.
ALL ITEMS OFFERED HERE IN MY ETSY SHOP ARE HANDMADE WITH QUALITY AND QUALITY TAKES TIME! PLEASE REFER TO MY SHIPPING POLICIES BEFORE COMPLETING YOUR PURCHASE.
Custom orders are always welcome! If you like an item but in different fabric, just let me know. You can pretty much order them in any of the fabrics I used on any item. Sale prices do not apply to custom orders. Please send me a message for details.
ALL MESSAGES AND INQUIRIES WILL BE ANSWERED WITHIN 24 HOURS DURING BUSINESS HOURS, MONDAYS THRU FRIDAYS (except US holidays).
Thanks again for stopping by. Have a pleasant day!
Donna ~ RKEMdesigns
www.RKEMdesigns.com
Refunds and Exchanges
Please choose and select the items you want to purchase wisely and double check the measurements. ALL SALES ARE FINAL - NO RETURNS, NO EXCHANGES, NO EXCEPTIONS.
Additional policies and FAQs
* Each item is individually handcrafted, fabric pattern will vary due to fabric cut.

* ANY LICENSED FABRIC USED HAS BEEN LAWFULLY ACQUIRED AND PROTECTED BY THE RIGHTS PERMITTED UNDER THE FIRST SALE DOCTRINE.

* Please contact me if you need to purchase more than what's listed.

* I respond to Etsy convos / email inquiries within 24 hours - Monday thru Friday.