Reviews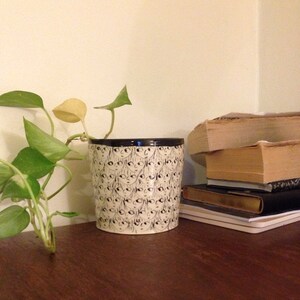 I'm in total love with my new planter. Many many girls on my side.
About
Wanderlust
I have a hard time sitting still. If you've ever made anything with your hands you know that patience is part of the job. I wasn't applying. I was much more interested in seeing my friends bands, rambling across the United States, sun bathing. It came up from time to time. What do I do? What do I make?

I surrounded myself with creative people but I wasn't contributing to the scene. I attempted the band thing. I'm even on a record! But it wasn't right. Practice? Ew. So I wandered. Slept under the stars by the ocean. Got lost in the desert. Stayed as close as I could to friends that produced art maybe so I wouldn't have to? It started when I made a bowl for a friend's birthday. He said he didn't even know I "made things".

I'd been hiding. Ceramics was always a skill I had but I never felt comfortable enough to do anything with it. After this last trip cross country I settled into a house. One with central heat and a real stove! A home with someone I love more than anything. An artist who creates something new everyday. A creative mind to pass ideas to. Oh and we both had space for our own studios. Maybe it was time to sit, to create. It takes courage to make art. I'm still figuring out what it takes to share it, www.raccoonvalleyrouge.etsy.com is to help me find that. What it takes...

- Rebecca Blevins, owner
Shop members
Rebecca Blevins

Owner, Maker, Designer, Curator, Potter, Photographer, Hanger-outer

I got a studio. I got to work.