 No items listed at this time
Reviews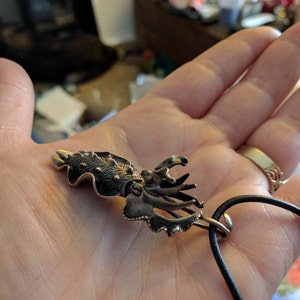 I absolutely love my cuttlefish pendant! Super fast shipping and great customer service, too. I'm recommending this store to all of my scuba friends. Thank you so much; this is a special, precious gift.

Seeing as this is a Christmas present me that my mom ordered on my account, I'll go on what I know... She said, 'you will be blown away; it's beautiful.' Absolutely fantastic service with good communication and updates, I couldn't be happier about this purchase. ♥

Couldn't be happier with the item or the communication and customer service. Richard is tops.
About
Fluid Bronze
I like to think of my body of work as being about exploration. The overarching theme of marine life provided a jumping off point for the exploration of negative space and the attempt to create fluid, dynamic compositions. There is more to what is not there in this body of sculpture than to what is. The negative space created by the sculptures composition was really what I found myself working with when designing, attempting a harmony and rhythm within those shapes as to how they relate to one another in alternate views. The marine life subject matter has been a good conduit for that exploration. My goal with sculpture is to find a method of form which speaks to the viewers innate sense of balance, harmony and rhythm. Within the elements of the compositions, I try to stay away from anything too severe or linear, try to unify the whole of the sculpture as one continuous form and attempt to imbue each piece with a degree of movement and life, continuous, balanced and harmonious from any view. Traditional methods of sculpting for bronze reproduction limits the artist to a system of utilizing a fixed armature which can limit spontaneity throughout the process. A co-worker and I developed a way around that limitation with a special armature linkage, and I think the devices utility shows in the works sense of movement. It is my intention that whatever degree of balance and compositional harmony would be achieved in the sculpt, would then present as an enduring presence by which the viewer would resonate, innately, on an emotional if not intellectual level.

Each piece of jewelry is made from its' origin (sculpted in clay) to its' finish (polished and stones set, if applicable) by me, apart from two components. Each piece goes through many stages before completion; sculpt, mold, wax, chasing, shell, casting in metal, chasing, polishing and finishing touches. This process is called the lost wax vacuum casting. At this point in time I am able to complete each phase in my home studio while Dykeman Art foundry in Prescott Valley, AZ assists with completing the mold making and the actual pouring of metal. I should be melting metal and casting my own work in just a few weeks.
Shop members
Richard Geib

Owner, Creator, Sculptor