Announcement Fine Jewelry, Engagement rings, wedding ring sets, men's wedding bands, diamond and gemstone jewelry, contemporary metal jewelry like cobalt, ceramic, titanium, and stainless steel. Jewelry is a gift that can be deeply sentimental and personal, Give a gift that shows your love, marks a milestone, becomes an heirloom, and is symbolic of the occasion. Fine Jewelry that you will always wear, always love, and it will always be an amazing gift. Create a piece of jewelry that is personalized with our custom design and engraving services. Find amazing diamond, gemstone, and pearl jewelry as well as birthstone jewelry. Need a ring box, a chain to go with your charm or pendant? Or is there something you just don't see anywhere? Ask me! I am skilled in the art of "Rare Acquisitions". Just start a custom order or send a message and don't forget to include your budget, the details, and , when you need it.
Jewelry, and collecting is something in my blood. I continue to collect amazing estate pieces for inspiration, they are not always listed for sale, but feel free to inquire about vintage or antique items of any kind and I probably have the perfect piece, Unique gift ideas or collectibles from the past that will be cherished. If you are interested in anything you don't see, contact me. Estate jewelry, Dolls, Oddities and Antiques are not all listed here yet, but coming soon!
At Righteous Recycling:
Every purchase, no matter how big or small contributes to the charity of the month. While you are having fun and shopping, you are helping save the planet by recycling metals, gemstones, packaging, using conflict free diamonds and gems, and preserving history. Whether it is a donation to St. Judes Children's hospital, Cancer Organizations, or helping someone directly in need; each and every purchase goes toward making the world a better place.
Like me on Facebook, Instagram (username is Righteousrecycling) and Twitter! Check daily for promotional coupons and giveaways.

USE Pay Pal Credit for 6 MONTHS NO INTEREST FINANCING! ETSY GIFT CARDS ACCEPTED HERE!
Authorized Pay Pal Credit Shop. If you have paypal, you may qualify for their instant credit program (I can help you navigate the process whether or not you are on paypal. If you are spending over $100 in my shop and pay with paypal, you will get 6 months no interest Financing. PERFECT TO HELP WITH HOLIDAYS OR WEDDING RINGS.


GO AHEAD! MAKE AN OFFER on items, especially if you are ordering multiple products. Let me help you get the most out of your shopping experience!
Never hesitate to ask me if I have something that you don't see in my shop or ask me to find something for you.
I am also your one stop shopping destination. I will do Layaway, Bill to-Ship to, Complimentary Gift Wrap, Deluxe Wrapping, combined shipping. You should also have fun shopping with me,

See more here:
https://www.etsy.com/shop/RighteousRecycling
http://www.facebook.com/RighteousRecycling
http://www.twitter.com/shuffled
Instagram: @righteousrecycling
http://pinterest.com/RRAntiques
Announcement
Last updated on
May 3, 2016
Fine Jewelry, Engagement rings, wedding ring sets, men's wedding bands, diamond and gemstone jewelry, contemporary metal jewelry like cobalt, ceramic, titanium, and stainless steel. Jewelry is a gift that can be deeply sentimental and personal, Give a gift that shows your love, marks a milestone, becomes an heirloom, and is symbolic of the occasion. Fine Jewelry that you will always wear, always love, and it will always be an amazing gift. Create a piece of jewelry that is personalized with our custom design and engraving services. Find amazing diamond, gemstone, and pearl jewelry as well as birthstone jewelry. Need a ring box, a chain to go with your charm or pendant? Or is there something you just don't see anywhere? Ask me! I am skilled in the art of "Rare Acquisitions". Just start a custom order or send a message and don't forget to include your budget, the details, and , when you need it.
Jewelry, and collecting is something in my blood. I continue to collect amazing estate pieces for inspiration, they are not always listed for sale, but feel free to inquire about vintage or antique items of any kind and I probably have the perfect piece, Unique gift ideas or collectibles from the past that will be cherished. If you are interested in anything you don't see, contact me. Estate jewelry, Dolls, Oddities and Antiques are not all listed here yet, but coming soon!
At Righteous Recycling:
Every purchase, no matter how big or small contributes to the charity of the month. While you are having fun and shopping, you are helping save the planet by recycling metals, gemstones, packaging, using conflict free diamonds and gems, and preserving history. Whether it is a donation to St. Judes Children's hospital, Cancer Organizations, or helping someone directly in need; each and every purchase goes toward making the world a better place.
Like me on Facebook, Instagram (username is Righteousrecycling) and Twitter! Check daily for promotional coupons and giveaways.

USE Pay Pal Credit for 6 MONTHS NO INTEREST FINANCING! ETSY GIFT CARDS ACCEPTED HERE!
Authorized Pay Pal Credit Shop. If you have paypal, you may qualify for their instant credit program (I can help you navigate the process whether or not you are on paypal. If you are spending over $100 in my shop and pay with paypal, you will get 6 months no interest Financing. PERFECT TO HELP WITH HOLIDAYS OR WEDDING RINGS.


GO AHEAD! MAKE AN OFFER on items, especially if you are ordering multiple products. Let me help you get the most out of your shopping experience!
Never hesitate to ask me if I have something that you don't see in my shop or ask me to find something for you.
I am also your one stop shopping destination. I will do Layaway, Bill to-Ship to, Complimentary Gift Wrap, Deluxe Wrapping, combined shipping. You should also have fun shopping with me,

See more here:
https://www.etsy.com/shop/RighteousRecycling
http://www.facebook.com/RighteousRecycling
http://www.twitter.com/shuffled
Instagram: @righteousrecycling
http://pinterest.com/RRAntiques No items listed at this time
Reviews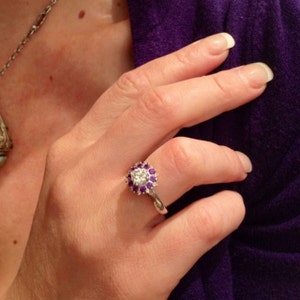 I love my ring so much! Renee was a breeze to work with, helped me choose the perfect design and the perfect diamond for my special gift commemorating the birth of my children. Couldn't ask for a better Mother's Day gift!
About
How it Works
Righteous Recycling was started as a way for me to give back to different charities and help people that were in need because of medical issues because I was blessed by so many when I got sick and was no longer able to work at the age of 29. I used to make jewelry for a small boutique when I was young and I have always loved antiques and been a collector. My little shop started when I sold some things of my own and it has grown and evolved as I have learned more about antiques and started working with a jeweler a little over a year ago. I truly love what I do, especially finding beautiful antique jewelry and designing new engagement rings. Hearing that someone has proposed with a ring that I worked on and reading their excitement before and after, is such a heartwarming experience. To be able to use some of that money and donate it to St. Jude's or the American Cancer Society is wonderful, but the best part of my job is when I can help an individual in need. Knowing that we can make a direct impact on someone's life is what keeps me going. When I was sick and out of work, somehow I would always manage to get the medicine I needed and my financial needs were met thanks to people who for no reason at all helped me. My mission is to do the same for others.
A person does not have to be a philanthropist to shop in my store, and I do not add extra cost in for the money I donate. It comes from my profit, and sometimes my pocket, lol.
My shop has evolved from antiques and vintage jewelry to new jewelry and custom designs with a few special estate pieces. I do custom order fine jewelry by working with a local jeweler on one of a kind pieces or restoration. He converts my drawings or pictures into a casting or he creates the piece by hand. If you are looking for something specific and have your budget, I can create a selection of virtual images of your piece that fall into the parameters of your budget. From there, I order the various elements and work with my jeweler to complete the piece.
I am an equal opportunity collector, I have vintage designer clothing, dolls, fiqurines, primitives, apothecary items, sewing supplies, military collectibles...you name it. I also have a lot of jewelry that is not listed. So, if there is anything that I can help you find, please ask. I am hoping to open a second shop soon for all the other collectibles; for now they are hanging out on the shelves in my office and in my closet. I wish you could just come over and shop!
Please enjoy shopping here, feel free to ask any questions, make offers, and PLEASE ASK IF YOU ARE LOOKING FOR SOMETHING SPECIFIC. I PROBABLY HAVE IT, LOL!
Thank you for choosing Righteous Recycling!
Shop members
Renee

Owner, Maker, Designer, Curator, Photographer, Tinkerer, Negotiator, Shipping, Customer Service Department

My imagination has always been wild, and ever since I was little I loved giving gifts. I always managed to find gifts to give even when I did not have any money. Granted, I sometimes wrapped my mom's things up and gave them back to her.
Shop policies
Last updated on
March 9, 2016
Engagement rings, wedding jewelry, and fine jewelry for everyone! Design the perfect engagement ring or anniversary ring. Jewelry that celebrates the milestones and everyday miracles in our lives. Shop new diamond engagement rings, contemporary men's wedding bands, classic anniversary gifts, alongside precious Estate Heirloom Jewelry, Designer Vintage jewelry like Miriam Haskell, Hobe, Cartier, Tiffany's, Gucci, or Hatti Carnegie and romantic Wartime pieces like sweetheart pins, lockets, and rare antique pocket watches. The pieces I have come from travels around the world and right here in my backyard. Charms, chains, and gemstone or Diamond Stud Earrings.
My workshop is neatly arranged with shelves full of boxes of beautiful jewelry, watches, miniatures, and oddities. You will find the perfect gift for any occasion, collectibles and gifts for every budget, style and taste.
I offer a "Finding" service, where I find and procure the item or items that you are looking for and keep it in your specified budget and time frame. Saving you time and money.
SCS GOLD and SILVER CERTIFIED
SCS is a global leader in verification of environmental and sustainability claims with internationally recognized standards, and their certification ensures that all of the in house created gold and silver products we sell are made from certified 100% recycled content.
We are committed to selling diamonds ethically and with integrity, giving you confidence in the diamonds you purchase. We believe it is completely unacceptable to tolerate conflict diamonds and/or human suffering in any way and we fully support the Kimberley Process. Righteous Recycling offers this commitment to you. All rough and polished diamonds sold by us in our new jewelry or loose diamonds comply with the Kimberley Process. The Kimberley Process ensures that rough diamonds are
*Exported and imported with a government validated Kimberly Process certificate stating the diamonds are conflict-free.
*Transported between signatory countries in a sealed and tamper-proof container.
*Sold with a statement from the seller (known as a warranty) on all memos or invoices guaranteeing that the diamonds being sold are conflict-free.
(If you do not see this in your diamond package, simply contact me.)
We offer Loose diamonds and gemstones that are serialized and come with a detailed report from the EGL or GIA, these are usually reserved for the center diamond or the larger diamonds in your piece. You have the option to customize Jewelry or reset listed items with EGL or GIA serialized diamonds or precious gemstones (ex: sapphire or emerald) To learn more about diamonds, look at this link by EGL USA, the most accurate grading.
http://www.eglusa.com/images/pdf/diamond-buyers-guide.pdf
Looking for something that you don't see? I probably have it or can make it for you, please ask. I will respond promptly!
Please take a moment to browse my shop, I am delighted you stopped by Righteous Recycling.
To learn more about me, see my profile page:
http://www.etsy.com/people/righteousrecycling
(For the sneaks and peeks, coupons and promotions; make sure to LIKE my facebook page and Follow my twitter. The fancy shmancy buttons are at the top of my shop page. just smash the bird and punch the button that the geeks made.)
Accepted payment methods
Money Order
Check
Other Method
Payment
I accept all credit cards and Paypal.
Pay Pal Credit approved Merchant: Use Pay Pal Credit on any order over $100, anytime and get 6 months no interest financing! Buy Now, Get it Now, Pay Later!
GO TO THIS LINK TO APPLY and Get MORE INFO
https://www.billmelater.com
I will gladly put a RESERVE on an item for 24 hours.
Righteous Recycling Layaway plan is designed to help you purchase your favorite jewelry, even if you cannot currently pay for it. You will have the assurance that the Jewelry you like will be available when you are ready, at today's price!
Our Layaway Plan:
Layaway is only available for items $700 or more.
20% Deposit to start on NON MADE TO ORDER PIECES (Non-refundable to ensure that item you like will be available for you).
The deposit varies on custom orders, details vary depending on the piece.
90 Days to pay: Flexibly to pay when you have the funds available
Orders for layaway plans must be placed over the phone. To place your order, send me a message asap...
No Interest! No Credit Check! Easy to get started!
contact me here FOR FASTEST RESPONSE or at righteousrecycling [!at] gmail.com
Texas Residents are responsible for sales tax of 8.25%.
if you are new to etsy and need help figuring out checkout:
http://www.etsy.com/help_guide_checkout.php
Shipping
Please note: I will be out of the country so all orders placed will ship out the earliest is the 27th of October. Should you have a question I will be able to help, and orders are completed and shipped on a first come, first serve basis. The sale will be this week only, so place your orders now, many of the items are being discontinued. If the item is in sTock and you choose overnight shipping, I will send it as soon as I get back. I understand that when ordering online you want to receive your items quickly. I love shopping online myself and try to do my best to make sure you can get your order fast and that it is a beautiful, high quality item. My hope is that when you open your package your expectations will be exceeded. My passion for jewelry and antiques means I love what I do, and I want your total experience to be wonderful with my shop, from beginning to end. Be assured that the pieces are packaged well.
Most shipping costs for listed items cover postage, tracking, insurance, gift box, packaging materials, and other shipping costs.
*International will need to upgrade on some items for tracking....

***PLEASE ADD YOUR PHONE NUMBER IN NOTES TO SELLER.

Orders shipped within the U.S. are sent via UPS, Fed Ex, USPS Priority Mail, or First Class Mail (depending on the size and weight of the items) International orders are accepted but delivery outside of the U.S. cannot be guaranteed. If you want tracking or need an item by a specific time, please contact me before ordering. I can find out what we can do to get your package there on time and safely and what the best price quote is for your country.
I have found UPS to be the most reliable of all the shippers...for exact upgrade quotes, contact me.

I highly recommend insurance, especially for international customers, breakable items, one of a kind items, and parcels that are valued over 50 dollars.

***INTERNATIONAL:
I have had customers all over the world and I continue to ship worldwide. This year The United States Postal Service raised its International rates 60%, so let me know if you are looking for multiple items so that I can combine shipping for you. I will do my best to keep International rates as low as I can, just send me a message and I will give you the exact quote.
Shipping quotes vary with each item. Most quotes are for first class or registered air mail with insurance and signature confirmation. Some items are quoted with priority shipping and insurance. I am happy to accommodate faster or slower service depending on your needs. Any items that are sent first class without insurance by your choice are at the buyer's risk. I encourage insurance on all shipments. For an exact quote before you buy an item, simply send me a message with your country and postal code.

**ALL ORDERS REQUIRE a PHONE NUMBER IN THE NOTES TO SELLER.

INTERNATIONAL: Please be aware OF CUSTOMS LAWS FOR YOUR COUNTRY AND that you may be charged customs duties tax when your package arrives.

**INTERNATIONAL: PLEASE NOTE, SHIPPING QUOTES ARE ESTIMATES ONLY, FOR EXACT SHIPPING, CONTACT ME FIRST.

RIGHTEOUS RECYCLING OFFERS OVERNIGHT, UPS 2, 3 DAY GUARANTEED SHIPPING, AS WELL AS FEDEX, PRIORITY, OR EXPRESS...
NEED IT FAST?
I WILL DO MY BEST TO GET IT TO YOU RIGHT AWAY!!!!

Please send me a message with your STATE, COUNTRY, and postal OR ZIPCODE, along with the total items you are interested in so I can estimate the box size.

Orders are processed and mailed as soon as either the item is made, or if the item is in stock, it will be sent within 1-3 days UNLESS arrangements are made otherwise.

I combine shipping for purchases made within 7 days from the same person WHEN REQUESTED.. Just ask!

Year Long HOLIDAY SHOPPING:
for you to get your Holiday shopping completed in time.
Quotes given once you message me your address and time frame.
Refunds and Exchanges
I do my best to describe all items as they are found with condition and approximate age determined. The photos are considered part of the description.

Please notify me immediately,( within 48 hours) after receiving the package if there is a discrepancy or you believe you have received an item that was not as described. Vintage Jewelry and Antiques are my passion and each package I send is meticulously wrapped with care in the hope that you will fall in love with your new treasure.

RETURNS:
PLEASE READ CAREFULLY
**Before Purchasing, please look over my policies.
I WANT YOU TO BE HAPPY with everything you purchase from me. If you are not satisfied and need to return merchandise, I will give you full credit on qualified items, (minus shipping unless item is defective) provided you follow these procedures:
Return merchandise in its original condition and packaging; including envelopes, bags and boxes. Merchandise should be securely packaged and insured. Righteous Recycling is not responsible for returns that are damaged in transit.
Send me a message including the REASON for the return ( I just need to know if something was faulty or if you did not like it, etc.). Merchandise returned without contacting me first may be returned to you at your expense.
MOST RETURNS MUST BE MADE WITHIN 3 DAYS OF RECEIPT. (Exceptions: Contemporary Metals) I take each item on a case by case basis, but if you return your piece later than the 3 days it may be subject to a 20% restocking fee.

YOU MAY CHOOSE REFUND OR EXCHANGE
SPECIAL ORDERS AND LAYAWAYS: NO RETURN
ANY ITEM THAT HAS BEEN ALTERED BY ME OR YOU (SIZING, ENGRAVED): NO RETURN
ITEMS THAT ARE ON FINAL SALE OR CLEARANCE: NO RETURN

ANY ITEM THAT HAS A QUALITY ISSUE MAY BE RETURNED IF IT IS A NEW PIECE OF JEWELRY.

ANTIQUES AND VINTAGE ITEMS HAVE BEEN WORN PREVIOUSLY OR USED AND YOU SHOULD EXPECT WEAR AND TEAR, DEPENDING ON AGE AND ITEM.

Grossly misrepresented items (ie wrong color such as green not red, or 14k instead of 18k), I will gladly refund your FULL purchase including shipping both ways once the item is returned in the same packaging and same condition, this is rare but we are human and mistakes can happen.

Monitor settings and lighting can alter gemstone and diamond coloring, so be sure to use my descriptions as further guides. You should expect slight wear on estate pieces; any significant damage will be noted in the listing. All vintage jewelry is sold in AS IS condition.

If your item is broken or lost during transit then please contact me asap. You should immediately notify the postal service and I will contact the insurance company to get your reimbursement. Please keep the package that the item arrived in and the item, this could take several weeks, so I appreciate your patience.

Coupons may not be used on Sales or Layaway Items without consent of owner of shop.
However, you are ALWAYS WELCOME TO MAKE AN OFFER ON AN ITEM.
I work closely with a network of expert Antique Appraisers, Gemologists and Jewelers that help me with repairs, restoration, and making sure that what I present to you is authentic. I will not make claims until I feel confident that a gemologist and a jeweler have examined the piece and it is authenticated. I stand behind my items 100%.

**Please read listing details carefully and examine all photos. The camera that I use and the lighting is magnified to show things that the naked eye will not see, keep this in mind when looking at rings. It is always a good idea to sketch out dimensions on paper so that you know what to expect before you purchase an item. Please message me with any questions prior to purchasing. **

Did you break a gold ring you bought from me or have gold you would like to put toward a new piece? Contact me about recycling your broken gold.

Terms and Conditions are subject to change.
Additional policies and FAQs
⇢ Sizing Information ⇠
Sizing is available on MOST of my rings. Contact me and i will give you a quote. To purchase sizing, contact me prior to purchase or you can put it in the notes and I will make you a custom order for sizing.
⇢ Disclaimer ⇠

Carat weight is usually estimated based on mm size, shape, height of crown, & depth of pavillion. Other specifications will be listed in special cases: special cuts, extra fiery and charismatic diamonds, etc.

Not all listings are complete with the center stone, some are semi mounts with the option to choose your center stone. The center stone can be purchased and set by me or you can order one or the other for your needs.

Monitor settings and lighting can alter gemstone and diamond coloring, so be sure to use our descriptions as further guides. You should expect slight wear on estate pieces; any significant damage will be noted in the listing. All vintage jewelry is sold in AS IS condition.

{the fine print}
i want you to be thrilled with your purchase and would want to know if this is not the case. should something happen to cause you concern, please...{please} contact me right away, lets talk and see how things can be made right.
There is never a reason to leave bad feedback because I will always work with you to make sure you are happy if there has been an error in the listing or if you simply do not like your purchase. Just contact me. I appreciate and treasure my customers and repeat customers and work very hard to make your shopping experience wonderful.
Positive Feedback is appreciated and returned. Most of all, thank you all for helping me help others. Thank you!

Please NOTE:

Return, Warranty, and Exchange Policy For:
Ceramic Couture®, DuraCobalt*, Titanium* bands ONLY
- For up to 10 days from date of purchase, return for credit if you are not satisfied for any reason. We offer a lifetime refurbish/repair service on bands; applicable fees listed below:

Lifetime Refurbish/Repair Service on Bands; Optional Warranty (Fees Listed Below)
(This applies to Dura Tungsten® as well, although we no longer carry this type of Tungsten online.)

Basic Contemporary Metals $15
With Diamonds .05ct or under $15
With Silver Inlay or Overlay $15
With Diamond .06ct or over $20
With Gold Inlay or Overlay $30
*The titanium, ceramic, and duracobalt band warrantee only applies to specific bands.
To use warrantee you send the ring in when it needs a repair along with a money order for the amount listed next to the type of band you have. For information regarding the lifetime refurbish address or to see if your ring qualifies, contact me.

I take custom orders, will find you the of of a kind or vintage piece you are looking for; or will design that one of a kind piece of jewelry you want. I also have an extensive collection of antiques...ask me for what you are looking for, I just might have it. I will always consider reasonable offers.
Thank You!

*Please note, prices are subject to change with the precious metals (Gild, silver, platinum) and gemstones / diamonds market.

All photos and text protected by US Copyright. All Rights Reserved. If you would like to use any photos or information, just let me know. ☺


© Righteous Recycling Vintage