Announcement ¯¯¯¯¯¯¯¯°º©©©º°¯¯¯¯¯¯¯¯°º©©©º°¯¯¯¯¯¯¯¯°º©©©º°¯¯¯¯¯¯¯¯°º©©©º°¯¯¯¯¯¯¯¯°º©©©º°
Thank you for visiting Rowan Designs, specializing in Womens Accessories & More!!

¯¯¯¯¯¯¯¯°º©©©º°¯¯¯¯¯¯¯¯°º©©©º°¯¯¯¯¯¯¯¯°º©©©º°¯¯¯¯¯¯¯¯°º©©©º°¯¯¯¯¯¯¯¯°º©©©º°
Please check out my other Etsy stores:

DIY Bows Supply Store - All your Do It Yourself Hair Accessory Supplies
www.diybows.etsy.com

¯¯¯¯¯¯¯¯°º©©©º°¯¯¯¯¯¯¯¯°º©©©º°¯¯¯¯¯¯¯¯°º©©©º°¯¯¯¯¯¯¯¯°º©©©º°¯¯¯¯¯¯¯¯°º©©©º°

We always welcome custom orders. If you prefer a different fabric or color combination, just convo us. Thanks for stopping by~

¯¯¯¯¯¯¯¯°º©©©º°¯¯¯¯¯¯¯¯°º©©©º°¯¯¯¯¯¯¯¯°º©©©º°¯¯¯¯¯¯¯¯°º©©©º°¯¯¯¯¯¯¯¯°º©©©º°

Rowan Designs Logo Design, Banner, Avatar & Business Supplies was created by The Prettiest Pixel. Please check out her Etsy store at www.ThePrettiestPixel.etsy.com
Announcement
¯¯¯¯¯¯¯¯°º©©©º°¯¯¯¯¯¯¯¯°º©©©º°¯¯¯¯¯¯¯¯°º©©©º°¯¯¯¯¯¯¯¯°º©©©º°¯¯¯¯¯¯¯¯°º©©©º°
Thank you for visiting Rowan Designs, specializing in Womens Accessories & More!!

¯¯¯¯¯¯¯¯°º©©©º°¯¯¯¯¯¯¯¯°º©©©º°¯¯¯¯¯¯¯¯°º©©©º°¯¯¯¯¯¯¯¯°º©©©º°¯¯¯¯¯¯¯¯°º©©©º°
Please check out my other Etsy stores:

DIY Bows Supply Store - All your Do It Yourself Hair Accessory Supplies
www.diybows.etsy.com

¯¯¯¯¯¯¯¯°º©©©º°¯¯¯¯¯¯¯¯°º©©©º°¯¯¯¯¯¯¯¯°º©©©º°¯¯¯¯¯¯¯¯°º©©©º°¯¯¯¯¯¯¯¯°º©©©º°

We always welcome custom orders. If you prefer a different fabric or color combination, just convo us. Thanks for stopping by~

¯¯¯¯¯¯¯¯°º©©©º°¯¯¯¯¯¯¯¯°º©©©º°¯¯¯¯¯¯¯¯°º©©©º°¯¯¯¯¯¯¯¯°º©©©º°¯¯¯¯¯¯¯¯°º©©©º°

Rowan Designs Logo Design, Banner, Avatar & Business Supplies was created by The Prettiest Pixel. Please check out her Etsy store at www.ThePrettiestPixel.etsy.com No items listed at this time
Reviews

My gramma loved them! I hope that they stay intact when she gets out on the dance floor at our wedding.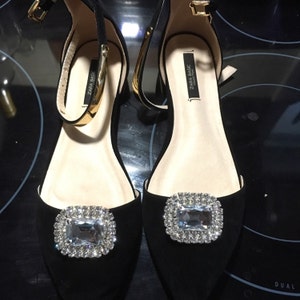 They add just the right amount of sparkle to my 1920's Gatsby wedding shoes!!!!

Great product and quick ship!
Shop policies
Last updated on
February 3, 2011
Payment
For payment, I accept PayPal, Personal Checks, Money Order or Cashier's Check. If you pay by Personal Check, Money Order or Cashier's Check, I will not ship your item(s) until the payment has cleared the bank.
Payment must be made within 3-days of the listings end unless otherwise communicated. Sorry to be so harsh, but I have had to set a policy on this due to some non-payers.
Shipping
Each item at Rowan Designs is created once you place your order. Please allow up to one week for items to be shipped once payment has been made. If you need your items sooner, just convo us & we will do our best to accommodate you. All shipments are made via USPS First Class Mail. If you need expedited shipping, please just contact me & we can make arrangements.

* All items(s) are shipped to the PayPal address. If the ship to address is different, please let me know when ordering to avoid incorrect shipment destinations.