Reviews

Shipped quickly! Packaged carefully!! The softest, most touchable pouches ever!!! They will go wonderfully with my medieval outfit!!! Thanks!!!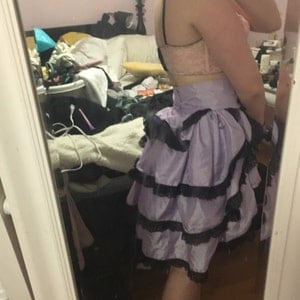 I love everything about my custom order bustle skirt!! Everything was perfect and i cannot thank the lovely lady enough for her amazing customer service! She was so helpful! Couldn't be happier with this product
About
Sis2Rs Boutique & Yes2Years Fashions- Our Story!
You asked, and we answered!

Tell us about your shop and the idea behind it.
Yes2Years Fashions evolved from creating costumes for period reenactments to costuming for movie and theatre productions. Expanding on the feeling that we were born in the wrong era, it became a dream to delve in and utilize details from loved periods into our everyday wardrobe. There is satisfaction in recreating styles from past years… either in duplicating or just taking hints from the era, and creating new clothing options for the modern woman and man. Yes2Years Fashions' direction is neo-Victorianism mixed with Burlesque Extravaganza, Boho-Chic, and Cowgirl Attitude!

What is your favorite part in the process of designing clothes?
No cookie cutters here! Each design is unique and evolves as the fabric 'talks'! Whether utilizing new fabric & trims, or upcycling vintage finds, it is exciting to see a piece develop as trims and one-of-a kind details are added.

What is Steampunk?
"Steampunk its more than an aesthetic tendency, it's the longing for the past that never was," (www.steampunkgirls.com), OR, "Steampunk is modern technology- iPads, computers, robotics, air travel- powered by steam and set in the 1800's" (www.ministryofpeculiaroccurrences.com), OR, "Steampunk is a genre AND a design aesthitic AND a philosophy" (www.steampunk.com). Steampunk fashion really has NO rules; it allows one to express their love of an era past and interpret it individually. It is anachronistic Victorian times!

What is Burlesque?
Victorian Burlesque, sometimes also referred to as 'extravaganza', has it roots in the mid 19th century and was a form of parody in which a well-known opera, theatre or ballet was adapted into a broad comic play, usually musical and risque in style. Actresses usually played the male roles and likewise, men played the older women roles. This reversal, and the subsequent performance in skimpy clothes, allowed the audience to distance themselves from the morality of the plays, and instead focus on the pure entertainment.

So why Steampunk-Burlesque Fashions?
Steampunk-Burlesque styling takes the prim and proper out of Victorian fashions, allowing one's alter-ego to emerge. It can be sexy, sultry, feminine, tempestuous, or adventurous. It is Victorian with attitude. It embodies both Victorian and Old West attributes; quasi-Victorian.

What other fashions are available from Yes2Years?
We are versed in styles from the Renaissance, Regency, Edwardian, Victorian, and Roaring 20's and can design and deliver Custom-Made Orders.

What is in Yes2Years future?
Upcoming to the site is Yes2Years' Rental House. We have available for rent, by the piece or in bulk, period wardrobe for men and women. Following, look for Yes2Years Productions, featuring theme parties for all ages (local market only).

Anything else you would like to share?
As Yes2Years' direction was being shaped, it was the support of family that kept the dream moving forward. And, currently Yes2Years is presided over by sisters, Cindy & Pam, and mother, Carole. It is the company goal to provide an outlet for their creative talents, as well to other brilliant, capable women.
Shop members
Cynthia

Owner

Cynthia's entrepreneur spirit prompted the launch of Sis2rs and the evolution of Yes2Years Fashions. Always seen with a needle in her hand, she loves creating costumes for period reenactments, theatre, and movies.

Carole

Owner

Matriarch of the Sis2rs crew, Carole's creativity has no bounds and had influenced daughters Cynthia and Pamela. Carole is a talented wood carver, stain glass artist, and crazy crocheter!

Pamela

Owner

Pamela is a talented seamstress with an eye for detail; she creates flawless beautiful garments, accessories, and jewelry.

Richelle

Creator

Talented daughter of Pamela, Richelle creates beautiful accessories.

Marlina

Creator

Marlina is our guest artist- fantastic creator of the ribbon embroidered bags- from Malaysia and has produced various designs for bags, wall decorations, cushion covers and complete sets for wedding beds. She has also published a book!
Shop policies
Last updated on
September 16, 2014
Hi! All items in our shop are designed and made from scratch, or with repurposed materials. It is our passion to create!

Some of our items are available for RENT. Each item that is available to rent is specifically marked directly on it's listing page, or see the shop section "The Rental House" for all available items. Please see "Additional Information" for complete policy regarding RENTALS.
Accepted payment methods
Payment
You may use PayPal or Etsy Direct Checkout. Special orders require minimum 1/2 deposit, with balance due prior to ship.
Sales tax will be collected state of New Mexico only.
Shipping
Shipping generally fine USPS Priority Mail or International, unless arranged differently. We ship within 2 days of order receipt.
Refunds and Exchanges
Returns and refunds accepted by mutual agreement, except special orders.
Additional policies and FAQs
RENTALS:
The rental fee is 1/2 of the purchase price less shipping and cleaning fee. When you are ready to mail your rented item(s) back it must be marked as shipped with verifiable tracking within 2 weeks of its delivery date. You will receive 50% of your purchase price back less shipping and cleaning fee. You will not receive your shipping fee back.

You will be charged a fee for cleaning as specified on the items listing page. If the item is not returned within 14 days it assumed the item has been purchased and no refund will be given.

FOR EXAMPLE: You rent an item on the 1st. It is mailed to you on the 2nd. And you receive it on the 5th. The rental period begins on the 5th and would end on the 19th. It must be POSTMARKED on or before the 19th. You pay to have the item returned. We check-in the item within 48 hours, notify you that it has been received and promptly refund your 50% less shipping and cleaning fee.

Each item you rent must be returned in original condition. Stains, rips, or unapproved altered items will not be accepted back and will be returned to the sender with no refund. Item postmarked and shipped after the 14th day will be considered as a purchase. The package will be returned to sender, and no refund will given.