Announcement ***I am not currently accepting any new orders***

Hail fellow, well met! Thanks for stopping by my shop! You might wonder who Scarlet and Miniver are... They are not Scarlett O'Hara & Mrs. Miniver! A Proud Taste for Scarlet & Miniver (1973, E.L. Konigsburg), about Eleanor of Aquitaine, was my favorite book growing up & is largely to blame for my fascination with all things "early." History had funny names for fabrics, most of which are not familiar today. Scarlet was a fine cloth, usually of wool, that came in many colors, the most popular of which seems to have been red. Miniver was the fine, white winter coat of an ermine.

I make clothing for historical dancers, Renaissance Faire workers, SCA enthusiasts, and Dickens Fair carolers. Need a costume for your madrigal dinner or your Shakespearean play? Please contact me to discuss custom costumes.

My clothing is historically informed, with concessions for keeping costs reasonable and garments machine washable where possible. Please see my Shop Policies for detailed information on my methods and don't hesitate to ask questions!

***A typical order can take anywhere from 2-8 weeks depending on the item and the time of year.***

You can go to my website to see in stock fabrics and notions:

http://scarletandminiver.weebly.com/

***Discounts are available on multiple items for schools and performing arts groups.***
Announcement
Last updated on
Feb 13, 2017
***I am not currently accepting any new orders***

Hail fellow, well met! Thanks for stopping by my shop! You might wonder who Scarlet and Miniver are... They are not Scarlett O'Hara & Mrs. Miniver! A Proud Taste for Scarlet & Miniver (1973, E.L. Konigsburg), about Eleanor of Aquitaine, was my favorite book growing up & is largely to blame for my fascination with all things "early." History had funny names for fabrics, most of which are not familiar today. Scarlet was a fine cloth, usually of wool, that came in many colors, the most popular of which seems to have been red. Miniver was the fine, white winter coat of an ermine.

I make clothing for historical dancers, Renaissance Faire workers, SCA enthusiasts, and Dickens Fair carolers. Need a costume for your madrigal dinner or your Shakespearean play? Please contact me to discuss custom costumes.

My clothing is historically informed, with concessions for keeping costs reasonable and garments machine washable where possible. Please see my Shop Policies for detailed information on my methods and don't hesitate to ask questions!

***A typical order can take anywhere from 2-8 weeks depending on the item and the time of year.***

You can go to my website to see in stock fabrics and notions:

http://scarletandminiver.weebly.com/

***Discounts are available on multiple items for schools and performing arts groups.*** No items listed at this time
Reviews

Fantastic seller! Thank you for the great item and service!

Throughout the entire process, the owner Cheryl was so helpful and kind, and very quick to respond. Everything was handmade, made to my measurements, and ready after a few weeks with very fast shipping. The dress is absolutely stunning. Every detail is so well crafted and it fits like a dream. I highly recommend this shop.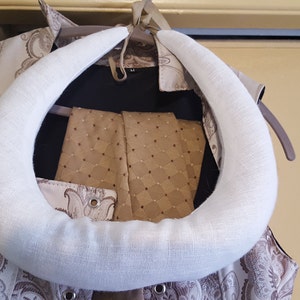 Great item. Super fast shipment. Thank ypu for your fast work. I love it.
About
The warp and weft of it all
My favorite days are the days when I spend all day in my sewing studio surrounded by fabric & books, drafting patterns, researching historical sewing techniques, & searching for new "old" notions.

I try to design for me, the kind of person that I am, always hopeful that there are more people like me out there. I ask myself, what would I buy, what do I want? I want authentic garb, but simple - and preferably machine washable! While I'm not against dressing above one's station, it's not my thing. I'm more a clothing of the people, by the people, for the people kind of gal.

And I love that Etsy harkens to a time when a client went to a tailor's shop, picked a pattern, chose fabric, & placed an order - but facilitates that personal communication across an entire world.
Shop members
Cheryl

Owner, Maker, Designer, Seamstress

When I was little, my mom taught me to sew - I remember aprons, skirts, & sunlight streaming. A native of the San Francisco area, Cheryl has a DMA in Early Music, gives voice & piano lessons, directs a choir, & teaches historical dance.
Shop policies
Last updated on
January 20, 2017
I use only "natural" materials - things that could have existed in the time of the garment I am recreating: linen and wool fabrics, pewter buttons, brass rings, silk ribbons, etc. Although Cotton was a rare commodity in pre-Industrial Europe, it did exist & I do make use of it in place of Silk Velvets, Brocades, & Damasks which are now hard to find & very costly.

Although my garments have no visible machine stitching, I do the vast majority of sewing on my trusty 1960s sewing machine. There are no bells and whistles on my machine - just a straight stitch and a zig zag stitch - and I own no serger (I do finish all seams so that they don't fray). I use hand sewing where stitches are visible from the outside. The exception to this historical approach is metal grommets. But I am always delighted to make eyelets by hand for an additional fee ($3 per eyelet). Instead of buttonholes, I make thread loops by hand. If you prefer machined or handmade buttonholes, they are $3 per hole. I attach linings by the modern "bag lining" method, which is fast and clean. If you would like your lining to be attached in a historical method (by hand), let me know and I can give you a quote. Conversely, if you like machine edge-stitching, I can do that, too!

I either draft my own patterns based on historical garments and research or adapt well-researched, historically informed patterns by the likes of Janet Arnold, The Tudor Tailor, The Medieval Tailor's Assistant, or Margo Anderson. If you want a specific garment from one of these books/patterns and just need a good seamstress to make it for you, I'd be happy to do so! I can also work from a picture or painting.

Do you need to pass Order of the Laurel muster? Just let me know what level of historical authenticity you desire and I will do my best to accommodate!
Accepted payment methods
Payment
Work will begin on your purchase when full payment has been received. Lay-away and installment payments are not possible.
Shipping
At this time, I ship only within the US, via Priority Mail.
Refunds and Exchanges
I want you to be happy with your garb! If you have any problems with your made-to-order item, I will do my best to rectify the situation. Because certain aspects of fit & comfort are sometimes not evident until after extended wearing, you have two weeks from the time of delivery to contact me regarding alterations you would like. After contacting me to make arrangements, you may send your garb to me at your expense for reasonable alterations at my expense. After this two-week period, I will still be happy to make alterations, but they will be made at your expense. Outright returns of made-to-order items are not possible. Custom orders may only be cancelled for a refund within 3 business days of placing the order. Otherwise refunds will be issued at my discretion based on whether or not materials have been ordered and/or work has begun. Once materials have been ordered and work has begun cancellation/refund is not possible.

I realize that it can be hard to determine how well an off-the-peg item will fit over the glorious interwebs! So, if you find that your ready-to-wear item doesn't fit just the way you had hoped, I will accept a return of an unworn item for a full refund (including the initial shipping fee, but not your return shipping) if you contact me within two (2) days of receiving the item. After this time, returns will not be accepted. Packages returned without first contacting me will be returned to you and no refund will be issued.
Additional policies and FAQs
General Wear and Care -

Linen/Cotton Blend/Cotton Velveteen: All these fabrics will have been pre-washed & dried in a machine before cutting. Your garb will last longer if you hand wash with cold water & let air dry. However, if you decide to machine wash & dry your garb, safety pin the ends of any drawstrings together, remove lacing ribbon or cording where possible, untie any detachable sleeves, & use cold water/gentle cycle, low heat/damp-dry, & a warm iron with steam.

Wool/Silk: Unless you request otherwise, these fabrics have not been pre-washed before cutting. Do not wash or dry garb made with these fabrics in a machine. Instead spot cleaning/air drying or dry cleaning is recommended. If you have requested that these fabrics be pre-washed & dried, then hand washing in cold water and air drying is acceptable.

Notions: If your garb has steel boning &/or pearl buttons, do not wash & dry in a machine. If there is reed boning, do not immerse in water or dry in a machine. If there is any trim, be sure to iron on the wrong side (this goes for velvet fabrics, too). Trim has been pre-washed unless otherwise noted.

Bumrolls: On hot days under layers of clothing, the wool inside a bumroll can get damp. I recommend letting the bumroll fully dry between wearings or before packing it away in storage for next season. It can be tossed in the drier on low heat.