 No items listed at this time
Reviews
No reviews in the last year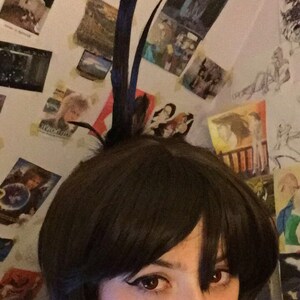 Perfect in every way! A absolutely love it!!!!

Love my beauty potion! Feels great and smells amazing!

Really really cute. fast shipping.
About
Let The Journey Begin!
This shop features the work of professional artists Shauna Leva and Kelley Griffin in a side project we have dubbed "Faire Trimmings." Both Kelley and I are young artists, fresh out of college, scratching out a career in freelance, art education, and crafting.

The two of us have been best friends for years and share a passion for creating. Recently, we decided to pool our efforts and working together to make one-of-a-kind fantasy accessories to sell at renaissance fairs, conventions, and craft shows. This shop is built and maintained by me, Shauna, but also contains Kelley's work. This collaboration saves us time, money, and effort in the advertising process.

Shaunart Studios, where we meet with clients and construct a lot of our fair wares is located at:

122 Western Avenue
Studio #527
Lowell, MA 01851

Hours are by appointment only. You may message me anytime to schedule a meeting, talk about a project, seek advice, get a quote, or just to chat.

Our individual work can be viewed on our websites:
http://Shaunart.net
http://KelleyGriffin.com

Thanks for reading!

-Shauna
Shop members
Shauna Leva

Owner, Maker, Designer, Curator

Shop owner & artist Shauna works as an Illustrator, Social Media Consultant, Art Instructor, Costume Designer & Leather Craftsman. She hopes to build a dream career in freelance and fair-dealing that combines all her crafty interests into one.

Kelley Griffin

Owner, Maker, Designer, Curator

Kelley is a professional painter currently pursuing a degree in art education. Though she hopes to become a great art teacher, Kelley is already a skilled seamstress, watercolorist, & jewelry designer.
Shop policies
Last updated on
February 20, 2013
Welcome to my Etsy Shop!
Accepted payment methods
Accepts Etsy Gift Cards and Etsy Credits
Returns and exchanges
If you receive an item that is damaged, you may exchange it for a new one. You may send the item back within 15 days of receiving your item.

Buyer pays for return shipping, but if the damage is my fault, I will pay to send the new item out to you once the old item has been received.
Shipping
Most orders ship within 48 hours.
There are some few items that are printed on demand, and may take several days to prepare and ship your order. If it will take me more than two days to ship your order it will be noted in the listing.

Please note that international buyers are responsible for any and all duties and customs charges that may be incurred.
Additional policies and FAQs
Custom Orders and Commissions
Ordering a Commission

Commissions may be ordered in person, via phone, or email. However, I will need a written copy of your commission request in order to deliver the best possible service. If you order a commission in person or over the phone, I will make hand-written notes to use as a reference when it comes time to work on the commission. If you order via email, your email counts as the written request. The more detailed the email is, the better chance you have of me doing exactly what you want. I will read your entire email and I will tell you if parts of it are unclear to me. You may also include sketches and reference images with your commission request to help me understand what you are looking for.
I will not/can not duplicate any image for you exactly. If you would like me to do a painting of a photograph, I will do my best to get an extremely close likeness. However, artistic liberties may be taken to ENHANCE your provided image. Ex: Intensifying colors, cropping the image, moving elements around to improve composition. You may direct me in how to change the image if you like. Otherwise I will do what I feel is best for the project.
You may not give me a picture/illustration done by another artist and ask me to copy it.


Image Ownership

Paying for an image that I created does not mean that you own the rights to that image. U.S. copyright law states that the client may only use the work of art for the expressed purpose for which it was commissioned. If you, as the client, wish to own exclusive rights to the image, permission must be granted, in clear writing from the artist (me) and an additional cost will be included in that contract.
This means that I as the artist, unless otherwise stated in a written contract, have the right to reproduce my work in any form.
In the event that you do purchase the full rights to the image, you must still credit me as the artist.

Working on your Commission

I will send you samples of in-progress work whenever you ask and probably more often than you ask in order to make sure everything is going exactly as you wish it to.
If your commission is especially extensive or will take a long time to do, I may request that payments be made throughout the project. Example, if I was illustrating a book for you, and I estimated the project to take 300 hours, I may ask that you send partial payment every 40-80 hours. That is just an example, but any payment plan will be worked out and agreed upon prior to me begining work on your commission.
If your project requires a deadline for completion, I need you to be available to provide me with information that I may need to advance the progress of your commission. If I cannot get a hold of you, I reserve the right to miss the deadline with no penalty to me.
If at any stage during your commission, you cease communication for a period of more than six months, without first giving explicit notice of this hiatus, you forfit any deposit, material's fee, materials, and rights to the in-progress work made on your commission. You may in the future order a new commission, which will begin from scratch, only if you do not owe me payment for prior time spent on a commission that had not come to fruition.
I reserve the right to refuse any commission for any reason. I've never refused a commission. But I reserve the right. :-)
Payment & Delivery of the Final Product(s)

I prefer Paypal, but I do accept cash and check.
I will ask for payment for materials at the beginning of the project, before I start working, but after I buy the materials. I will show you a receipt in order to verify that these materials did indeed cost what I say they did. The only time I will charge for materials without a receipt is if your project will require a large amount of a material that I already own. (Large relative to the unit size) Example: if you want a 4' x 6' painting that will require me to use most of my paint, but will not require that I buy new paint, I will charge you for the paint but, the charge to you will be LESS than the cost of a new tube of paint. If you have any problem with this, I will simply buy new paint in the appropriate sized tube, and charge you the full price of the new tube with proof of purchase.
For most projects I will not require final payment until the project is completed. I will NOT send you the final image until I receive payment. I will however, send you a preview of the final image via email in low resolution, not suitable for printing. Typically, my preview images are sent at 60 – 70 dpi. The sample image will also have the words "Sample Image" or a watermark placed over it to prevent theft. You do not own the image nor do you have the rights to reproduce the image until you pay for it.
Once payment has been received, I will send you the full resolution image or painting or whatever it is you ordered, without watermark. If your image is digital, I will print it for you and mail it to you for an additional charge upon your request.
For digital images only, if after your commission has been completed you need more file types, resolutions, and sizes of your image which are smaller than the original (this includes cropped images, or images without text layers) I will provide these for a small charge for no less than six months, given that you own the rights to the image. If you are requesting more file types or image files for rights that you do not own, you will need to buy those rights from me, and a new contract and fee will apply.
Refunds

I do not offer refunds on anything. Not on materials, and not on the time spent working on the image or item. Because final payment is not required until you see a sample of the finished image, this shouldn't be a problem. If you receive the final image and then ask to send it back to me for a refund, I have to assume that you have reproduced the image and are trying to steal it. If you do have any problems with the final image after you receive it, please contact me and I will work with you to resolve the problem until you are satisfied.
Again, I reserve the right to refuse any commission for any reason.
Don't forget to read my standard contract for terms and conditions.

Thank you for reading!