Reviews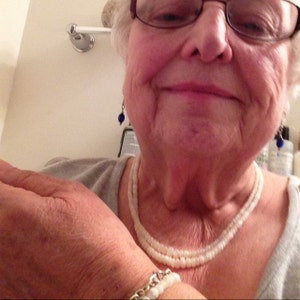 This is the second time I've ordered the same Ethiopian fire opals from Skipper Bob. The first time I only ordered one necklace and ended up gifting it to a wonderful nurse who cared for me in an overseas hospital. I have since kept in touch with her and she loves the necklace. I missed it so much I came back and ordered three more of the exact same item. I wear one wrapped twice around my wrist and the other two as necklaces. I have had the utmost pleasure and excellent service when having any contact with Bob. His goods are of the best quality and pricing is excellent. I do not hesitate to recommend his shop and look forward to purchasing from him in future.

Love the sweet opal necklaces and the gift items! Really comfortable. Super transaction!

Shipped very quickly! The most beautiful opal! I love it and I can't wait to set it into a pendant! Thanks!
About
Great quality jewelry with prices lower than most.
I started selling my tools,clothes and other things that I acquired in my younger years when I was laid-off from my job on the dock in 2009. I used every means of online sites, including those of which people had to come to me at my home to buy the items. Sense then I found a nearby jewelry store that had a going out of business sidewalk sale and spent almost all of my savings to acquire a huge inventory of jewelry items that I've been selling here on Etsy sense 2011. In 2012 I was recalled to my job on the dock and taken off the layoff list making it difficult to find the time needed to list new items. I have thousands of pieces in my inventory and seem overwhelmed with the task of getting them all listed. Now days, I list as many pieces as possible with the time I have between my 10 to 14hr shifts of which leaves me with a short time to get proper rest between shifts. I have sold hundreds of rings,necklaces,earrings and other jewelry items with great reviews left in return. I have excepted offers on items that people thought they would take a chance to see if they could get it for their price instead of my listed price. I now have no overhead and usually except most "reasonable" offers.
I sell quality jewelry for less than most! Check out my reviews that recent and past customers left in my favor. I'm easy,quick and most generous. I answer messages quickly. I ship quickly. I except returns,no questions asked. I ship for free even though USPS shipping rates just went up. Return customers get special discounts if they message me in advance.
I'm looking forward to seeing all your great reviews!

Best Regards,

Robert
( AKA SkipperBob )
Shop policies
Last updated on
January 13, 2015
Hello and welcome to my Etsy world.
In the past, I mostly sold used & unused watches which most where restored.
I'm phasing out slowly from selling watches. My newest & oldest hobby is gemstone rings from all around the world. I got lucky when a local jewelry store had a closing sale and I bought almost every ring in sight. Most all the gemstone rings have natural,genuine stones and some are simulated or man, lab created that I have listed way below retail prices.
If your a repeat customer and see something you like, contact me for a better than average discount that I offer to repeat customers.
Accepted payment methods
Payment
I accept Paypal, & most all credit cards.
Shipping
I use USPS expedited shipping with door-to-door tracking information included.
Refunds and Exchanges
I stand behind everything that I sell and have a 7 day return / refund policy.