Announcement Solandia www.solandia.etsy.com offers knitting of fashion, hand knit of quality and made-to-order custom hand knitting. Knits of style and knitted gifts. It's all about knitwear with character. High quality comes first. All year round.

New to Etsy? Check here: http://www.etsy.com/help/article/339
LIKE my Facebook page to follow news and deals: http://www.facebook.com/pages/SolandiaKnits

Solandia is styling and knitting for you with love and care.
I'm sure my items will make nice gifts or will make you feel proud and confident to wear them.
Hand Knitted Stuff Brings Luck!

Knitting by your personal order after a model in a different size or color might also be a possibility. Don't doubt to convo me if you are interested in something of different size and color. We can discuss whether it is possible to be made.

All You Knit Is Love!

Please visit my Selling policy page to view shipping details. I ship with High Priority and a Recommendation. Each item is to be followed by a full description of preparing and materials used. Clothes are all handmade, most of them are designed by me. They are prepared in a non-smoking environment.

I will be extremely happy to have you as my client and will be really grateful to know you are content of my models.

Best wishes for Happiness, Love and Joy,

Savenna for Solandia
Announcement
Last updated on
Feb 25, 2017
Solandia www.solandia.etsy.com offers knitting of fashion, hand knit of quality and made-to-order custom hand knitting. Knits of style and knitted gifts. It's all about knitwear with character. High quality comes first. All year round.

New to Etsy? Check here: http://www.etsy.com/help/article/339
LIKE my Facebook page to follow news and deals: http://www.facebook.com/pages/SolandiaKnits

Solandia is styling and knitting for you with love and care.
I'm sure my items will make nice gifts or will make you feel proud and confident to wear them.
Hand Knitted Stuff Brings Luck!

Knitting by your personal order after a model in a different size or color might also be a possibility. Don't doubt to convo me if you are interested in something of different size and color. We can discuss whether it is possible to be made.

All You Knit Is Love!

Please visit my Selling policy page to view shipping details. I ship with High Priority and a Recommendation. Each item is to be followed by a full description of preparing and materials used. Clothes are all handmade, most of them are designed by me. They are prepared in a non-smoking environment.

I will be extremely happy to have you as my client and will be really grateful to know you are content of my models.

Best wishes for Happiness, Love and Joy,

Savenna for Solandia No items listed at this time
Reviews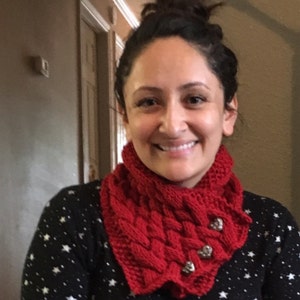 I love this piece, it's a beautiful rich red color and contact with the shop owner was delightful. Will be back for more pieces. Thank you Solandia!!
About
Solandia is a work of Love
Solandia appeared on Etsy in 2011, a day after the Valentine day. And it is a work of love. The name means "solar land", the concept was to make bright children knits, but I knew soon that I'm more keen for knitting for grown ups. My nature is somehow eclectic and it's hard to me to restrict myself. Since time is a restriction already, I don't need one extra :) The name suits perfectly to what I want to do since I search in the concept of bright happy accessories and original work of quality for shiny happy people. The greatest pleasure is when I receive a note from a happy client, I know my work had brought joy and was appreciated.
The quality of yarn is a must. I saw once a banner: "Life is too short to knit with cheap yarn". So true. I still dream to make sustainable, quality clothings that can be a real heirloom. So much time is put in good knitting, it deserves to be kept and serve well with years.
The quality yarn is the half of the knitter's job if not more. Yes, I love beautiful yarns. When I enter a yarn shop I feel great excitement as if in a painting store.There is even something more in the yarn then in paint. Yarn is alife. It is very inspiring to me, I feel really fervent. The ideas start rushing in my head one after another as I look at the shelves and the models shape in my head after threads come between my fingers. It is fine time I'd start going there with my sketch book :). I also spend lots of time in searching patters, listing magazines and knit books, learning different patterns. One thing is sure – there are too many ideas and so less time to realize them. Few of my models are inspired from ready patterns and I mention this in my listings. But I simply can't resist to the beauty of them.
Yes, knitting is a slow work of patience no matter how fast you can knit.

I believe that all we do is somehow a reflection of what our ancestors did. I only understood it with time. A grand grand father of mine who had quite a character, finally became a very successful wool tradesman after his young years of rebellion, exile and adventurism. He came back to his native town to become soon the richest man and his main business was wool that he traded to Thessaloniki and Istanbul. His story belongs to more then century and a half ago. I remember his grand daughter and my grand mother who was a great knitter and a real master of crochet. I remember her house white within with the waves of her crochet masterpieces. I still keep as relic a black wool sweater she did for my dad. Most of this family were crafty and artistic, while just my dad, a director of photography, and his father, being a painter, poet, journalist and bohemian, were artists pro.
My dear aunt Ivanka was the one who showed me how to knit when I was around 10. Since then knitting has always been a passion for me, something I really love to do. But life was running pretty fast around me. I've graduated tourism in my home town, yet I was pretty sure I need to be a photographer. I was learning the old methods of photo development in those times while nobody was even thinking digital cameras might exist. Hours and hours alone in my bath room till early morning, these were endless nights full of mystery and magic. Fate has smiled to me and I became a photo reporter at a big daily journal! Years of interesting meetings, travelling, stories, events and great people to work with. Then I became a writing journalist, later an editor too. I dealed with lifestyle, fashion, music, cinema, show. Fashion is another love of mine, although myself I'm mostly dressed very simply all of the time. I worked for a short in the field of ecology too. But my soul was thirsty for travel and then finally I took a dream job and became a photographer on a cruise ship. Exciting! In another life I'd do it for a longer time :)) Back home I have translated few books. Then an angel came into my life – my treasure, my inspiration and my love – my daughter. (You can see little Martina modeling for me on few of my listings). While I was waiting for her to be born, I started knitting baby dresses and sweaters, I finally had the time to come back to knits. By the time she was born I was writing for a newspaper from my home, but I started catching myself more often that I had no patience to be back to my next knitting project. I knew about Etsy, but it was only after a US based friend and Etsy fan asked me: "Why don't you try to make things for Etsy?" when I said to myself "Yes! That's it!" I started Solandia few months later and never turned back again. I like to do what I do. Finding Etsy is another adventure, meeting so many nice people, so much talent and inspiration here.
I thank to Etsy for the possibility to achieve another dream of mine and to have a creative business of my own. At least to have started it. Thank you Etsy, today I do what I love to do while still being able to spend more time with my girl. This is priceless.
Shop members
Savenna Zlatchkine

Owner, Maker, Designer, Curator, Shipping

Single mom of a wonderful girl of 6. Lover of beauty, arts and crafts and a whole time etsian.
Shop policies
Last updated on
February 25, 2017
Solandia is a shop for quality knitwear and accessories.
Most of my items are of unique designs created by me. I pay high attention on the yarns I chose and they are always deliberately described in the YARN section of every listing.
My hand knit items are unique. The knitwear and accessories I are the same as seen on the pictures. Some of my items will come out it small series, but others are really one-of-a-kind. But in both cases you will get what is featured and my listings truly correspond to the descriptions. You get what it's there in the description.

There is enchantment in hand made things. Besides the creativity they offer, this is a way to contact with the one who had prepared them. I'm always happy to hear back from you. And I'm here for your questions and also I'm open to custom orders. So if you like something of my shop but you want it in different size or color, don't doubt to contact me.
Also if you have a favorite pattern that you want it to be knit for you, please contact me to discuss it.
I love making things with my own hands and I'm extremely happy when there is a good result. And if you will like it, this would make me very proud.


Generally my delivery prices are for deliveries in envelopes with bubbles if not mentioned otherwise. If you need a box wrapping, please contact me, since the shipping will add few dollars more.
Inside your item will be wrapped in special handmade bag, which you can use to store your item and is good for gift giving. A small hand made card is to accompany every item. A small description note with care instructions is coming up with the card.

FOR GIFTS:
You may specifically give an exact address of a person you want to make a gift. Please don't forget to put it in the comment note. Special words can be added to a small card on your behalf, please specify in the comment part.

Be aware that my items are boutique items, prepared in time lavishing techniques, made with care and unique. I work with high quality materials and hence the prices are truly reasonable. My items are of strong quality, have long life and are designed to be worn maximum long time.

Thank you for the visit! Happy shopping!
Accepted payment methods
Accepts Etsy Gift Cards and Etsy Credits
Payment
I accept payment via PayPal.
It does not mean that you have to have a PayPal account, you can just use your Visa/Mastercard card on the PayPal log-in section. Click the payment button and it will give you the option 'I don't have PayPal account', where you can pay with your credit/debit card.
If you're new to Etsy and you want to learn about the payment process you can do this here:
http://www.etsy.com/help_guide_checkout.php
Payment is DUE AT THE TIME OF ORDER.
When using E-checks, the order will be sent after payment is cleared.
Customs:
Please kindly note that you have to be aware of your local custom law practices. Since they are different everywhere.
**International customers are responsible for duties, taxes, and other fees incurred on international packages.**
For CUSTOM ORDERS: An order is starting to be worked at and its term starts to count from the moment the money transaction is being cleared.
It is advisable to call me in advance for a different yarn color to check the availability at the moment. Otherwise, please leave your note and specifications in the comment part of the paying form. Please note that you are not supposed to cancel a custom order since the materials for it might already been bought. I am a small shop and cannot afford it otherwise at the moment. Thank you for understanding!
Shipping
I ship by Air Mail delivery with Bulgarian Posts that cooperate with USPS. Shipping is always under High Priority Registered Mail and a Recommendation (this means that you have to sign when receiving your package). The fastest and safest way using mail service. I ship everyday except on Sundays and on Bank Holidays.
Right after sending the goods I'll send to you a note with the tracking number of your shipment. I ship the fast the possible for a mutual pleasure!

The official term that the post office provides for International Priority Mail are 7 to 10 business days for USA. I always add few day more, so it is normal that you package will arrive to you in two weeks time. Please note that the situation is different on Christmas times and I have to make you aware that you have to order earlier for Christmas.

I will ship right after the payment transaction is made and the money are in my account. Of course, suitable with the post business hours.

Please note that I'm not shipping on Sundays.

If you have any questions don't doubt to convo me. I will happily respond to each one.

Please don't doubt to let me know if there is any problem with the delivery part.
I'll be glad to know whether you have received your item and be sure that everything is going fine. If there is a delay, please be kind to first contact me.

And be sure that it is all a privilege for me to have you as my client! Having happy clients is the most important for my small business to grow!
Refunds and Exchanges
I am sure you will be satisfied with my items as far as they are exactly what you see on the picture and they correspond to the detailed description which accompany them.
Anyway I cannot take responsibility about the shipment of the parcel once it is delivered to the post office.
In case of a dissatisfaction I'll do my best to replace your the item or refund your money back. I can only refund the amount of the goods, not the delivery.

I will refund only items which have not been used, not machine washed and in their prior condition. Please return your goods in one week time. Please inform me ahead if you are about to return an item. To my regret, I cannot refund the delivery price.
In case of other dissatisfaction, I am ready to accept the item back and recover you the item's price. In this case the expenditure on the back shipment would stay at the client's behalves.

Please do make me know if there occurs a problem so to try arrange it in the best possible way. However I think that such dissatisfaction will not occur.
Additional policies and FAQs
Custom and Wholesale inquiries are very welcome. For details contact me via convo on Etsy.

Any comments, feedback and questions - please message me on Etsy.



Important!
On the postage you can see a declaration and the ammount of the item will be declared less then 25 euros (approx. 40 USD). This is made to avoid custom formalities here, additional custom checks, delays and additional taxes for preparing custom documents which are a formality for hand made knitted goods in my country. I claim that this fictional price on your delivery note has nothing to do with the real value of my goods. My prices are mentioned on the item's listing.
I hope you will agree and accept this settlement. This is legal and made to avoid useless formalities and shorten shipping procedure.