Announcement Welcome to my shop!!! I pour my heart and soul into everything you see here and I LOVE dreaming up new pieces to share with the world! I create every single piece all on my own and I take pride in the extreme detail I put into everything. :) Thank you for looking around and please feel free to message me with any questions! 💕

Special Notes:

Please see my shop policies for shipping times, special orders, completion scheduling, busy holiday seasons, etc.

I have moved to shipping ALL ITEMS through USPS to save you on shipping fees. Fedex and UPS have just hiked their rates way too high. I am working on going through each listing and removing any info that mentions Fedex but if you find one, please know it will ship USPS. In some cases, USPS takes a few days longer than Fedex but saves a MINIMUM of 60% in shipping fees! If you would like to upgrade to Fedex shipping please message me prior to purchase so I can get an exact quote for you. Please be aware - any shipments out west and mid-west can run upwards of $65+ for my wreaths through Fedex and garlands run much more.

I DO ONE USPS RUN PER WEEK JAN - SEPT. During busy holiday seasons I MAY do two runs Oct - Dec depending on volume of orders.

IMPORTANT: If you've ordered specific holiday/seasonal items, creation times will be bumped back to accommodate closer seasons/holidays. For example: if it's currently November and you ordered a Valentine's or Easter wreath, I will get through my Christmas orders before I move onto others. If you have an issue with this, please leave a note on your purchase that you'd rather have the item sooner and we can discuss alternate due dates. :) I create every piece all on my own and I have to strategize my busy season's to accommodate the large volume of orders.

From September 1st through December 31st, I may not be able to accept rush orders due to volume of sales. If I am able to accommodate your request, a rush order fee will be applied to your order that must be paid before the order can be processed.

Please message me to create cemetery cones and saddles. I create each one custom (at no extra charge to you). I also create custom order corsages and Boutineer's. Please message me for these options as I do not carry them as an "everyday" item in my shop but I'm more than happy to create them for you. :)

ORDER WITCH WREATHS EARLY to guarantee availability!!! The sooner the better. Peak witch wreath season is July through October. They have a month turnaround for creation time so if you can place your order earlier, that would be best.

See something you like but it's not in the budget? Like something but want some changes? Message me for a custom order! I can rework most items to your custom requests or budget. I'm sure I can make something perfect for you!

Any wreath, centerpiece or swag can also come with a matching garland. Any garlands may also come with matching wreath, centerpiece or swag. Please message me for options. I can make matching sets of anything you need.


Follow me on Facebook and Instagram for all my creations and exclusive Facebook sales!

www.facebook.com/sparklewithstyleshop
Instagram: sparklewithstyle_

**Please read my shop policies, shipping policies, info on rush order fees and creation times**
Announcement
Last updated on
Jun 16, 2017
Welcome to my shop!!! I pour my heart and soul into everything you see here and I LOVE dreaming up new pieces to share with the world! I create every single piece all on my own and I take pride in the extreme detail I put into everything. :) Thank you for looking around and please feel free to message me with any questions! 💕

Special Notes:

Please see my shop policies for shipping times, special orders, completion scheduling, busy holiday seasons, etc.

I have moved to shipping ALL ITEMS through USPS to save you on shipping fees. Fedex and UPS have just hiked their rates way too high. I am working on going through each listing and removing any info that mentions Fedex but if you find one, please know it will ship USPS. In some cases, USPS takes a few days longer than Fedex but saves a MINIMUM of 60% in shipping fees! If you would like to upgrade to Fedex shipping please message me prior to purchase so I can get an exact quote for you. Please be aware - any shipments out west and mid-west can run upwards of $65+ for my wreaths through Fedex and garlands run much more.

I DO ONE USPS RUN PER WEEK JAN - SEPT. During busy holiday seasons I MAY do two runs Oct - Dec depending on volume of orders.

IMPORTANT: If you've ordered specific holiday/seasonal items, creation times will be bumped back to accommodate closer seasons/holidays. For example: if it's currently November and you ordered a Valentine's or Easter wreath, I will get through my Christmas orders before I move onto others. If you have an issue with this, please leave a note on your purchase that you'd rather have the item sooner and we can discuss alternate due dates. :) I create every piece all on my own and I have to strategize my busy season's to accommodate the large volume of orders.

From September 1st through December 31st, I may not be able to accept rush orders due to volume of sales. If I am able to accommodate your request, a rush order fee will be applied to your order that must be paid before the order can be processed.

Please message me to create cemetery cones and saddles. I create each one custom (at no extra charge to you). I also create custom order corsages and Boutineer's. Please message me for these options as I do not carry them as an "everyday" item in my shop but I'm more than happy to create them for you. :)

ORDER WITCH WREATHS EARLY to guarantee availability!!! The sooner the better. Peak witch wreath season is July through October. They have a month turnaround for creation time so if you can place your order earlier, that would be best.

See something you like but it's not in the budget? Like something but want some changes? Message me for a custom order! I can rework most items to your custom requests or budget. I'm sure I can make something perfect for you!

Any wreath, centerpiece or swag can also come with a matching garland. Any garlands may also come with matching wreath, centerpiece or swag. Please message me for options. I can make matching sets of anything you need.


Follow me on Facebook and Instagram for all my creations and exclusive Facebook sales!

www.facebook.com/sparklewithstyleshop
Instagram: sparklewithstyle_

**Please read my shop policies, shipping policies, info on rush order fees and creation times** No items listed at this time
Reviews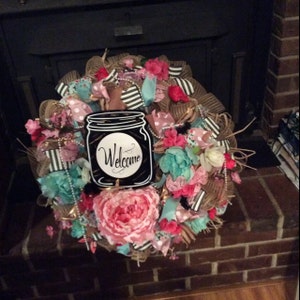 This wreath is gorgeous and makes you smile as you unwrap the pkg. brings a lot of whimsy to the front porch; which is luckily covered. No worry of damage on this one .They just keep getting better and better.

I just get my wreath today and put it on my front door. The neighbors have already remarked on how nice and inviting it makes my house look. I will definitely be able to use this wreath for years to come. Thanks Marlene

It was bright and colorful.
About
My dreams, your Sparkle. :)
Born and raised in Raleigh, North Carolina and I have been crafting for as Iong as I've been able to say the word. I cannot tell you how many boxes my mother has of all my work through childhood. I was the kid asking Santa for glitter and glue, not toys.

I started making my own Christmas decorations in 2004 and started blooming from there. It started with ornaments, then a centerpiece, then a wreath, then I was hooked. I created several pieces for my own home from 2004 - 2008 but didn't venture too far outside myself and my family.

In 2008 I started working for a major craft store and taught classes on bow making and floral arranging. I branched out from there and stared booths at local craft fairs and shows, featuring smaller grapevine and pine wreaths, floral arrangements, cemetery arrangements, ornaments, candle rings, bows, etc.

In 2011, after a year or more of people telling me "you need to get on Etsy", I finally opened my shop. My first big seller, my grapevine bunny wreath. It was so exciting and fun I became addicted and added several more pieces over the course of the year. I work a full time job for the state of North Carolina, making maps and working with poultry farmers, so adding tons of new pieces was no easy task.

A couple of years ago I had never seen deco mesh, never mind used it. I ventured out into this new realm and that's where the fun began! I started building small deco mesh wreaths, not understanding the full concept of "bigger is better". I am self taught on deco mesh and it took me months to really get the hang of it. Then it was on! I started going way outside the box and over the top! Now my deco mesh wreath do not leave my door unless they are crazy fun, colorful and full of material!

Occasionally I look at my pieces and surprise myself sometimes at how far I've grown in a few years. I'm the type of person who lays in bed at night thinking of the next big thing. I carry a spiral notebook with me at all times to write down notes and ideas to revisit. One day my dream is to create my pieces full time in my own small shop on the coast of NC.

I love seeing my dreams come together before my eyes, and feel the joy from my wonderful customers as they enjoy what I dreamed up for many years to come. :)
Shop members
Jennifer Weeks

Owner, Maker, Designer

Sparkle with Style is my small business that has been a big star of my dreams. I work hard on what I create and put love in everything I do. I create custom orders at no additional charge and can create anything you need including: Floral Arrangemen
Shop policies
Last updated on
September 6, 2016
Thank you for shopping Sparkle With Style by Jennifer Weeks. I LOVE what I do and I want you to love it too. I try my best to please all customers and create exactly what you are looking for. Custom orders are NO EXTRA CHARGE and encouraged! Please contact me today to find out what I can do for you!

I hope to have the opportunity to bring more Sparkle to your home! :)
Accepted payment methods
Accepts Etsy Gift Cards and Etsy Credits
Payment
PAYPAL - VISA - MASTER CARD - DISCOVER - AMERICAN EXPRESS accepted through Paypal. You are not required to have a Paypal account to use Paypal checkout with your credit card.

I do not accept echecks because most of my items are made to order pieces and payment is due in full before I start creating made to order items.

All payments must be received before product will be shipped. This includes the price of the product plus shipping.

IMPORTANT: For Custom Listings (or listings I've held specifically for you): Please make sure you purchase your reserved custom listing within 24 hours of my posting it for you; as I hold materials specifically for your order to assure they will still be available and not sell out in the mean time.
Shipping
***All shipment "due dates" are approximate. Some orders may go out earlier, some a few days later than the date generated on your purchase. I create each piece all on my own and completion/ship times will vary depending on volume of sales at that time. If you have a specific date you need your item, please message me PRIOR to purchase to check creation/ship times. Thank you for understanding.***

IMPORTANT SHIPPING MESSAGE! PLEASE READ BEFORE PLACING YOUR ORDER! As of 1/1/2015, Fedex and USPS have dramatically increased their rates for shipping. I sometimes alternate between using USPS and Fedex depending on which is more affordable. If you are in central or western US, shipping fees may be higher than what's listed in my shop. Once I get the shipping quote back from Fedex/USPS I will send you a separate listing for the difference in fees. All shipping fees must be paid before the item will ship.

ALL SHIPPING FEES INCLUDE FULL COVERAGE INSURANCE. Due to the elaborate nature of my wreaths, I will not ship any pieces without full coverage insurance which costs a few extra dollars.

Shipping prices are for the continental US only NOT including CA – for other shipping, including the state of California, Hawaii or Alaska, please message me for rate quotes. They will be higher (especially to Hawaii and Alaska) due to air travel and the size of my pieces.

Since I do not often ship through USPS, I do ONE Post Office run a week. After your payment is fully processed (about 5 business days), I will put your package in line for the next trip. If you are in a time crunch, please message me prior to purchase and I can give you a more definite time frame of when your piece will ship. ONLY CERTAIN ITEMS ARE SHIPPED THROUGH USPS AND WILL BE NOTED ON THE LISTING. All smaller pieces (cast iron, mouse spoons, bows, etc.) are shipped through the post office because it's the most cost effective way to ship these particular items and saves you money.

Shipping rates are slightly higher on all orders over $100.00 due to insurance coverage. By paying the extra nominal fee it guarantees that if anything happens to your shipment, the full value will be refunded to you through a damage claim. I require all my pieces have full insurance coverage when shipped.

All large deco mesh wreaths come in custom order boxes that are great to keep for seasonal storage.

IMPORTANT: All items are sent USPS or Fedex Ground - please provide a physical address as Fedex will not ship to a PO Box. or APO addresses.

Unfortunately, I prefer to NOT ship to military APO addresses. The reason being, USPS charges more for shipping than Fedex and do not provide tracking info due to security purposes on military bases. If you choose for me to do this, please understand, I cannot guarantee delivery time, cannot provide tracking info, and shipping rates will be higher. Once the package leaves my hands, I am not responsible. Shipping to military addresses using USPS Ground shipping can run two months or more (depending on where you're located)! I'm so sorry.

Orders will be marked "shipped" once they are completed. The package will be taken to Fedex within about 1-3 business days of my marking it shipped. Shipments go out in batches twice a week.

Not responsible for damages done after the package leaves my hands at the postal service. Purchaser will need to make a claim with shipping company if needed. For small repairs, like if a small item detaches (which very rarely happens), you can reattach the item with hot glue or E6000 glue. These are the glues I use on my wreaths. Please contact me if you need help walking through the process of reattaching the item.

I use standard shipping for all products. Over night or priority can be done for an additional charge. I will contact purchaser with exact quote from shipping company. All shipping upgrades must be fully paid before the item will be shipped.
Refunds and Exchanges
Due to Sparkle With Style being a very small business, I am not able to offer refunds at this time. If you item is broken, or lost in the mail, we can file a claim with Fedex for a full refund, including shipping charges.

You may cancel an order within 24 hours of placing it. After that 24 hour period, I can no longer cancel the order for you.

Please ask any questions, or express any concerns, prior to purchase as I cannot refund your payment once it's been submitted. I am happy to discuss any details with you prior to purchase. If you've decided on changes in your order after the purchase has been made, changes cannot bring the value below the purchase price as I cannot refund the difference.

All sales are final.
Additional policies and FAQs
IMPORTANT: If you've ordered specific holiday items, creation times are sometimes bumped back to accommodate closer seasons/holidays. For example: if it's currently November and you ordered a Valentine's wreath, I will get through my Christmas orders before I move onto others. If you have an issue with this, please leave a note on your purchase that you'd rather have the item sooner and we can discuss alternate due dates.

Most items/products can be adjusted to your liking and can be requested. No changes can be made until item is purchased.

"Rush" orders can be done within 1-4 business days (depending on the item) on made to order items. There is a fee associated with rush orders depending on the item (rush fee + cost of item + shipping charges). If you would like more info please contact me to discuss details.

If you would like a rush order - please message me prior to purchase. This is very important because during busy holiday seasons I may not be able to accommodate your rush order request. If you have not requested a rush order prior to purchase, and I cannot accommodate your request, your order will be created with the turn around time listed on that particular item.

Most items can be duplicated or recreated differently upon request.

Custom orders come at no extra charge and are encouraged.

Due to all of my products being handmade – materials MAY vary by size, color, shape, pattern etc. If materials cannot be closely matched, customer will be contacted to confirm what should be used as a replacement.

"Creation Times" are listed on each individual listing. The "due date" shown is approximate. Some orders may ship out a little before the due date, and some a few days later. I create each piece all on my own and creation times will depend on the volume of sales during the time your order was placed. I promise to always get your order out as soon as I possibly can. :)

Changes can be made to the order after purchase and before/during creation. If changes are made, they cannot bring the value lower than what was paid at time of purchase.

If items are added during creation at purchaser's request, there is an additional charge for labor and materials.