Announcement Welcome to my upcycled creations, please feel free to convo with questions or custom orders.
If you would like a character that isn't listed, let me know and I will see if I can find it for you.

Custom items are my favorite to make, it allows me to create a specific item for you.

I take vintage and new Character Bed Sheets and Upcycled them into Custom Made to Order Character Pin Up Geekery Super Hero Dresses, Skirts, Tops, Corsets and Ties!

Be your own designer and let me create it for you!

Help to do your part in repurposing old disgarded items. Give them a new life and wear them proudly!

I understand that everyone works on a different budget, if the price are a bit too high, Convo and we can work out a price that better suits your budget. Thanks :)

I have more Star Wars Fabric that is not pictured convo for picture for any of the fabric in the List below
List of fabric that I have that is not pictured in my shop

SUPER HEROS
More Spiderman
Batman Robin and Mr. Freeze
Super Hero Squad
More Avengers
More Superman
More Transformers
Max Steel
Green Lantern
More Iron Man
Batman Superman and Flash

TV
Smurfs
Simpsons
Tinkerbelle
Monster High
My Little Pony
Goose Bumps
Sesame Street
Dora
Alf
Scooby Doo
Tiny Toons
Looney Toons
Charlie Brown and Peanuts
Garfield
Speed Racer
Hello Kitty
Sagwa The Chinese Siamese
Winnie the Pooh
Thomas the Tank Engine
Blues Clues
More Sponge Bob
Mickey
Minnie
Mickey and Minnie
Mickey and Minnie and Friends

MOVIES
Aladdin
Jasmine and Rajah
Snow White and the 7 Dwarfs
The 7 Dwarfs
101 Dalmatians
Ice Age 2
Oliver & Co.
Bugs Life
Toy Story
Pirates of the Caribbean
Cars
Rapunzel
Madagascar
Princess and the Frog

VIDEO GAMES and OTHER
Nintendo Mario Brothers and Legend of Zelda
Mario Cart
Lego Bionicle
Yu-Gi-Oh
Dragon Ball Z

VINTAGE
Cabbage Patch Kids
More Strawberry Shortcake
Holly Hobby
Betty Boop
Raggedy Ann and Andy
The Family Circus
Yogi Bear

TOYS
Hot Wheels
Furbies
Nascar
Tonka
Bratz
Barbie
Zhu Zhu Pets

PRINCESSES
Cinderella
Sleeping Beaty
Snow White
Beauty and the Beast
Belle

BOOKS
Dr. Suess
Paddington Bear
Announcement
Welcome to my upcycled creations, please feel free to convo with questions or custom orders.
If you would like a character that isn't listed, let me know and I will see if I can find it for you.

Custom items are my favorite to make, it allows me to create a specific item for you.

I take vintage and new Character Bed Sheets and Upcycled them into Custom Made to Order Character Pin Up Geekery Super Hero Dresses, Skirts, Tops, Corsets and Ties!

Be your own designer and let me create it for you!

Help to do your part in repurposing old disgarded items. Give them a new life and wear them proudly!

I understand that everyone works on a different budget, if the price are a bit too high, Convo and we can work out a price that better suits your budget. Thanks :)

I have more Star Wars Fabric that is not pictured convo for picture for any of the fabric in the List below
List of fabric that I have that is not pictured in my shop

SUPER HEROS
More Spiderman
Batman Robin and Mr. Freeze
Super Hero Squad
More Avengers
More Superman
More Transformers
Max Steel
Green Lantern
More Iron Man
Batman Superman and Flash

TV
Smurfs
Simpsons
Tinkerbelle
Monster High
My Little Pony
Goose Bumps
Sesame Street
Dora
Alf
Scooby Doo
Tiny Toons
Looney Toons
Charlie Brown and Peanuts
Garfield
Speed Racer
Hello Kitty
Sagwa The Chinese Siamese
Winnie the Pooh
Thomas the Tank Engine
Blues Clues
More Sponge Bob
Mickey
Minnie
Mickey and Minnie
Mickey and Minnie and Friends

MOVIES
Aladdin
Jasmine and Rajah
Snow White and the 7 Dwarfs
The 7 Dwarfs
101 Dalmatians
Ice Age 2
Oliver & Co.
Bugs Life
Toy Story
Pirates of the Caribbean
Cars
Rapunzel
Madagascar
Princess and the Frog

VIDEO GAMES and OTHER
Nintendo Mario Brothers and Legend of Zelda
Mario Cart
Lego Bionicle
Yu-Gi-Oh
Dragon Ball Z

VINTAGE
Cabbage Patch Kids
More Strawberry Shortcake
Holly Hobby
Betty Boop
Raggedy Ann and Andy
The Family Circus
Yogi Bear

TOYS
Hot Wheels
Furbies
Nascar
Tonka
Bratz
Barbie
Zhu Zhu Pets

PRINCESSES
Cinderella
Sleeping Beaty
Snow White
Beauty and the Beast
Belle

BOOKS
Dr. Suess
Paddington Bear No items listed at this time
Reviews

TERRIBLE SELLER AVOID AT ALL COSTS!! I had a dress made to be given as a present but when it arrived was very faded, worn and had holes and stains in it. Very unhappy considering the price paid. I couldn't even use as a rag so certainly cannot give as a present. I have shown the person who it was a gift for as not enough time to find something else even they said it was very poor for the price and that I had been ripped off and it didn't even fit properly despite giving correct measurements. I will of course be opening a case against the seller and photos have been taken as proof!!! If for some reason you do buy from this seller demand to see the fabric being used first. Update - I won the case and got my money back as etsy said it was significantly not as described and seller kept lying to stop me getting a refund!!!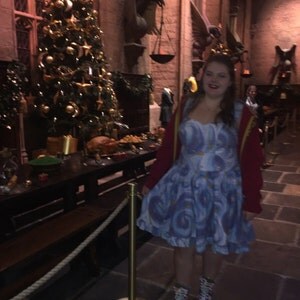 This is such a beautiful garment from one of the loveliest sellers I've come across on etsy! Nothing was too much trouble when I was asking a million and one questions about the dress and how I should have it. I wore it for the first time today to the Harry Potter Studio Tour and got some great comments. The fabric is so soft and the pattern is stunning. The straps are a little too long but Im sure I can fix that! The dress just feels lovely to wear! I absolutely adore it. So thank you so so much!!
Shop policies
Last updated on
February 17, 2014
Thanks so much for stopping by my shop!
I am a mother of five and love sewing. My kids love to see the characters too! They are funny, every dress (or item) that I make, they think, is for them. But they love the creation process and my girls love the poof of the dresses :)
I enjoy showing them vintage cartoon characters from my childhood, Popples and animaniacs are my favorite!
Accepted payment methods
Payment
paypal and credit card
I require a 1/2 up front deposit on all items made, if you cancel the order you loose your deposit.
Shipping
USPS First Class and Priority Shipping Convo for details on Express shipping
Every package comes with tracking
I am not responsible for international custom fees
Please convo for insurance before order
Refunds and Exchanges
no refunds or exchanges
all items are one of a kind, custom made.
I will make alterations