Announcement Welcome to my Paper Flower Shop..here you will get the attention to details..plus my experience as a florist and event planner.I am not happy unless you are happy.

My shop is named after my adorable precious granddaughter Ruby Sweet Pea...she does help me at times..she is my secretary and told me once that I just got an order for 500 and 1 thousand flowers. I let her do her own orders which get given as gifts to her mama.

My shop is open with all custom orders. As of now I don't have anything Physical to purchase..but I will gladly make you anything within my power that you desire.
I love to make paper flower arrangement's.. and Gift Ideas...prom and celebrating bouquets of congratulations...and anniversaries .Birthdays.

I do Party Decor..with my Pleated rosettes and Table centerpieces ..little clay pots with a paper flowers at each table settings..or a simple name card with a paper flower .


The pictures in my listing are of previous clients weddings and custom orders.

There will be .Wedding Packages to fit every budget. As always message me and we will discuss your ideas...and your budget..I am willing to work with you.

International orders contact me for shipping cost

Please read my feedback I have always treated people the way I would want to be treated and my brides I make as happy as I can. Trust me to make your weddings ideas happen.

Thanks for visiting.
Carole Anne

Pricing is as follows

small $80.00 6 to 7 inch for colored card stock / printed material 100.00

medium around $125.00 7 to 8 inch for colored cardstock / printed material 140.00

large around 8 to 9inch $145.00 for colored cardstock/ printed material 160.00

Extra large 9 to 10 inch $175.00 for colored cardstock / printed material 210.00

large 8 to 9 inches with Bling..brooches rhinestones any embellishments
added to the flowers $175.00 and up

Extra large Bling Bouquet 9 to 10 inch $ 225.00 and up
Boutonnieres $8.00 ( Grooms is free)

Corsages $ 15,00

kissing balls $ 65.00

alter pieces or centerpieces...$ 40 and up depending on the size.

Single stem Flowers 2.00 each 2 "

Single Stem with leaves 2.50 each 2"

Single stem flower 2.50 3 inch

Tinted Page Roses 3.00

single stem flower with leaves 3.00 3 inch

2.50 4" single stem each

3.50 5" single stem each

4.50 6" single stem each
Announcement
Last updated on
May 27, 2016
Welcome to my Paper Flower Shop..here you will get the attention to details..plus my experience as a florist and event planner.I am not happy unless you are happy.

My shop is named after my adorable precious granddaughter Ruby Sweet Pea...she does help me at times..she is my secretary and told me once that I just got an order for 500 and 1 thousand flowers. I let her do her own orders which get given as gifts to her mama.

My shop is open with all custom orders. As of now I don't have anything Physical to purchase..but I will gladly make you anything within my power that you desire.
I love to make paper flower arrangement's.. and Gift Ideas...prom and celebrating bouquets of congratulations...and anniversaries .Birthdays.

I do Party Decor..with my Pleated rosettes and Table centerpieces ..little clay pots with a paper flowers at each table settings..or a simple name card with a paper flower .


The pictures in my listing are of previous clients weddings and custom orders.

There will be .Wedding Packages to fit every budget. As always message me and we will discuss your ideas...and your budget..I am willing to work with you.

International orders contact me for shipping cost

Please read my feedback I have always treated people the way I would want to be treated and my brides I make as happy as I can. Trust me to make your weddings ideas happen.

Thanks for visiting.
Carole Anne

Pricing is as follows

small $80.00 6 to 7 inch for colored card stock / printed material 100.00

medium around $125.00 7 to 8 inch for colored cardstock / printed material 140.00

large around 8 to 9inch $145.00 for colored cardstock/ printed material 160.00

Extra large 9 to 10 inch $175.00 for colored cardstock / printed material 210.00

large 8 to 9 inches with Bling..brooches rhinestones any embellishments
added to the flowers $175.00 and up

Extra large Bling Bouquet 9 to 10 inch $ 225.00 and up
Boutonnieres $8.00 ( Grooms is free)

Corsages $ 15,00

kissing balls $ 65.00

alter pieces or centerpieces...$ 40 and up depending on the size.

Single stem Flowers 2.00 each 2 "

Single Stem with leaves 2.50 each 2"

Single stem flower 2.50 3 inch

Tinted Page Roses 3.00

single stem flower with leaves 3.00 3 inch

2.50 4" single stem each

3.50 5" single stem each

4.50 6" single stem each No items listed at this time
Reviews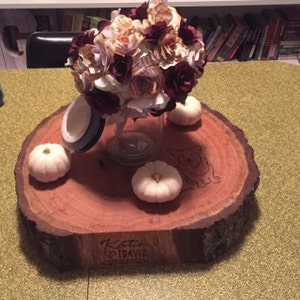 About
Paper Flowers An old art becomes new again
I started making my paper flowers after doing miniature paper flowers 1:12 scale for doll house collectors...That progressed to the 1:6 th scale for the Silkstone and Fashion Royalty Barbie Collectors...And after a few customers got my miniatures confused as life size..and ordered them .
I thought hmmmmmmmmmmmm..maybe I should try life size.. so My shop began..and I named it after my Granddaughter who is Ruby Sweet Pea...
I now have a very nice little business going here it helps bring in those extra dollars that are so needed right now..
I was a floral designer and Event Planner before I retired so I know the trends and everything in my shop is done like a professional florist would do...Only I am making the flowers petal by petal..Its a real satisfaction when the finished arrangement is done...
I love custom orders and I really get to know my clients when doing a wedding with them..I have sent paper wedding flowers to Australia , UK,Singapore..so I know international shipping pretty well.
I hope you enjoy my shop and if you have any questions about anything dont hesitate to send me a convo.

I have had to up my prices on printed material..the cost of printer ink has increases since I purchased a new printer.. and so many are now requesting special pages that need to be resized and enhanced thru photoshop that takes time.

.Pricing is as follows

small $80.00 6 to 7 inch colored card stock / printed material 100.00

medium around $125.00 7 to 8 inch colored card stock /printed material 140.00

large around 8 to 9 inch $145.00 colored cardstock / printed material 160.00

Extra large 9 to 10 inch $175.00 colored cardstock / printed material 210.00

large 8 to 9 inches with Bling..brooches rhinestones any embellishments
added to the flowers $175.00 and up

Extra large Bling Bouquet 9 to 10 inch $ 225.00 and up
Boutonnieres $8.00 ( Grooms is free)

Corsages $ 15,00

kissing balls $ 65.00

alter pieces or centerpieces...$ 40 and up depending on the size.

Single stem Flowers 2.00 each 2 "

Single Stem with leaves 2.50 each 2"

Single stem flower 2.50 3 inch

Tinted Page Roses 3.00

single stem flower with leaves 3.00 3 inch

2.50 4" single stem each

3.50 5" single stem each

4.50 6" single stem each
Shop members
Carole Anne Farber

Owner, Designer

Carole Anne Farber

Owner, Designer, Creator
Shop policies
Last updated on
April 22, 2016
Hello..and Welcome to my shop..It is named after my adorable 2 year old granddaughter. I being a previous event planner love to help with any occasion. I love to be creative and love also my clients input....So if you are looking for a special wedding favors, bouquets, floral arrangements, escort cards...cupcake toppers..I can help you.

here are my prices to help you decide your pieces for your wedding
other items can be ordered that are not priced out here..just send me a convo
Item details
5 out of 5 stars. (328) reviews



.Pricing is as follows

small colored card stock $80.00 6 to 7 inch printed material 100.00

medium colored card stock around $125.00 7 to 8 inch printed material 140.00

large colored card stock around 8 to 9 inch $145.00 printed material 160.00

Extra large colored cardstock 9 to 10 inch $175.00 printed material 210.00

large 8 to 9 inches with Bling..brooches rhinestones any embellishments
added to the flowers $175.00 and up

Extra large Bling Bouquet 9 to 10 inch $ 225.00 and up
Boutonnieres $8.00 ( Grooms is free)

Corsages $ 15,00

kissing balls $ 65.00

alter pieces or centerpieces...$ 40 and up depending on the size.

Single stem Flowers 2.00 each 2 "

Single Stem with leaves 2.50 each 2"

Single stem flower 2.50 3 inch

Tinted Page Roses 3.00

single stem flower with leaves 3.00 3 inch

2.50 4" single stem each

3.50 5" single stem each

4.50 6" single stem each
Accepted payment methods
Payment
I accept Pay pal...
If you are ordering a large quantity ..or a custom order..I do require half down at time of purchase to secure your date...and the other half due before I ship it out to you on large orders.. usually wedding only.
Shipping
Most of my items are made up at time of order.. custom made just for you. Please allow time for making. I ship from different places as I travel in an Rv with my husband to see the US. so shipping may differ. So please contact me with your Zip code so I can adjust the price. I ship USPS priority mail, packing with extra care. Flowers that may be crushed during shipment are easily reshaped .
Refunds and Exchanges
Unfortunately I am unable to accept refunds These are handmade items and everything is discussed between the buyer and myself before hand. it is made custom for you. I send a photo pf the finished product for you to approve and that makes it a final sale.